Zomato Gold Membership India: Price, Benefits and Exclusive Promo Codes
Check out Zomato Gold membership price, benefits and offers. Avail special benefits on dining out and online order.
By :
| Views: 316522



UPDATED ON: 20 Nov 2021
Table of Content
What do you do when you feel extremely hungry late at night? Well, of course, you won't step out to have some food, can you? This is when you buzz onto Zomato, find a restaurant, and get order some steaming and delicious food which is delivered to your doorstep. If you are a foodie then you must try Zomato Gold Membership.
Zomato Gold comes with amazing dining privileges. The membership allows the consumers to lay hands on complimentary dishes and drinks across partner restaurants. You can also enjoy 1 free dish in your online order. Keep on reading to know more about Zomato gold subscription and Zomato gold price.
Zomato has upgraded its subscription package, Zomato Gold. The membership program has been renamed Zomato pro. With the upgraded program, Zomato is offering discounts and offers on dining-out and delivery orders. All the existing Zomato Gold members were upgraded to Pro at no additional cost. 
Zomato has introduced a new loyalty program to provide additional discounts, faster delivery, and more. Zomato Pro offers delivery and dining benefits to members. Zomato Pro 3-month membership is available at Rs. 200. For more details on Zomato pro membership offers, promo codes, and benefits click here
Zomato Gold Membership
Do you ever crave eating any dish which seems to be so delicious and tempting but then you hold yourself back because it's too costly? Now with Zomato Gold Membership, you have the privilege to order any dish across the whole menu for free.
Basically, Zomato Gold is a membership program in which the consumers can avail exclusive deals at Gold-tagged restaurants, bars, lounges across the country.
The subscription of the Zomato Gold membership will also allow the consumer to order any two complimentary drinks(alcoholic and non-alcoholic). The membership also comes with benefits on online food orders.
Zomato Pro 3-month Free Subscription Offer
Get 3-month Zomato Membership for free. If you know a person who has Zomato Pro membership, you can ask him/her to gift you 3-month free membership. Zomato has introduced a new offer with which exiting pro members can gift 3-month membership to friends. Once you have the activation code redeem the code on the Zomato app to start your free membership. In case you have Pro membership, go to the profile section to see the option to gift.  
How to Get Zomato Pro 3-month Free membership?
Please go to the pro tab on the app

Click on 'I have an activation code' and enter the unique code, as shared by a pro member.

If you are already a pro member, please go to the profile tab on the app

Click on 'Your membership' section and then on 'Extend'

Enter the unique code, shared by a pro member.

Your membership will start

Avail Discounts on dining out and online food orders. 
If you like online deals, freebies and cashback offers, subscribe to our Telegram Channel. We promise to deliver the most relevant offers and deals and offers. Simply click on the link and join the channel!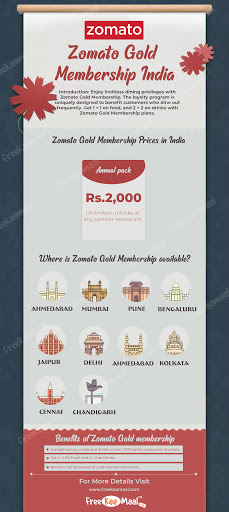 Zomato Gold Membership Price in India
Zomato Gold Membership is available in two plans. The six-month subscription costs Rs. 999. While the yearly membership is available for Rs. 1,800. Zomato Gold comes with a number of benefits for dining out as well as online food orders. You can subscribe to any plan and avail the amazing benefits of this membership program. 
The membership is currently available across cities including Delhi NCR, Mumbai, Bangalore, Pune, etc., and soon will be launched for other cities as well. Customers can choose from two different types of membership plans. Gold for dining out and Nightlife.
Zomato Pro membership 3-month subscription costs Rs. 200. 
| | | |
| --- | --- | --- |
| Zomato Gold Membership Plan | Prices | Validity |
| Unlimited pack | Rs. 1,800 | 1 year |
| Unlimited pack | Rs. 999 | 6 months |
Zomato Gold Benefits on Dining Out 
With Zomato Gold, enjoy multiple benefits on dining out. The benefits on dining out include up to 40% off, one free dish, and two free drinks. The benefits are applicable on dining out at partner restaurants. To unlock the benefits open the restaurant page on the Zomato app and show your phone to the staff before placing your order to enjoy Zomato Gold experience. 
Up to 40% off

One free dish

Two free drinks
Zomato Gold Benefits on Online Food Order
Zomato has also extended the benefits of its Gold membership to the online food order. Zomato Gold members get 1 free dish on their food order online. The second highest-priced item of your order will be free. The offer excludes combos, MRP items and special dishes. You can avail Zomato gold offer on minimum order of Rs. 300. The maximum discount for each order is also capped at Rs. 300. 
Zomato Gold Referral Code
Join Zomato Gold with referral code to get 20% off on membership fee You have to enter the referral code at the time of sign up. Your friend also gets a 2-month extension of Zomato Gold membership. 
1. Zomato Gold membership starter pack worth Rs. 299 [Not Available]
One of the most basic Gold membership plans is the starter pack which is applicable only 3 times. You can take the perks of being gold member three times at any partner restaurants of Zomato.
The prices that you are required to pay is Rs. 299 only. The best part is there is no expiry date of membership. The price of the starter pack is revised to make it even more affordable.
2. Zomato Gold Membership Unlimited Pack worth Rs. 1,800
On taking the subscription of Zomato gold membership unlimited pack then you can enjoy food and drinks for free and there is no limit of usage. You can enjoy the perks without worrying about the count of usage.
It is valid only for 1 year. And you can save on membership fee with Paytm or using referral code of your friend
How to Get Zomato Gold Membership?
Follow the below-given steps to purchase the Zomato gold membership
Open the Zomato website or app

Tap on 'Dining Out' or "Nightlife' tab

Click on Zomato Gold option

Purchase the plan among the three options including starter pack, medium pack, and unlimited pack

 
Top Zomato Gold Membership Offers & Promo Codes
1. Zomato Gold Referral Code- Get 50% off on Membership
Share is care, this statement truly fits on Zomato refer and earn program. You can get 50% off on your Zomato Gold Membership if you use a referral code given by your friend at the time of checkout.
Well, when your friend takes a Zomato gold subscription then he/she will receive an option to refer your friend. When he will share this code to you, and if you use the referral at the time of checkout then you will receive an instant discount on your membership plan.
2. Zomato Gold Cashback offer [expired]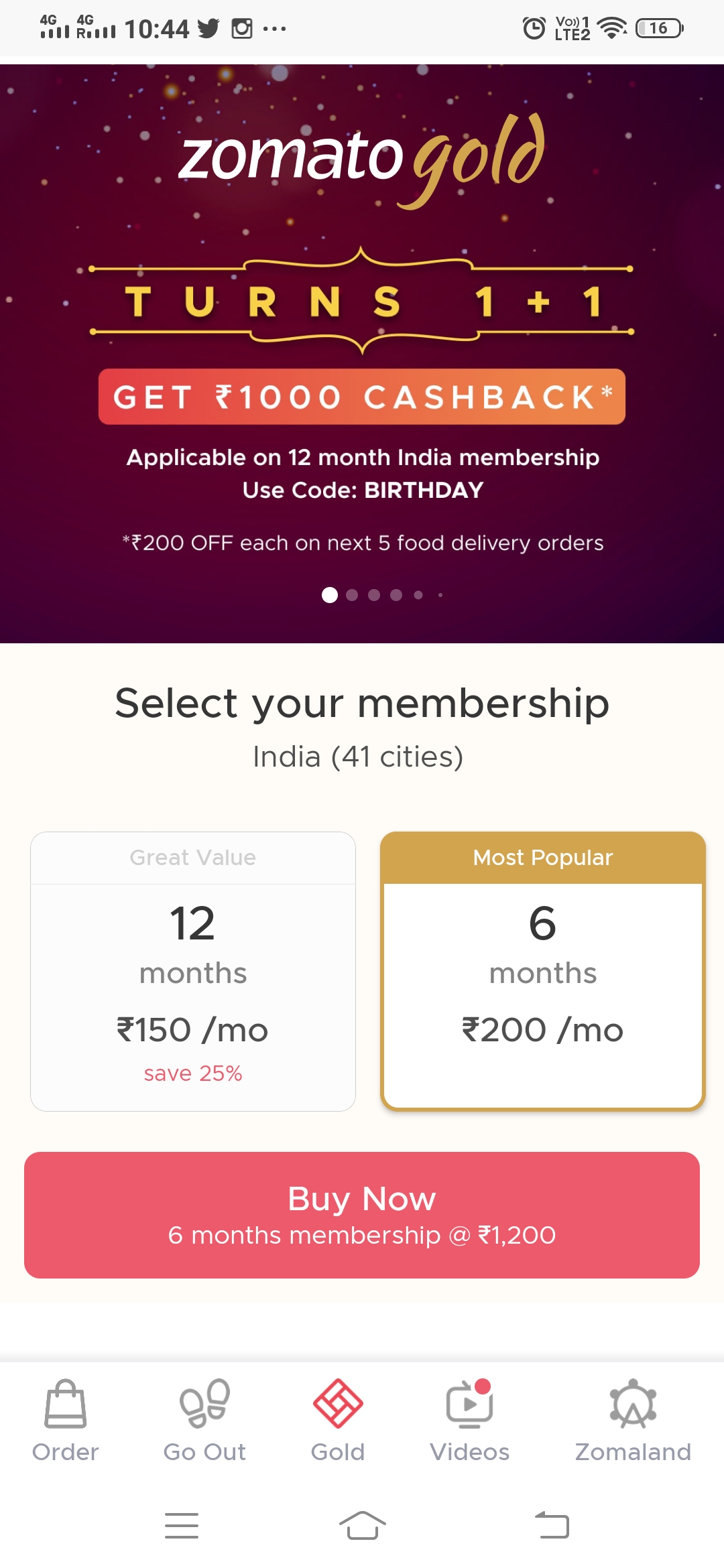 Buy Zomato Gold one-year subscription and get Rs. 200 off each on your next 5 online orders. Zomato has finally extended the benefits of its Gold Membership to online food delivery. So you get a total of Rs. 1000 cashback on the subscription of Zomato Gold membership. To avail Zomato Gold Cashback offer, apply coupon code BIRTHDAY on purchase of the one-year subscription.
3. How to get Zomato gold membership for free?
We all look for discounts and deals when it comes to buying something online or taking plans online. Don't worry you can also find cashback offers and Zomato gold promo code for taking Zomato gold subscription at lesser prices. There are several ways in which you can get a discount on Zomato gold membership plans.
The Zomato Gold subscription is like a silver bullet for foodies as it will open all the doors for getting free delicious food and drinks on your visit to a restaurant that has been partnered with Zomato. Now, let's take a look at such ways of getting membership for free.
4. Amazon offer on Zomato Gold: Flat 10% off at Checkout [Expired]
If you want your friends to take advantage of Zomato Gold then you can send a Zomato Gold gift card from Amazon's website online. This offer is initiated by Amazon to connect more foodies together. Even there is an advantage of sending an e-gift card to your friend as you can get a flat 10% discount at checkout.
Even you can write a message for the recipient as well as this will consider as your Zomato Gold Membership review. Adding on, this Zomato Gold Invite code Amazon offer is valid till 11th July 2019 and your membership will be 12 months after activation.
Note: The Zomato Gold membership purchased on Amazon.in cannot be returned/refunded.
5. Zomato Gold Membership Promo Code For Axis Bank Users [Expired]
Get yearly membership of Zomato Gold at 20% off. The Zomato Gold offer is applicable for Axis Bank users. Use the coupon code "AXIS20" to get discount on Zomato one year membership fee. Valid once per customer on payment with Axis Bank Debit and credit cards.
Select Zomato Gold one-year Membership

Use coupon code "AXIS1200"

Proceed to pay

Get 1-year Zomato Gold at a discount price
6. Zomato Gold Paytm offer: Get 10% Off + Flat Rs.125 cashback [Expired]

Would you like to save your Rs.125 on the Zomato gold subscription by just using a promo code? I think who would deny for catching this golden opportunity. Well, if you choose Paytm as your payment method then you can enjoy a flat Rs.125 cashback on your Zomato gold membership.
Besides this, you can also get a 10% additional discount on your online order from Zomato website/app if you pay using Paytm. Also, check how to apply Zomato coupons and get up to 50% off on every order.
How to Avail Paytm Cashback on Zomato Gold Membership?
Visit Zomato website/app

Select your Zomato Gold plan

Now choose payment option as Paytm

Enter the promo code in "have a promo code section" PAYTMGOLD

Pay for your subscription
Terms and Conditions
Get an additional 10% off on Zomato Gold

Additional Rs.125 cashback

Minimum transaction amount should be of Rs.800

Use PAYTMGOLD coupon code to avail the cashback

Offer is valid only on full membership

Cashback will be credited within 24 hours of a successful transaction
7. Zomato Gold For ICICI Bank Users [expired]
ICICI Bank users get instant 10% off Zomato Gold. Use coupon code " ICICIGOLD" to avail the offer. The offer is valid for ICICI Bank debit and credit card users.   
10% OFF

Use coupon Code  ICICIGOLD

Valid for ICICI Debit & Credit Card Users
Zomato Gold membership Offer: 50% off on Annual Membership [expired]
Zomato is offering a limited period discount on Gold membership. Use Zomato referral code to get 50% off on annual membership of Zomato Gold. With the offer, you get Zomato Gold 1-year membership for only Rs. 900.
The membership will cost you only Rs. 75 per month. The offer is applicable with the coupon code for a limited period only. If you waiting for a discount on Zomato Gold. Here is your chance to grab 50% off. 
Click Here to Subscribe Zomato Gold
Where is Zomato Gold Membership available?
As discussed earlier, Zomato has started a subscription-based service named as "Zomato Gold". This service allows a user to enjoy complimentary free drinks and foods in their favorite restaurant.
It started in the three major cities of India but now expanded to 10 most popular cities in our country. This means, more and more people can take advantage of this membership.
Also, here I have aggregated the list of cities under which the Zomato Gold Membership is valid.
Delhi/NCR

Mumbai

Bengaluru

Pune

Hyderabad

Jaipur

Ahmedabad

Chandigarh

Kolkata

Chennai
Zomato Gold membership benefits in India
Zomato has partnered with more than 3500 restaurants in India to offer the Gold membership benefits. All you need to do is go out and explore different restaurants and enjoy a complimentary dish and drinks without any cost. This membership program is equipped with amazing benefits. Here I have listed some major benefits that you will get with your Gold subscription plan:
If you're planning to meet with your social circle for drinks then visit any pub or bar that falls under the Zomato Gold restaurant umbrella and you can enjoy two complimentary drinks of any cost for free.

The membership provides additional benefits like invitations to the exclusive events at restaurants. The events will include wine-tasting sessions, new menu try-out sessions, food walks, special chef-cook sessions, new restaurant launching and more.

Consumers will get benefits like 1+1 dish offer where on ordering one dish, the user will get another one for free. Also, there are 2 + 2 drinks benefits, where on ordering 2 drinks, users can order the other 2 same for free.
How does Zomato Gold Membership work?
Firstly you need to enroll and sign up for the Zomato Gold membership program. Once you get the membership you can visit any of the partnered restaurants.
Let me tell you Zomato has partnered with more than 3500 restaurants in 10 cities including Delhi/NCR, Bangalore, Pune and more. Now, read the following points in order to know about how Zomato Gold Membership works:
When you visit a restaurant partnered with Zomato gold you will be required to open that restaurant's page on the app.

Then, before placing the order, you have to unlock your visit and provide the details to the restaurant's staff.

Now, you're eligible for placing the order and don't forget to enjoy your complimentary dishes and drinks.
Terms and conditions - Gold Membership
There are certain terms and conditions which you need to carefully understand before purchasing the membership plan. Read the below-given points carefully so you don't miss anything.

Minimum two people need to be on the table to take the advantages of gold membership plan

The Gold privileges will not be applicable on special occasions including New Year, Christmas, Valentine's day and so on.

The Gold Membership offers are not valid on takeaway or home delivery orders

The complimentary dish option will be valid on any dish from the whole menu except combos, platters, and buffets

The consumer can take advantage of their Gold membership only once per day at a specific restaurant partnered with Zomato

Non-alcoholic beverages are not included in Zomato Gold

The membership is non-refundable

The Zomato gold membership offers and deals won't be clubbed with any other offers
Zomato is the most trusted app for ordering food online. Their unique money-saving offers and deals actually help customers to save a few bucks on their every order.
Adding on, the launch of Gold membership brings huge benefits for the Indian consumers. Now, the consumers have the chance to visit premium restaurants in your city, pubs, and lounges during the night time and a major benefit as they can enjoy complimentary drinks and dishes.
So, what you're waiting to purchase your Gold membership now.
Click Here to Subscribe Zomato Gold
Frequently Asked Questions
What is zomato Gold membership?
Enjoy benefits on Dineout and online food ordering with Zomato Gold Members. Get 1 + 1 on food, and 2 + on drinks at parter restaurants with Zomato Gold.
How much does zomato gold cost?
The membership is available in 6 month and 12-month subscription plans. The cost of Gold membership keep changing currently, you get 6-month membership at Rs. 1,200 and 12-month membership at Rs. 1,800. 
What are the benefits of zomato Gold membership?
Zomato Gold members can enjoy benefits on food and drinks at partner restaurants. You get one complimentary drink for every drink, up to 2 complimentary drinks. And you get the second most expensive dish in your order as complimentary. 
Do Zomato Gold benefits apply on an online order?
Zomato has extended benefits of its Gold membership to online food orders as well. The members get 1 free dish on their order. The second highest item on the order is free. The offer is applicable on minimum order of Rs. 300.