Videocon D2H Paytm Offer To Get Cashback On Recharges
Save your money on paytm offer for videocon d2h recharge. To know more, read the article below. 
By :
| Views: 2345



UPDATED ON: 5 Jul 2020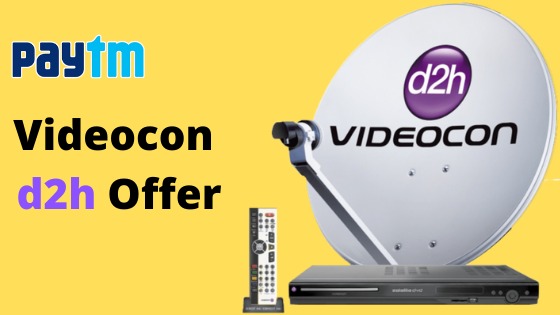 Nowadays, you must be avoiding to carry cash with you and prefer more of digital payment. Online payment mode is considered safe and secure, plus you get additional cashback on your recharge. You can check out the Videocon d2h recharge Paytm offer, to recharge at a lower price. 
Paytm is one of the biggest online payment apps that allows the transfer of money through the wallet and along with giving many exciting offers and cashbacks to their users. It is also a very trusted App. From Paytm, you can pay without using cash. It is easy to access, and you all must be aware of its benefits. It is the most convenient and reliable app as you all know. 
Also, you can quickly pay your d2h recharge bill just in seconds online through the Videocon d2h recharge offer on Paytm. Make secure bill payment without any hassle and even a decent amount of cashback on your recharge. 
To know more about the offer details, keep reading! Also, to know about the Videocon D2H Package Channel List, click here.
Videocon D2h Recharge Offer 2020
With the Videocon d2h recharge offer on Paytm, you can get the right cashback amount. Choose your desired d2h plan according to your requirement and enjoy your favorite channels. Paytm d2h offer on the Videocon plan, helps you save money via online payment. 
Note: If you are using an Airtel tv connection and want to get cashback on Paytm, read more to get full details. 
Paytm Videocon d2h Recharge Offer
Check out the additional vouchers and cashback you can receive on your 1st to 5th D2H recharge. Paytm is offering good cashback on Videocon D2H Recharge. 
You can get cash back when you avail Paytm Videocon D2H recharge offer. This cashback offer is valid when you make a minimum transaction of Rs 100.
Rs.1100 flight voucher on your 1st D2H recharge

Rs. 120 bus voucher on your 2nd D2H recharge

Rs. 500 hotel voucher on your 3rd D2H recharge

Rs. 100 movie voucher on your 4th D2H recharge

Rs. 200 event voucher on your 5th D2H recharge
Note: If you wish to know more about Videocon D2h Plans 2020 then click on the link.
How to avail Paytm Videocon d2h Recharge offer?
Perform quick recharge online on your d2h account via Paytm. Just follow the simple steps below and enjoy your favourite movies, shows, etc. 
Go to Paytm website or app

Register or Login to your account

Click on Cashback and go to all offers

Open Recharge and Bill payment and scroll down to Videocon D2H

Click on Activate Offers

Next, proceed to complete your 1st Recharge

Do a recharge of a minimum of 100 Rs to get cashback

Your Videocon D2H Paytm Cashback Offer is activated

Next, make four more transactions within 90 days and keep earning cashback
Note- The offer is currently not working right now. But we can expect this offer to work within 10-15 days.
Paytm Videocon D2H Recharge Eligibility
To avail of the offer, a minimum amount of each transaction should be Rs. 100. 

In the offer, only one transaction per week will count.

Offer can be availed one time during the campaign validity. 
Paytm Videocon D2H Recharge Offer Duration
On your first transaction, the offer will get unlocked. You need to activate the offer within 15 days to participate in it. You need to complete 5 D2H recharges within 90 days to earn up to Rs. 2020 cashback. 
Note- The offer is currently not working right now. But we can expect this offer to work within 10-15 days. 
Videocon d2h Recharge Plans and Packages
Listed below are the available Videocon d2h plans and their validity. You can choose the plan according to the language and the total channels available under each plan. Also, you can see the price and pick the one which is affordable for you. 
| | | | |
| --- | --- | --- | --- |
| Videocon d2h Plans | Validity | Total Channel | Price (Excl. GST) |
| Silver Plus Combo | 1 Month | 26 | 222 |
| Silver Plus HD Combo | 1 Month | 52 | 278 |
| Gold Combo | 1 Month | 58 | 261 |
| Gold HD Combo | 1 Month | 60 | 328 |
| Gold Bengali Combo | 1 Month | 37 | 254 |
| Gold Gujrati Combo | 1 Month | 60 | 267 |
| Gold Kannada Combo | 1 Month | 36 | 238 |
| Gold Malayalam Combo | 1 Month | 28 | 205 |
| Gold Marathi Combo | 1 Month | 41 | 240 |
| Gold Oriya Combo | 1 Month | 37 | 243 |
| Gold Tamil Combo | 1 Month | 42 | 230 |
| Gold Telugu Combo | 1 Month | 36 | 249 |
| Diamond Kids Combo | 1 Month | 76 | 317 |
| Diamond Sports Combo | 1 Month | 82 | 374 |
| Platinum Combo | 1 Month | 118 | 460 |
How to choose channels in Videocon d2h?
If you wish to add or delete channels in your Videocon d2h account as per your requirements, follow the listed steps. 
1. Go to Videocon d2h website.
2. Log in to your account.
2. Check out all the available packs and channels by Videocon d2h.
3. Go to the Create My Own Package from the dropdown menu.
4. Select the plans, add-ons, and combo as per your choice.
5. Click on Proceed; you will see your monthly charge for the package.
6. Click on Submit to confirm.
7. Your Videocon Pack will be updated soon.
Videocon d2h Recharge Online 
Paytm is among the most convenient way of DTH Recharge. Videocon d2h Recharge takes a few moments and can be processed efficiently on Paytm. 
You can watch your favourite shows on Videocon d2h Prepaid Recharge without worrying about the due subscription charges. Choose your d2h plans, suiting your needs and requirements, and do not worry about visiting the vendor every time your connection stops.
Videocon D2H Paytm offers a hassle-free and flexible facility, using Videocon d2h Recharge Online services from Paytm. 
So do not let any interruptions bother you in between your favourite movie, match, or anything. You can perform a d2h recharge from anywhere and anytime from your mobile, tablet, and laptop. You need a stable internet connection.
Paytm Videocon d2h Recharge
Paytm is an immensely secure method for all the Videocon d2h recharges as you can browse and select from all the latest Videocon d2h recharge plans that are available.
Videocon d2h Recharge Offers to Save Money
You get a chance to save your money on the Videocon d2h recharge at Paytm. So, proceed by applying the promo code DTHNEW on your first DTH recharge at Paytm and save up to 30. 
Also, you can use the promo code "POWERDTH20" to get up to flat 20 cashback.
Paytm Flexible Payment Methods
Paytm lets you choose from all the mentioned flexible payment methods for your Videocon d2h recharge. You can pay via debit card, credit card, Paytm wallet and UPI are available on the Paytm app.
Terms and Conditions 
You will receive each reward within 24 hours of completion of the transaction. 

If you have not completed your KYC, you will receive a goldback inclusive of 3% GST.

Paytm has the absolute right to withdraw any conditions of the offer anytime. 
Pay your Videocon D2H recharge bill through debit or credit card, Paytm, or UPI option on the Paytm app. Watch your favorite shows with the help of the Paytm Videocon d2h offer today without fearing the subscription charges. 
It would be best if you have a good internet connection to make a d2h recharge online with your smartphone or laptop. Do not fear the disturbance of the connection and instantly contact Videocon d2h recharge service anytime you face a problem. 
Frequently Asked Questions 
Q1. What is the best plan for Videocon d2h?
A1. Below are some of the best plans for Videocon d2h: 
| | |
| --- | --- |
| Videocon D2H Plan | Price |
| Gold Max | Rs. 331 |
| New Diamond | Rs. 476 |
| Gold Kids | Rs. 360 |
| New Diamond HD | Rs. 651 |
Q2. How can I check my Videocon d2h offer?
A2. To check your Videocon D2H Balance you need to SMS BAL << Customer ID > > to 566777 or 9212012299 from Registered Telephone Number.
Q3. Which DTH recharge app gives cashback?
A3. There are many apps that give cashback on DTH recharge. Like Mobikwik is offering 50% SuperCash on DTH Recharge by using the code. 
Q4. How can I customize my Videocon d2h plan?
A4. To change your Videocon D2H package, you can call the customer care number +9115691156, or send an email to customercare@d2h.com. 
Q5. What is the minimum recharge of Videocon d2h?
A5. The Minimum Videocon D2H Recharge is Rs 150. 
Q6. How to know Videocon D2H Customer ID?
A6. You have simply sent your Customer ID to 566777 from your registered mobile number to know your Videocon Customer ID.