Pizza Hut Triple Treat Box - Available at 40% Off
Now you can get Pizza Hut Triple Treat Box at 40% Off. Check out the offer now!
By :
| Views: 618



UPDATED ON: 10 Feb 2020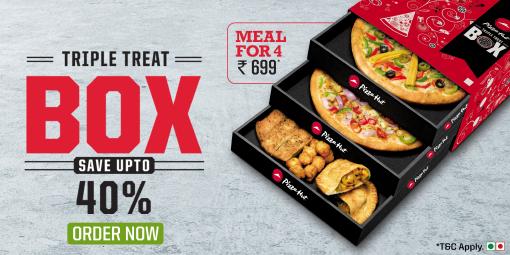 Pizza Hut has been serving amazing Pizza for years now and there is no doubt we all love it. It has now introduced a special box called the Triple Treat Box which is great if you want to have Pizza time with friends and family. The Treat Box from Pizza Hut is quite generous in size and comes at a very affordable price.
Pizza Hut never fails to amaze the customers with their pricing. The Triple Treat Box is a great pocket-friendly deal. You can save 40% on Pizza with Triple Treat Box. Also if you want more updates on Pizza Hut Offers, click on the link.
Pizza Hut Triple Treat Box
The Pizza Hut Triple Treat Box is a three-layer treat where you get 2 Pizza choice in the top two layers. In the bottom layer, there are 4 awesome sides - Garlic Bread Stix, Texas Garlic Dip, Potato Poppers, and Tandoori Pocket Paneer.
The box is good enough for 4 people to have a blast. The two Pizza choices you have in the box will be of medium size. The sides are fixed you don't have the option to switch in case of sides.
What is the cost of Pizza Hut Triple Treat Box?
Pizza Triple Treat box has become everyone's favourite because of the budget-friendly price. With this box, you are saving up to 40% on Pizza. The Box with 2 medium size Pizza and 4 complimentary sides costs Rs 699 only. The pricing is same for veg as well as non-veg box.
How to order Pizza Hut Triple Treat Box?
If you want to order Triple Treat Box from Pizza Hut, follow the steps below:

Click on the link to open the Offer page.

Enter your location

Now click on Triple Treat Box on the offer page.

Select your 1st Pizza (it can be veg or non-veg).

Select your 2nd Pizza (it can be veg or non-veg).

Once you have added both your Pizza then click on "Add to my Cart".

Sign In or Register to Pizza Hut.

Next, enter your delivery address and select your payment mode.

Make Payment and you are done.
Note: You will receive an order confirmation on your registered mail and mobile number as soon as you place the order with your Pizza delivery details.
This is all about the Pizza Hut Triple Treat Box. If you haven't tried it yet you can try it now with your friends and family. Have a Pizza Party with Pizza Hut's amazing Treat Box.
Frequently Asked Questions
Is Pizza Hut Triple Treat Box veg?
Pizza hut Triple Treat Box comes in both options veg and no-veg. Both the veg or non-veg box option is available at the same price of Rs 699.
What is the minimum order on Pizza Hut?
On Pizza Hut if you wish to avail doorstep delivery your order should be above Rs 200 inclusive of taxes and your order must have one  1 pizza or Magic Pan set of 4, then only your order will be delivered.
Can I order Pizza Hut Triple Treat Box Online?
Yes, you can order Pizza Hut triple Treat Box online. Any order of or above cart value Rs 200 is delivered by Pizza Hut.