Paytm Promo Code For Add Money - Up to Rs. 300 Cashback
Check the Paytm add money promo codes for new and existing users. Get up to 100% cashback on Paytm add money with the use of promo codes. Paytm add money offers are also applicable on select modes of payment
By :
| Views: 191908



UPDATED ON: 13 Mar 2020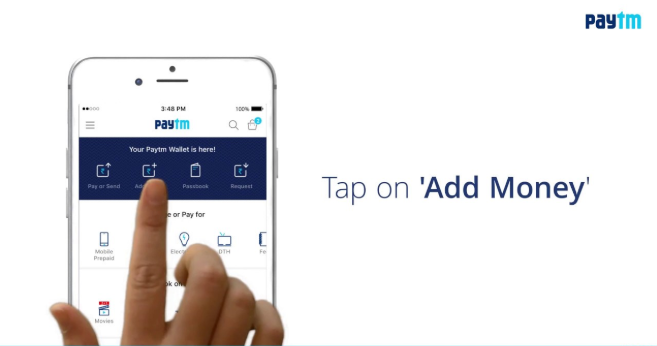 Paytm wallet balance is like real cash. You can use Paytm wallet for all types of transactions. While you get cashback on different transactions you can earn with add money on Paytm. Find Paytm promo code for add money to earn cashback. You get these promo codes for new as well as existing users.
Simply enter the promo code on the add money page and earn cashback. Meanwhile, the company recently launched the Paytm First Card. The credit card comes with many exclusive benefits. 
Paytm Add Money Coupon Code Today
If you use Paytm wallet for different transactions then you have a reason to smile. You can avail Paytm add money offer to get cashback on your transaction.
Use the latest Paytm Add money to earn up to 100% cashback on adding money to your wallet. If you don't find any promo code for add money, you can also earn cashback with Paytm UPI offers.
Paytm Add Money Offer - Up to Rs. 300 Cashback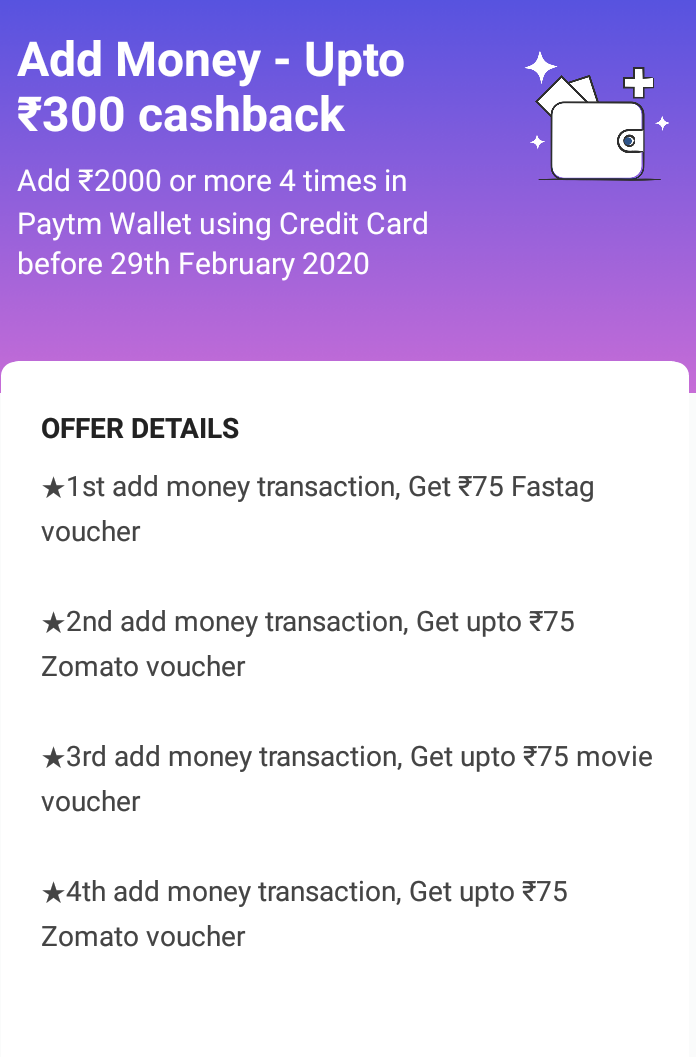 Add Rs. 200 or more to Paytm wallet using a credit card and get up Rs. 300 cashback. Get Rs. 75 Fastag voucher on first add money transaction. For your 2nd add money transaction, you will get up to Rs. 75 Zomato Voucher. 
When you add money for the 3rd time during offer duration you get up to Rs., 75 movie voucher. You get up to Rs. 75 Zomato voucher for add money of Rs. 2000 for the first time during offer duration.  The offer is extended till 29th February 2020. 
Paytm First Time Add Money Offer
If you are adding money to Paytm wallet for the first time. Use coupon code NEW40 to get cashback on your transaction. You will get Rs. 40 cashback with the add money promo code. The minimum transaction should be Rs. 40.
In case NEW40 is not working use NEW20 to add Rs. 20 to Paytm wallet. With the coupon code, get Rs. 20 cashback on add money.
Use NEW40 on add money

Get Rs. 40 cashback

Valid for New users
Also, check the Paytm Payments bank app launch for savings account holders. The app to provide banking services at one place.
Paytm Wallet Add Money Offer for Old users - [Expired]
Get 100% cashback with Paytm add money offer for old users. The Maximum cashback is Rs. 100 with the offer. There is no minimum transaction. Lucky winners will get cashback within 24 hrs of the transaction. 100 lucky users have a chance to win every hour.
100 % cashback on add money

100 lucky winner every hour

Coupon code can be used any number of times

Valid for new and old users

Maximum cashback is Rs. 100
How to use Paytm Add Money promo Code
Open Paytm App

Click on Add money

Enter the amount to add

Click on have a promo code

Apply the promo code

Proceed to add money using the applicable mode of payment

Cashback will be credited within 24 hrs of transaction
Note: Paytm is providing user-specific offers on  add money as well. When you proceed to add money on Paytm app, you can see the eligible offers. Also get Add money promo codes for different transactions on Paytm. 
Paytm Add Money Offer With UPI
Add money to Paytm wallet using your Paytm UPI ID to earn up to Rs. 500 cashback. Use add money promo code 'LUCKYUPI500'. To apply the promo code user has to make payment with Paytm UPI.
The minimum transaction for the add money offer is Rs. 250. With the offer, lucky 250 winners will earn Rs. 500 cashback daily.
Minimum add money transaction of Rs. 500

Maximum cashback of Rs. 500

Use promo code LUCKYUPI500

Make payment using Paytm UPI ID
Paytm Add Money offer today - [Expired]
While adding money to your Paytm account check the Paytm add money offer today. You can always find new promo codes that give you extra value for money. Recently, there was a promo code for UPI users.
With the offer, Paytm UPI users get an extra 1% cashback on add money. Apply the promo code and proceed to pay using UPI to receive the cashback within 24 hrs.
Promo code is UPIFIFTY

Maximum cashback of Rs. 50

Cashback on payment with UPI on Paytm
In addition to that, you can get user-specific add money promo codes on Paytm as well. If you are a Paytm First Member you will also get exclusive add money offer.
Recently, Paytm promo code for adding money was available for select bank credit and debit card users. But the offers have expired in case any more add money promo codes are made available we will update this post.
So stay tuned and save more on every transaction with the latest promo codes and offers.
Frequently Asked Questions
Is there any promo code for adding money to Paytm wallet?
Add money using Paytm UPI to earn up to Rs. 500. The offer is for select users on adding money with UPI. The cashback amount will from Rs. 30 to Rs. 500.
How can I add promo code in Paytm?
Download the Paytm App.

Login to your account

Proceed to recharge/pay your bill.

On the payment page, check the "I have Promo code" box

Enter the Promo code P50, 

Click on Apply.

Now proceed to pay for your order

Your cashback will come into your wallet shortly.
How can I activate Paytm cashback?
You can activate the offer by going to the "Cashback Offers" on the Paytm App
Click on the offer you want to activate