Top 10 New Year Celebration Places in Delhi NCR 2019
Looking for some great options to spend your New Year then here are some really great options for you.
By :
| Views: 952



UPDATED ON: 17 Dec 2018
31st December is the evening to enjoy, party hard, gather your family and friends. It is the time when you are bidding farewell to a year of memories. New Year often feels like new clothes which have its own fragrance and freshness. No matter how good or bad the previous year may be a beginning of the year marks the beginning of a new you. Also, if you are at the center of India then New Delhi has some great Parties in the Delhi NCR circle for 2019. Therefore, in order to go Dasvidaniya in most happiness to the older, you here are some great New Year Eve Celebration 2019 places to start for a new you.
Note: In case if you wish to know about some New Year Offers 2019 then click on the provided link.
1. Deepup Festival
Event Date: 31st December 2018
Price: Rs.499/-
If you are looking for a party this New Years Eve 2019 then this is surely the place to be. The runtime of the whole event is around 8 hrs. You will be able to witness 10 DJs playing for you. No genre will be left unheard that is what the event guarantees. Also, there will be a variety of food stalls from different franchises and other gaming options. It is one place where you can dance, drink, eat, and take a getaway from your daily boring life.
2. Junkyard Cafe
Prices: Rs.1500 for Two People with Alcohol
Located at the heart of Delhi, the place is already known for its reputation. If you like to party then this is the place to be. It is a theme based cafe whereas the name suggests everything is made out of scrap. It is a place for people who like good music, great food, and some beer to digest it…..hahaha. If you don't have an event in particular then this should be your place to party this 31st December 2018.
3. SMAAASH: Cyberhub, Ambience Mall, Vasant Kunj
Event Date: 13th December 2018 Onwards
Venue: Noida, Delhi, and Gurgaon
Price: Rs.99 Onwards
If you have plans with your children this coming New Year then SMAAASH would be the one place you might like to visit. It is a place where you can do endless sports activity. You also got a full-fledged bowling alley to test your precision. Alongside you are also getting access to various arcade games. They also offer many VR based activities. Basically, the place will be fun for children and for you as well. Therefore, giving a visit to the place could be a great way of enjoying your New Year's Eve.
4. Hard Rock Cafe
Venue: Saket, New Delhi
Price: Rs.2500 for Two People(You can also go for other Packages)
If you are in for some great music along with a platter full of great food then Hard Rock Cafe is the place to be. Once you avail the package the place offers you unlimited drinks for couples as well as stags. The place is known for the music and a lot of independent bands started their career from here. If music, food, and getting high is your obvious choice then you won't find a better place for yourself for the New Year's Eve. The place also has some really awesome New Year Packages 2019.
5. Imperfecto Ruin Pub
Venue: Noida, Sector-34
Price: Rs.2200 for Two Person with Alcohol
The place is truly lit from mouth-watering food to groovy music, it has it all. Imperfecto Ruin Pub is a well known place for party goers in the Delhi NCR circle. The place has great ambience with high bass music. Also, they serve a great range of really good cocktails to hydrate the throat. Alongside you have multiple options in terms of food which will savor your tongue. It also gets you two options to either sit inside the Pub or stand in the cold breeze of the open terrace. The place truly packs a punch and can be a great place to be this New Year Celebration.
6. Unlimited Punchlines this New Year
Venue: Gurgaon
Prices: Rs.2500/-
Well, who doesn't like a good laugh? If you want to bid adieu to this 2018  laughing out loud then Canvas Laugh Club is surely the place to visit. The place is going to welcome four of great standup comedians on the eve of 31st December 2018. The artists that will be performing are Jaspreet Singh, Gaurav Kapoor, and Aakash Gupta. Also, the show will be hosted by none other that Harsh Gujral. The runtime of the show will be 1 hrs 30 min and it will be great to see these stellar artist performing.
7. Vibe: The Sky Bar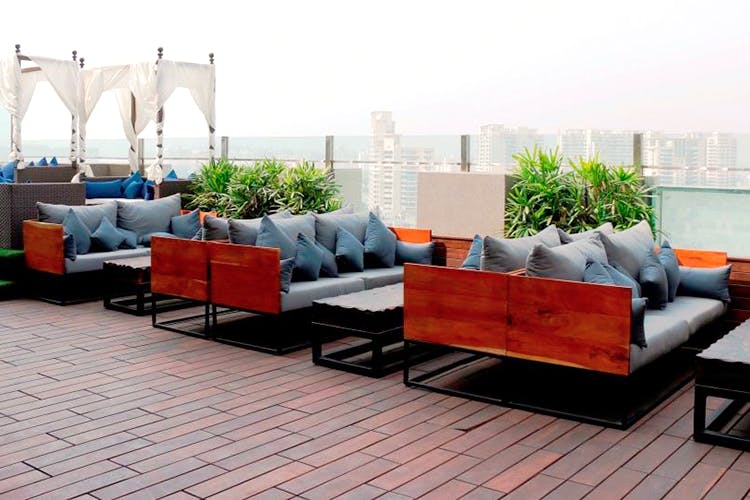 Venue: Sector 50, Gurgaon
Price: Rs.3000 for Two People
If you are looking specifically for ambience for this New Year's Eve then this place offers you a lot. It has an open terrace dining restaurant with a great view and lots of hospitality. The place scores a 4.1 rating on google which is pretty decent. Also, they offer you great food with multiple cuisines on your platter. The place also offers indoor just in case you would like to avoid the open terrace. It is great if you are willing to make your evening special on the last day of 2018 with someone special in your life.
8. Olive Bar & Kitchen
Venue: Mehrauli, New Delhi
Price: Rs.4000 for Two People
Ohkk, this is not someplace you go often. The place has its own vibe and it'll definitely make your special one feel loved and overwhelmed. It is a concept restaurant with great ambience to make up for a romantic evening. If you are looking for something exquisite trust me it is the place to be. Although, the speciality of the place is the Italian they offer so make sure you have a taste for it. It is a place with an overload of hospitality where the people waiting you are very helpful and courteous. Overall, it can be a great place to dine in on your New Year's Eve.
9. Best of Guptaji
Event Date: 1st January, 2019
Venue: Canvas Laugh Club, Gurgaon
Price: Rs.600 Per Person
Gupta Ji is among those engineers who made big in life although not in engineering. The guy has been featured on NDTV and is a well-known name in the Comic Circle. The jokes are mostly adult in nature so you can't take minors. I've personally witnessed some of his work on Youtube and even you can in case if you are inquisitive. Witnessing him will be a laugh riot so catch him to spend the very first day of 2019 laughing. The runtime of the show will be 1 hrs 30 mins.
10. Perch Wine & Coffee Bar
Venue: Vasant Vihar
Price: Rs.2000 for Two
It is another fine dining space with ample of great review and my personal experience to back it up. If your choice of an evening is too start the evening by a cup of coffee and slowly stride towards the main course. In case you are there then you must try the Sangria which consists of Red Wine and fruits, it'll add some punch to your tongue. Also, The place has some phenomenal options for delicacies. Also, give a try to the Smoked Chicken Croquettes, it's a personal recommendation.

So these were some of the Top 10 New Year Celebration Places in Delhi/NCR 2019. We hope this article may have been of some help to you. Also, thank you for reading it till the end.