New Year Holiday Packages - Best Places to Celebrate the arrival of 2020
Are you planning a trip on New Year? If yes, then here are some really great packages to great destinations for you.
By :
| Views: 1520



UPDATED ON: 24 Dec 2019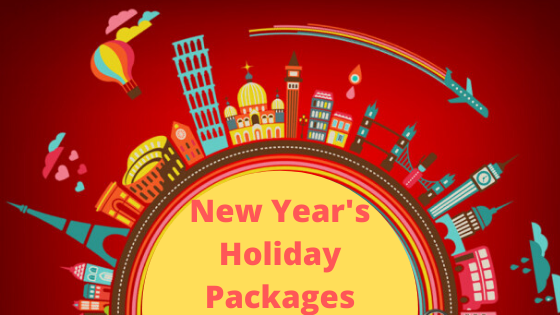 New Year is all about ideas, new thoughts, and most importantly, new memories. Life could be meaningless without memories. 
Although the best of memories are built in a place different from your usual residence. The heart indeed resides in one place, but memories mostly take place at some other. Therefore, to help you make some New Memories, we have suggested great New Year Holiday Packages Offers 2020 for you.
Note:
You can also pick the package by your own choice if you think of visiting the place we suggested.

In case if you wish to know about some great New Year Online Offers, then click on the provided link.
To know more about the holiday packages, keep reading!
Also, if you wish to celebrate and enjoy the New Year around Delhi NCR, then read the Top 10 New Year Places in Delhi NCR 2020. 
1. Bhutan
 Bhutan is a South Asian country known for its Buddhism culture. The country has monasteries for you to visit, and it is close to the Himalayas. The country offers great diversity from plains to mountain valleys. 
Bhutan is known for its famous trek of Jomolhari. You can visit three different cities which are Thimphu, Punakha, and Phuentsholing. 
Recommended places to Visit 
Thimphu: It has the most famous monasteries including the Tashichho Dzong, Memorial Chorten, Simtokha Dzong, Memorial Chorten, Takin mini Zoo, Tashichho Dzong, Art & Craft School (Zorig Chusum), Textile Museum, Kyichu Lhakhang and Handicraft Emporium. 
Punakha: The first spot in the itinerary includes the Dochula Viewpoint, Chimi Lhakhang, Punakha Dzong, Pho Chhu and Mo Chhu rivers.
Paro: The first place that you can visit would be the National Museum of Paro, Jangtsa Dumtseg Lhakhang Temple, Rinpung Dzong Monastery, Drukgyal Dzong Monastery and Tamchoe Monastery. 
A great destination would be the Kyichu Lhakhang and Tiger's Nest Temple. 
In the local farmhouse, you can participate in Bhutan's National Sport which is Archery. 
Accommodations In Bhutan
Hotel Norbuling, Druk Hotel Thimphu, Dhensa Boutique Resort, Le Meridien Thimphu. 
How To Reach
The best way to reach Bhutan from India is to take a direct flight to Paro. It takes around 2.5 hrs to reach from Delhi to Paro, flying time is at its minimum if you're taking a flight from Bagdogra.
Package Price:
The package price is around Rs. 42,750 for one person [Flights, Activity, Transfer]
2. Andaman 
Andaman is known for its beauty and marine life along with great beaches. There are many destinations which Andaman offers to its visitors. 
If you are looking forward to the unique experience and have not visited the place, then you must. Although, it is best to keep the exploration to ourselves if going for the first time. 
Recommended places to visit 
Spend your entire day on the Corbyn's Beach enjoying water sports on payment basis.
You can visit the anthropological museum and visit the Samudrika and Sagarika shopping Emporium. Cellular Jail would be the destination for the evening where you can experience the light and sound show.
You can visit the Ross Islands and enjoy the sunset at Chidiya Tapu.
Accommodations in Andaman
You can stay at Sea Shell Samsara, Havelock Island Beach Resort, Sinclairs Bay View, SeaShell, Neil and many more. 
How to reach
You can contact the airport at Port Blair which has functional connectivity with Delhi, Mumbai, Chennai, Kolkata, and Bangalore. While the flights from Delhi and Mumbai take 5 hours, travellers from Chennai and Kolkata can reach in just 2 hours.
Package price:
The package price is starting from Rs. 19550 [Flight, Activity, Transfer]
3. Kerala [Cochin] 
Kerala has its own tropical beauty. The city offers many beautiful cities, although we will be talking about Cochin. Also known as Kochi, it is a lovely city located in the coastal areas of Kerala. 
The place is mostly known for the Chinese fishing net which is reminiscent of the Chinese culture in Kochi. The area also has some great lakes, open beaches, and backwaters. 
Recommended Places To Visit
You can cover activities like the Dutch Palace, Jewish Synagogue, St. Francis Church, and Chinese Fishing Net. You can visit the local market in the evening.
You can visit the Guruvayur Temple Visit, Alleppey beach, Wayanad wildlife sanctuary, Kochi fort, and in Munnar, you can visit parks and museums like Eravikulam National Park, Blossom Park, TATA Tea Museum, etc. 
Accommodations In Kerala
You can stay at Radisson Blu Kochi, Fort Kochi, Swiss County, Estuary Sarovar Portico (Poovar Island), Fort Munnar. 
How To Reach
By Air- The state has three main airports located at Thiruvananthapuram, Kochi and Kozhikode.
By Train- Kerala is well-connected to all the major cities of India including the four metropolitan cities namely, New-Delhi, Mumbai, Kolkata, and Chennai through an active train services link with around 200 railway stations.
By Road- National Highway no.47, 17, 49, and an expanded system of metalled roads connect Kerala to the rest of the country.
By Water- Backwaters of Kerala not only as a famous transportation medium but noted as prominent tourist attractions in themselves.
Package Price
The package price is around Rs.23,150 [Flight, Activity, Transfer].
4. Malaysia (Kuala Lumpur with Legoland Tour) 
Malaysia is a popular holiday destination in India. It is a South Asian country occupying parts of the Malay Peninsula and the island of Borneo. 
Kuala Lumpur, is the most popular city in Malaysia known to Indians. Although, the city deserves this much attention with significant marketplaces, skyscrapers including the 451 meters high Petronas Twin Tower. 
Recommended Places To Visit
You can visit places like Petronas Tower, Kuala Lumpur Tower, Central Market, Kuala Lumpur, Sultan Abdul Samad Building, Sunway Lagoon.
Spend your day in Kuala Lumpur Bird Park, Aquaria KLCC, Sri Mahamariamman Temple, Bukit Tabur and Planetarium Negara. 
Flight Tickets
The tickets can cost you around INR 16,000 per person (Chennai Kuala Lumpur)
Accommodation in Kuala Lumpur
Bed & Breakfast Tiny Garden (INR 900 per person)
Sarang Vacation Homes (INR 1,400 per person)
How To Reach
Kuala Lumpur International Airport is Malaysia's main airport and one of the major airports in South East Asia. 
Catch frequent flights from Delhi, Mumbai, Kolkata and Bangalore, four major international airports of India. 
5. Bali 
Bali is an island known for the famous forested mountains, iconic rice paddies, beaches and coral reefs. Enjoy the beautiful island performing yoga and meditation.
You can enjoy festivals and events with music hosted during this time which makes the perfect place to welcome 2020 with a bash. You can go surfing before the year ends! 
Recommended Places To Visit
The places include Ubud, Kuta, Denpasar, and Jimbaran. 
Accommodations In Bali
You can stay at Bali Bohemia, The LOVINA Bali Resort, and Ashoka Tree Resort. 
How To Reach
The most straightforward way to travel to Bali from India is by flight. You can have a cost-effective trip if you book tickets in advance. From India to Bali it takes around 9 hours to reach Bali from India.
Package Price
The package price is starting from INR 13,999/-. 
6. Thailand
Thailand is the most famous place and also one of the cheap new year destinations among all the international new year holiday destinations in Asia. People from all around the world plan to visit this tropical paradise that is home to picturesque beaches, artistic temples, and mouthwatering cuisine.
Recommended Places To Visit
You can visit Bangkok, Phuket, Phi Phi Island, Chiang Mai, and Krabi. 
Accommodation In Bangkok
You can stay at The Step Sathon (INR 1,200 per person) , Atelier Suites (INR 1,300 per person), etc. 
How To Reach
You can reach out to the international airports situated at Bangkok and Phuket. 
Major airlines that fly within the route include Air India, Thai Airways, SpiceJet, Druk Air, Bangkok Airways, IndiGo, AirAsia, etc.
Package Price
The price is starting from INR 14,500 /-. 
7. Dubai 
Dubai is known as the essence of luxury, entertainment, and adventure in Asia. The place is awe and admired concerning the style and grandeur of celebration in Dubai. 
The place is one of the cheapest new year destinations, including extreme adventures, nightlife, Dubai food, and culture.
Recommended places to visit
Do visit the Burj Al Arab, Palm Jumeirah, and Sheikh Zayed Mosque are the recommended places to visit. 
Accommodation in Dubai
You can stay at Midtown Furnished Apartments (INR 2,700 per person), Rayan Hotel Sharjah (INR 2,100 per person), etc. 
How To Reach
Airlines like Emirates, SpiceJet, Fly Dubai, Air India, Jet Airways, and Indigo take you to Dubai. Regular flights are flying from major Indian cities.
Package Price:
The price is starting from INR 17,000/-.
8. Bangkok
Witness this New Year only in Bangkok with the well-lit streets welcoming, and enjoy the perfect destination to visit in New Years. 
One of the best places to travel on a budget, including all the fun events and festivals celebrated here during the New Year will keep you excited throughout the time.
Enjoy the vibe in the air before 2020 arrives at the doorstep. Get ready for all the fun!
Recommended Places To Visit
Do not miss to visit the Grand Palace, Wat Phra Kaew, Reclining Buddha at Wat Pho.
Accommodations In Bangkok
You can stay at The Ecotel Bangkok, Bangkok Palace Hotel, Ambassador Hotel Bangkok, etc. 
How To Reach
Bangkok is a major tourist place, multiple flights are connecting India and Bangkok. They are easily accessible, and significant carriers include Air India, Thai Air, IndiGo, and AirAsia.
Package Price
The Price is starting from INR 14,500/-.
Before ending this article, we would like to wish a Happy New Year to all the readers in advance. So these were some of the best Travel Holiday Packages for New Year 2020 that you can avail for the coming year. 
We hope this article may have been of some help to you. Also, thank you for reading until the end.