Netmeds First Membership Price, Plans and Offers
Get your Netmeds First Membership for many offers and benefits.
By :
| Views: 3689



UPDATED ON: 19 Aug 2019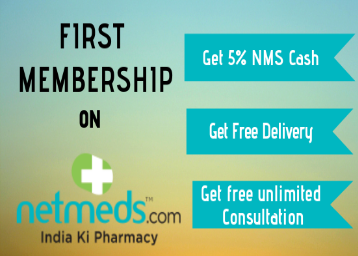 Netmeds, India Ki Pharmacy is one of the most trusted pharmacies in India. The platform helps the people for their health effortlessly and also take care of loved ones wherever they may reside in India.
To make your online medicine buying experience better Netmeds has launched a premium subscription program. 
Netmeds first membership offers a number of benefits including unlimited free consultation, free delivery, and 5% cashback on medicines.
Keep reading to know more about the membership and its benefits. There are also Netmeds Offer On Medicines for you to avail. 
At the same time, Netmeds also helps to save money with their cashback offers, which can get redeemed by the first user or the old users. There are savings for everyone at Netmeds. 
Netmeds First Membership Plans
It's time to save more on your healthcare with Netmeds First Membership plans. You can get the membership for 6 months and 12 months. After which you can avail the 5% NMS cashback offer. 
| | |
| --- | --- |
| Months | Price |
| 6 Months | Rs. 299 |
| 12 Months | Rs. 499 |
You can opt any of the 2 membership variants. Once your membership is going to expire, you will get the notification for the renewal of your membership.
Netmeds First Membership Offer - Get 5% NMS Cash
You get 5% NMS cash if you have a membership of Netmeds. The offer is only on prepaid orders. Buy medicines with few clicks of the mouse, and you can even send medicine anywhere in the country.
There is a wide range of prescription medicines and other health products conveniently available all across India. Since they offer generic alternatives to most medicines, online buyers can expect significant savings.
Maximum cashback is Rs. 100 per order.

As a member, you will get Free delivery on your order.

You will also get an additional 10% off on Lab Tests.

Get free unlimited Consultation.
Note: If you want to know more about Netmeds Refer & Earn Offer click on the link given.
Terms & Conditions
The Netmeds First Membership can get availed in-app and M-site only.

Two terms of Netmeds First Membership are available for you to choose the 6 months plan or the 12th months plan. 

While ordering or purchasing Netmeds First Membership, the NMS cash will be applicable on the Netmeds First Membership Fee. 

Netmeds First Membership cannot be purchased along with any consultation services or Diagnostic services. 

You will be entitled to receive an additional 5% NMS Cash on your every order. 

The amount will get credited to you NMS Wallet.

As part of the membership, Netmeds First Members are eligible for Free Delivery of any eligible products. 

The mode of payment to receive Free Delivery can either be Cash on delivery or Pre-paid. 

For Cash on delivery orders, the minimum order required to redeem the free shipping is Rs. 60 per order. 

On 12 month subscription, you can get 1 Basic Health Checkup for free.
FAQs
Q1. Do I get NMS Cash when I make purchases using my Netmeds First Membership?
A 1. The first member can get an extra 5% NMS cashback on prescription medication bought using their membership. First members will get this cashback along with the benefits of the offers and discounts available to their non-First customers.
Q2. Is Free delivery applies to all types of orders? Is there a minimum order?
A2. Yes. There is a free delivery applicable on all orders placed using your Netmeds First Membership. As a special bonus, the minimum order amount has waived for free delivery. For COD, order amount should be between Rs. 60 and Rs. 5,000. 
Q3. Can I get a discount lab test/packages at any lab?
A3. As a member of Netmeds First program, you are entitled to an additional 10% discount on lab tests and packages with labs associated with Netmeds. The Netmeds are constantly working with the lab partners to make sure that they give you the best possible deals.
Q4. Is there a cap on the Diagnostics discount?
A4. The additional discount of 10% on lab tests and packages is applicable on your total bill value regardless of the amount spent.
Q5. Can I cancel my membership after buying it?
A5. Once paid for, the Netmeds First Membership you cannot cancel it. 
This is all about the Netmeds First Membership offers and benefits. Buy your membership and avail the best offers.