Watch Money Heist Netflix Show Online - All Episodes For Just Rs 5
Check out the most popular Netflix show Money Heist Part 4, along with its release dates, episode lists and more.
By :
| Views: 25305



UPDATED ON: 1 Aug 2020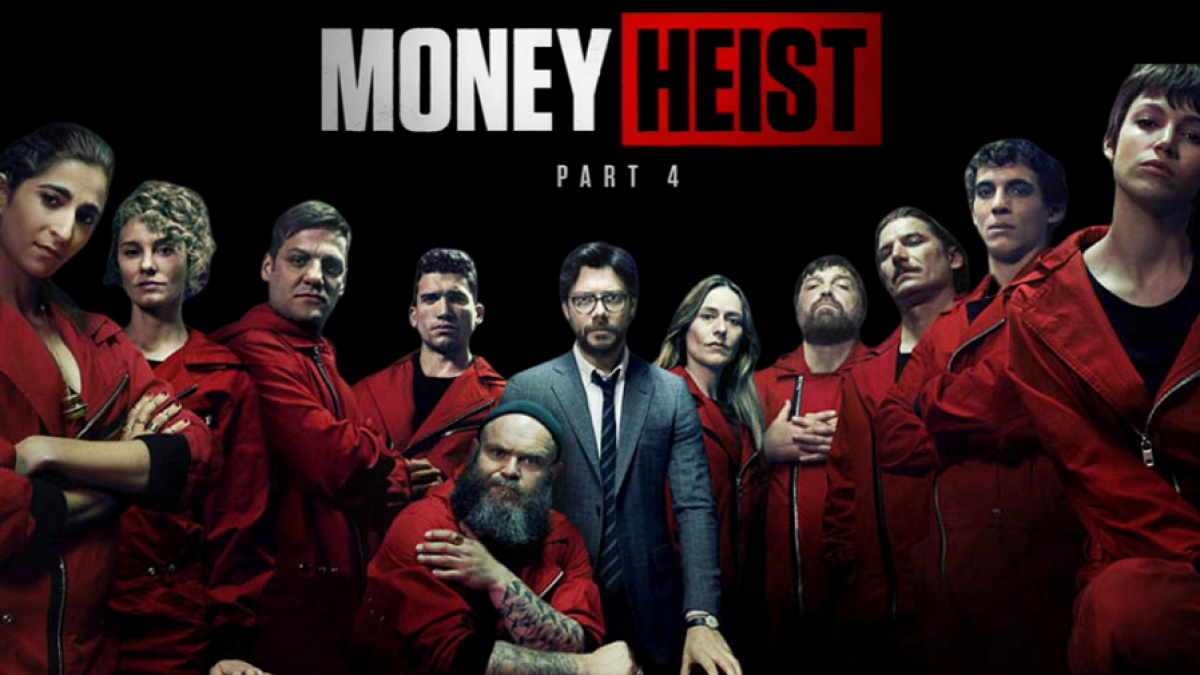 Netflix is one of the most popular online streaming platforms in the world and is known for some of the best content across various genres. One amongst the most famous series is Money Heist, is back for Season 4 and is now streaming in India and all over the world. Also, know more about the Netflix Original Movie list with just a click on the provided link. 
Money Heist is Netflix's most-watched non-English show and is also known as "La Casa De Papel" in Spanish, which translates into, "The House of Paper". It was originally a Spanish Crime Television Series which was later acquired by Netflix from where it became the global superhit show it is today. If you are at home and love binge-watching shows, then you should definitely check this out and watch it along with your friends and also have a look at Dark Season 3.
The Money Heist plot revolves around a group which is code-named "Robbers" who are involved in robbing banks. The series portrays their struggle with hostages inside the bank while tackling police on the outside. Also, know more about the Best Indoor Games in India with just a click on the provided link. 
Carrying on from Money Heist Season 3, the latest Season 4 can be being streamed on Netflix and in this article we will tell you how you can watch this amazing show for only Rs. 5. Keep reading for more details of the Money Heist Netflix Show. 
Money Heist 4 Release Date
Money Heist Season 4 has been released on 3rd April 2020 and is streaming on Netflix. The Money Heist Documentary will also premiere on Netflix along with the show. It will feature all of the Money Heist Cast and producers and is titled "Money Heist: The Phenomenon". 
With the massive popularity and promotion behind Money Heist Part 4, many people are now desperately waiting for the Money Heist Season 5 Release Date on Netflix. This is something we will have to wait for in the future. 
Related: A big fan of The Simpsons? Check here on how to watch them online!
Money Heist Trailer - Season 4
Netflix had earlier released the Money Heist Trailer earlier in March which created quite a storm on the Internet. The eagerly awaited Money Heist 4 Trailer was instantly watched by millions of people and became a sensation worldwide. If you still haven't laid your eyes on the Money Heist Youtube Trailer, then here it is given below.
How to Watch Money Heist on Netflix?
If you are planning to watch Money Heist Season 4 Netflix Series, then follow the steps given below to check out this Netflix show. You can catch up with Money Heist all seasons with online watch feature on Netflix. 
Download the Netflix Mobile App on your phone or visit the Netflix website.

Sign up with Netflix and create a new account.

Choose the plans that you need to subscribe to.

Complete the payment.

After completing the payment, you will be subscribed to Netflix.

You can then search for Money Heist Season 4 Netflix online.

Click on the show and watch and enjoy.
How to Watch Money Heist Part 4 Series for Rs. 5?
Netflix has great offers for select new users in India. Only select New users can get a complete 30-day trial for only Rs. 5. So if you are wondering what the best way is to watch Money Heist 4 English online, then you should download Netflix today!
In order to watch Money Heist Series on Netflix then make sure you follow the steps below.
Visit Netflix website or download their Mobile App.

Create a new account and enter the credentials required.

Sign up into the new account to start the 30-day offer.

Make the payment using the method of your choice.

Once you become a Netflix member, you can search and watch Money Heist All Seasons.
Watch Money Heist Netflix Series For Free (For Vodafone Red Subscribers)
If you are a Vodafone subscriber, then you can get free Netflix for one year and then free stream Money Heist Season 1 till Season 4. For that, you need to follow these steps.
Visit the Vodafone Red Postpaid recharge portal.

Then, recharge your connection with a Vodafone Red plan of Rs. 1299 or above.

Now you can enjoy free Netflix for a year.

Search for the Money Heist Netflix Series.

Watch and enjoy the Series, Money Heist Netflix show for no extra charge.
This is a great way for you to enjoy all Money Heist episodes for free on your Netflix account.
Related: Watch the latest Netflix Comedy Series, Space Force TV Series for Free. Click here for more. 
Money Heist Cast and Characters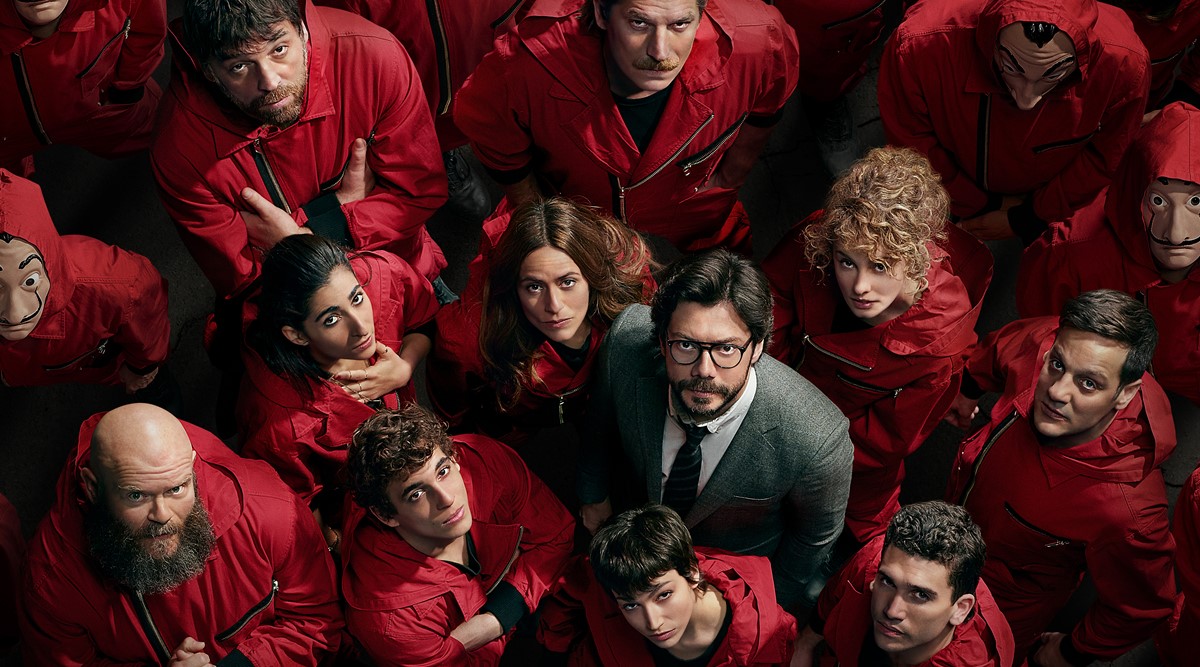 No television show or movie becomes a hit without having a great cast to support it. Same goes with Money Heist Season 4 Cast, where some of the best characters were portrayed by a talented set of actors that have made the show the sensation it is.
In Money Heist all characters are either permanent or recurring characters, with many regularly returning to the show to complete their set of character arcs. Popular Money Heist characters like Silene Oliveira (Tokyo) played by Úrsula Corberó and Sergio Marquina (The Professor) are part of this season as well, along with other big Money Heist Cast names.
Here is the complete list of the Money Heist Character Names that you can get to see throughout the series
Úrsula Corberó as Silene Oliveira (Tokyo)

Álvaro Morte as Sergio Marquina (The Professor / Salvador "Salva" Martín) 

Itziar Ituño as Raquel Murillo (Lisbon) 

Pedro Alonso as Andrés de Fonollosa (Berlin) 

Alba Flores as Ágata Jiménez (Nairobi)

Miguel Herrán as Aníbal Cortés (Rio)

Kiti Mánver as Mariví Fuentes  

Jaime Lorente as Daniel/Ricardo Ramos (Denver) 

Esther Acebo as Mónica Gaztambide (Stockholm)
Also read: Watch all the best Netflix Documentaries for Free. Check here for more.
Money Heist Episodes - Complete List
Money Heist or Le Casa De Papel is a two-part Spanish Crime Television Show created by Álex Pina. It consists majorly of two seasons divided into two parts. The newly released part is Money Heist Season 2 Part 2, which has referred to as Money Heist Season 4 or Money Heist Part 4 as this is 4th instalment of the Money Heist all seasons list.
Money Heist Total Episodes amount to 31, including Part 4. Here is the complete list of episodes of the series.
Money Heist Season 1 Episodes 
Check out all the Money Heist Season 1 Episodes in the list given below. You can check these out to know your progress if you are binge-watching the series.
| | |
| --- | --- |
| Episode | Title |
| 1 | "Do as Planned" |
| 2 | "Lethal Negligence" |
| 3 | "Misfire" |
| 4 | "Trojan Horse" |
| 5 | "Groundhog Day" |
| 6 | "The Hot Cold War" |
| 7 | "Cool Instability" |
| 8 | "You Asked for It" |
| 9 | "Whoever Keeps Trying It, Gets It" |
Money Heist Season 2 Episodes
Here are all the Le Casa De Papel or Money Heist Season 2 episodes.
| | |
| --- | --- |
| Episode | Title |
| 1 | "Masked No Longer" |
| 2 | "The Head of the Plan" |
| 3 | "A Matter of Efficiency" |
| 4 | "What Have We Done?" |
| 5 | "Against the Clock" |
| 6 | "Bye Beautiful" |
Money Heist Season 3 Episodes
Check out all the Money Heist Season 3 Episodes in the list given below.
| | |
| --- | --- |
| Episode | Title |
| 1 | "We're Back" |
| 2 | "Aikido" |
| 3 | "48 Meters Underground" |
| 4 | "Boom, Boom, Ciao" |
| 5 | "The Red Boxes" |
| 6 | "Everything Seemed Insignificant" |
| 7 | "A Quick Vacation" |
| 8 | "Astray" |
Money Heist Season 4 Episodes
Here are all the Le Casa De Papel or Money Heist Season 4 episodes. These are the latest episodes of Money Heist that have been released on Netflix.
| | |
| --- | --- |
| Episode | Title |
| 1 | "Game Over" |
| 2 | "Berlin's Wedding" |
| 3 | "Anatomy Lesson" |
| 4 | "Pasodoble" |
| 5 | "5 Minutes Earlier" |
| 6 | "TKO" |
| 7 | "Strike the Tent" |
| 8 | "The Paris Plan" |
Note: Check out the latest releases on Netflix 2020. Click here for more.
Money Heist Review Online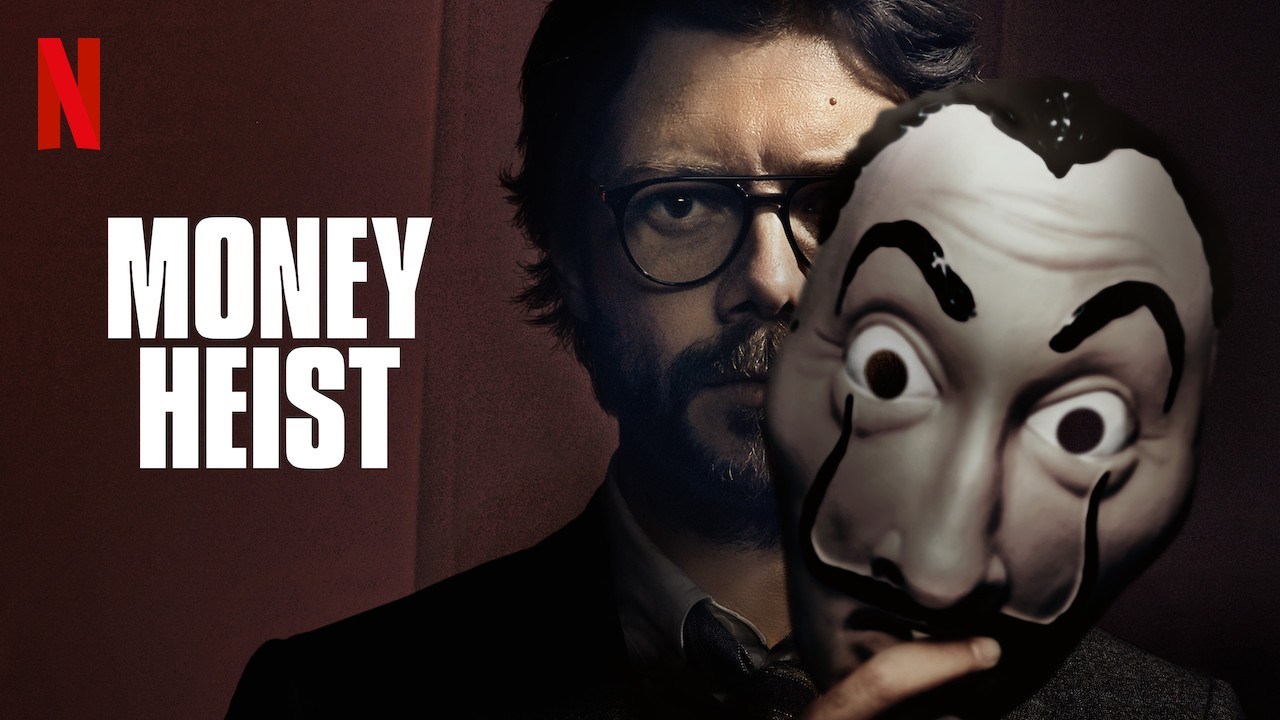 Such is the popularity of this show that even props from Money Heist have developed fan bases of their own. The Money Heist Mask used in the series is all the rage, as many fans and followers have been wearing the mask to show their love and appreciation.
When it comes to Money Heist Netflix Review, the common thing almost all critics and fans of the show appreciate is the ensemble cast and their performance in the show. The Money Heist IMDb review clearly shows why it is the most followed show of Netlfix.
All in all, Money Heist review has been one-sided, be it the public response or critical response. All have equally praised the show for its unique concept, storyline and memorable performances, especially since Money Heist Rating has been going through the roof according to all media outlets.
Money Heist English Dubbed or Spanish?
If you are still confused in which language is Money Heist Season 1 streaming, then let us clarify that too. On Netflix, you can find both Money Heist Season 1 English dubbed and Spanish versions. Even for the latest season, you can select either Money Heist Season 4 English dubbed or the Spanish version, the choice is up to you.
In case you are new to the series and want to experience the absolute original flavour of the Money Heist season 1 online watch the series with Spanish audio supported by English subtitles. This way, you can follow the show in the way the makers intended it to be, and also not lose track of the story too.
Money Heist Season 5
With the latest announcement coming from Netflix itself, it has been confirmed that Money Heist will return for a fifth and final season very soon. The news was greeted by fans all over the world who have been waiting for Money Heist Season 5 ever since the completion of the previous season.
After the huge success of the Money Heist Season 4 fans all over the world were waiting for an official announcement of the next season which was finally delivered yesterday. The Money Heist Netflix series has become a big hit for the online platform. Apart from the usual cast, Miguel Ángel Silvestre and Patrick Criado will also join in season 5.
Netflix revealed about the final season on their official social media platforms, by sharing a picture of a broken Salvador Dalí mask lying on the ground.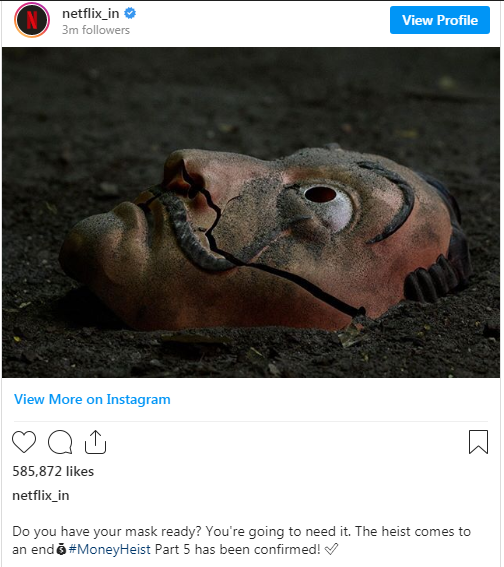 The extremely popular Spanish drama is expected to get a 10 episode final season and is being waited with bated breaths by fans all over the world. 
So this was all about the Netflix Series Money Heist, its news, details, release date and all latest news and info of the show. If you are looking for more of such news and updates of recent shows, tech updates, offers and discounts then check out our website for more information.
Frequently Asked Questions
Q. Where can I watch Money Heist English Dubbed?
A. Money Heist is available on Netflix in Spanish with English subtitles and English audio both.
Q. Is money heist based on a true story?
A. No, it is not based on a true story. It was created by Álex Pina for Spanish television.
Q. What is the money heist meaning in Spanish?
A. In Spanish, the show's original language, it is known as "La Casa de Papel" which means "The House of Paper".
Q. When will Money Heist 4 be released?
A. Money Heist Season 4 can be watched on Netflix after its release on April 3rd 2020.