BSNL Broadband Plans 2022 - See New Plans Starting Rs. 349
BSNL broadband plans launched at Rs. 349, Rs. 399, and Rs. 499. Also, get 25% cashback on annual subscription of BSNL Broadband plans.
By :
| Views: 3302



UPDATED ON: 15 Jun 2022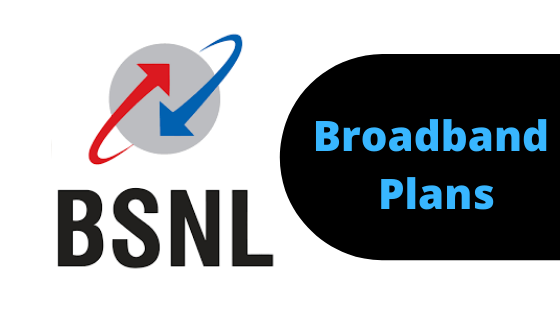 New BSNL Broadband Unlimited Plans have been introduced which have been priced at Rs. 349, Rs. 399, and Rs. 499. The monthly plans of BSNL will be available for subscription starting July 1, 2019. Recently, BSNL announced 1 year of Amazon Prime for free to select postpaid and Landline postpaid customers.
You can avail 25% cashback on the annual subscription of BSNL unlimited broadband plans. 
Meanwhile, if you want to know about prepaid recharge plans, then do check out the latest BSNL prepaid recharge plan.
New BSNL Broadband Plans
| | | |
| --- | --- | --- |
| Plan | Data Per Day | Voice Calling |
| Rs. 349 | 2GB Per Day | Unlimited BSNL calling + 600 Free Mins |
| Rs. 399 | 2GB Per Day | Unlimited |
| Rs. 499 | 3GB Per Day | Unlimited |
These amazing BSNL Broadband plans have great benefits for its users. You can do a lot by spending very less. These plans are affordable and also provide high-speed internet at the same time. Apart from the other previous BSNL Broadband plans, these plans also offer similar benefits for its users. These very affordable BSNL Plans for Broadband allow users to make the best out of their Internet connections and also use maximum data with minimum expenditure.
The BSNL Broadband plans are consistent all throughout the country. This means that the BSNL Broadband Plans Kerala state has will be the same as BSNL Broadband Plans Punjab state has.
Also, because the pans are affordable and available almost everywhere in India, BSNL becomes one of the most trusted choices all over the country. With BSNL Broadband, you can get high-speed internet in your homes at very reasonable rates thus allowing you to work from home and carry out all important tasks from within your living room. High-speed internet through the BSNL Broadband Plans also lets you watch the best media content online as well. 
If you are interested in recharging with the best BSNL Plans for broadband then you can check out these fantastic BSNL Broadband plans and their details below. 
BSNL Rs. 349 broadband Plan
The Rs. 349 plan offers 2GB daily data at up to 8Mbps speed. Post the allotted data speed will reduce to up to 1Mbps. The broadband plan also provides unlimited voice calling benefits to BSNL network in the country. This one from the BSNL broadband internet plans comes with unlimited free calling worth Rs. 600 to other networks. 
BSNL Rs. 399 Broadband Plan
This plan from the BSNL broadband new plans offers 2GB data per day with up to 8 Mbps speed. The speed reduces to up to 1Mbps after usage of 2GB data for the day. The main difference with the earlier plan is that it includes unlimited free calling to any network within India. 
BSNL Rs. 499 Broadband Plan
The Rs. 499 Plan comes with 3GB dater per day at up to 8Mbps. The speed reduces to 1 Mbps post the daily data quota of 3GB. This plan also comes with unlimited voice calling to any network within India.
Other BSNL Broadband Plans
Apart from the BSNL Broadband Plans mentioned above. These plans are some of the most dependable broadband recharge plans that allow users to make the most of ut of their BSNL Broadband connections. These plans along with providing excellent quality internet also provide many additional benefits that one can make use of. These additional or extra benefits like free unlimited calls all over India, Free Email space and others ensure that users get a comfortable experience with BSNL Broadband.
So if you have a BSNL connection, then you should definitely try out the most suitable recharge offers on your BSNL Broadband. It is very easy and simple to recharge for BSNL Broadband. You can use the BSNL Payment portal for recharging your BSNL Internet or use any payment app to complete your BSNL Broadband payment. Apart from all the extra benefits, BSNL Broadband also gives you cashback, discounts and other deals as well when you recharge. So do not miss this opportunity and recharge with BSNL today. 
Here are more plans of BSNL Broadband along with their offer details given in the table below.
| | |
| --- | --- |
| Plan | Data Per Day with Speed |
| 599 | Upto 10 Mbps till 4 GB/day, Upto 2 Mbps beyond |
| 699 | Upto 10 Mbps till 5 GB/day, Upto 2 Mbps beyond |
| 899 | Upto 10 Mbps till 12 GB/day, Upto 2 Mbps beyond |
| 999 | Upto 10 Mbps till 15 GB/day, upto 2 Mbps beyond |
| 1299 | Upto 10 Mbps till 22 GB/day, upto 2 Mbps beyond |
| 1599 | Upto 10 Mbps till 25 GB/day, upto 4 Mbps beyond |
| 1849 | Upto 16 Mbps till 30 GB/day, upto 4 Mbps beyond |
| 2349 | Upto 24 Mbps till 35 GB/day, upto 4 Mbps beyond |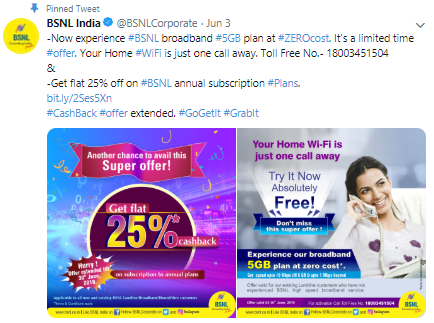 BSNL Broadband Data Plan Cashback Offer
If you are looking for amazing cashbacks on your BSNL Recharge plans then be informed that BSNL broadband data plans offer an amazing cashback offer for its customers. Check out the details below.
Cashback is valid only on annual plans

Cashback will be given as credit to customer account once the invoice in which the annual plan is billed.

The cashback amount can be used by the customer for availing more services from BSNL or payment of future bills.

In case the subscriber changes plan to lower rental plan or disconnects the service before the tenure of rental option, then a debit with an equivalent amount as of Cashback will be posted.

The offer is valid once per customer.

Subscribers can change broadband plan only once in a month.
How to recharge BSNL Broadband?
To recharge your BSNL Broadband, follow the steps given below
For Recharge Via Portal
Visit the BSNL Payment Portal page here.

Select the recharge tab.

Now you can choose the prepaid broadband option from the left column

Enter your credentials to log in to the broadband portal

Enter your details to start recharge process

Select the preferred mode of payment

Complete the payment process.
For Recharge via My BSNL Apps
Visit the BSNL Payment Portal page here.

Download the My BSNL App from the page.

Install the app on your smartphone

Log in to the app with the credentials required

Move to the payment section

Select BSNL Broadband option and give the details

Choose your preferred payment mode

Complete the payment process and you are done
So this was all about the amazing offers and broadband plans of BSNL. For more such news, updates and articles on the latest tech developments, keep following our website for more information. 
Frequently Asked Questions on the BSNL Broadband Data Plans
Q. What are the plans of BSNL broadband?
A. The BSNL broadband plans are mentioned in detail in the article mentioned just above. Three new plans have been added in the Jio broadband plans starting from Rs.349.
Q. Can I get BSNL broadband without a landline?
A. Yes, if you do not have a landline still you can have a BSNL broadband connection via  BSNL FTTH broadband connection.
Q. What is FUP limit of BSNL BB 249 plan?
A. 15 GB is the FUP limit of BSNL BB 249 plan.
Q. Is BSNL Broadband free?
A. Only for existing BSNL landline customers, BSNL provides a free broadband connection. The customer will be entitled to 5GB per month at 10Mbps.
Q. What is the cost of BSNL broadband?
A.  As mentioned in the article above, you can check that the cost of the BSNL Broadband begins from Rs. 349.
Q. Are there multiple BSNL.in Broadband recharge plans?
A. Yes, there are a number of BSNL Broadband recharge plans that you can avail. Just check the table above for further information.