How to Watch Tripling Season 3 Online For Free?
33 days ago
The wait for Tripling season 3 is over, as the season 3 episodes premiered on Zee 5. 
But do you want to watch it without spending any money? If yes, then great.
This article will tell you How to Watch Tripling Season 3 Online For Free. Further, we have also provided important information about tripling season 4. Hence, to know about that in detail go through the article till the end.
Tripling is one of the most eagerly awaited web series. The storyline depicts the three siblings, played by Sumeet Vyas, Maanvi Gagroo and Amol Parashar, who will be back for a family trek after a gap of three years.
In between, you can check out our article on 22 Upcoming Web Series 2023.
And for more details about tripling season 3 scroll down to this article and read till the end.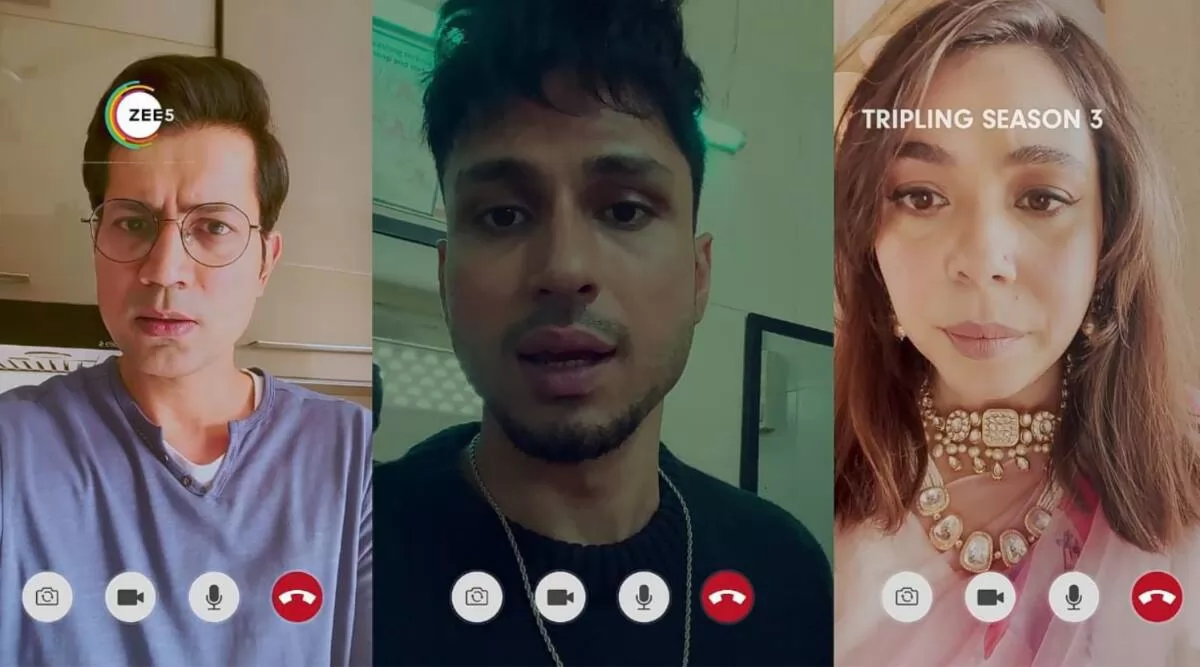 Tripling season 3 
Tripling is back with the third season. We all have known Chandan, Chitvan and Chanchal. But with the third season focus will also be on their parents, who just like their unusual choices. 
The web series has gained cult status over the years because of sibling camaraderie. The show is about three siblings and their bond as they are together on a journey. In season 3, they will be joined by their parents on this fun journey. 
Tripling Season 3 Release Date 
Tripling is a web series created by TVF. The show's first season was out in September 2016 on TVF Play and YouTube. 
The second season premiered on Sonyliv on 5th April 2019. Now, the 3rd season is all set to release on Zee5. 
The release date for the third season is 21st October 2022. 
Watch Tripling Season 3
You can watch Tripling Season 3 on Zee5. The OTT platform has confirmed the 3rd season of the web series. 
To watch Tripling season 3, you can subscribe to 3 month or 12-month plan of Zee5. The 3-month subscription costs Rs. 399. At the same time, Zee5 12-month subscription is available at Rs. 699. 
You can also get a Zee5 1-month subscription from the Airtel Thanks app. 
How to Watch Tripling Season 3 For Free? 
You get free access to Zee5 with select recharge plans of Vi on the Vi Movies & TV app. You can recharge with one of the plans and watch premium content for free. 
Zee5 premium subscription is also available with Flipkart Supercoins. You can use Supercoins to get a Zee5 subscription free and watch Tripling season 3. 
Go to Plus Zone on Flipkart

Scroll to the entertainment section

Choose the Zee5 Subscription offer

Confirm the selection

Use the unique code to start your free subscription

Watch Tripling season 3 For free 
Tripling Web Series Episodes 
So far, two seasons of the web series have been released, with a total of 10 episodes. Season 3 is also expected to have 5 episodes. For more information on Tripling season 3 episodes, stay tuned. 
Tripling Season 1 Episodes 
Toh Chalein

Ab Kidhar?

Right, Left Ya Seedha?

Aage Tiraaha Hai

Pahunch Gaye Kya?
Tripling Season 2 Episodes 
Mada Faka

Phir Se Tripling

Kabootar Ja Ja Ja

Bandhu Re

Rasta Jahaan Le Chale
Tripling Season 3 Episodes 
Back To Home

Raita Phail Gaya

Ghar Hai Wahi

Happy Married

Jude Hain Hum
How to Download Tripling Season 3? 
You can download Tripling season 3 on the Zee5 app. At the same time, the earlier seasons are available on YouTube and SonyLiv, respectively. 
Open the Zee5 app

Click on Tripling season 3 banner

Choose an episode

Select download option

Pick video quality 

Watch anytime in the offline mode 
 Tripling season 3 Cast
With Tripling 3, Sumeet Vyas, Maanvi Gagroo and Amol Parashar return in the lead roles. The siblings on a family trek are joined by their parents, Charu and Chinmay. 
Cast: Sumeet Vyas, Maanvi Gagroo and Amol Parashar

Directed by: Neeraj Udhwani

Release Date: To be announced

Where to Watch: Zee5
Tripling season 3 Review
Tripling season 3 is a nice blend of emotions and humor. The show once gain stands out for its highly relatable content. Each character has variations which keeps plenty of scope for performances. 
It seems to be story of every household where kids want parents to understand their world but in return they fail when their parents want the same back from them. The season 3 is high on emotions which was missing earlier. 
Tripling season 3 is the latest Hindi web series on Zee5. The show has gained a cult status and now we get a chance to relive the sibling camaraderie. 
The new series is expected to be even more fun because the three siblings are joined by their parents. You can watch Tripling season 3 on Zee5. 
About Tripling Season 4  And Its Release Date
Tripling is one of the most famous Indian Hindi Language Web Series, initially released on September 7, 2016. This series gained massive popularity within the premiere of several episodes, and now it will bring its new season, Season 4. The fans are excited about Season 4 of Tripling and eager to know the Tripling Season 4 release date. 
Well, it is expected that Tripling Season 4 will release by the end of 2023. However, these are just assumptions. So, we will have to wait for the official affirmation about the release date of Tripling Season 4.
Cast Of Tripling Season 4
Along with other casts, Chandan Sharma and Chitvan Sharma are expected to return in Tripling Season 4. In the previous season, Sumeet Vyas  Chandan Sharma &  Maanvi Gagro gave fantastic performances of their characters that caught the attention of all the series' viewers. So, it will be fun to see whether they will return in the tripling season 4. 
Overview Of Tripling Season 4
Name Of The Season: Tripling
Genre: Drama
Season Number: 4
Tripling Season 4 Release Date: End Of 2023
Tripling Initial Season Release Date: 7 September 2016
Tripling Season 4 Characters: Chandan Sharma and Chitvan Sharma
Conclusion
I hope that you must have got all the information regarding How to watch Tripling season 3 for free after reading this article. we have tried giving you all the minor details regarding the same. If you still have any queries, feel free to ask them in our comment section.
Frequently Asked Questions 
Q. How many seasons does Tripling have?
A. After a gap of 3 years, Tripling is coming up with season 3. Recently, TVF and Zee5 confirmed the third season.
Q. Where to Watch Tripling?
A. Tripling season 1 is available on TVF play and Youtube. While the second season of the web series is available on SonyLiv. Now, season 3 is released on Zee5.
Q. What is the release date of Tripling Season 3?
A. The release date of Tripling 3 is 21 October 2022. The season 3 will premiere on Zee5. 
Q. How many episodes are available in Tripling?
A. The web series includes 5 episodes each in season 1 and season 2, Season 3.

Join Telegram Channel & Get Instant Deal Alert

75,062+

participants