Top 5 Reasons to Sell Your Mobile On Cashify
By :
| Views: 1841



UPDATED ON: 17 May 2018

We all love to use the latest gadgets and spend lots of money just to use the latest gadgets. But after some time a much better gadget launches in the market and you feel that your mobile or laptop is worthless. So, you have to sell your device to get the new one, But do you know the right place to sell it so that you get the right price? 
Well, for that my answer would be Cashify. This website is the smart way to sell your old device at the right price. If you sell your old mobile at any offline store then it might be possible that you do not get the right price for your device. But On Cashify, your device will be analyzed properly and according to that analysis, the right price will be given to you. Now, let have a look at another 5 reasons to sell your mobile on Cashify.
1- Instant Price Analysis
It is tough to know the right price of your old device at offline stores. On Cashify, you will get exact price estimation of your mobile or laptop. You just have to answer few questions related your device and that is it! You will get to know the value of your old device. In this way, you do not have to waste your time in price estimation. You will get it within few seconds on Cashify.
2- Get Cash Instantly
With Cashify you will get the payment just after the pick up of your device. The representative who picks up your mobile will give you the money at the time of pickup! Cashify does not involve any third party and this is the main reason why you will get your money instantly. You can choose different payment option according to your convenience. You will get options from Paytm to bank transfer on Cashify. If you choose any other option other than "Cash In Hand" then also you will get the payment just after the pickup confirmation. 
Click Here To Avail Extra Rs.200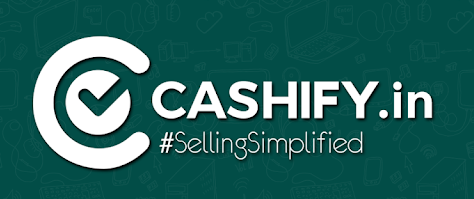 3- Free Pickup At Doorstep
Do not have time to visit Offline stores to sell your mobile! Don't worry, Cashify have the solution for that. You just have to enter the address to on Cashify and one of their executives will come to your doorstep to pick up your mobile without any pickup charges. You can also fix a time slot in which you will be available at the address. So, from my point of view, it is the best way to sell your old mobile.
4- Easy Process
Selling your mobile at offline stores is really a tough process. You have to move from one store to another just to get the right price of your device but still, you cannot decide whether you are getting the right price of your device or not. But on Cashify, you will get the right price according to your device's condition that too with few clicks. This process on Cashify, will not only provide you the right price but it will save your time as well.
5- Extra Gift Vouchers
Apart from better services and best value of your mobile, Cashify also provides extra gift vouchers to you from time to time. You can get extra shopping or gift vouchers of top shopping sites like Amazon and Flipkart if you sell your old device at Cashify. Also, Cashify provides you different coupons to its customers from time to time so, you can avail them and earn extra from the site. Right Now you can avail extra Rs.200 from Cashify just by using Coupon Code FKM200.
Click Here To Avail Extra Rs.200