Kiro Beauty Products Review: Lipstick, Eye Liner, Highlighter & More
664 days ago
Hello readers! As you may know, the Kiro Beauty store is live on cashback. Recently, we placed an order to check the quality of products and the overall experience with this store. 
It is a fairly new website, therefore, you may have some doubts regarding their products or delivery service.
We will like to tell you that the response so far has been very good. If you have any doubt, check out the Kiro beauty products review.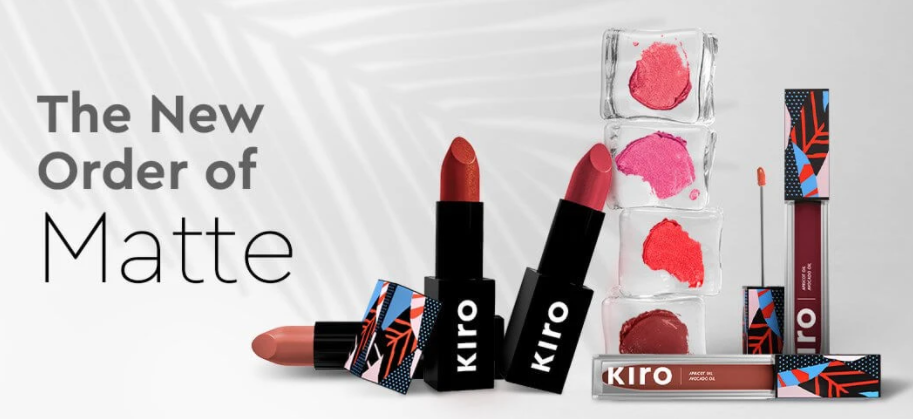 About Kiro beauty 
Let us first introduce you to this brand. Kiro is a clean beauty makeup brand and most ingredients used are plant-based. The ingredients used are mainly essential oils that nourish and hydrate your skin. 
When you open the website, you notice the importance given to ingredients. There is a section dedicated to ingredients on their website. This is a rare thing but one for the future that is much needed in the beauty industry. 
In recent times, we have seen celebrities and social media influencers break away from the traditional beauty standards and define beauty in their own way. 
If you are looking for cruelty-free and paraben-free cosmetics then Kiro can just be the right choice.  
So let us take a look at some of the popular Kiro beauty products reviews
Kiro beauty products are also available on Amazon and Nykaa. Since the cashback is still live on Kiro beauty store. I ordered the products from the Kiro beauty website. Everything reached nicely within 3-4 days. 
Kiro Beauty Product List 
| | |
| --- | --- |
| Kiro Beauty Product | Price |
| Live-in Creamy Matte Lipstick – Gold Dust | Rs. 850  |
| Live-in Creamy Matte Lipstick | Rs. 800 |
| Non-stop Airy Matte Liquid Lip | Rs. 875 |
| Glow-on Blush Duo | Rs. 900 |
| Prism Perfect Highlighter | Rs. 900 |
| All-day Comfort Kajal Liner | Rs. 800 |
| Waterproof Soft-Matte Eyeliner Pen | Rs. 900 |
Kiro Beauty Lipstick Review
Among all the products, Kiro beauty lipsticks are high in demand. You can choose from different shades, you are getting 15-20 shades in Kiro Live-in Creamy Matte Lipstick.  The presence of Jojoba Oil and Avocado oil hydrates your lips and keeps them fresh-looking. 
Kiro Beauty Lipstick Price is Rs. 880. But you can get it for as low as Rs. 90.
Yes, we are currently offering Rs. 550 cashback on Kiro beauty. There is also a 20% discount available with the Kiro coupon code. Recently, we also shared a deal regarding this offer. It is still live and you can grab it from here.
Kiro Non-stop Airy Matte Liquid Lip is an equally good product that you must try. You get 20 different shades in this product.
Kiro Prism Perfect Highlighter Review
The packaging is unique. All the details are mentioned on the outer packaging. The shelf year is approximately 3 years. In highlighter, they have only one shade which is a Sandy rose - Pearly bronze 01. You get a 9g product in this. 
Kiro Highlighter price is Rs. 900. You also get 20% off with the discount code. There is Rs. 550 FKM Cashback as well on the Kiro beauty store. If you add 2 or more products then you get a flat 25% off on your order. 
Kiro All-Day Comfort Kajal Liner 
Kiro All-Day Comfort Kajal Liner has a weightless creamy texture. It glides on easily to soothe your eyes. This eyeliner gives you long-lasting gorgeous eyes. You get 0.35 g product in this package.
Kiro All-day comfort kajal liner price is Rs. 800. However, discounts are available with coupon codes as well. 
Also read- https://freekaamaal.com/health-beauty-personal-care-offers/best-retinol-serums-in-india
Kiro Beauty Website Review
The website has a clean and simple UI. On the top, you get to choose from different product categories. You can also check out the key ingredients used in the products from here.
The product categories include Lips, face, and eyes. You can click on any category to find the products. There is also a shop all button to give you access to all products in one place. 
When you select a product you get a detailed description, how to use it, and ingredient details. 
From the product page, you can add products to the cart or add them to your wishlist. 
It is easy to register on the Kiro beauty website using an email ID. However, there is no option to log in using Social media accounts such as Facebook or Gmail. 
Also Read- Best Creams To Remove Dark Spots On Face In India
Delivery Charges Applicable
Apart from the products, another thing that we really liked about Kiro Beauty is that they offer free delivery on all orders. 
Yes, you can choose any product from their website and get it delivered free of cost to your address. There is no minimum order value to place an order or get free delivery. 
It means that you don't have to worry about the additional delivery charges while ordering products from this website. So there is one thing to worry about. 
Paying additional delivery charges is a thing users often complain about. 
Return and Refund Policy
If you have purchase beauty or personal care items before then you would be aware that such products are non-refundable. 
However, you may return a product within 4 days of delivery in case you have received a damaged or wrong product. In such as case, contact the Kiro customer care by writing to [email protected]
So if you are looking to switch to cruelty-free cosmetics then Kiro beauty is a great choice. They have lips, eyes, and face care products. You get free delivery of all orders. And you can save on their range of vegan products using Kiro beauty coupon codes. 
Frequently Asked questions
What is the delivery charge on Kiro Beauty?
Get free delivery on all Kiro beauty products site-wide.
What is the price of Kiro Beauty Lipstick?
Kiro Live-in Creamy Matte Lipstick costs Rs. 800. However, you can get discounts using Kiro beauty coupons. You get to choose from 15 different shades. 
Where to buy Kiro beauty products?
Buy Kiro beauty products from the official website of the brand. You can also buy their products on Amazon and Nykaa.

Join Telegram Channel & Get Instant Deal Alert

75,062+

participants