Childrens Day Offers - Top Offers on Kids Fashion, Gifts and More
Checkout the best online offers for Children's Day 2019 and get amazing gifts for kids.
By :
| Views: 969



UPDATED ON: 14 Nov 2019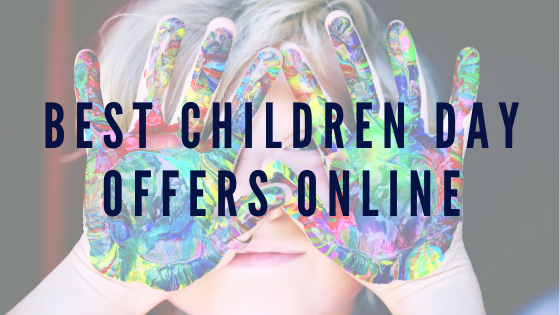 Children's Day is the most exciting day of the year because no matter how old you are and what's your age, you get a chance to set free the child in you. This Day brings lots of flashbacks for some people, whereas some create new memories.
Children's Day is special even if you are a child or not. For parents, it is a fantastic chance to celebrate their kids. For olds, it is a moment to celebrate and recall their childhood. The spirit of Children's Day is to encourage the welfare of children.
This Day is dedicated to kids, and people celebrate this Day by gifting kids, toys, books, clothes, and many other essential items. To make this Day more colorful and jolly different online brands have Children's Day special offers.
To know more about the best Children's Day Offers 2019, keep reading. Also, if you are looking for kids shopping sites, you can click and check out the 10 Best Online Shopping Sites for Kids
Children's Day 2019
Children's Day is celebrated on the 14th of November on Pandit Jawahar Lal Nehru's Birthday. He is known as Chacha Nehru among kids because of his special bond and love for kids. He worked hard to put forward Child Welfare in India, and thus, his birthday is dedicated to Children's Day.
Best Children's Day Offers
Children's Day is a great time to gift kids essential items they need while growing up and create special moments for them to cherish in the future. Even if you are not a kid or you don't have a kid, you can send gifts to your siblings to remind them of your amazing childhood.
Also, you can collaborate with any NGO working for Child Welfare and make this day special for beautiful kids. To help you out in celebrating Children's Day, we have the Best Children's Day Offers Online.
1. FirstCry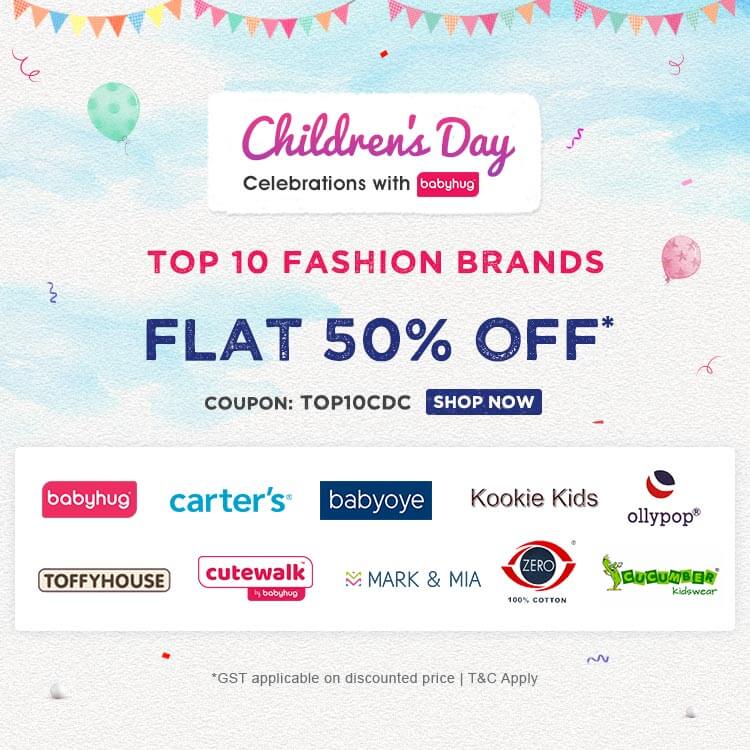 Firstcry is a well-known website selling baby products and essentials from top brands across India. First Cry is here with special Children's Day Offer, where you can buy fashion for kids at a discounted price.
Firstcry Children's Day Offer on Kids fashion is offering flat 50% Off on top brands like - Babyhug, Carter's, Kookie Kids, and more. To avail of this offer on top fashion brands for kids, you need to apply coupon code TOP10CDC.
This is a limited period offer, and the maximum discount you will get is upto Rs 3000. So, Hurry up and grab the best fashion outfits for kids on Firstcry.
2. FlowerAura

Floweraura is a great website for gift items on every occasion. This site has the best gifting options like flowers, cakes, stuff toys, cards, and more. Floweraura is all prepped up for Children's Day.
The online store has amazing gifts for you to choose from and add color and flavor to your Children's Day celebration. Grab amazing gift items at a very affordable and discounted price on Floweraura.
3. GiftCart

GiftCart has the perfect gifts for Children's Day to impress kids. You will find everything that kids love on this website. You can buy Toys and Games, Personalised Gifts, Chocolates, Gift Baskets, and more on this website.
Giftcart has top quality gifts at a very affordable price. Also, you will find stationery items, books, and art supplies on this website. If you are confused about what to gift your kid you can surf through this website, you will definitely find something useful.
4. Amazon
Amazon is the best online e-commerce website that sells it all. There is almost nothing that you cannot find on this website. If you are planning on getting Children's Day gifts online, then you must look for Amazon Children's Day Offers.
The site has a wide range of products for kids, and everything is very affordable and budget-friendly. You will never go out of option while searching for Children's Day gifts on this website. Therefore, you must visit this website for the Children's Day offer on online shopping.
5. Flipkart
Flipkart is one of the top online shopping sites where you can shop within budget range without compromising on quality. This site has a great collection of Children's Day gifts online that you can check out. 
Flipkart Children's day offers are awesome; you not just get good gifts for kids but also save money at the same time. Flipkart is the best place to find Children's Day Gifts 2019.
6. Ajio

Ajio is offering special Childrens Day discount on kids wear and other kids stuff. Shop on Ajio this Childrens Day and get everything at a very affordable price. Ajio is a great website to shop for kids clothing online. You will get great collection of kids outfits online that you can check out. 
Ajio Children's day offers are super saver, you will get cool outfits for kids at a very reasonable price. Shop for Childrens Day and also save money at the same time on Ajio.
7. Myntra

Myntra Children's Day Sale is live from 13th November till 14th November. Shop for best kids stuffs online on Myntra this Children's Day and get upto 70% Discount. Sale on top kids brands like Jin and Jony, Gap Kids, U.S. Polo Asian, and more.
This is the best sale for your little one where you will find fashion, accessories, and more for infants, boys, and girls. There are options like Buy1Get1, Under 599, Under 299, and more. Enjoy the biggest sale this Childrens Day on Myntra.
So these are all the websites that you can go through while buying Gifts online for Children's Day. All these websites have one thing in common that is they have amazing Children's Day Offers Online for you to grab.