Jiva Hand Sanitizer Review - Prices, Comparison, and Other Details
754 days ago
Jiva hand sanitizer is one of the unique hand sanitizers with most of the natural germicidal properties of neem and other natural ingredients. Neem is known for the antibacterial and germicidal properties, which neutralize germs and pathogens. Check out the Jiva Hand sanitizer Review here in detail. 
Jiva Ayurveda is an Indian brand that was founded with the mission of taking Ayurveda to every home. The main objective is to make people happy and healthy through authentic Ayurvedic treatment. The brand has been organizing the Ayurvedic educational training programs for over a decade now with more than 10,000 individuals.   
FreeKaaMaal always brings exciting offers for their regular and new customers. For additional cashback on Jiva products shop from here, click here.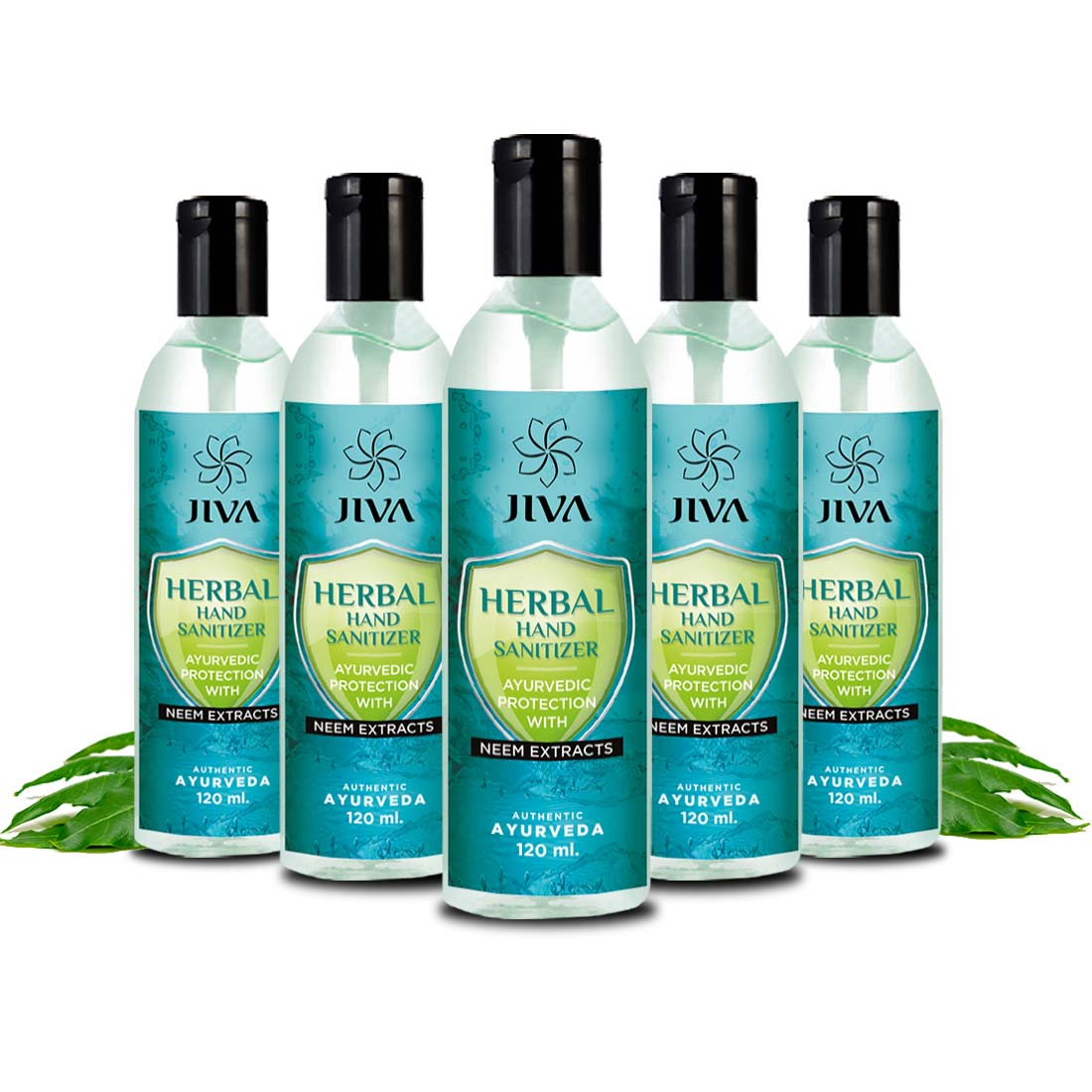 Jiva Hand Sanitizer With Goodness of Neem
This Jiva Hand sanitizer is a unique hand-sanitizer that comes with 65% alcohol with the goodness of neem. Neem has many properties. As we all know, this COVID 19 is not still not gone and can be dangerous for life. It is essential to wash your hands regularly and especially after coming from outside. 
This hand sanitizer has neem, which has antibacterial and germicidal properties that effectively neutralize germs and other viruses. This brand is an Ayurvedic brand that is trying to bring back the ancient Ayurveda to every home. The brand manufactures its products such as ISO 9001:2015, HACCP & WHO-GMP certified manufacturing unit, and pharmacy, located in Faridabad. 
This Jiva herbal hand sanitizer protects against germs and bacteria. 

Recommend for daily use for better results. 

You can grab this hand sanitizer pack of 5 in just 342 only. 
 If you are looking for cashback offers and discounts, and much more, You can join our Instagram with just a CLICK on the given link. As we provide you with some exciting offers on a regular basis through which you can save your money and grab everything under your budget.   
Reviews of Jiva Hand Sanitizer By Users
Jiva hand sanitizer is the one-stop solution for germs and viruses. Its active neem has antibacterial properties that actively neutralize common germs and pathogens. It is a unique hand sanitizer that you can trust. 
You can also check out the ratings of some customers here.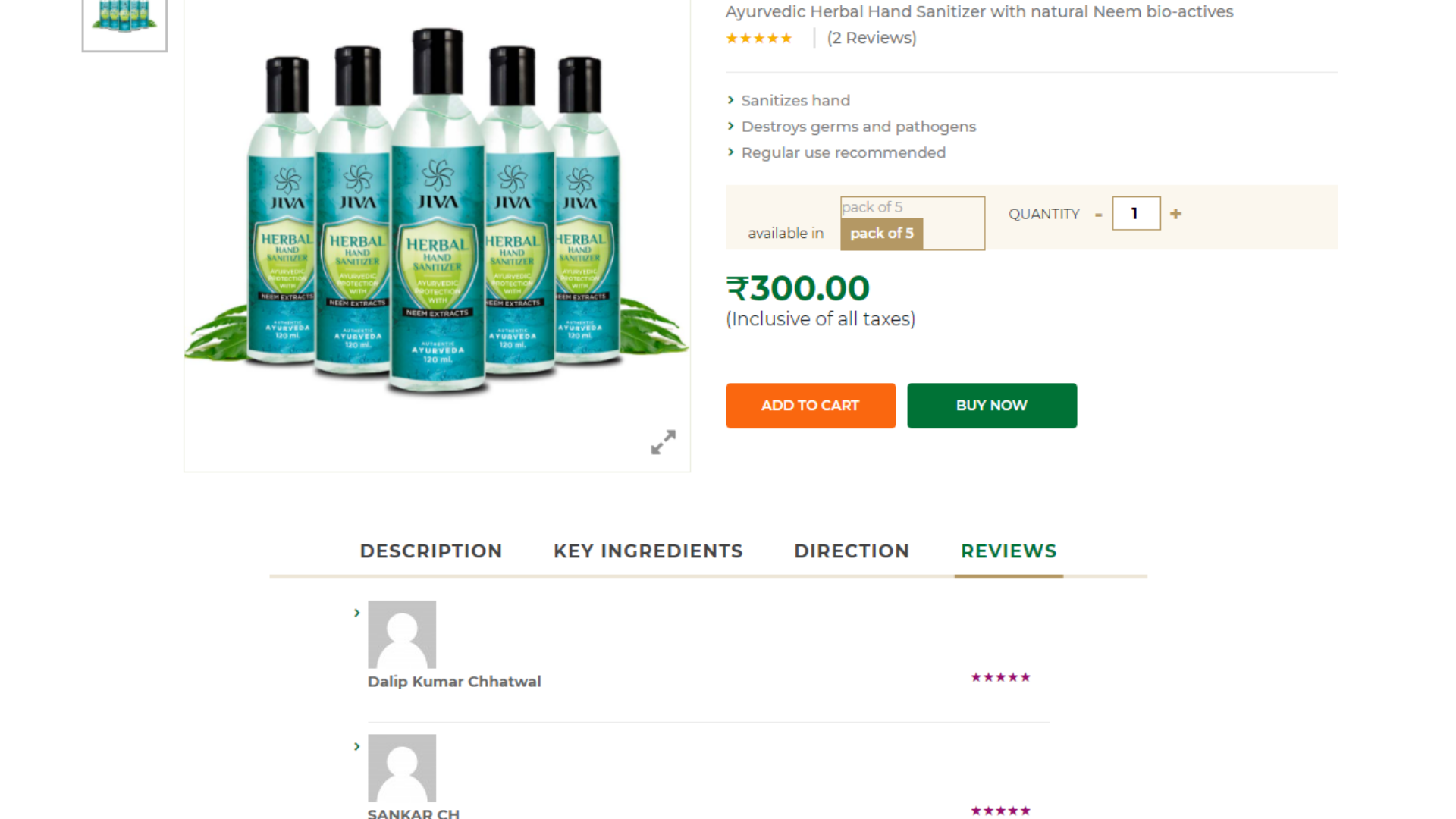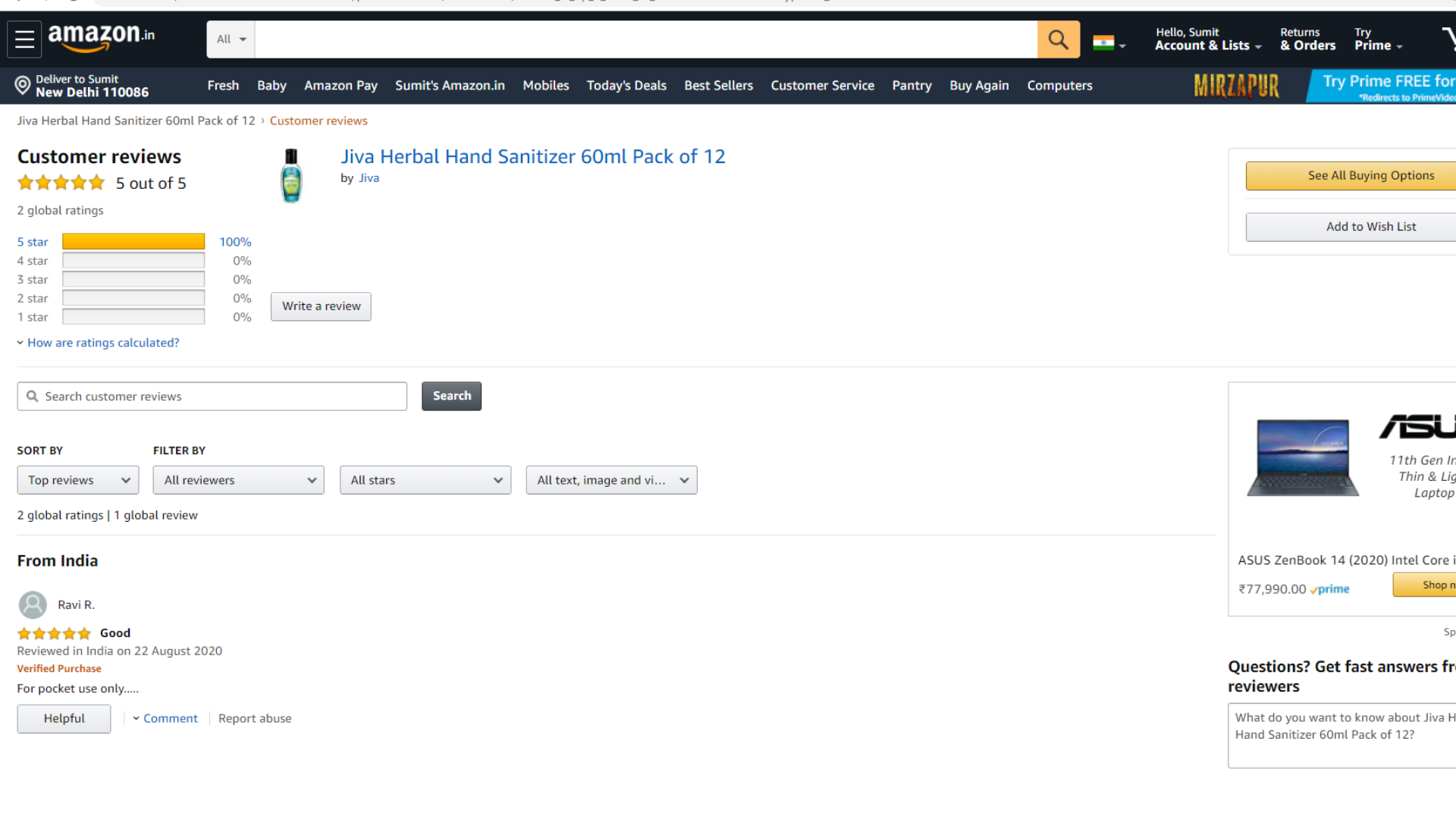 Jiva Herbal Hand Sanitizer Price 
This Alcohol and neem-based herbal hand sanitizer comes with a packing of 5 bottles of 120ML for just Rs.342 only.  Buy Jiva Herbal Hand sanitizer online 
Ingredients 
It comes with the natural goodness of neem.

It is an alcohol-based drink with 65% alcohol in it whereas 60% is the minimum required. 
Benefits of Jiva Hand Sanitizer 
It is gentle on the skin and causes no irritation or itchiness.

Enriched with natural ingredients and has no harmful chemicals

It easily fits in pockets of trousers/jeans/bags and can be used anytime and anywhere.

Kills germs and bacteria and is extremely gentle on the skin
How to Use a Hand Sanitizer
Always pick a sanitizer with a minimum of 60% alcohol.

Coat your palms and fingers. 

Now rub it thoroughly for nearly 15-20 seconds.

Rub on palms, back of your hands, fingernails, and grooves briskly

Keep rubbing until it becomes dry. 

No water is required after use. 
Hand Sanitizer Safety Tips 
Keep these safety tips in mind to avoid poisoning and irritation. 
Always keep the hand sanitizer out of the reach of children and supervise their use. 

Do not touch your eyes, nose, or mouth immediately after the use. 

Do not open the flame immediately after the use. 

If swallowed accidentally, consult a doctor immediately. 

Do not use it on sensitive areas of the skin and body parts like the eyes. 

Should be protected from direct sunlight. 
What Is Jiva Ayurdeva?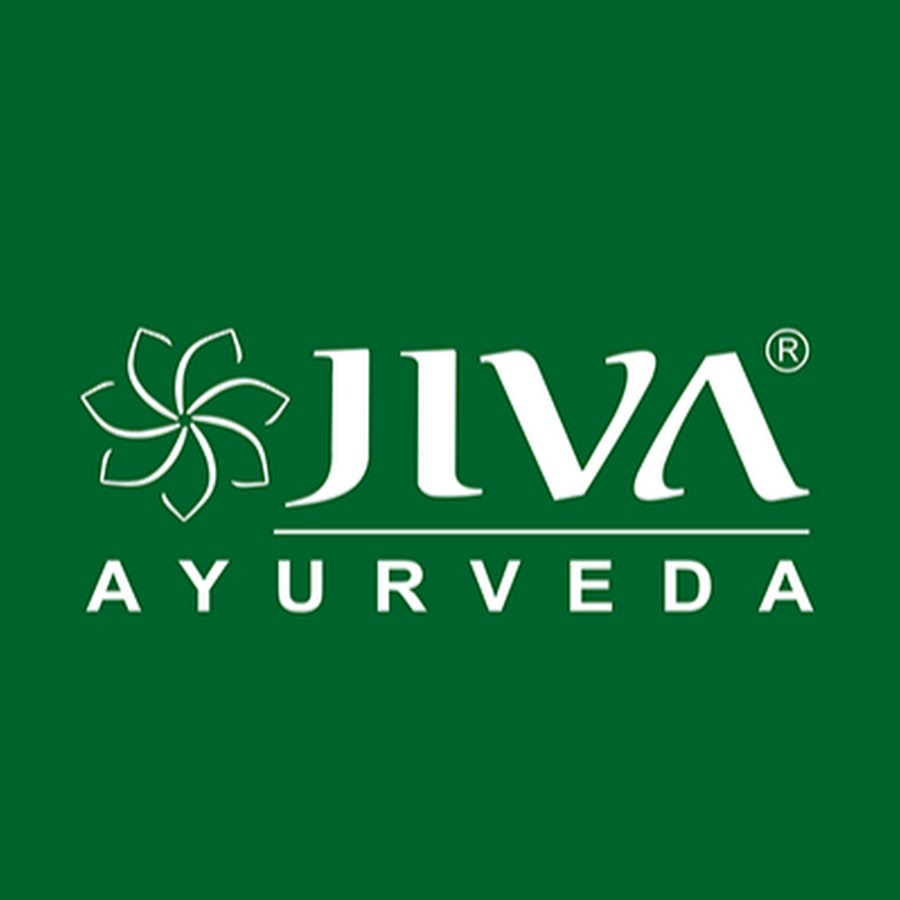 Jiva Ayurveda started in 1998, and its objective is to make people healthy and happy through authentic Ayurvedic treatments. They are treating growing ailments and disorders such as Arthritis, Diabetes, asthma, obesity, hypertension, piles, skin problems, sexual disorders, and many more. These diseases are affecting the global community today.
The Jiva Ayurveda is giving an effective treatment with modern medicine. This Jiva Medical & Research center tries to bring the world's best concept for all these major diseases or disorders. 
Jiva has more than 500 Ayurvedic doctors and support professionals who provide consultation to more than one million people in more than 1800 cities and towns. They are undoubtedly the future of Ayurveda as their modern wellness offers personalized consultations and are well equipped to provide Ayurvedic treatments to help people stay healthy and free from diseases. 
Their main office is located in Faridabad, India. They also offer residential facilities for patients who wish to stay with them and get their treatment done. 
Additional Information About Jiva Herbal Hand Sanitizer 
It is a 100% genuine product

Store it in a cool place & dry place and away from children. 

Children should use the hand wash under adult supervision. 

The results may be different as per the lifestyle adopted. 
This is all about the Review of Jiva hand sanitizer; it is completely herbal with no paraben and chemicals. The alcohol level is nearly 65%, which is quite good. Using this sanitizer regularly will help keep away from germs, viruses, and infections. It is one of the best hand sanitizers you can trust during this pandemic period.
You can also check out the top Jiva Ayurveda Beauty Products by clicking here for perfect skin and hair 
Buy Jiva Ayurveda Hand sanitize online from the official website of Jiva Ayurvedic or the top E-commerce website like Amazon and Flipkart. 
Question You May Have 
Q. What is the Alcohol level Jiva Hand Sanitizer?
Jiva Ayurveda Hand sanitizer has nearly 65% Alcohol level with the goodness of neem extracts. 
Q. What are the ongoing Jiva hand sanitizer offers?
You can grab the five bottles of Jiva herbal Hand sanitizer 120 ml for just 342 rupees. 
 Q. Is Jiva Ayurveda Hand wash is good?  
This hand wash comes with antibacterial properties that fight against germs and keeps the skin clean. 
Q. Which brand of hand sanitizer is safe?
This Jiva hand sanitizer is one of the best and herbal-based products that is very effective and safe for all types of skin including sensitive ones. 
Q. What are the latest hand sanitizers to avoid?
Recently FDA safety testing discovered that lots of local brands are using toxic chemicals and harmful types of alcohol that are very harmful to human skin.  Check out the ingredients before buying them and also check out that they are approved by the FDA. 

Join Telegram Channel & Get Instant Deal Alert

75,062+

participants