10 Best Pedicure Kits For Healthy Skin
Avoid visiting salons and take care of yourself at home. Here is a guide for best pedicure kits for you to save both your time and money.
By :
| Views: 158



UPDATED ON: 25 Mar 2020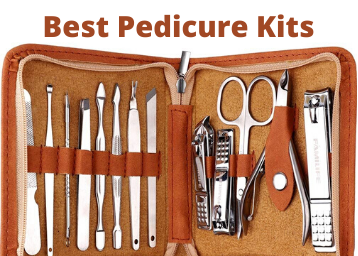 Taking care of our feet is extremely important and for that we need to have proper Pedicure Kits with us. 
Many of us forget to do so in our daily busy schedule. We manage to fix our hair, pick the right outfit, and find the right products for a beauty routine, but we skip on taking care of the feet.
What happens when you do not take proper care of your feet?
You will result in experiencing dry feet, cracked feet, painful nails and what not!
If you are feeling lazy to go out to a salon,here are some of the best pedicure kits you can use at home just by yourself. 
You can save cash as well as maintain proper hygiene by following simple steps mentioned in the respective kits. 
To know about pedicure kits online, keep reading! 
Also, to know some of the Best Beauty Products in India, you can click on the link provided and get full information on various products. 
List of Pedicure Kits for Home 
If you wish to save your money on salon, here is a best way for you. You can simple buy a pedicure kit available in the market and use them according to the instructions. You can enjoy a glowing and healthy skin at your home. 
 
1. VLCC PediGlow Foot Care Kit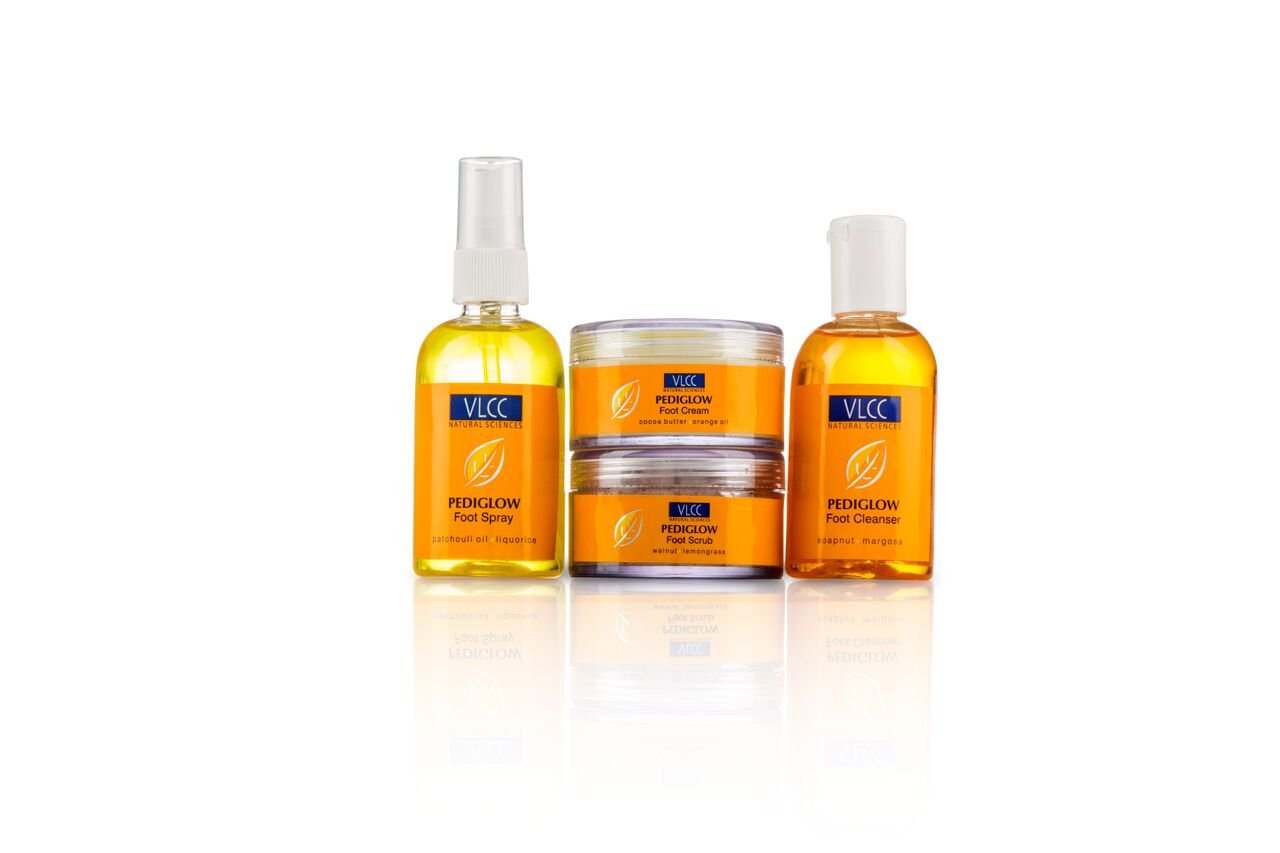 This VLCC kit moisturises and smoothens your feet. It contains a foot scrub, foot cleanser, foot spray, and foot cream. It is one of the best pedicure kits for home.
It helps to cover all bases and provides the perfect solution for all foot problems that all women generally face. You can buy this kit for Rs 440. 
2. Vaadi Herbals Soothing and Refreshing Pedicure Manicure Spa Kit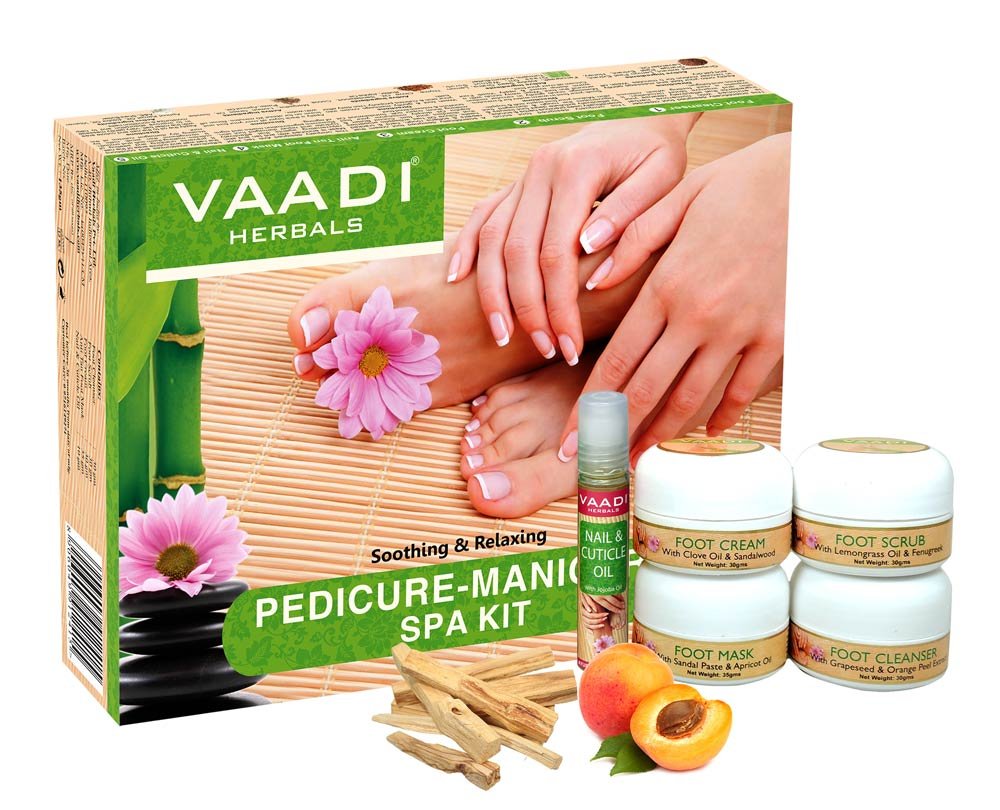 This kit will pamper your feet as it comes with a combination of various herbs and aromatic oils.
And you can also use it on your hands for a manicure. It is the best pedicure set online that you can go for. 
The kit has active ingredients like walnut grains, clove oil, cocoa butter, jojoba oil, sandalwood, thyme, fenugreek, jojoba seed grains, kokum butter, lemongrass oil, turmeric extract, apricot extract, shea butter.
It cleanses, moisturises, and smoothens the skin on your feet and takes care of your nails as well. It contains a cream, scrub, mask, cleanser, and cuticle oil. You can buy this kit just for Rs 230.
3. Vega 3-in-1 Pedicure Tool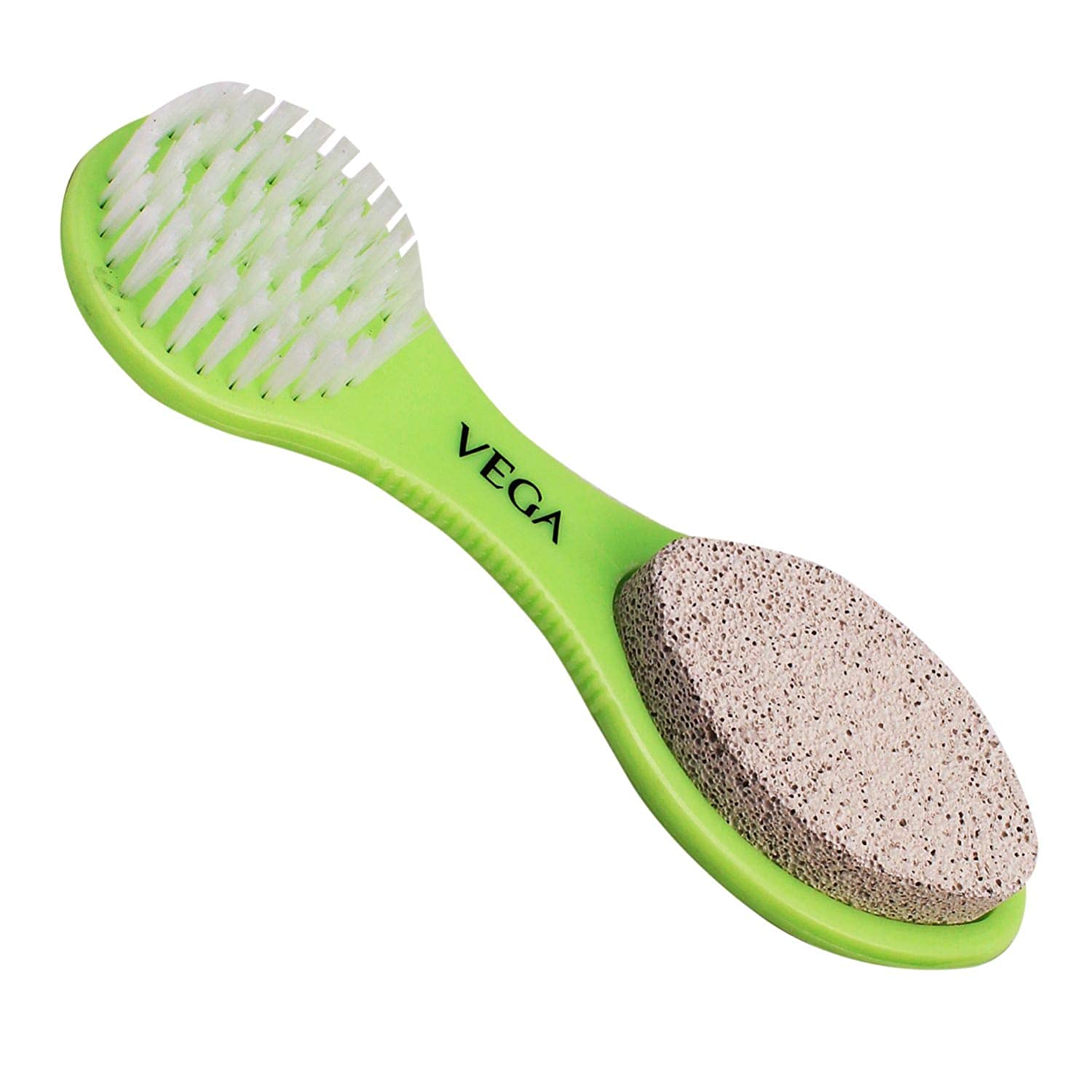 The pedicure tool has a brush, a pumice stone, and sandpaper. Use it either wet or dry. You can use any regular scrub and cleanser, with the brush and tool that you get with this kit. 
Scrub with the pumice stone and the emery to smoothen your feet. It is a complete pedicure tool kit and helps you to take proper care of your feet at home. 
You can purchase this kit online for Rs 184.
4. Glive 18 In 1 Set Handheld Pedicure Kit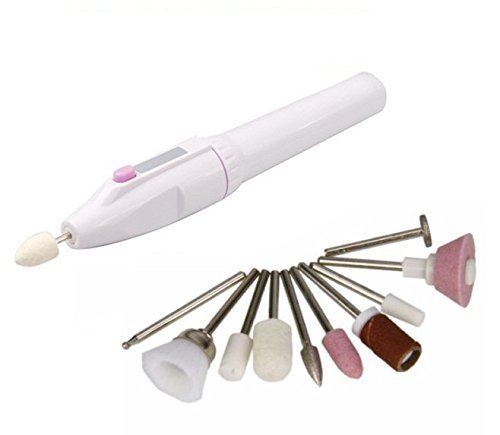 This electronic kit includes 18 pieces, and it is ideal for both pedicures and manicures.
This handheld Pedi Mate allows you to shape, sculpt, and polish your nails, while the other attachments cleanse and smoothen the feet.
It also has a massager. It is of plastic and is a battery-operated device. You can buy this kit for Rs 549.
5. Beauté Secrets Kit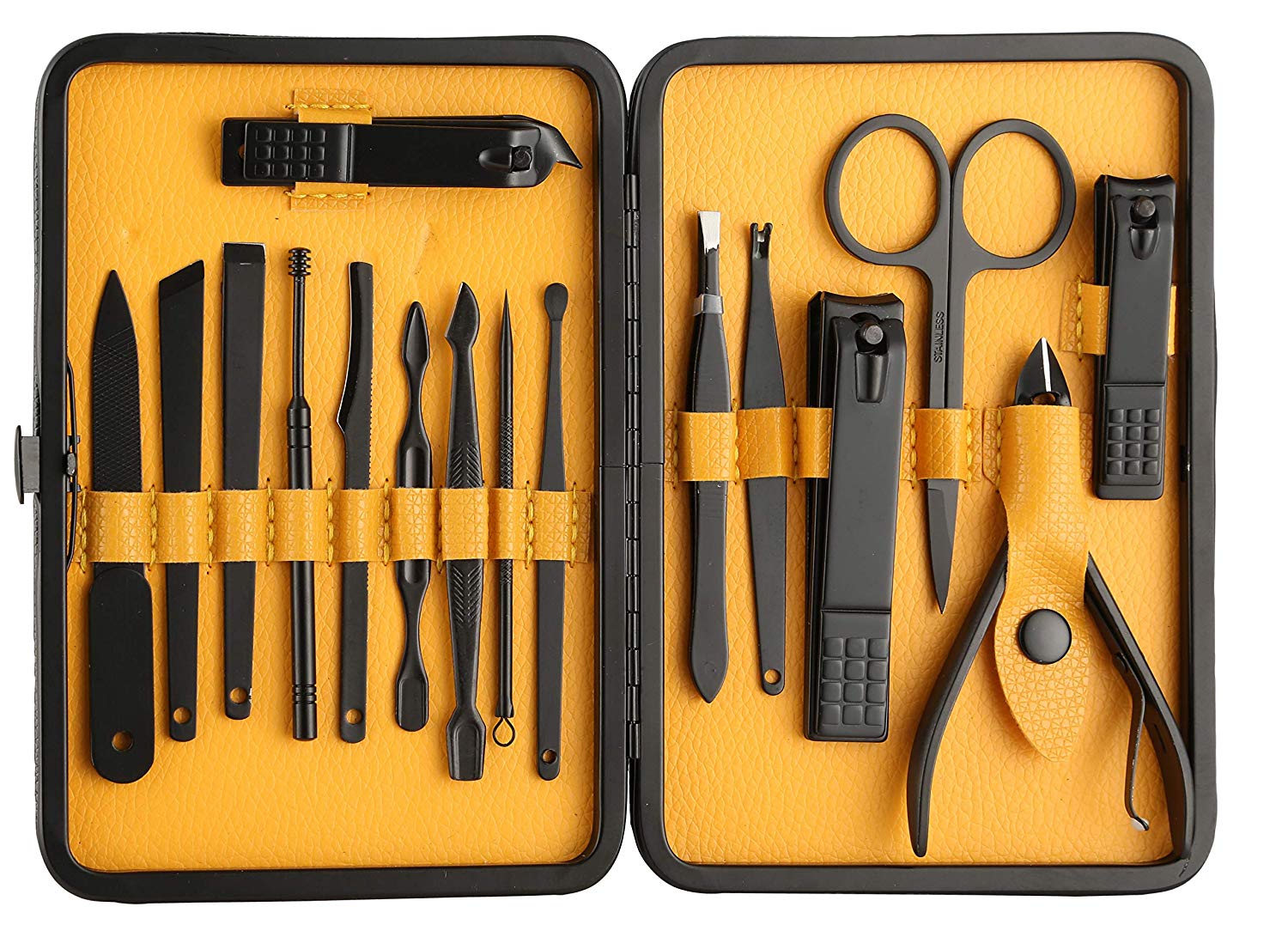 The kit contains 15 tools of manicure pedicure set of three-part functions for hand care, facial care and foot care. All products are of high quality. 
It is lightweight, and you can easily carry it anywhere either at your home or outdoors. 
It is both stylish and functional, and you can easily open it with a push of a button. You can get this kit online for Rs 449.
6. Foot Bath Spa with Heat Vibration Leg Massager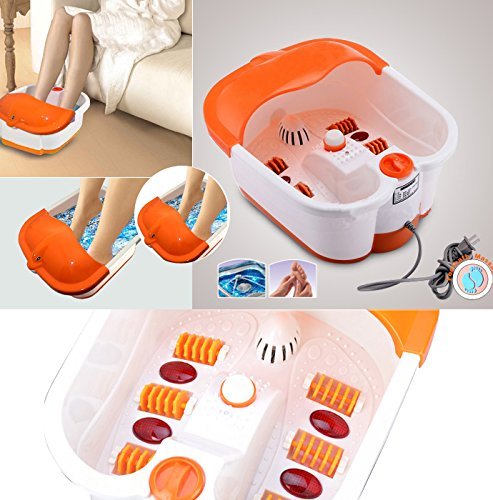 The pedicure works on gas wave oxygenation, magneto Therapy, and infrared physiotherapy to provide you shake massage. 
It detoxifies your feet and gives you a foot massage. It leaves your foot to feel refreshed and relaxed.
It is of best quality where you can perform foot bath spa and give your legs a massage with the heat vibrations that comes from the device. You can buy it for Rs 1,840.
7. The Body Care Lemon Hand and Foot Spa Mini Set
The kit is free from Paraben and Formaldehyde and non allergenic Perfumes and fragrances. It is 100% Vegan, soften cuticles and will loosen dead skin.
It helps in exfoliating treatment and makes quick work of dull, dry skin. You can use this kit to condition, strengthen and protect your hands and feet. You can buy this kit online for just Rs. 120. 
8. Jovees Manicure & Pedicure Hand & Foot Spa Kit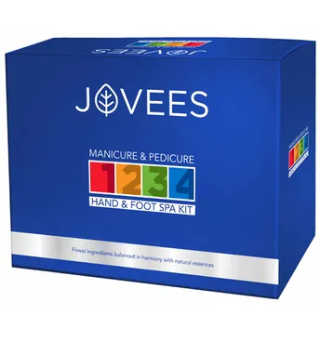 Jovees Manicure and Pedicure spa kit helps to keep your hardened skin. Each product in this kit has been carefully formulated to gently smoothen and soften your hands and feet.
Jovees provide you with Ayurvedic products and have the power of herbs. It offers you all natural and organic ingredients and gives quite effective results.
The kit contains hand and foot cleanser, Hand & Foot Exfoliator, Hand & Foot Pack, and finally Hand & Foot Cream. You can purchase this kit for Rs. 446.
9. Bloomsberry Manicure And Pedicure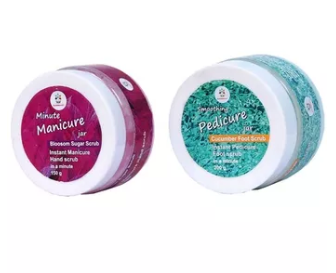 Bloomsberry Minute Manicure Jar is a sugar-based exfoliating treatment that works on dull, dry and ragged cuticles. It is a combination of pedicure and manicure kits.
It gives even the most manicure-deprived hands a taste of soft, smooth, spa manicure perfection-in just one minute.
You can get an instant Pedicure Foot Scrub. Also, it helps in Exfoliating and removing dry skin from heels and elbows.
Use this complete kit to nourish and moisturize your skin with the refreshing cucumber fragrance. You can purchase this kit online for Rs. 749. 
 
10. Skin Secrets Pedicure Manicure Spa Hand & Foot Care Kit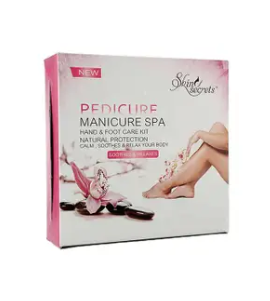 Skin Secrets brings to you the perfect beauty spa kit to pamper and beautify your hands and feet. It comes with a pedicure manicure set, so buy this for a complete pampering of your hands and feet. 
The active ingredients cleanses, exfoliates dull layers of dead skin on hands and feet and refreshes your skin. It moisturizes and smoothen the skin on your hands and feet, and takes good care of your nails too.
The pack contains Skin Secrets Pedicure and Manicure Shampoo, Skin Secrets Pedicure and Manicure Gel Scrub, Skin Secrets Pedicure and Manicure Cream, Skin Secrets Fairness Pedicure and Manicure Cream.
You have to apply all to products to experience a glowy skin. Buy this kit online for Rs. 719.
So, that is all about the best 10 pedicure kits in India. Do not waste your time in going to a parlour and instead care for your hands and feet at home. 
Also, all the kits have all the essential products you need to use. Follow proper guidelines and steps to get a complete flawless and beautiful skin. 
 
Frequently Asked Questions 
Q1. Which pedicure kit is best?
A1. Some of the best pedicure kits are VLCC Pedicure and Manicure Kit, HudaBeauty Manicure Pedicure Set, Foolzy Professional Manicure Set, and a lot more. 
Q2. What products do you use for a pedicure?
A2. The products you need for a pedicure include Foot Files, Callous Removers, Cuticle Nippers, Foot Scrubs, Nail Files. 
Q3. How much should a pedicure cost?
A3. Since every pedicure is different, prices tend to vary. But, generally, you can expect to pay around Rs. 2,500 or above. 
Q4. How do I do a pedicure at home?
A4. You need to trim and shape your nails. Remove your old nail polish with the nail polish remover and trim your nails neatly. Give your feet a nice foot bath and then exfoliate. Wash your feet clean and moisturise them.