How to Order Groceries Online?
906 days ago

Buying groceries online is convenient instead of going to the store physically. More and more people are considering buying grocery online. The online grocery stores make shopping possible with the click of a mouse.
They have a wide range of products. You can buy fresh vegetables, fruits, personal care products, spices etc. online. Also, check the top grocery sites in India.
Order groceries online and save money with the latest offers and coupon codes.
Order Groceries Online
Many stores deliver grocery the same day. If you are looking to Order groceries online Mumbai then you have multiple choices in terms of stores such as Grofers, Big basket. Flipkart is rapidly growing its grocery business.
Flipkart Supermart is launched in Bengaluru and the company plans to expand to 5-6 other major cities very soon. Online retailer Amazon offers 2-hr delivery of groceries via Prime Now.
Amazon Prime Now delivery is available in Bangalore, Mumbai, Delhi NCR, and Hyderabad. Preferred delivery slots add to the convenience from customers end.
Steps to order Groceries Online
Visit the selected website

Login or create a new account

Scroll to the category of choice

Add products to cart

Proceed to checkout

Apply coupon code

Select a delivery slot of choice and make the payment

You'll order confirmation message with delivery details
Note: Most grocery shopping sites allow customers to pick a delivery slot of choice. You can see the available time slots to choose a preferred delivery slot.
Compare Grocery Prices Online from different sites
You need to know how much less or more you are spending and for this price comparison is the best solution. Rather than regretting later, it is better to invest some time to compare the prices and spend the lowest amount for the same product.
It is becoming a going trend in popular cities you can order groceries online Bangalore and get 2-hr free delivery.
Check for Grocery Websites that Offer Free Home Delivery
Review your order for the additional shipping or delivery charges. You can check different times to check which among them is not charging a delivery fee.
By doing this you can cut off the additional expenses. Normally, delivery charges are applicable on order below the minimum purchase value.
Buy Multiple Products at a Time to Avoid Delivery Charges
Buying groceries is a time-consuming task. You will also save delivery charges if your order is above the minimum cart value for free delivery.
For orders below the minimum cart value, you are likely to pay delivery charges of anything around Rs. 50 to Rs. 60. For instance, Flipkart Supermart charges Rs. 50 for orders below Rs. 600.
Grocery List Before Buying
Before logging in you should have your list ready. A planned grocery shopping list is sure to save money and frustration over time. You don't shop grocery every day if you don't plan well it can cause problems.
Repeat orders mean additional expenses on delivery as well. Not having a proper plan means more chance of impulse shopping.
Know the Grocery Promo Codes
Enjoy your shopping even more with discounts. You can find promo codes for various online grocery stores in India. Redeem the discount codes on your order of grocery shopping online to save more.
The promotions make sure that the budget of customers is not exceeded. You can find the latest coupons for Grofers, Bigbasket etc. to get up to Rs. 200 off on your order.
Be Ready for Substitutions
There may be a specific brand that is not available or the store might offer a better deal on a substitute brand. In such a case, it is better to be flexible until you are able to get what you need.
If you are looking to order groceries online Hyderabad you have got all the leading store delivery in the city such as Big basket, Grofers, Spencers, and Prime Now.
Last Minute Grocery Shopping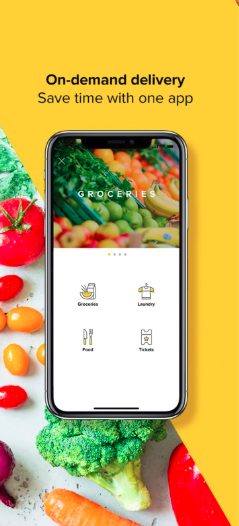 Order your groceries at least 3-4 days before you need them to get a convenient delivery slot. Most popular times will be taken a day before.
Waiting until the last minutes can also leave you confused about what to buy and what not to buy.
Check Product Descriptions
Every product has a description page where you can find a lot of useful information, particularly foods where you can check nutrition facts, suggested substitutions, allergy information, ingredients etc.
Benefits of Buying Groceries Online
Can order your groceries anytime, 24/7.

Delivery is to your kitchen or local locker with e-shopping.

Choose a 1 or 2 hour time-slot for convenience.

Stores send best quality and freshness to minimise complaints.

Avoid the hassle of crowds and parking queues.

Get the best prices; browse offers online at your leisure.
Pros and Cons of Ordering Grocery Online
Pros
You can shop on your timetable.
You can check (and double-check) your inventory.
You can compare prices in a pressure-free environment.
You can stick to the list (and save even more money!).
You can rest in the fact that convenience reigns supreme.
Cons
You have to think ahead.
You don't get to pick perfect produce.
You might not get everything on your list.
You might see fees cut into your monthly grocery budget.
You won't have the "joy of the hunt".
Why Grocery Shopping Online is Safe?
Grocery sites like Grofers, Bigbasket and more care for customer hygiene and the best part is you don't need to step out of you home and go to the crowded market to get groceries. You can order all your grocery online and it will be delivered to you hygienically packed.
You get an option for zero-touch delivery.

All delivery men are screened for fever and diseases. 

The warehouse is regularly cleaned and sanitised.

You get Card and wallet payment opinion.
Best Website to Shop Groceries Online
| | | | | |
| --- | --- | --- | --- | --- |
| STORE NAME | DELIVERY | ORGANIC FOOD | PERSONAL CARE PRODUCTS | GIFT PACKS |
| Grofers.com | Flexible Delivery Time Slots available | NO | YES | NO |
| Big Basket | Delivery in 90 Mins. | NO | YES | YES |
| Amazon Pantry | Next Day delivery Or you can choose the time slot. | NO | YES | NO |
| Flipkart Supermart | Next day delivery/ Flexible with the time slot | NO | YES | NO |
| Spencers | Same day delivery Flexible time slot | NO | YES | NO |
| Zopnow | Next Day Delivery, time slots available | YES | YES | NO |
| Natures Basket | Within 2 days | NO | YES | NO |
| Paytm | Within 2- 3 days | NO | YES | NO |
| Naturally Yours | within 2-3 days | YES | YES | YES |
| Reliance Smart | within 2 days | NO | YES | NO |
1. Grofers.com 
Grofers was started in December 2013 and based in Gurugram. This low price supermarket provides all the products online, from various categories like grocery, fruits and personal care.
Flexibility to choose the delivery slots.

A unique Loyalty program that allows buying products at the wholesale rate.

Quality Products

Easy Returns
Services available in-  Agra, Ahmedabad, Banglore, Chennai, Chandigarh, Hyderabad, Indore, Jaipur, Kanpur, Kolkata, Mumbai, Delhi-NCR, Pune, Nagpur, Surat, Vadodara.
2. Big Basket 
Big Basket was established in October 2011, and currently providing its quality products in 22 cities of India. This Online grocery supermarket has more than 18000 products in its store. 
Quick delivery with BigBasket Express Services

Flower bouquets and other gifts packs available with quick delivery service.

Baby Products available

More than 1000 Grocery and personal care brands at one platform.
Services available in- Bangalore, Hyderabad, Mumbai, Pune, Chennai, Delhi, Noida, Mysore, Coimbatore, Vijayawada-Guntur, Kolkata, Ahmedabad-Gandhinagar, Lucknow-Kanpur, Gurgaon, Vadodara, Visakhapatnam, Surat, Nagpur, Patna, Indore and Chandigarh. 
3. Amazon Pantry - Grocery Shopping with Free Shipping
A sum of standard product quality, variety, with the best discount and offers available in the market, That is how you can define this "Online Grocery shopping site". You will also get the baby and personal care products in this section from Amazon India. The best time to avail the products from Pantry is between 1-7th of every month as you will get the best offers and deals in this time period. 
With all these benefits you will also face an issue of choosing the delivery slot for the products as Amazon do not provide this facility to its users.
Variety of brands

Service available almost all over India.

Personal care products available.

Services Available in- Amazon Pantry is currently present in Ambala, Bangalore, Chandigarh, Chennai, Dehradun, Delhi, Dharmapuri, Faridabad, Ghaziabad, Gurgaon, Howrah, Hyderabad, Jaipur, Kanchipuram, Kolkata, Mangalore, Manipal, Mohali, Mumbai, Mysore, Nashik, Noida, Panchkula, Panipat, Pondicherry, Pune, Rohtak, Secunderabad, Sonepat, Thane, Tumkur, Vellore, Vijayawada and Warangal
4. Reliance Smart - Online grocery India
Reliance Smart is the Super Market which is fulfilling the needs of the new age customers who prefer quality and smart shopping. The store is the one-stop shopping platform for all the daily required products with maintained food and product quality. 
Better product quality.

Variety of brands and products.

Better services.
Services available in- Mumbai, Pune, Banguluru. 
5. Nature's Basket - Online grocery market in India
Nature's Basket is the chain of food destination from Godrej. Apart from online stores, you can also visit their 27 physical retail stores for your "Daily Food Delights". This Online grocery store also has the options for non-vegetarians, you will find a wide array of the same in all the stores.
You can order instant snacks for your small hunger.

International cuisines available with Indian grocery.

Tablets and supplements also available.

Good Food/Product quality. 
Services available in- Mumbai, Delhi, Bangalore, Hyderabad, Pune.
Online grocery shopping is a real time-saver, you get to choose a delivery slot of choice on top of that attractive discounts are also available for customers.
Order groceries with online delivery at a preferable time slot is a real attraction for more than 5 million customers who plan to come online soon.
Frequently Asked Questions
1.Which is the best online grocery store?
There are many websites delivering good quality grocery items at a very affordable prce across India. You can try online grocery stores like - 
Grofers

Amazon Pantry

Flipkart Supermart

Bigbasket

Reliance Fresh, and more
2.Do Amazon deliver groceries?
Yes, Amazon has a special section called Amazon Pantry where you can order grocery online.
3.Is buying groceries online cheaper?
Buying grocery online helps you get good quality grocery at a very affordable price. You get quality assured grocery online.

Join Telegram Channel & Get Instant Deal Alert

75,062+

participants