FreshToHome Referral Code - Get 20% Off on Your Next order
Refer your Friend and Family on FreshToHome to enjoy 20% off on your purchase. To get the details, read the article below.
By :
| Views: 844



UPDATED ON: 10 Feb 2020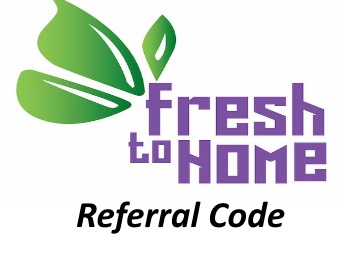 Food is the basic requirement to stay healthy and FreshToHome is the place where you can get the best quality seafood, poultry, mutton, steaks, and fillets. FreshToHome started with the purpose of providing healthy and chemical free raw non-veg products.
FreshToHome cares about people and makes sure that every order delivered from their end is fresh and not from the freezer. Each and every product is free from Ammonia, free from Antibiotics, free from hormones or any chemical which is hazardous towards health.
FreshToHome deals directly with the fishermen and takes the pain of bringing to you the healthiest product directly from the farm. To ensure the quality they follow modern and scientific transportation and packaging.
Since the the app came into play it has maintained its reputation. FreshToHome Reviews have been great and the application has many happy customers all over India.
Share the goodwill of FreshToHome with your friends and family and save more on FreshToHome products with the referral program.
How FreshToHome Referral Program Works
FreshToHome referral program for friends and family gives you a chance to earn 20% off on your next purchase. All you need to do is to refer a friend and once that friend signup and makes a purchase you get a discount on next shopping. Also, your friend gets to enjoy free shipping.
The referral program is a win-win for all.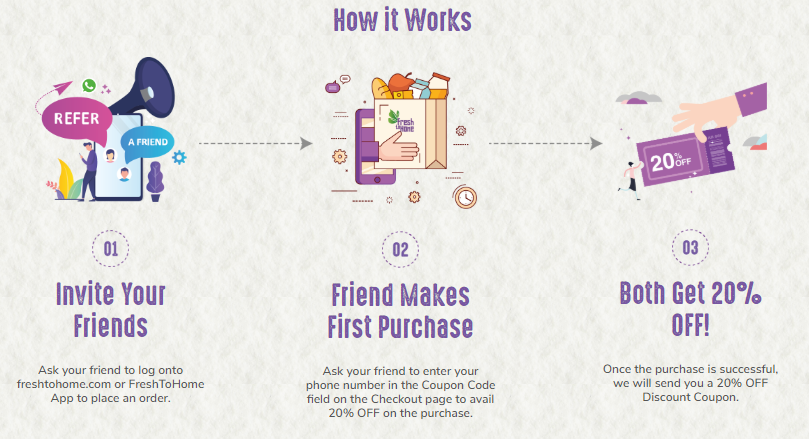 Ask your friend to follow the steps below.
Log on to www.freshtohome.com

Choose the product you wish to order and add it to cart

On the checkout page, enter your friends 10 digit Mobile Number as Coupon Code.

Once added you will get to enjoy FREE SHIPPING.

Once you have made the first purchase using the Mobile Number Coupon Code FreshToHome will give your friend Rs. 100 discount coupon.
FreshToHome is the home of healthy and hygienic, chemical free raw food materials. The company collaborates with fishermen and farmers pan India to bring fresh food at your doorstep.
Now, food will not only be tasty but healthy and affordable too. FreshToHome cuts the cost of middlemen and makes sure the raw food reaches to you at a reasonable price.
Refer your friends and family and receive healthy and fresh raw food delivery at your doorstep. Click the link for FreshToHome Coupons and Offer. We hope you enjoy every meal and always eat fresh and healthy. Thank you for reading until the end.
FAQs
Ques: Can I refer more than 1 person on FreshToHome?
Ans: Yes, you can refer more than 1 person on FreshToHome.
Ques: Does FreshToHome actually delivers fresh?
Ans: Yes, FreshToHome always delivers fresh. With the help of excellent processing and delivery vehicles, they coordinate with farms and fisherman and transport fresh product on a daily basis to you.
Ques: What payment methods are supported on FreshToHome?
Ans: Customers get both online and COD payment method available on FreshToHome and can choose as per convenience.
Ques: Is there any minimum order on FreshToHome to make a purchase?
Ans: Yes, there is a minimum order of Rs 198 on FreshToHome to make a purchase.