FreshToHome Referral Code - Get 10% Off + 10% cashback on Your First order
Refer your Friend and Family on FreshToHome to enjoy 10% off + 10% cashback on your purchase. To get the details, read the article below.
By :
| Views: 1924



UPDATED ON: 1 Sep 2020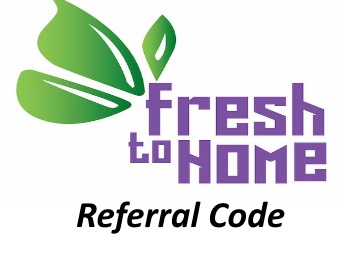 FreshToHome is the place where you can get the best quality seafood, poultry, mutton, steaks, and fillets. If you have not tried the website you can get started by using fresh to home coupon code for new users. They also have an amazing referral program in place. Share your Freshtohome Referral code to start earning free coupons for every successful invite. 
The online store cares for people and makes sure that every order delivered from their end is fresh and not from the freezer. Each and every product is free from Ammonia, free from Antibiotics, free from hormones or any chemical which is hazardous towards health.
It deals directly with the fishermen and takes the pain of bringing to you the healthiest product directly from the farm. To ensure the quality Freshtohome follows modern and scientific transportation and packaging.
Since the app came into play it has maintained its reputation. FreshToHome Reviews have been great and the application has many happy customers all over India. 
Also Read: https://freekaamaal.com/freshtohome/freshtohome-review
Freshtohome Referral Offer
| | |
| --- | --- |
| Freshtohome Referral Code | Details |
| Applicable | New users |
| Discount  | 10% off + 10% cashback |
FreshtoHome Referral Code 2020
With the referral code, get 10% off + 10% cashback on your order. Use the referral code on your first purchase. The maximum cashback with the offer is Rs. 100. Freshtohome referral code 2020 is the 10 digit number of the user. You can use the mobile number of your friend who is an existing user of the store.
Also, share your referral code to get 10% cashback coupon after their first purchase. With the coupon code, you can get a maximum of Rs. 100 cashback on your purchase. 
How FreshToHome Referral Program Works?
The referral program for friends and family gives you a chance to earn 10% off + 10% cashback on your next purchase. All you need to do is to refer a friend and once that friend signup and makes a purchase you get a discount on next shopping. Also, your friend gets to enjoy free shipping.
With the Freshtohome referral code, get 10% off + 10% cashback on your order. The referral offer has slightly changed. They were offering 20% with the referral code. But the latest update gives you 10% off + 10% cashback on your purchase. 
Earlier, there was also free shipping available with the referral offer. The free shipping terms are not mentioned in the latest update. 
There is not much difference the savings remain the same. However, with the recent change, you will get 10% off + 10% cashback. The cashback amount will be applied to your order. You are eligible for a maximum of Rs. 100 cashback.
Also, the person who's referral code you are using will get 10% cashback coupon after your order. The maximum cashback available with the offer is Rs. 100. 
The referral program is a win-win for all.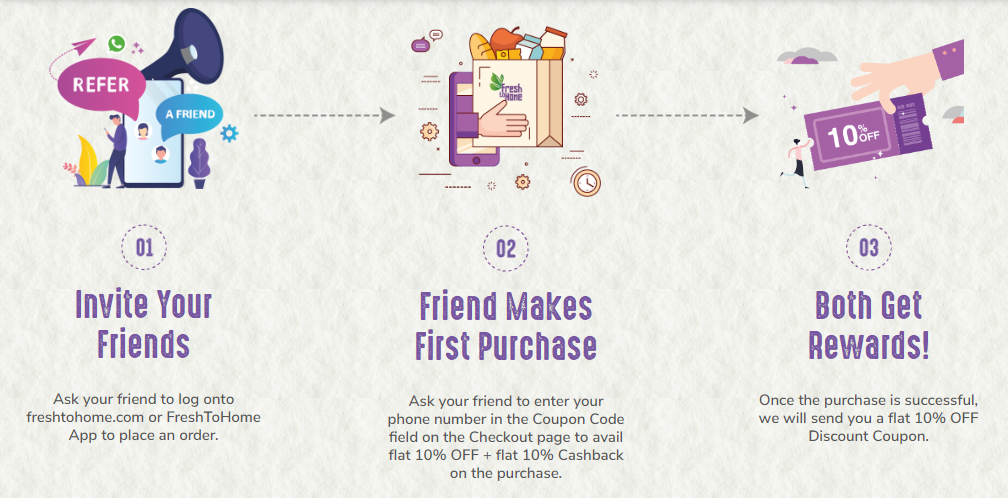 How to Avail Freshtohome Referral Offer?
Visit the website

Choose the product you wish to order and add it to cart

On the checkout page, enter your friends 10 digit Mobile Number as Coupon Code.

Once added you will get to enjoy FREE SHIPPING.

Once you have made the first purchase using the Mobile Number Coupon Code FreshToHome will give your friend Rs. 100 discount coupon.
What to Order From Freshtohome?
The company started with the purpose of providing healthy and chemical-free raw non-veg products. You can order a variety of non-veg products from the website including seafood, poultry, mutton, steaks & fillets and more. The menu available will depend on your location. Fresh to home is currently available in Delhi/NCR, Bangalore, Chennai/Vellore, Kerala, Mumbai, Pune, and Hyderabad.
Once you visit the website, you will see the menu after selecting your location. You can choose any category to see the available choices to place an order. 
The delivery slots available will also be displayed. Freshtohome provides 2-hour express delivery to most locations. The express delivery option is available on Freshtohome. The mobile app is available for iOS and Android. 
The online store is the home of healthy and hygienic, chemical-free raw food materials. The company collaborates with fishermen and farmers pan India to bring fresh food at your doorstep.
Now, food will not only be tasty but healthy and affordable too. It cuts the cost of middlemen and makes sure the raw food reaches to you at a reasonable price.
Refer your friends and family and receive healthy and fresh raw food delivery at your doorstep. We hope you enjoy every meal and always eat fresh and healthy. Thank you for reading until the end.
Frequently Asked Questions
Ques: Can I refer more than 1 person on FreshToHome?
Ans: Yes, you can refer more than 1 person on FreshToHome.
Ques: Does FreshToHome actually delivers fresh?
Ans: Yes, the store always delivers fresh. With the help of excellent processing and delivery vehicles, they coordinate with farms and fisherman and transport fresh product on a daily basis to you.
Ques: What payment methods are supported on FreshToHome?
Ans: Customers get both online and COD payment method available on the store and can choose as per convenience.
Ques: Is there any minimum order on FreshToHome to make a purchase?
Ans: Yes, there is a minimum order of Rs 198 to make a purchase.