Helo Referral Code: Get Up to Rs. 300 Paytm cash
Earn up to Rs. 300 per referral with Helo referral code.
By :
| Views: 1044



UPDATED ON: 26 Apr 2020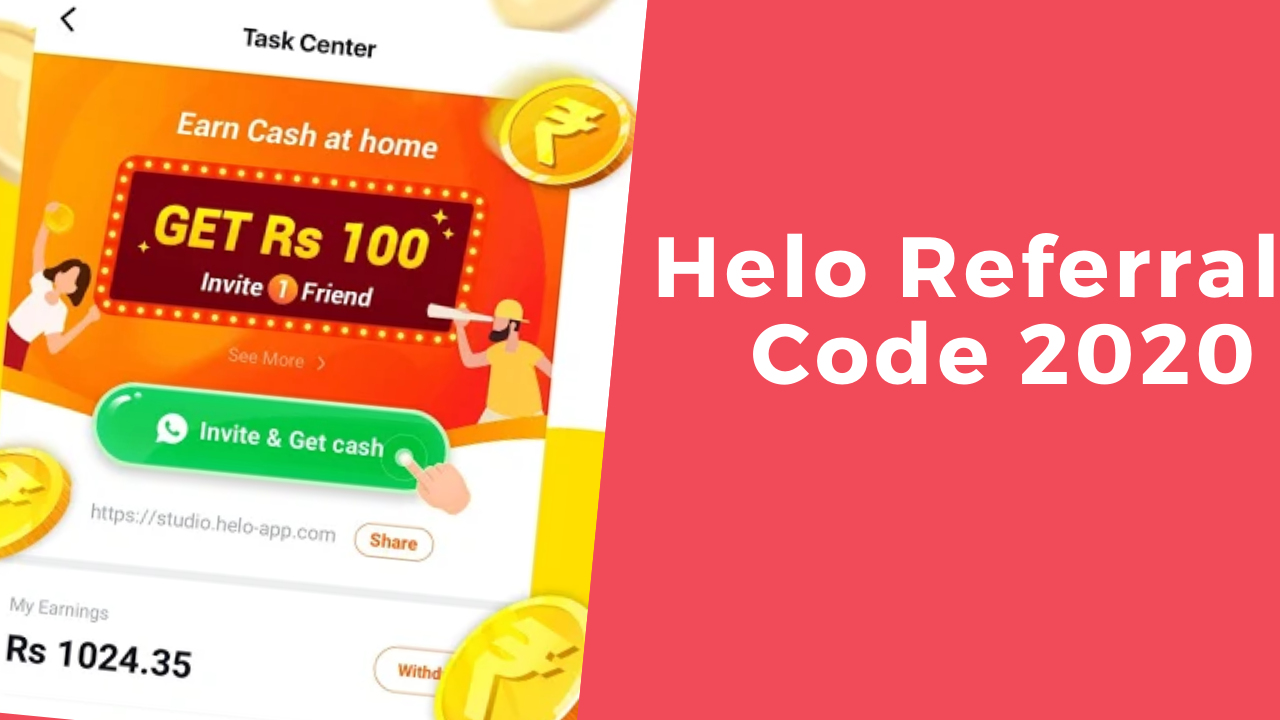 Hello readers! As we all know getting things for free is not easy, but we try our best to bring the best freebies online for you. Today, we bring an amazing app which allows users to earn up to Rs. 300 per referral.
I am speaking about Helo app. With Helo Referral Code you can earn up to 300 for every successful invite. It is one of the latest apps to earn free paytm Cash.
So without wasting any more time let us show you how to earn unlimited Paytm cash with Help app referral offer.
Helo App Referral Code 2020
To start earning with Helo, you first need to download the app using Helo Referral Code 2020. Once you download the app, you will get a welcome bonus on sign up.
The one thing to note is here is that the more you use the app the more you can earn. You also get coins or points for browsing the app. The coins that you earn are converted to cash every day. And you can redeem your coins for Paytm cash.
You can transfer money to Paytm, once per day with no minimum amount. 
Click Here to Download Helo app
How to Avail Helo Referral Offer?
Download Helo App From here

Sign up on the app

Link your Paytm wallet to app

Redeem your earnings to Paytm

Share your invite code with friends to earn more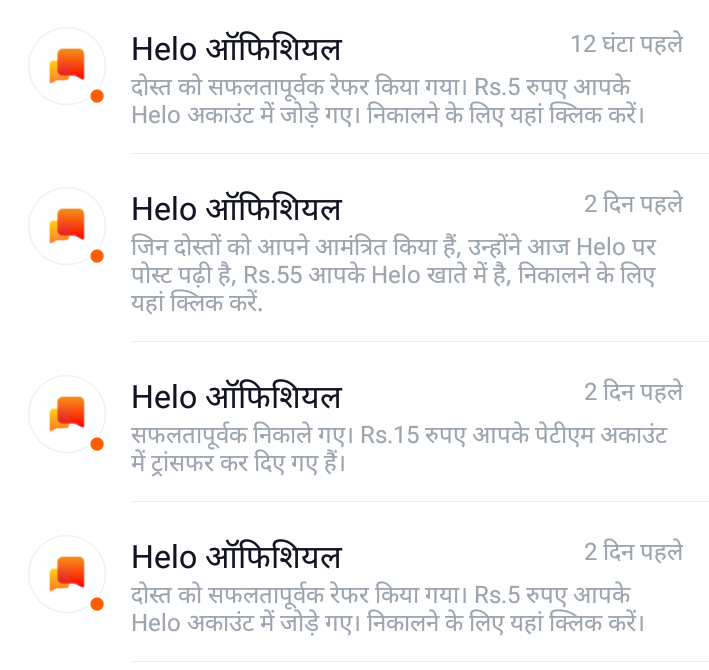 Terms and conditions of Helo Referral Offer
To earn money on Helo app, you need to share your referral code and invite friends. You earn rewards when our friend uses the app for five minutes. The referral amount will be credited to you account and you can redeem as Paytm cash. 
Get Rs. 5 on sign up of your friend on Helo App

Get Rs. 5 on 2nd login of your friend 

Get Rs. 10 on third-day login of your friend

Get Rs. 55 on seventh-day login of your invited friend

Get Rs. 200 on 14th-day login to helo app
How to Transfer Paytm Cash using Helo App?
Click on the Ruppe sign at the top of the screen 

Your earning will be displayed

Click on redeem button

Choose the amount you want to redeem

You can transfer money to paytm once per day
Helo App APK Download 
Simply click on the download button to install the Helo app on your smartphone. Once installed, sign up using your Paytm linked number to start earning amazing rewards. The money that you earn can be transferred to your Paytm Wallet in just one click. It is available on the Google Play store. Download using a referral link to earn the welcome bonus on sign up. 
Helo is a social app, it is available in 14 languages - Hindi, Tamil, Telugu, Marathi, Punjabi, Bengali etc. You can find Whatsapp Status videos, wishes & quotes, trending news, comedy videos, love quotes, shayaris and more. 
What is the Minimum Amount to redeem on Helo?
The minimum amount to redeem on Helo app is Rs. 1. And the maximum redeem per day Rs. 100. There are different slots, you can redeem Rs. 3, Rs. 10, Rs, 15, Rs. 30, Rs, 45, and Rs. 100. The money is instantly transferred to your Paytm wallet. 
How to Earn More with Helo App?
The best way to earn with Helo is to share your referral code and invite new friends. On top of that, you can also earn by using the app for 1 minute, 3 minutes, 5 minutes, 10 minutes and more. Helo coins are credited to your account on login every day. So keep completing the simple tasks and keep earning more. 
The app has everything to keep you entertained. You can create posts and share with the users. On top of that, the Helo app allows users to earn as well. Earn money for using the app and also for completing simple tasks such as making your posts. 
Frequently Asked Questions
How to get Helo Referral Code?
To get your referral code on Helo, click on the Ruppe symbol at the top of the screen. You will see your unique Helo referral code and referral link.
How to earn money from the Helo app?
You earn money for daily login and browsing the Helo app. Also, invite friends using Helo referral code to earn up to Rs. 300 per successful referral. You can also participate on special contests such as Helo Holi contest, Helo Valentine offer and more.