10 Best Sneakers Brands in India [Updated May 2020]
A good pair of sneakers offers comfort and style. You will find a pair to fit right in for every area of your lifestyle from any casual event to play a game of cricket.
By :
| Views: 12855



UPDATED ON: 30 May 2020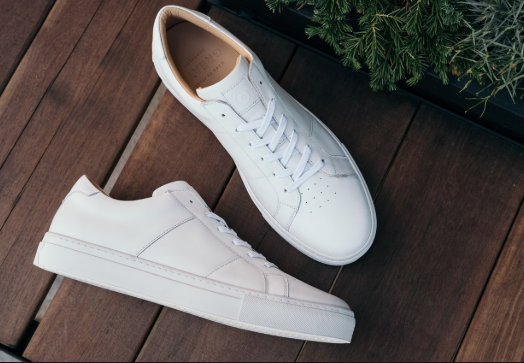 Sneakers are a major fashion staple work with jeans, shorts or even dresses. The material is usually leather on canvas. leather is durable and water-resistant but can be expensive while Canvas is less more breathable and less expensive.
Sneakers are originally designed for running, jogging, and sports. The price depends on the brand, style, and material. Different styles of fashion for all ages.
This type of footwear is usually lightweight and colourful. There are a good number of men and women who are passionate about sneakers.
Also, check the Footwear Brands in India for all types of best formal shoes and casual shoes.
1. Puma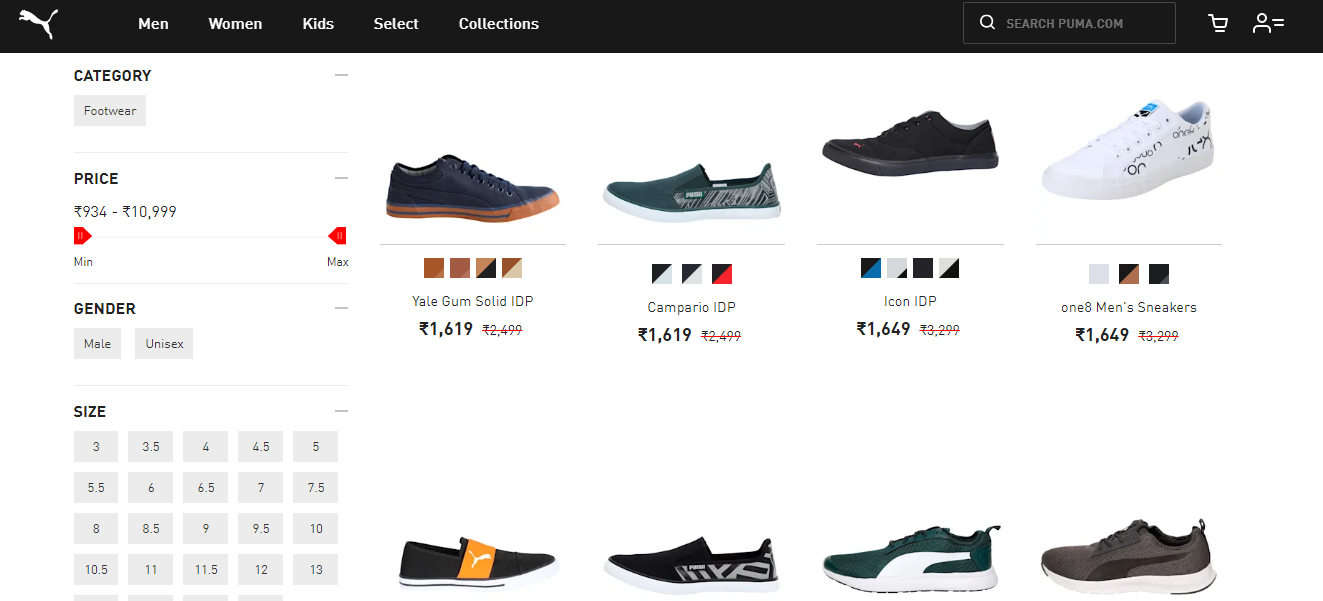 The uber-cool styles and comfort make Puma Sneakers a hot favourite. Puma has multiple varieties of men's sneakers. The selection depends on individual preferences. You can buy sneakers on your preference of colours, materials, and laces. It is the comfort element which makes sneakers popular.
Price Range: Rs. 934 - Rs. 10,990
Popular Puma Sneakers
Puma Thunder Desert

Puma Icra Trainer SD

Puma Drift Cat 5 Core

Puma Tsugi Apex

Puma Astro Sala

Puma suede classic, and Puma Thunder Spectra.
2. Nike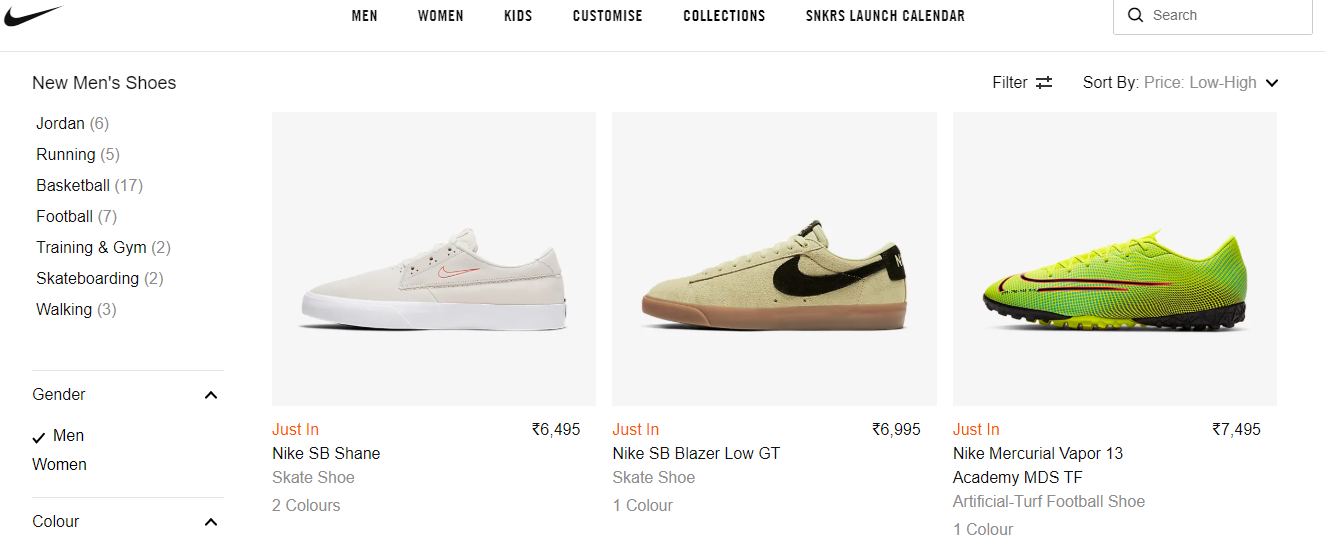 Nike Sells footwear, sports accessories and clothing across the world. Nike is the most popular brand for sports footwear. With this popular sneaker brand, you get style and comfort at the same time.
Price Range: Rs. 3,000 - Rs. 19,995
Popular Nike Sneakers
Nike Air Max 270

Nike Tanjun

Nike Air Huarache

Nike Air Max Plus

Nike Court Royale

Nike Roshe Two

Nike Air Zoom Mariah Flyknit Racer
3. Fila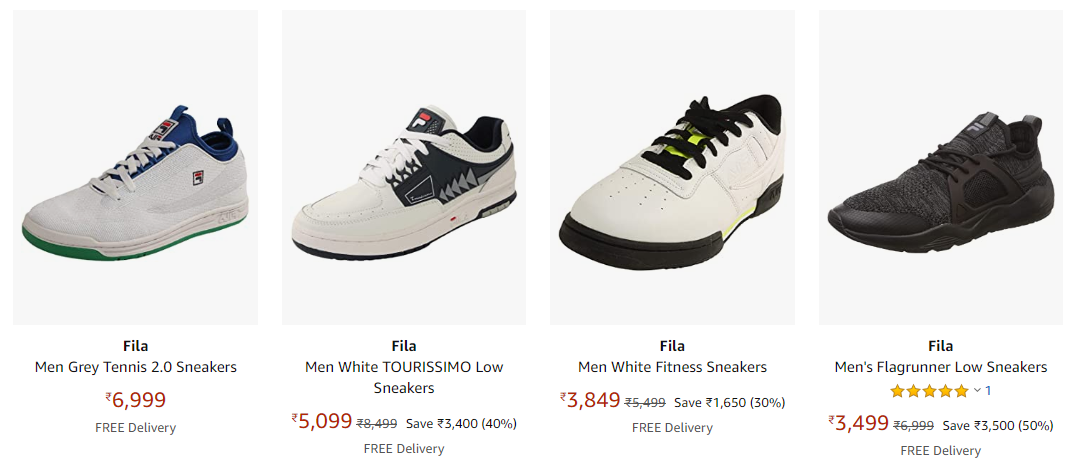 The Italian sporting goods company started by making clothes. Fila become more popular after manufacturing sportswear. Fila Sneakers are available online stores across the Globe. It is also one of the best-selling sneaker brands in India. Here are the popular Fila Sneakers for men and women.
Price Range: Rs. 800 - Rs. 8,499
Popular Fila Sneakers
Fila Men's Clip Sneakers

Fila Men's Amaze Sneakers

Fila Men's Filoite Sneakers

Fila Men's Carmon Sneakers

Fila Women's Eliana Sneakers

Fila Women's Breeze Sneakers
4. Converse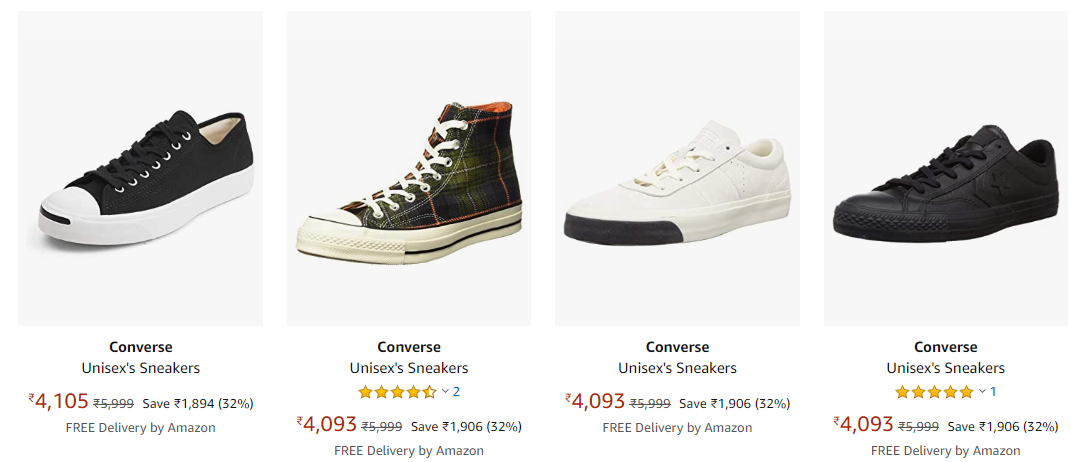 Converse is a popular brand for men's sneakers. The classic designs are a key highlight of this sneaker brand. Converse has many plain and easy to go shoes which give you comfort and ease. It has been a brand forefront in the sneaker market. The brand is known for unique and attractive styles.
Price Range: Rs. 2,399 - Rs. 15,789
Best Converse Sneakers
Converse Unisex Sneakers
Converse Unisex Printed Sneakers
Converse Slip-On Sneakers For Men
5. Adidas

Adidas Sneakers are a style statement, loved by fashion enthusiasts around the world. The brand has a lot of styles to offer to give a lot of variety. The classic white sneakers are quite a style statement. There are multiple shades and colours available from Adidas. Get the best look and feel with Adidas Sneakers.
Price Range: Rs. 1,919 - Rs. 57,061
Best Adidas Sneakers
Adidas Men's Falcon Sneaker
Adidas Men's Forum Lo Sneakers
ADIDAS ORIGINALS Campus Red Sneakers
ADIDAS Grey Daily 2.0 Sneakers
6. Skechers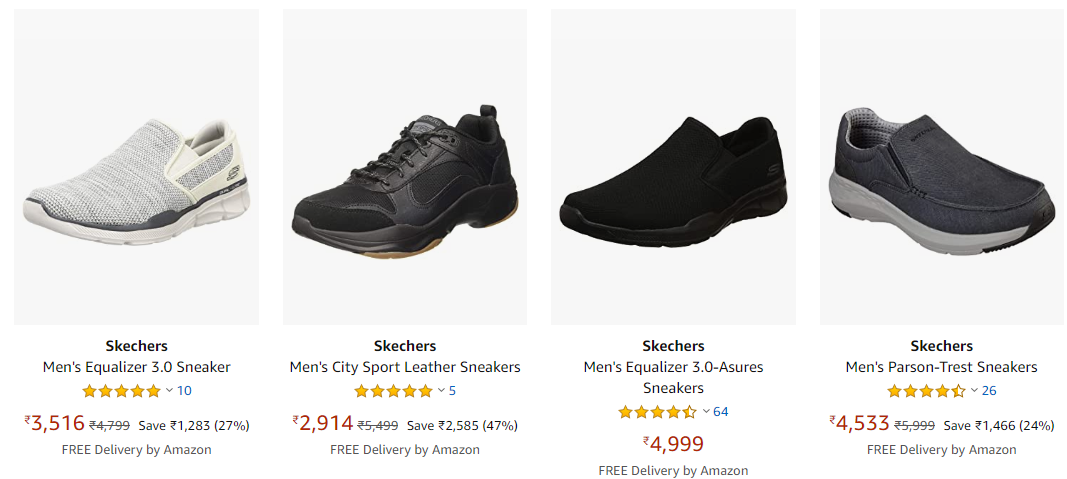 The well-known brand in the global footwear industry is also a favourite from fashion enthusiasts in India. Skechers is popular for dynamic designs and patterns. It is a slightly premium brand but worth spending your hard-earned money.
Price Range: Rs. 2,385 - Rs. 29,524
Best Skechers Sneakers
Skechers Men's Skyline Sneakers
Skechers Boy's Go Run 400-Zodox Sneakers
Skechers Women's Skyline-Surefire Sneakers
Skechers Women's Burst - Equinox Sneakers
7. Reebok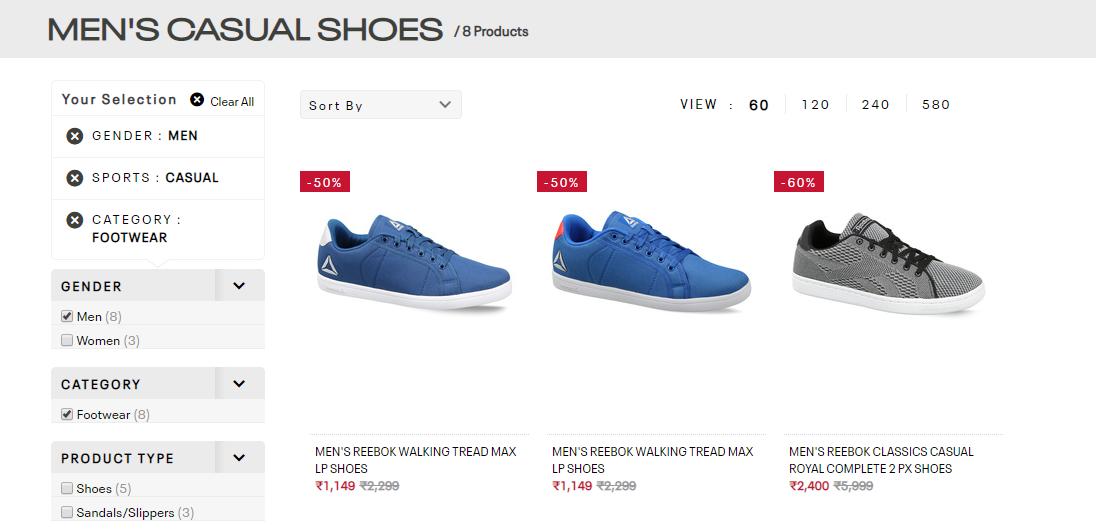 The popular footwear brand is also known for its sneakers. Woodland shoes come with thick rubber soles and look stylish. Woodland Sneakers come in different patterns, colours and designs. You can also select footwear like formal shoes, ankle boots, calf-length boots, hiking shoes, thigh-high boots and many more variants.
Best REEBOK Sneakers
REEBOK TREAD MAX Sneakers For Men
REEBOK ROYAL SHADOW Sneakers For Men
9. Levis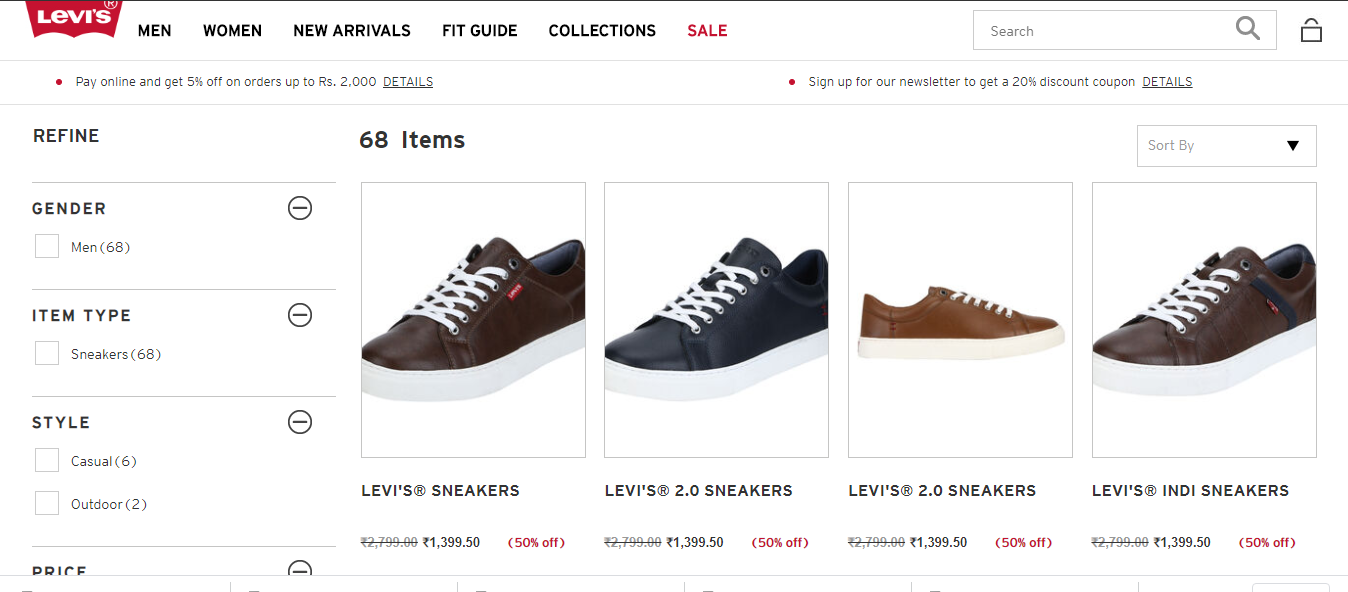 A pair of Levis Sneakers can amp up your style quotient. Levis is also known for its jeans. Levis Sneakers are perfect for daily as well as casual use. The padded soles give total comfort padded soles that is why Levis is a brand for all ages.
Price Range: Rs. 1,399 - Rs. 3,999
Best Levi's Sneakers
Levi's Men's Olympic Malibu Sneakers
Levi's Men's Declan Millstone Two-Tone Sneakers
Levi's Men's Woods Sneakers
Levi's Men's Highland Heather Sneakers
10. United Colors of Benetton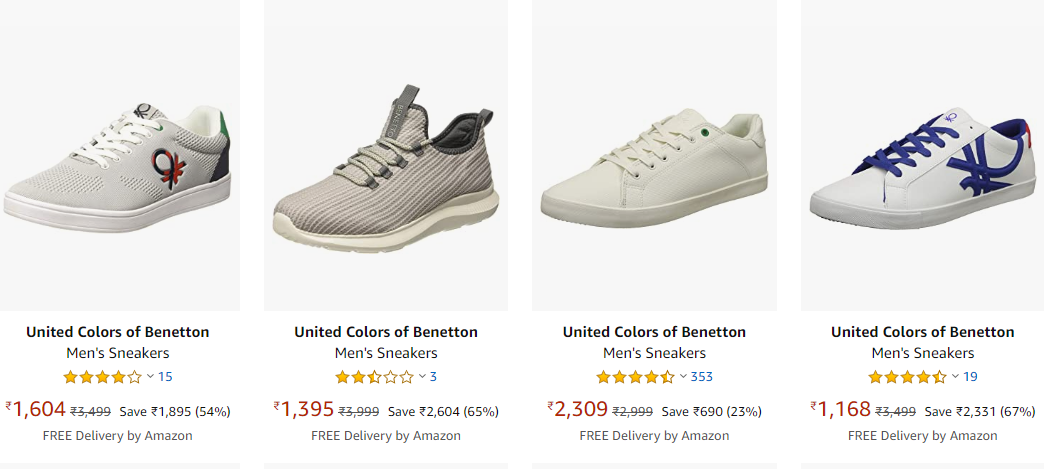 United Colors of Benetton gives affordable prices an good quality. UCB white sneakers are popular and perfect to pair with your favourite Jeans. It is a must-have brand for all sneaker lovers. Get a stylish pair of shoes that are also ultra comfortable.
Price Range: Rs. 973 - Rs. 3,499
Best United Colors of Benetton Sneakers
UCB Textured Sneakers
UCB Men White Applique Detail Sneakers
Choose Right Sneakers as per Your Style
A good pair of sneakers can transform an outfit and your look. The people who are passionate about footwear can go a length to find the right sneakers. They come in a wide range of styles. The selection depends on individual preferences. Sneakers come in different colours, materials, and even.  
Sneakers fit into almost every kind of lifestyle. You can wear sneakers to your office, or play a game of volleyball, or go out dancing. It is easy to find sneakers that fit right in for every type of activity. Sneakers are comfortable and at the same time stylish. 
Classy Sneakers are designed to more like dress shoes. They are great for work. You can even go out wearing classy sneakers. They come with supportive midsoles or rubberized soles that are easy on the feet.
You can wear fashion sneakers with jeans and shorts or even dresses. They are a popular choice for all ages. Fashion sneakers come in different styles from classic styles to neon and brightly coloured ones.
Sneakers were originally designed for running, jogging, and playing sports. Sporty sneakers have become very versatile. They are great shoes for all different areas of life. 
With new styles introduced by these brands regularly, you always have lots of choice for every budget and taste. Which is your favourite brand of sneakers? Mention in the comments below.
Frequently Asked Questions
Which sneaker brand is the best?
Puma, Converse, and UCB are some of the best sneaker brands in India. We have mentioned top 10 sneaker brands in this post. Kindly go through the article to find more information about the best sneaker brands.
What sneakers will be popular in 2020?
The best sneaker brands provide ample choice for every budget and style. Check out the best sneaker brands 2020 to find the most popular sneakers that you should buy.
What are the top 5 shoe brands?
Nike, Adidas, Reebok, Puma, and Under Armour are among the best shoe brands. Some other popular shoe brands include UCB, Converse, Levis, and Skechers.