15 Top Biscuit Brands In India You Must Try
If you are fond of eating biscuits and consume them almost daily, then here are some of the biscuit brands in India, you can think of buying. 
By :
| Views: 1192



UPDATED ON: 26 Jun 2020
Biscuit industry is one of the most abundant consumed food snacks in India. Biscuits have always been our perfect companion after a rough time or just for passing the time munching them! So, check out the top biscuit brands in India that you can consume with any hot beverage. 
It is one of the national favourite snacks, and there are endless amounts of twists with each new biscuit in terms of flavour and taste due to the varied liking of everyone. Biscuits always cheer our mood up as they are crispy and munchy to taste. 
To know more about top biscuit brands in India, keep reading! 
Also, to have beautiful and glowing skin, know some of the Aloe Vera Juice In India that will work great towards keeping your skin healthy. 
Best 15 Biscuit Brands In India
Here is Indian biscuits name list that you can refer to before you buy a delicious biscuit snack for yourself and your family. Get to know each biscuit brand and the biscuit flavours under them and know the price range of each brand. Below is the list of biscuit brands in India which are quite affordable and readily available in the market. 
| | |
| --- | --- |
| Biscuit brand  | Price Range  |
| Parle Biscuit brand  | Rs. 10- Rs. 78  |
| Britannia Biscuit brand  | Rs. 10- Rs. 60  |
| Sunfeast Biscuit brand  | Rs. 10- Rs. 96 |
| Priya Gold Biscuit brand  | Rs. 40- Rs. 60 |
| Patanjali Biscuit brand  | Rs. 5- Rs. 200  |
| Cremica Biscuit brand  | Rs. 10- Rs. 100  |
| Cadbury Oreo Biscuit brand  | Rs. 10 - Rs. 500  |
| McVitie's Biscuit brand  | Rs. 15- Rs. 70 |
| Anmol Biscuit brand  | Rs. 10- Rs. 30 |
| Unibic Biscuit brand  | Rs. 25- Rs. 50  |
| Dukes Biscuit brand  | Rs. 45- Rs. 250  |
| Rose Biscuit brand  | Rs. 10- Rs. 100  |
| Haldiram's Biscuit brand | Rs. 10- Rs. 100 |
| Nature Valley Biscuit brand | Rs. 10- Rs. 100 |
| Pillsbury Biscuit brand | Rs. 10- Rs. 100 |
1. Parle Biscuit brand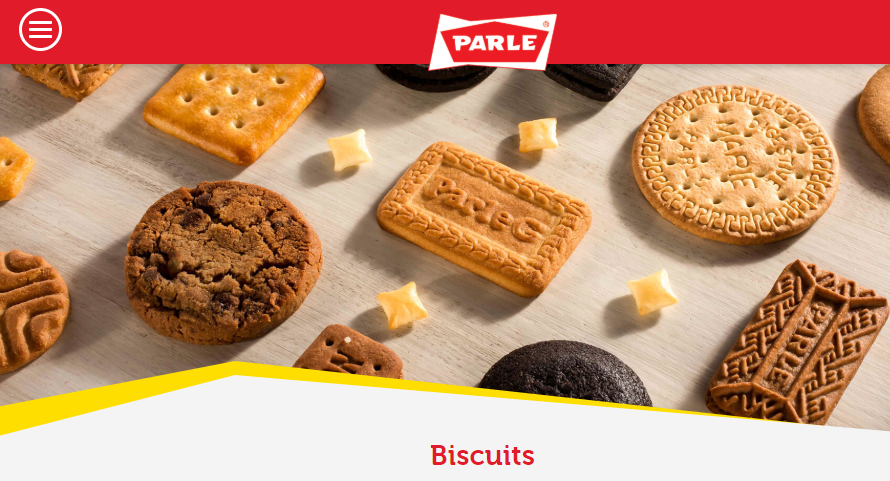 Parle food company holds the topmost share of the Indian biscuit market and is famous for biscuit brand Parle-G which is also the top biscuit brands in India. Parle-G and a host of other top-rated brands, the Parle name symbolizes quality, nutrition and superior taste.
This brand is known to deliver both health and taste, with a value-for-money positioning that allows people from all classes and age groups to enjoy Parle products to the fullest. Parle biscuit brands include Monaco, KrackJack, Hide & Seek, Parle-G Gold, Monaco range, Nutri Crunch range, Melody chocolate, Kismi Toffee Bar, Mango Bite candy, etc.
Features of Parle Biscuit brand
Parle has been one of the major biscuit brands in India for the last eight decades. 

Parle-G is renowned and has the most sales among all top biscuit brands in India. 

Parle biscuits offer a fantastic combination of quality, taste, and nutrition.

The brand has around seven manufacturing units of its own.

This biscuit is also very affordable, having a variety of essences and flavoured cookies.
2. Britannia Biscuit brand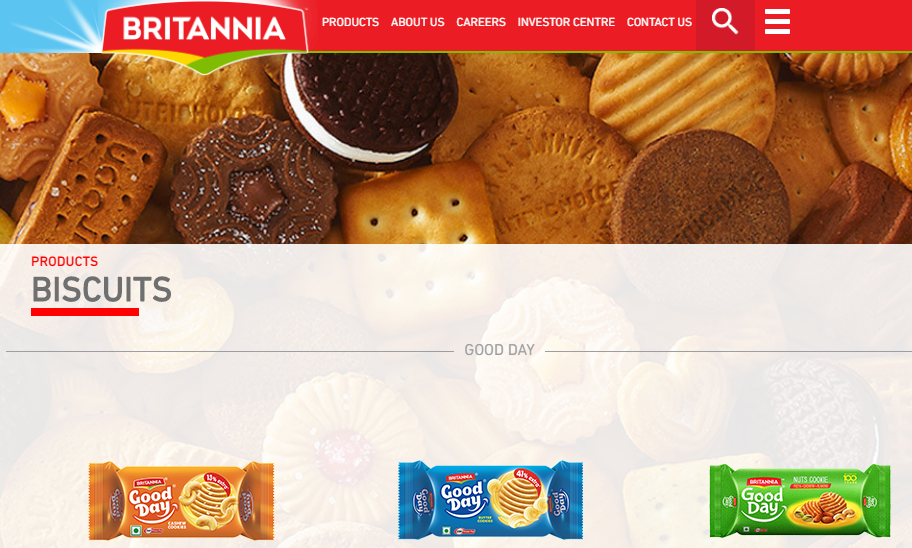 Britannia uses the best of ingredients and packages them in the natural goodness of its products. It is the most trusted, valuable, and popular biscuit manufacturers in India. Britannia Industries manufactures and sells India's favourite brands like Good Day, Tiger, NutriChoice, Milk Bikis and Marie Gold which are household names in India.
Some of the Britannia products in India include Biscuits, Bread, Cakes, Rusk, and Dairy products including Cheese, Beverages, Milk and Yoghurt. In biscuits, you can get Good day, crackers, nutrichoice, Marie gold, tiger, Milk Bikis, Jim jam + treat, bourbon, little hearts, pure magic, Nice time.
Features of Britannia Biscuit brand
Britannia is one of the Indian biscuit brands based in Bangalore reputed as one of the top biscuit brands in India. 

The company was established in 1892 and has managed to maintain a distinctive position in the Indian biscuit industry, having its most popular brand called Tiger.

It is presently one of the biggest brands in India and also the leading food-related brand.

The English taste and touch are sharp as a unique brand when compared with other international brands.

Good day biscuits is another franchise with its tastes and flavours.
3. Sunfeast Biscuit brand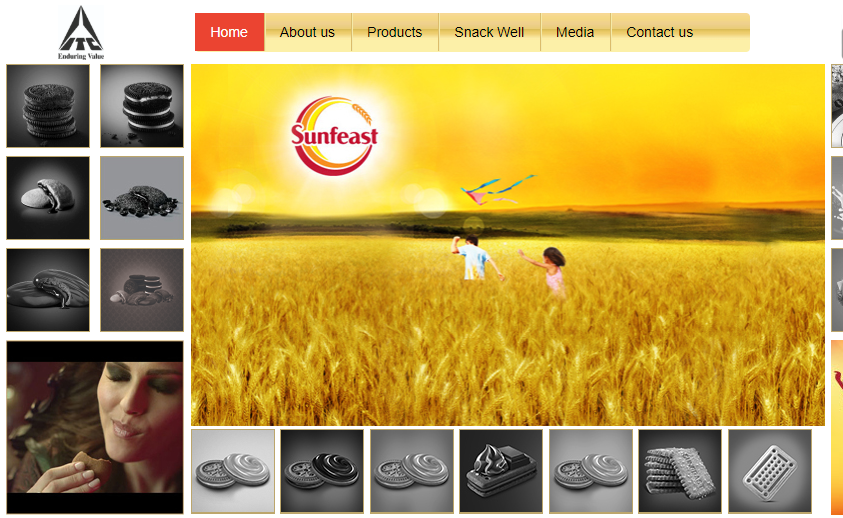 In July 2003, ITC came into the biscuits market by launching the Sunfeast range of biscuits. Since then, Sunfeast cookies have always stood for quality and are known for offering innovative and wholesome biscuits. 
Sunfeast have been responsible for spreading happiness, contentment, satisfaction and pleasure among all the people. The brand manufactures and sells biscuits, including Glucose, Marie and Cream Biscuits and is among the famous biscuit companies in India. 
Features of Sunfeast Biscuit brand
Sunfeast is a famous brand which is dearly loved by all Indians because of its diverse tastes and kinds. 

Sunfeast has oatmeal biscuits, digestive biscuits, cookies, etc. 

Sunfeast Biscuits is the heritage brand in India.

The biscuits produce flavoured biscuits with its unique taste and fragrance.

It manufactures creative flavours that you can experience with every beverage. 
4. Priya Gold Biscuit brand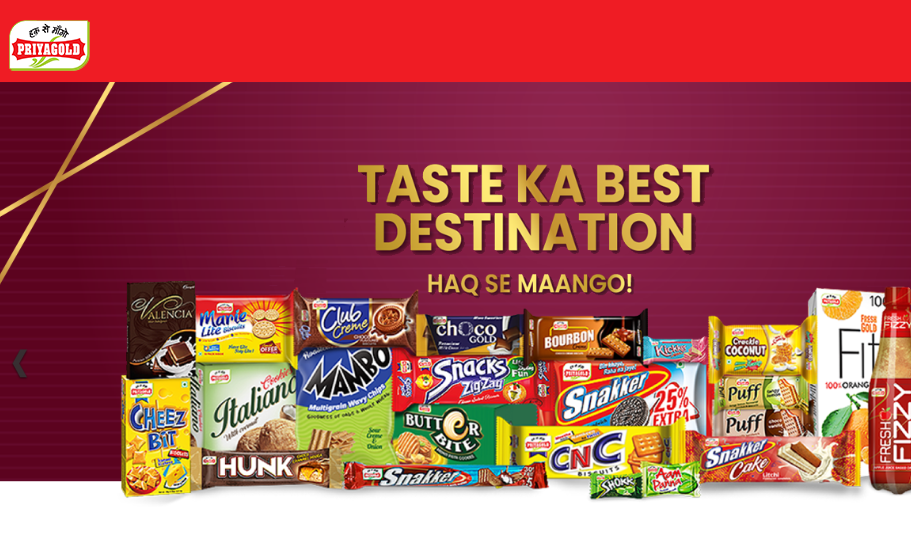 Priya Gold is among India's favourite biscuit brands. The brand manufactures cookies, cakes, confectionaries and juices/beverages in more than 20 countries. The company bakes daily with enthusiasm ensuring only the highest quality products gets delivered in the market, day in and day out.
The company's passion lies in tradition, using only the best ingredients to make the tastiest products.The brand delivers the best cream biscuits in India like Marie lite, Snakker choco sandwich, choco Chekkers, cheese cracker, butter Delite, buttermilk biscuits, digestive, club creme - choco/elaichi/ orange, bourbon creme, etc. 
Features of Priya Gold Biscuit brand
Priya Gold is part of Surya Foods & Agro Ltd that got established during November 1992.

Its commercial operations, which included selling and making biscuits under the brand name Priya Gold, started during October 1993.

They have sweet, salty and cream cookies which are enjoyed by all the age groups from youngsters to older people. 

You can grab a packet of PriyaGold biscuits and enjoy your bus or train journey.
5. Patanjali Biscuit brand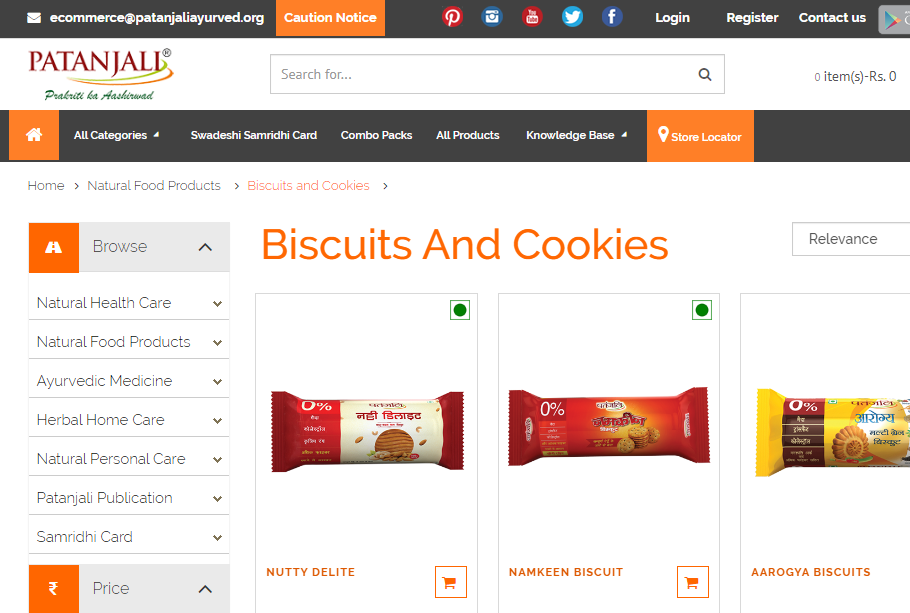 Patanjali Ayurved company manufactures herbal products, biscuits, Toothpaste and other detergent products, also sells its products online with Grocery Stores like Big Basket and planning to open outlets like Star Bazaar.
You can purchase cream biscuits, digestive cookies, chocolate biscuits, Patanjali Doodh biscuits, butter cookies, and many more. It also manufactures chocolate cream biscuits in India and sells the most natural and genuine products in the market. 
Features of Patanjali Biscuit brand
"Prakriti ka Ashirwad" which means Boon to Nature, is a tagline for all Patanjali biscuits. 

Brand Patanjali speaks about health and fitness with a touch of well-being and style.

You can get your choice of cookie under this brand as they make biscuits for patients with blood pressure, blood sugar.

They produce whole wheat biscuits rich in fibre that are tasty and edible.

Patanjali biscuits have come to the market, not long before but have redesigned the Indian heart with its products and taste. 

Nutritionists and doctors refer to Patanjali biscuits because of their trans-fat content.
6. Cremica Biscuit brand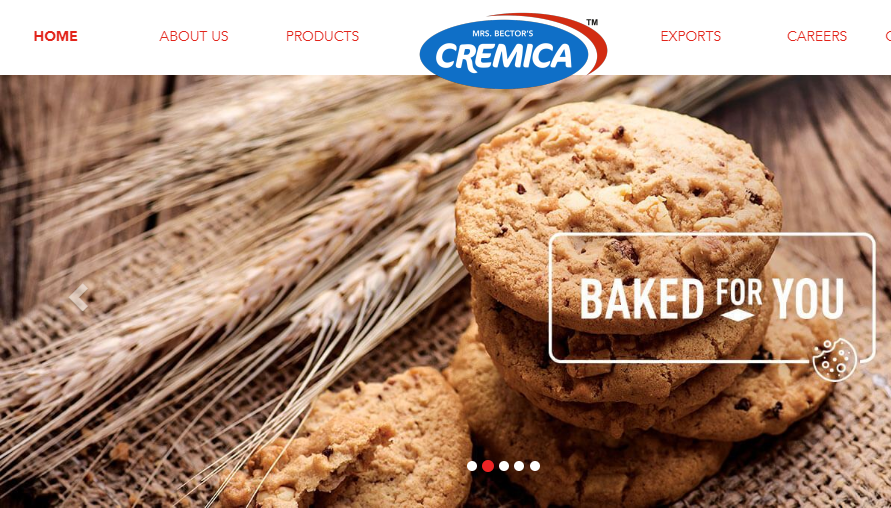 Cremica follow the best manufacturing processes in the industry to ensure the most elegant taste and premium quality. They introduce the perfect blend of selected ingredients, and premium taste comes from the choice of the finest ingredients in over 61 countries across the globe. 
The brand manufactures and sells digestive biscuits, oatmeal cookies, Marie classic, digestive corn flakes biscuits, and many others. They bring up unique recipes; health-oriented ingredients and state - of - the art standards. Each product has its speciality and is crafted with love to suit the taste buds of everyone.
Features of Cremica Biscuit brand 
The digestive biscuit of Cremica is very helpful in weight loss.

The oat cookies are rich in oats which are good for health and tasty.

Magic Cream biscuit of this brand is love for all chocolate lovers
7. Cadbury Oreo Biscuit brand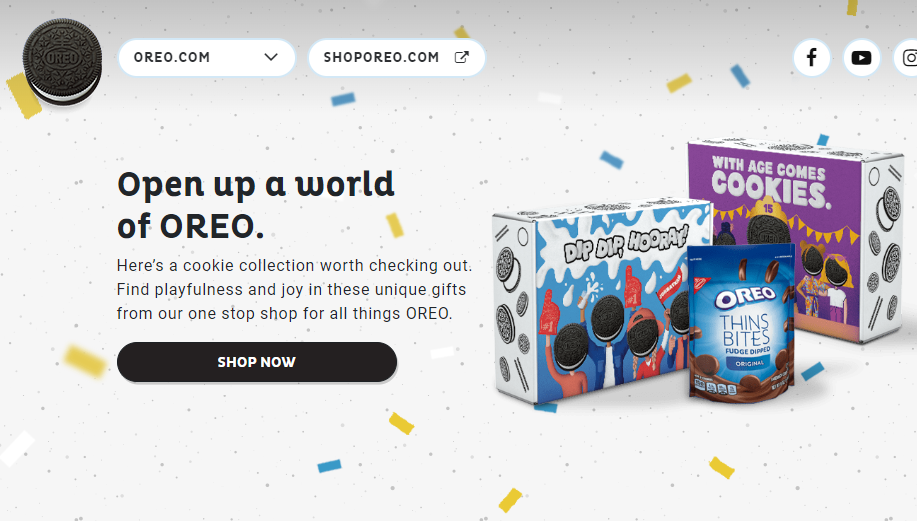 Oreo cream biscuits and cookies are very much famous in India, especially among children, entered into the Indian biscuit market with Cadbury. An Oreo is a sandwich cookie consisting of two (usually chocolate) wafers with a sweet creme filling and is the top chocolate biscuit brands you can go for if you love chocolates.
These are available in over one hundred countries. They manufacture Oreo sandwich cookies, oreo cookies lemon, oreo lunchbox cookies, and a lot more other flavours of biscuits. It is among the best selling biscuits in India. 
Features of Cadbury Oreo Biscuit Brand
Oreos are the perfect snacks to share with your families.

It is rich, smooth chocolate cream sandwiched between crunchy wafers.

One of the most loved biscuits in India currently, especially for kids. 
8. McVitie's Biscuit brand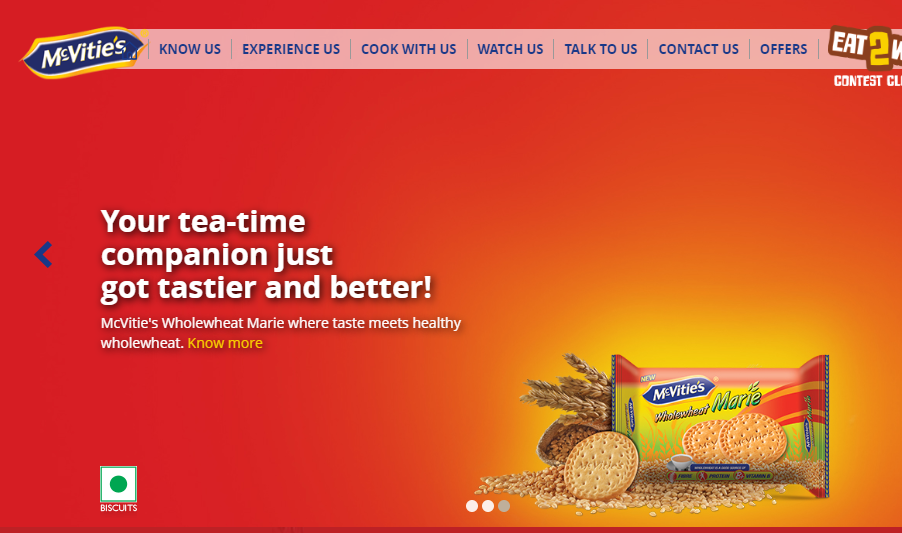 McVitie's brand is among the top biscuit brands that manufacture biscuits with the goodness of wholewheat and fibre. They have a wide range of products under them which are of great taste. They come up with the yummy Mcvities digestive biscuits in India.
The brand comes up with the best quality ingredients which you can feel at every crunchy bite of yours. All the ingredients have a fantastic taste and provide health benefits. It delivers biscuits like oat cookies, digestive biscuits, butter cookies, and many more delicious snacks. 
Features of Mcvities Biscuit brand
In comparison to other biscuits, it has 2 grams of protein and 3g of fat in it.

It also has vitamins and minerals in it.

This brand is one of the best-selling biscuits in India and the UK.
9. Anmol Biscuit brand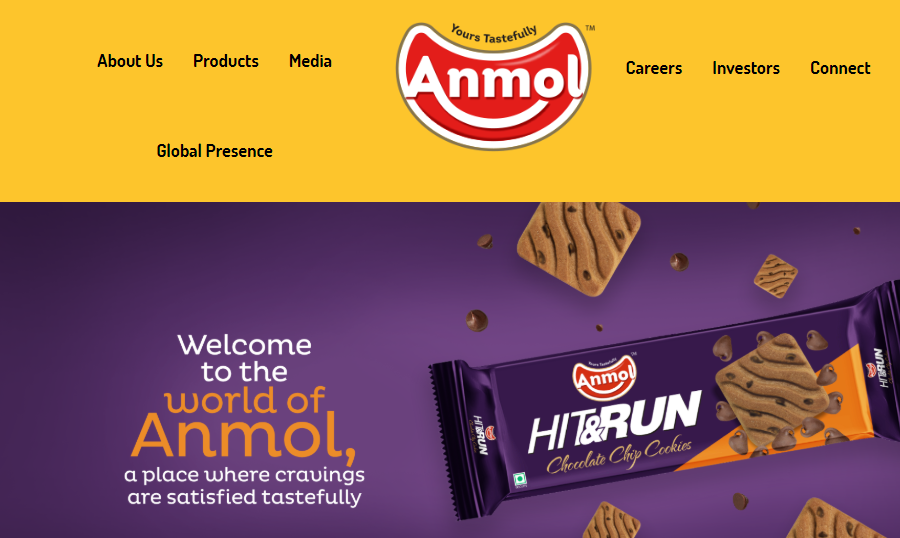 Anmol Industries Limited is a packaged food company, majorly focusing on biscuits, cakes and cookies. They have a strong presence in Northern and Eastern India. Also, you can choose from 61 varieties of biscuits and 26 types of cake. It is the 4th largest biscuit brand in India. 
Anmol delivers mouth-watering cookies, and crunchy biscuits and treats your senses to a world of flavour and crunch. It brings biscuit types including Twinz, Dream Lite, Jadoo, Veg Munch, Top Magic, Snack It, etc.  This best biscuit brand in India has the tagline – "Yours tastefully" – is treating all of us with the gift of quality and taste to hit our minds and souls. 
Features of Anmol Biscuit Brand
They have a vast variety of products from biscuits to different cookies.

They also have a special tagline "tasted tested and trusted", which means they always maintain their quality towards the product.

The company was launched in 1998, and their company is growing very fast.
10. Unibic Biscuits brand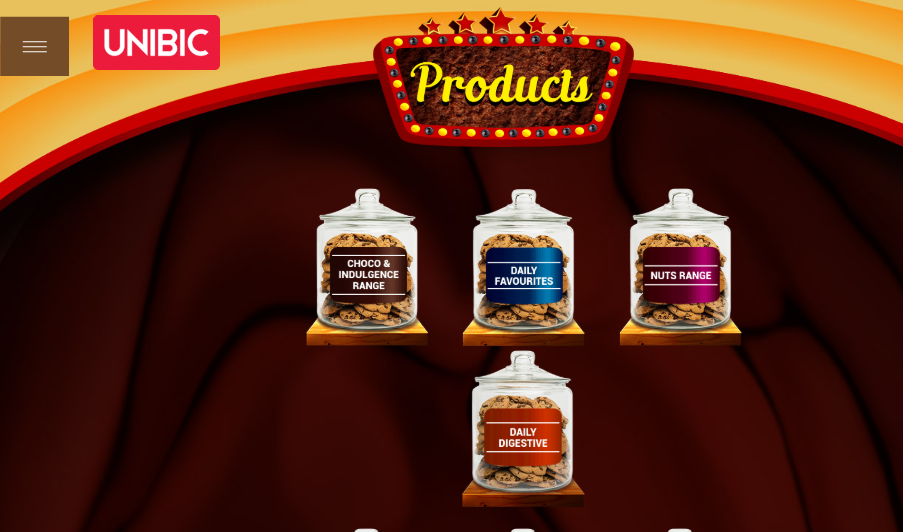 Unibic started in India in 2004 with the help of Anzac and Bradman cookies. With over 30 new variants, Unibicc's range has evolved continuously, timely bringing in innovative flavours to cookie maniacs throughout the world. 
Unibic's rich and wholesome cookies deliver the real taste that the company boasts of proudly. The brand comes under the top 10 biscuit brands in India and sells daily digestive biscuits, choco and indulgence range biscuits, nuts range biscuits, snack bars, sugar-free biscuits, and a lot more healthy range of cookies. 
Features of UNIBIC Biscuit Brand
Their biscuits are rich in carbs and fiber.

They always prefer plain oats which help in weight loss.

They try to avoid sugary biscuits, that is the reason it is loved by everyone.
11. Dukes Biscuit brand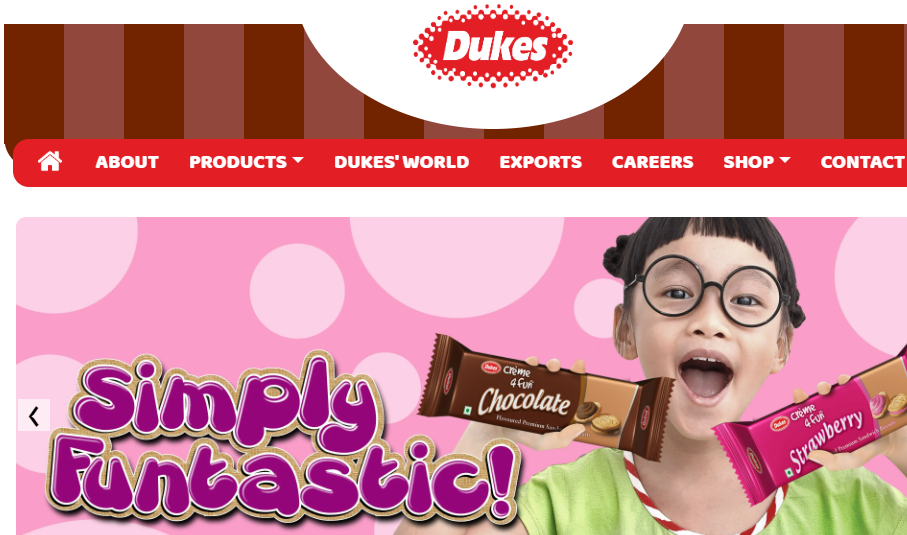 The brand delivers biscuits, wafers, cookies, chocolates, cakes etc. and today owns 15 states of the art manufacturing centres all over India broadly under three brands by the name of – Dukes, Treff and Dynas.
Duke's biscuits manufacture and sell biscuit flavours like digestive biscuits, chocolate buzz biscuits, bourbon, strawberry cream four fun, milk buzz biscuits, top butter crackers, Marie break, merry milk biscuits, etc. 
Features of Duke Biscuit brand
It comes with very exciting packing.

It has a wide range of flavours including coconuts flavoured crispy biscuits

Contains essential nutrients like calcium, minerals, and vitamins.
12. Rose Biscuit brand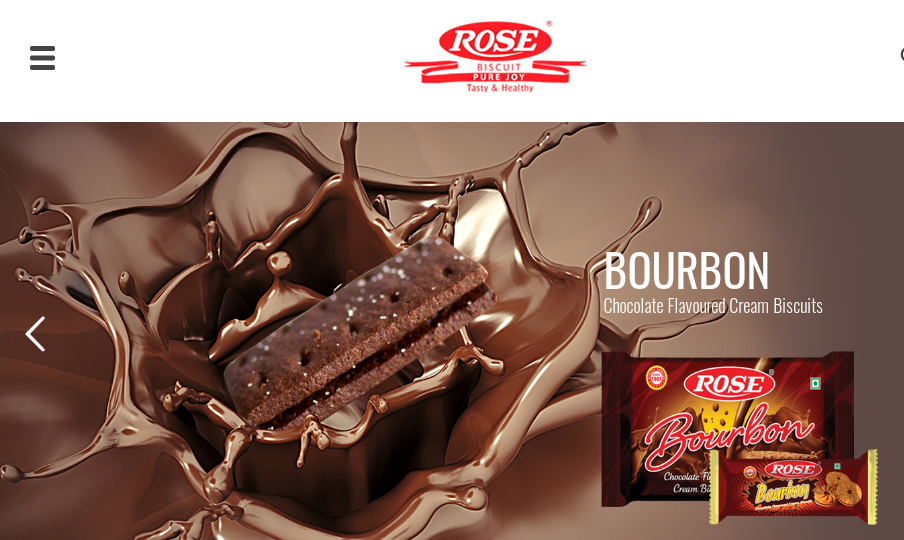 Rose biscuits are manufactured by Veeramani Biscuit Industries Limited, famously known as VBIL. The brand has been famous since 1987 in the areas of Hyderabad. It produces a variety of biscuits like cream biscuits, glucose biscuits, Marie biscuits etc.
Rose also manufactures cookies varieties, Rusk, Wafer varieties, Papad varieties, etc. The brand delivers biscuits like Rose Marie, Rose Twister, Rose Crazy Bites, Rose Saltino, and other delicious biscuit flavours. 
Features of Rose Biscuit Brand
This brand is not famous, but it has a variety of biscuits and is loved by people.

They manufacture different types of delicious biscuits.

 This is one of the Indians who is providing biscuits and namkeens.
13. Haldiram's Biscuit brand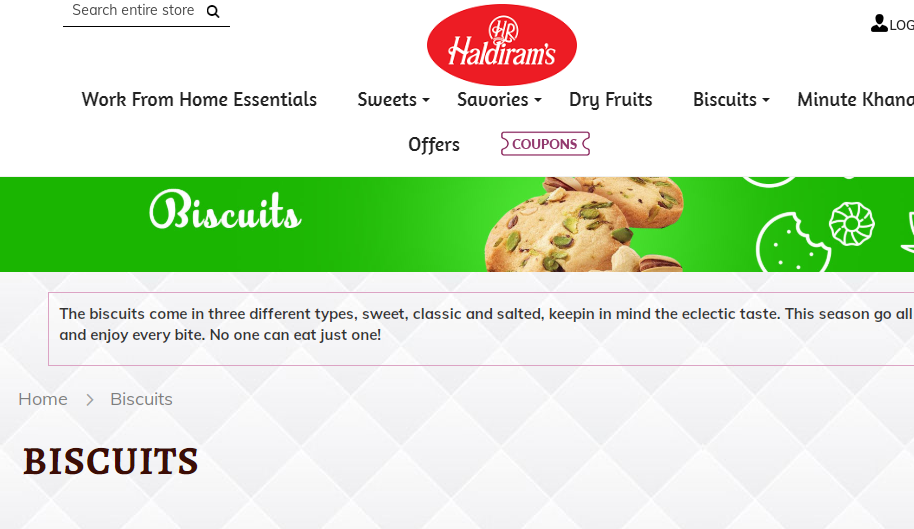 Haldiram biscuits come in three different types, sweet, classic and salted, keeping in mind the eclectic taste. This season goes all out and enjoys every bite. No one can eat just one!
It is famous for delivering packed sweets, Namkeens, pickles, Papad, Diet snacks, dry fruits, and many other daily essentials that you crave for. The brand manufactures biscuit flavours like cookies, coconut biscuit, cookies badam Pista, cookies ajwain, etc. 
Features of Haldiram Biscuit Brand
Haldiram is a world-known brand of India and has stores all over India.

The brand also manufactures premium biscuits for their huge customer base.

Haldiram always takes care of hygiene first and provides the best products.
14. Nature Valley Biscuit brand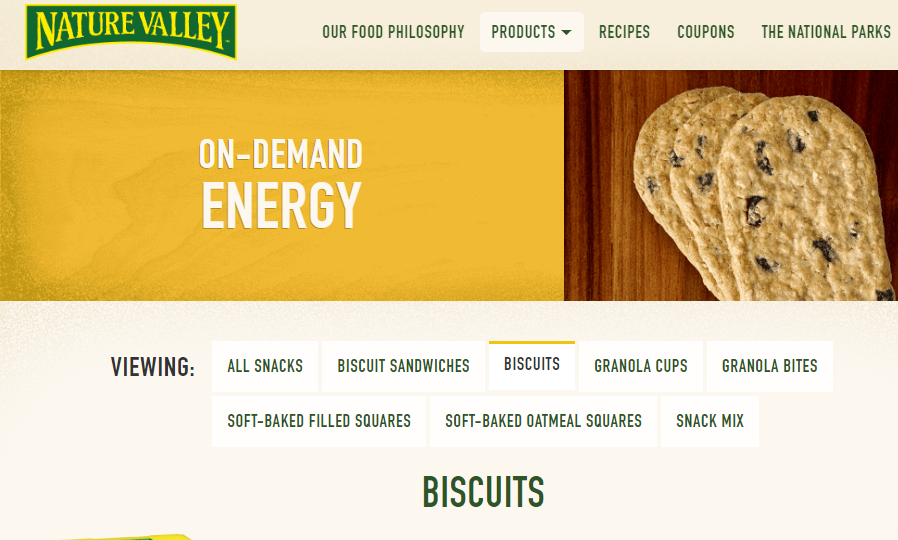 Nature Valley relies on real energy, wherever and whenever you need it by making the best quality all-time snacks with the authentic ingredients and flavour. They use the most natural ingredients like whole grain oats and power-packed wholesome peanuts, almonds, and nut butter.
Nature valley manufactures biscuits and biscuit sandwiches of flavours including coconut butter, chocolate peanut butter, blueberry cookies, soft-baked oatmeal squares, granola cups, etc. The products contain no artificial colours, no high fructose corn syrup, and 0 grams trans fat.
Features of Nature valley Biscuit Brand
They are made with all-natural foods to provide a healthy biscuit. 

Their biscuit contains protein, fat, carbs to keep you fit also with snacks.

Their biscuits can help you to gain weight, not weight loss.
15. Pillsbury Biscuit brand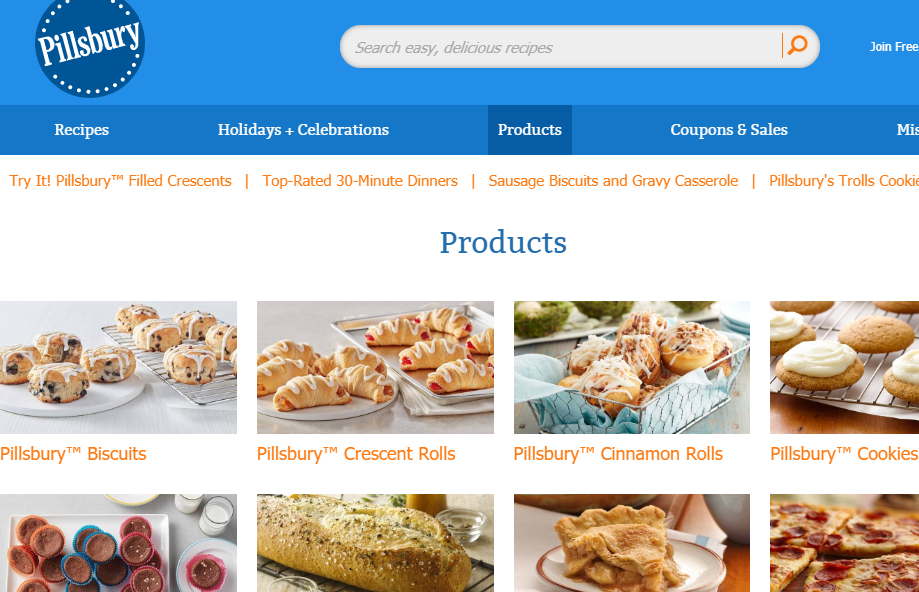 The brand brings products like sweet biscuits with icing, refrigerated cookies, frozen biscuits, and many delicious biscuit flavours under each category. Pillsbury is a brand of biscuits that makes many other delicious food products like Pillsbury bread, crescent rolls, cookies, pizza crust, bake brownies, etc. 
Pillsbury Biscuit Brands 
They are very yummy biscuits, but not loaded with any nutrients in it.

They are highly processed food with low fiber and high sugar.

Pilsbury is a very big brand and has a wide range of products.
That was all about the top biscuit brands in India. All of us are fond of biscuits and consume them during our snack time. So, get the perfect biscuit brand and enjoy eating your favourite biscuit flavour with tea or coffee. 
Frequently Asked Questions 
Q. Which is the best biscuit in India?
As there are many brands available in the Indian market for Biscuit with different varieties and tastes. Brands like Parle, Britannia, Sunfeast, Cadbury are the top brands available in the Indian market, but I prefer McVities Biscuit. This brand is providing good taste and nutrients in its products.
Q.  Which is the largest selling biscuit brand in India?
As the competition is an all-time high in Biscuit brands, everyone tries to top the list. But, Parle is the number one largest selling biscuit brand in India for many years.
Q. Which is the famous flavoured biscuit?
There are many flavoured biscuits in the market, but, The Cadbury Oreo is famous among all for its chocolate flavour and taste. Cadbury's Oreo is famous for its flavour in all our India.