Flipkart Grocery Offers: Up to 90% off on Daily Essentials, Rs. 1 Deals, and More
Save on staples, personal care, detergents, shampoos, oils & ghees and more with Flipkart Grocery Offers.
By :
| Views: 301



UPDATED ON: 7 Jul 2020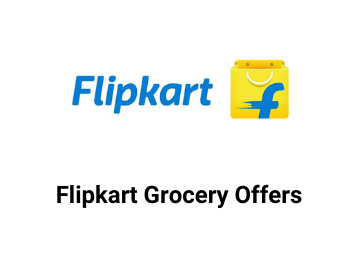 Ordering grocery online saves times and money. If you are looking for discounts on grocery shopping, then you need to check Flipkart Grocery offers. Flipkart launched its grocery store Supermart sometime back. 
You can purchase grocery and daily essentials on Flipkart and also avail amazing discounts. The online megastore takes complete care of your budget with the best Flipkart Grocery Offers 2020. 
Now, without wasting any time let us discuss the offers and many more things that will be of your help while ordering groceries from Flipkart.
Flipkart Grocery Offer Today
| | |
| --- | --- |
| Category | Flipkart Grocery Offer |
| Oils & Ghee | Up to 60% OFF |
| Shampoos | Up to 60% OFF |
| Oral Care | 40 - 60% OFF |
| Herbals & Naturals | Up to 50% OFF |
| Grooming Range | 40-70% OFF |
| Cleaning Essentials | Up to 70% OFF |
| Detergents | 30-50% OFF |
Flipkart Offers on Grocery
Flipkart knows how to take care of its customers. That is why online megastore comes with new and exciting offers. With Flipkart Grocery offers today, you can avail never before discounts on daily essentials. The online store has so many offers that make sure you always get the best prices on all products.
From staples to snacks, packaged food, personal care products and dairy save on everything with Flipkart. In a very short duration, Flipkart has become very popular for its grocery offers. 
Top Flipkart Grocery Offers
The online store takes complete care of your grocery shopping with its amazing offers. You can order groceries online on Flipkart and save a lot of money every month. Choose from different offers that are tailor-made for varying need of customers. Here are some of the best offers on groceries.
Flat 50% OFF
With Flipkart offers on grocery, get a flat 50% off on a huge selection of products. It is the biggest discount you will get on your daily essentials. The products on discount come from leading brands so you don't need to worry about the quality at all.
Buy 1 Get 1 Free
Flipkart also has many BOGO offers on grocery and daily essentials. You get two products for the price one. And there is a wide range of products that are available with this unbelievable offer. So what are you waiting for? grab the amazing offer. 
Buy More Save More
Get additional discounts when you purchase 2 or 3 units of select products. The offer is available on chocolates, juices, noodles and more. Flipkart has a lot of offers to make your grocery shopping affordable. Get additional discounts with the buy more and save more offer. 
Flipkart Grocery Rs. 1 Deal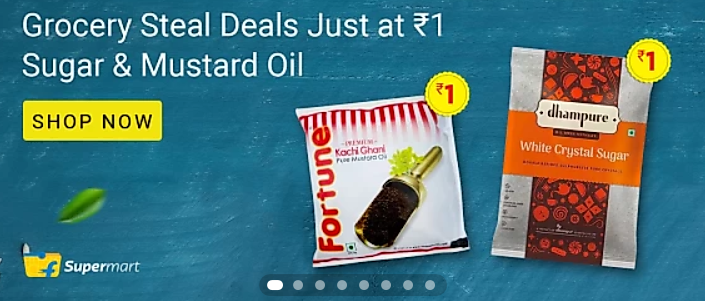 Groceries for as low as Rs. 1. Yes, it is true. Flipkart has made it possible with its Rs. 1 grocery deals. With the Flipkart Grocery offer, you can get select products at Rs. 1. And the products that you can get at such low prices vary from day-to-day. But they have some very useful products in this category such as Amanda Ghee, Sugar, Mustard oil and more. The product change on a daily basis.
You can order a maximum of each product that is available at Rs. 1. Once you visit the grocery store of Flipkart, you will see the Rs.1 deals, you simply need to add the products to cart and proceed to checkout. However, the minimum order value to place a grocery order on Flipkart is Rs. 1.
How to Avail Flipkart Grocery Rs. 1 Deals?
Visit Flipkart Supermart from here

Login to your account

Add 1 quantity of each Rs. 1 product to cart

Proceed to checkout

Place your order
Flipkart Grocery payment offers
In addition to the mega discounts on groceries, you can also save with payment offers on Flipkart. The payment offers add to your savings. You will always find a lot of offers that help you reduce the burden on your pocket. 
To avail the payment offers, you need to pay for your order using a particular mode it may be a specific credit or debit card. You should always look for the available offers to make sure you get the lowest prices on groceries.
Flipkart Grocery Bank offers
The most popular payment offers include bank offers that you can avail with select credit and debit cards. Flipkart comes with promotions for leading banks to help you save on grocery and daily essentials. 
To avail the grocery bank offers, you need to make payment with the applicable credit or debit card. The discount will be applied to your cart automatically. You can get up to 10% additional discount with the bank offers.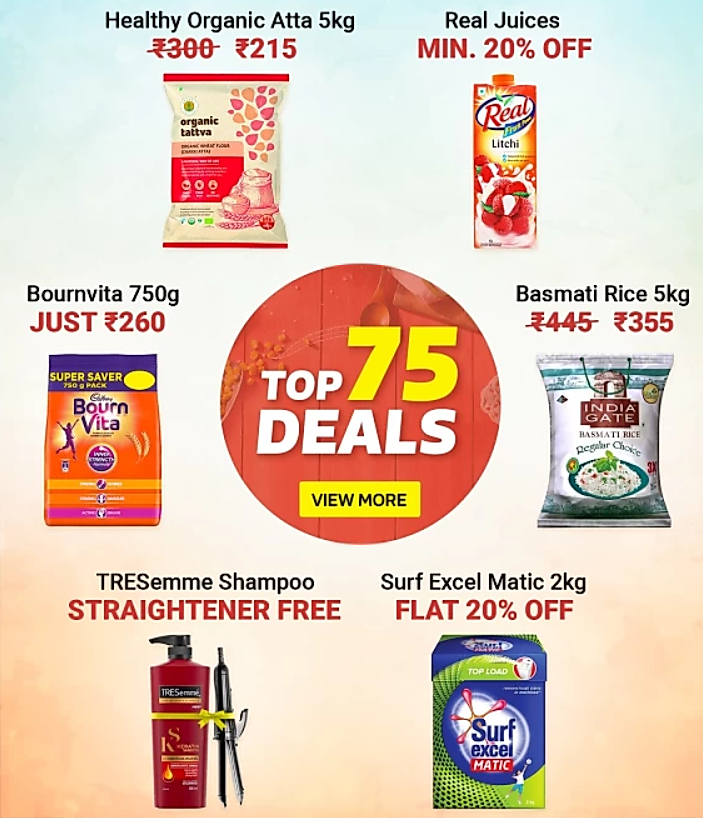 Flipkart Grocery Sale
The discounts on groceries get even bigger with Flipkart Grocery sale. The online megastore comes with special discounts on a regular basis to make your shopping even more affordable. Most popular grocery sale on Flipkart is the Flipstart Days sale. The sale is held from 1st to 3rd of every month. 
With the sale, Flipkart brings the best of deals across categories such as grocery, personal care, electronics and more. It is the best time to shop for monthly essentials as Flipkart has many special offers in the grocery sale.
Flipkart Grocery Trending offers
With Flipkart grocery offers, you get to save on essential products that are part of every shopping list. Flipkart grocery trending deals include biggest discounts on essential such as atta, tea, soaps, detergent, rice, and soaps among others. You get discounts on the most popular brands in each category.
The supermart offers add to your monthly savings by helping you save on every product. The online grocery store of Flipkart brings fresh deals every day. So you always have a great choice in terms of products that are available at superb prices.
Flipkart Grocery Shopping List
| | |
| --- | --- |
| Category | Flipkart Grocery offer |
| Daawat Rozana Super Basmati Rice (Broken) | Rs. 380 |
| Kissan Mixed Fruit Jam 1.04 kg | Rs. 210 |
| Sunpure Sunflower Oil 1 L Pouch | Rs. 93 |
| Gold Winner Refined Sunflower Oil 1 L Pouch | Rs. 97 |
| Kohinoor Charminar Everyday Rice (Broken) | Rs. 299 |
| Harpic Power Plus Original Liquid Toilet Cleaner | Rs. 140 |
| Fortune Kachi Ghani Mustard Oil 1 L Plastic Bottle | Rs. 110 |
| Aashirvaad Superior MP Atta | Rs. 49 |
| Urad Dal White (Whole, 1Kg) | Rs. 89 |
Flipkart Supermart Cities
Flipkart Supermart is live in major cities such as Bengaluru, Chennai, Hyderabad, Delhi, and Mumbai. You can also check availability for your city. Visit Flipkart grocery store, and enter your pin code to check availability. If delivery is available for your pin code, you can also avail Flipkart grocery offers and save money on daily essentials and more. The online store provides up to 90% off across categories. You also get select products for as low as Rs. 1. 
Save on Popular categories with Flipkart Grocery Offers July 
Cooking essentials - Flour, Rice, Dals, Pulses, Cooking paste, Cooking oils, Spices, and ready to cook meal packets.
Packaged food - Pasta, Snacks, Ready to cook, Noodles, Pickles, Canned food, Tea, Coffee, Cereals, Muesli, Honey, Sweets, Chocolate, Spreads, Jam, and Dry fruits and nuts.
Snacks and Beverages - Energy drinks, Fruit juices, Namkeen, Chips, Biscuits, Local snacks, Dry fruits, Popcorn, and more.
Household supplies - Cleaning tools, Air fresheners, Tissues, Paper towels, Detergent, Laundry, Toilet cleaners, and Household cleaning.
Pet supplies - Cat food and Dog food.
Hair and Skincare products - Shampoo, Conditioner, Body wash, Soaps, Face wash, Hair oil, Deodorants, Sunscreens, Face cream, Talcum Powder, Body Lotion, Lip Balm, Makeup, and more.
Personal Care - Shaving and hair removal, Hand Wash, feminine hygiene, and Oral care.
Bakery essentials - Baking ingredients, food essences, food colours, Baking soda powder, and more.
Flipkart Grocery Coupon Code
Normally, Flipkart doesn't provide coupons for grocery shopping but if you are a lucky user you can grocery coupons as well. Recently, Flipkart offered grocery coupons via PhonePe switch. The users could get coupons for transactions on PhonePe app. 
With the Flipkart grocery coupon, you can get flat Rs. 100 of your purchase. The offer was applicable on transaction via PhonePe Switch.
If you were one of the lucky users, you would have also known about the offer. It is over now, but the offer can come back anytime to provide you with amazing savings on Flipkart Groceries. 
Flipkart Grocery Free Delivery
To place an order on Flipkart Grocery store, the minimum order value should be Rs. 650. However, for free delivery, your order value should be Rs. 1200 or more. For orders below that, you will have to Rs. 50 as the delivery fee. 
You can also get free delivery with various promotions that are offered by the online store regularly during Flipkart Upcoming Sale 2020. 
Flipkart Grocery Items Offers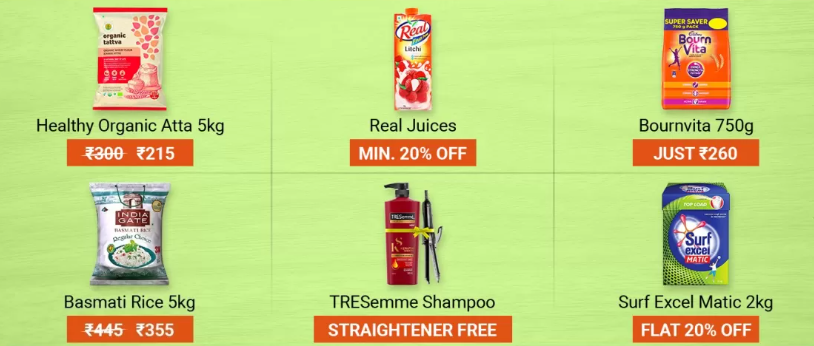 With the grocery offers, you get discounts on various branded products such as rice, aata, juices, shampoos, health drinks, detergents and more. Basically, you can save on every possible category. Whether you want to purchase personal care products, staples, snacks or cooking essentials Flipkart takes care of your budget.
The best offers on groceries are just a click away with Flipkart. No need to bargain, no need to worry about the prices as you get the biggest discount. Flipkart brings the best grocery offers at the click of a button.
Flipkart Grocery offers on Popular brands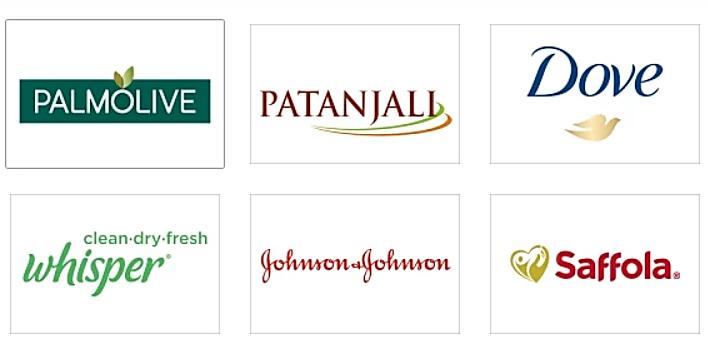 Flipkart offers discounts on groceries of popular brands. You can find the products of your favourite brands on Flipkart that too at discounted prices. Popular brands such as Dabur, Saffola, Patanjali, and Dove among others are easily available on Flipkart. 
The wide range of choices makes sure that you don't need to compromise with the quality of the product. Order your favourite brands at discount prices with Flipkart Grocery offers.
Flipkart Grocery Delivery Timings
Finding a delivery time as per your convenience is the biggest challenge of online grocery shopping. With Flipkart, you get to choose from different slots.
You can pick a slot of your choice and get the products delivered at your doorstep. The available slots for grocery delivery will be shown at the time of checkout. 
You need to select date along with time to place your order. I usually choose the morning slot, it suits my preferences. 
There are 4 slots available it may vary as per your location.
Flipkart Grocery Savings Pass

Flipkart has introduced a new way to help you save on grocery shopping. Flipkart Supermart Grocery Savings pass is introduced for Rs. 599. With the savings pass, you get flat Rs. 100 off on grocery shopping for 3 months. It is applicable once per month on a minimum purchase of Rs. 1,000. 
The savings pass is applicable at select pin codes in Bangalore and Delhi. The discount will apply automatically at the time of checkout.
You have to purchase the pass for Rs. 59 and you will get Rs. 300 savings in total across your 3 orders from Flipkart Supermart. 
 
Benefits of Grocery Shopping on Flipkart

Flipkart takes complete care of your grocery shopping. You get many benefits such as assured quality, great discounts, convenient delivery slots and easy returns. So you get everything in one place. 
Assured Quality: With Flipkart Supermart, you get to choose from top brands across every category be it staples, personal care or snacks. You can easily choose the best brand as per your preferences. 
Great Discounts: You can get up to 80% off on grocery and essentials with Flipkart Grocery offers. You get many attractive discounts that take care of your savings such as Rs. 1 deals, Buy 1 Get 1 more, flash deals and more.
Convenient Slots: Delivery of the order is a major concern for some people while shopping online. But with Flipkart Supermart, you get to choose a preferred delivery slot as per your convenience. At the time of checkout, you will get the option to select a slot for delivery of your order.
Save on your shopping bills with Flipkart Grocery offers. The online store has many offers to take complete care of your shopping needs. Apart from the amazing discounts you also get many benefits such as quality products, convenience slots and more. 
Frequently Asked Questions
What are the delivery charges for Flipkart Grocery?
For orders below Rs. 1200, Flipkart charges Rs. 50 as the delivery fee. You get free delivery on orders above Rs. 1,200.
What is the minimum order value for Flipkart Supermart?
The minimum order value to place an order is Rs. 650.
What is Rs. 1 deal on Flipkart?
Grab select products for as low as Rs. 1 on Flipkart. You can buy 1 quantity of each product that is available at Rs. 1.
What is Flipkart Supermart Savings Pass?
Flipkart has introduced a new way to save on groceries. Buy the Supermart savings pass for Rs. 119 and get Rs. 100 off on your order for the next 3 months. The minimum purchase for an order is Rs. 1,000.
Does Flipkart offer discounts on grocery?
Flipkart has various offers to take care of your budget. You can get up to 80% off on select products. There are many exciting discounts, Flipkart also has Rs. 1 deals on select products.