Flipkart Flipstart Days Offers- Fashion, Electronics, Groceries and More [1st - 3rd June]
Flipkart Flipstart days start on 1st June. Grab discounts on fashion, electronics, groceries and more.
By :
| Views: 4565



UPDATED ON: 1 Jun 2020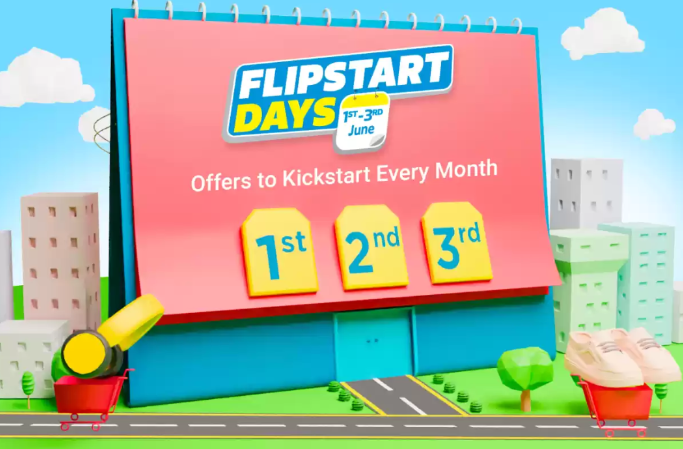 Flipkart is back with the Flipstart Days Sale. The sale is from 1st to 3rd of every month. Get great discounts on everything from groceries to fashion and electronics. Save more with the additional offers of Flipkart Sale.
 The Flipstart Days Sale will be live from 1st to 3rd June 2020. With the upcoming Flipstart Sale offers, grab up to 90% off across categories. 
The sale was introduced to provide discounts on grocery and essentials, but Flipkart has started to provide offers across all categories in its Flipstart Days Sale. You can also save with bank offers of the sale. To know more about the Flipkart Flipstart Days offers of June read on….
What is Flipkart Flipstart Sale?
As we all know Flipkart time after time tries to bring new and better offers for its customers. Flipkart Flipstart is another initiative by them in the same direction. This sale will be live at the beginning of every month where you will be capable of availing great offers. This time the offers will be live between 1st to 3rd June. 
Finally, Flipkart is back with its start on the month sale. Flipstart days sale in June will be held between 1st to 3rd June. This is the come back of the Flipkart monthly sale which was not hosted in April and May due to COVID-19. 
Last month, there were few restrictions on e-commerce due to the nationwide lockdown. But the restrictions are completely relaxed for the e-commerce industry. 
Also, People are preferring to shop online. It has emerged as a way to maintain social distancing as e-commerce companies are following contactless deliveries.
 So if you are also looking to order online then Flipstart Days Sale is live on Flipkart. The Sale brings discounts across all categories to help you save money. 
Also popular as Flipkart Pay Day Sale, you get discounts across all categories during the three days. 
Steps to Avail Flipkart Flipstart Offers
In order to avail the offer, click on the link here.

Scroll down and click on the button "Continue Shopping".

Now login to your Flipkart account.

Select a category.

Select the product you wish to purchase.

Now enter your address for delivery.

Make the payment using a suitable method.

Congratulations !!! You have successfully made your purchase.
Top Flipkart Pay Day Sale Offers in June
| | |
| --- | --- |
| Product Category | Discounts and Offers |
| High-Performance Laptops | Starting from Rs.34,990/- |
| Kids Accessories | Starting from Rs.199/- |
| Sneakers & Running Shoes | Minimum 50% Off |
| Juicer Mixer Grinder | Starting From Rs.999 |
| Mattresses | Up to 60% Off |
| Best-Selling Laptop | Starting from Rs.13,990/- |
| Air Conditioners | Starting from Rs.22,499/- |
| Kids Furniture | Up to 60% Off |
| Kitchen Storage Essentials | Starting from Rs.49 |
| Watches | 30-80% Off |
| Bedroom Furniture | 75% Off |
| Double-Door Refrigerator | Starting from Rs.17,990 |
| Washing Machine | Starting from Rs.6,299 |
| Water Purifiers | Up to 50% Off |
| Living Room Furniture | Up to 75% Off |
| Handbags & Jewellery | 50-80% Off |
| Men's Clothing | 30-70% Off |
| Women's Clothing | 40-80% Off |
| Fans & Air Cooler | Starting from Rs.999 |
Flipkart has a wide range of products for you. They are so many that if you wish to check them all out, it will be almost impossible. Firstly, because there are numerous products for your choices and secondly, they keep on updating their inventory with new products. They also have great offers for you.
All of these offers are bound to attract you and give you whatever you want at the best price possible. One such thing that has been started by Flipkart is Flipstart days.
During these days, you will be capable of having great discounts and offers. Also, the sale is live between 1st to 3rd June 2020, therefore, be sure to avail the offer while there is still time.
Note: The offers will be available at the beginning of every month.
Flipkart Flipstart Offers on Electronics

If you are thinking of a new piece of electronic then the good news is that you are getting great offers on Flipkart. Flipkart has all the best brands for you including names like Sony, Samsung, Nokia, Vivo, Oppo, Nikon, Canon etc.
In this store you can purchase all the electronics that you are looking for be it DSLRs, Point & Shoot Camera, Smartphones, Smart Watches, Health Appliances, Home Entertainment etc.
The offers and discount that you are getting on the store are enormous. The discounts that you might be getting on each store will be going up to 75% Off in some cases. Also, you can purchase various different laptops with great specification starting at different price points.
You can have some of the best-selling laptops starting from a price of Rs.13,990 while laptop with killer specifications starting at Rs.34,990. Therefore be sure that you check out the Flipkart Electronic store during the Flipstart sale.
Flipstart Offers on TVs & Appliances

Electrical Appliances are the need of the hour so much so that we often discuss getting new electronics devices but as soon as an Electrical Appliance is broken down, it becomes collateral for us to buy them.
Well, if you are thinking of getting the best quality then Flipkart has some great assured products. Also, the brands that are offered on the online store are numerous. You get great brands like Mi, Samsung, Thompson, IFB, Voltas, Phillips, Bajaj, Kaff, Eureka Forbes etc.
Also, the options that you are getting in the store are Microwave Oven, Water Purifier, Air conditioners, Refrigerator, Electric Kettle, Water Geysers, Irons, Vacuum Cleaners, Immersion rods, and a lot more than you can actually think. You are getting great offers that can get you your favourite product for really cheap.
The discounts that you are getting on certain products can go up to 80% Off. Therefore, be ready for the massive discounts that you will be getting in the current sale.
Flipkart Flipstart Offers on Furniture

Thinking of replacing your furniture, well, now is the time as you can buy great pieces of furniture from the Flipkart Store. The furniture that you are getting in the Flipkart is from all the big and trustworthy brands. You may be looking for shelves, sofa, table, chair, or maybe a cupboard.
Flipkart fulfils each and every need of yours be it for kitchen & dining, Home Decor, Furnishing, Kitchen Storage etc. Although that is not all since if you are looking forward to home automation then they have products for that too.
Also, the great part about the store is the fact that you are getting discounts that can go up to 75% Off on the Furniture. Therefore, be sure to check them out if you are looking forward to buying new furniture.
Flipkart Pay Day Offers on Fashion

Well, there is no right time to purchase clothes, we buy what we feel like and whenever we feel like. Clothes are not just wearing but to tell the world who we exactly are and then is the reason you need a great clothing store that can get you good stuff from all the best brands.
Flipkart gives you the liberty of purchasing your favourite style with the fabric you like the most from the best brands. In fact, you can also purchase the fabric as per your likeness.
Flipkart truly has the greatest brands for you, brands like Roadster, Lee Cooper, Allen Solly, Levi's, Wrangler, Tommy Hilfiger, Kalanjali, Mahotsav etc. The clothes that you can purchase from the store are from various categories like T-Shirts, Shirts, Tops, Jeans, Jackets, Ethnic etc.
Also, the discount that you can get on certain categories is simply unmatchable. The discounts on the online store can actually go up to 90% Off in certain cases also you have the option of availing the Flipstart discount making your purchase way more pocket-friendly. Therefore do check their cloth store now.

Flipkart Pay Day Grocery Deals - Grab Products From Rs. 1
Flipkart has already revealed the grocery deals of its Pay Day Sale. Buy grocery for as low as Rs. 1. You can buy products like Madhur Sugar, Anand Ghee, and Aashirvadd Ghee for Rs. 1 each.
There are many more super saver offers on grocery in the Flipstart Sale. The sale goes live on the 1st of every month for 3 days. This month also Flipstart days will run from June 1 to June 3. 
Flipkart Travel Bonanza - Get 10% Off on Domestic Flights
Flipkart has resumed Flipkart booking services. The domestic flight service was recently resumed in the country. You can book tickets during Flipstart days sale to get 10% off.
The offer is applicable on ICICI credit card & EMI transactions. Minimum booking amount for the offer is Rs. 1,500. You can grab a maximum of Rs. 750 discount per card during the Sale. Flipkart Flight booking offer is valid from 1st to 3rd June.
[Expired]Flipkart has come with special travel bonanza as part of the Flipstart Days Sale. Save up to Rs. 25,000 on all flight tickets. You can book flights on Flipkart app and save big with Flipkart offers. The travel bonanza offers will also be live in the Flipstart Sale for This month. 
Bank Offers of Flipkart Flipstart Days Sale
Get a 10% instant discount with Flipkart Flipstart Days Sale in June. Flipkart has announced a discount on ICICI Bank Credit and EMI Transactions in its next sale. It is an excellent chance to save on favourite products.
The sale is already live, so without wasting any time grab the best offers on Flipstart Days Sale in June. 
 Flipkart has not revealed the terms of the offer as yet. We will update the post with minimum order you need and the maximum discount of Bank offers of Flipstart Days. 
Additional Offers of Flipstart Days Sale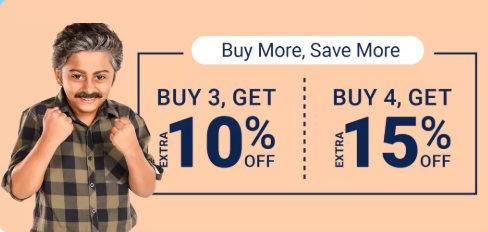 One of the key highlights of Flipstart Days Sale in June is the buy more, save more offer. You get 10% off on purchase of 3 products. And an extra 15% off when you buy 4 products. You can buy more quantity of products to get an additional discount on your order. 
So, save big this month with Flipkart Flipstart Days. The sale brings the best of discounts on everything from fashion to electronics and groceries. This month the sale is bigger with New year offers that take care of your budget. 
Frequently Asked Questions
Which date next sale on Flipkart?
Flipkart starts every month with Flipstart Days Sale. In the sale, you can grab discounts across all categories. Also Save with bank offers Flipkart next sale in 2020. 
What is Flipstart Days in Flipkart?
It is the start of the month sale on Flipkart. With the Flipstart Days Sale on Flipkart, you can grab discounts across all categories. Flipstart days sale is held 1st to 3rd of every month.
What is Flipstart Day?
Flipstart day is a monthly sale on Flipkart. The sale is held from 1st to 3rd of every month. During the sale, you can grab discounts across all categories including daily essentials, fashion, electronics and more.