10 Best Saree Brands In India - Traditional To Designer Sarees
18 days ago
Views:1794

Join Telegram Channel & Get Instant Deal Alert

71,520+

participants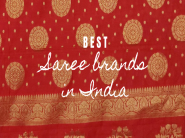 Saree is one of the most favoured and adored attire in India. Almost all the women in India wear a saree or have worn a saree at least in their lifetime. It is gaining popularity outside India too. Now sarees are getting popular among non- Indians and getting much-needed attention, thanks to increasing global awareness of Indian values and culture. As we are getting global, it becomes imperative to know about the best saree brands in India to make a wise choice and choose the one which suits us the most.
Saree is one of the most graceful dresses in India and is worn traditionally and contemporarily. It is being experimented with domestically as well as globally. Designers across the world are trying to create a saree as a new trendsetter in fashion. So, to be aware of which saree brand is the best becomes essential. Who wants to lag in the style meter?
Let us see some of the best sarees, their types, how to choose the right one for you, the best winter and summer collections and how to drape it gorgeously, all in this article. 
And if you are keen to know the best saree market in India, read on.
Also, if you want to be more aware of the best online shopping sites for sarees, Click Here.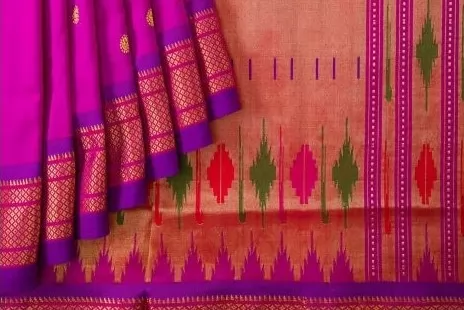 Types Of Sarees
Saree adds traditional values to every occasion and makes the woman show her graceful side to the world. If draped well, a saree makes you look more beautiful and charming. Indian culture is rich in traditional practices and regional attire. Saree is accustomed to every religion and is part of almost every culture in India.
The type and style of saree change with every region in the country. There are many types of sarees in India, and the best silk saree brands in India are popular in many different parts of the country. Some of the famous types of sarees in India are:
Kanjeevaram silk is a saree basically from a small town Kanchipuram in Tamil Nadu. It is a very famous type of saree and is adored by women all over the country. It is a beautiful traditional silk saree and is majorly worn on formal occasions. These types of sarees are relatively heavy and elaborate.
Banarasi silk is another famous type of silk that has immense popularity in the country. These are beautiful and elegant. They are from Varanasi but have a customer base from all the states. These sarees are famous for their brocade and zari and are some of the finest silk to be worn by the women of India.
Kantha sarees are from Bolpur, West Bengal. They are in cotton and silk. They are beautifully embroidered sarees and can be worn on any occasion. They are one of the most loved sarees in the country. It is a masterpiece of the finest craftsmanship.
Bandhani saree is a famous type of saree from Gujarat. They are beautifully patterned saree and are light in weight. They can be worn and used on casual occasions and can be common workwear for women. These sarees are made by tying the cloth and dyeing it in a pattern to form beautiful designs.
Sambalpuri saree is from Odisha and is a beautiful piece of fabric also created by tie-dye technique. These sarees are beautifully patterned and can be worn on formal occasions and official parties.
Chanderi silk is a beautiful light fabric from Chanderi, MP. It is a beautiful saree that is elegant and highly sophisticated. They make one look graceful and can be worn on any occasion, depending on their design. They can be in cotton also, that are as elegant as the chanderi silk sarees.
Also, if you are a frequent shopper and love deals and offers, you can visit our Instagram page and get all the information regarding the same. There you can find the latest and upcoming sales and the best deals for you, that can make your shopping experience a luxurious experience. You can visit the page regularly and follow the latest updates and notifications to help you get the best out of the deals and offers on the selected stores
10 Most popular Saree Brands In India 2022
Saree Brand

Price Range(Rs.)

Saree Types Available

Nalli Silk

2200-1.5L

All
Famous For Silk

Meena Bazaar

1800-1.20L

All

Bharatsthali Sarees

1500-1.25L

All

Bombay Selections

1900-17000

All

Satya Paul

10K-50K

Designer Exclusive

Kalamandir

850-7k

All

Ahujasons

20k-1L

All

Ritu Kumar Sarees

15k-3L

Designer Exclusive

Manish Malhotra Sarees

60k-3L

Designer Exclusive

Gaurang Sarees

Fabric Specific

All Fabric Exclusives
1.Nalli Silk
Nalli silks, a brand name having a legacy more than 90 years old, was founded in 1928, and since then, this brand has only excelled. Famous for pure and delicate silk sarees, this brand offers all types of sarees in all kinds of fabrics.
It is very famous for silk sarees for special occasions. Many south Indian brides buy their wedding sarees from Nalli silk. Nalli silk has multiple stores spread all over the country, and it promises to spread delicate quality sarees to its loyal customer base.
Types of Sarees
Nalli has all types of sarees. Though it is famous for pure south silk, it caters to the needs of all kinds of customers and fulfills their demands for special occasions. Its saree price ranges from Rs.2200 to 1.5 lacs and sometimes even more than that.

2.Meena Bazaar

Meena Bazaar, launched in 1970, is a half of a century-old brand famous for trendy and traditional attire for women. It has a range of beautiful ethnic sarees for women. It has spread its wings and has showrooms in the US too. It is among the top 10 saree brands in india.
Meena Bazar has a loyal customer base, especially in Delhi. It has a vast collection of sarees, suits, lehengas, and many types of accessories for its customers. It has also opened its brand named - AUMRE.
Types Of Sarees
Meena Bazaar has all types of sarees, but it's mainly sought to buy trendy yet authentic ethnic ones for different occasions. Women generally add up to their saree collection some fine quality of Meena Bazaar Sarees.

3. Bharatsthali 

Bharatsthali sarees are rich handloom sarees, weaved with perfection and art. The brand has almost all types of traditional sarees and has some of the most delicate handloom pieces. If you are looking for something rich with Indian heritage and tradition, you can opt for this brand. It has a vast collection of elegant sarees which portray the craftsmanship of Indian artisans. It is known among the best cotton saree brands in india.
Types Of Sarees
Bharatsthali sarees have a collection of Silk, Cotton, and linen sarees in prominence. But it is known for rich and traditional handloom sarees. It offers beautiful and rich pure silk sarees but has equally gorgeous Cotton sarees for some formal events. It has a collection of traditionally rich sarees to be worn on all occasions.
4.Bombay Selections
Bombay selection was founded in 1993, and the brand offers a beautiful range of sarees to its customer base. It provides elegant sarees for every occasion and has stores spread across the country. It has partnered with e-commerce companies for the delivery of its beautiful collection.
Types Of Sarees
Bombay collection has all types of sarees for almost all occasions. You can buy beautiful sarees from the brand from their off-line stores. It has some of the best trendy sarees in vibrant varieties. This brand is one of the top 10 saree brands in india.
5.Satya Paul
Satya Paul brand, founded in 1985, is a premium brand with an exclusive collection of sarees. The brand offers beautiful designer sarees. Some of its collection has a touch of tradition, and most of them are contemporary. Satya Paul is a known brand and can be visited to have a designer collection in your wardrobe. Its sarees are rich and trendy with the latest designs and vibrant patterns.
Types of Sarees
The Satya Paul collection is designers' exclusive work. They are contemporary and rich with the latest fashion. They are stylish and famous for being trendy, and the brand is one of the best saree brand in India.
6.Kalamandir
Kala Mandir is a saree brand rich in traditional wear. It offers a legacy of traditionally elegant sarees to grace all the auspicious occasions of your life. It has a rich collection of beautiful sarees with zari and extensive borders to make you look traditionally gorgeous. It is one of the best saree brand on amazon India.  The brand has a collection of sarees that offers the best-weaved fabrics and traditional designs.
Types of Sarees
Kala Mandir has all types of beautiful and elegant sarees to make your traditional occasions more culturally vibrant. The brand offers some of the best-weaved sarees with conventional designs and patterns.
7.Ahujasons
Ahujasons is a prominent name in India's sarees and shawls collection for both men and women. They have some beautiful collections of sarees and shawls with them. It is one of the class brands that serve the style quotient wrapped in authentic and attractive designs. It is highly famous for formal occasion wear, yet traditionally rich events.
Types of Sarees
There are all types of traditionally rich sarees available in Ahujasons. It's a high-end brand with the best collections of embroidered clothing for both men and women. It has all the varieties of sarees depending on the availability.
8.Ritu Kumar Sarees
Ritu Kumar is a designer brand that makes stylish and elegant women wear. They have a beautiful and designer sarees collection.
In Ritu Kumar, the saree meets with style, and the result is a beautiful and contemporary piece of cloth that can be worn on multiple occasions to multiple events. They have rich traditional sarees with a touch of modernity. They have a high style quotient and look beautiful.
Types of Sarees
The collection in Ritu Kumar is trendy and stylish, and it is a designer collection made for special occasions.
9.Manish Malhotra Sarees
Manish Malhotra is a celebrity designer with a high-end range of sarees and clothes. It generally creates made-to-order collections for celebrities. The sarees by the brand are gorgeous and speak class and elegance.
It is a high-end brand for sarees and one of the best luxury saree brands in India.
Types of Sarees
Generally, the sarees are from the brand and made to order. It has all the types of sarees in its collection.
10. Gaurang Sarees
Gaurang Sarees are exclusive designer sarees enticing its customers for the past 20 years. The designer has promoted traditional weaving culture and art of around seven thousand weavers and artisans to showcase their craft to the world.
The brand has been providing handwoven sarees and Indian outfits to the country and has given all the opportunity to get the taste of traditional designs and embrace India's rich heritage. The brand offers some beautiful designs to the customers to look their traditional best on all occasions. Various fabrics are available that can enrich your parties with a taste of Indian artistic touch.
Types of Sarees
Gaurang has all types of fabrics available in its range. It has Paithani, Benarasi, Cotton, Kanjeevaram, Kalamkari, Raw Silk, Kota, and many such from the Indian handlooms for its loyal customers. 
These were some of the popular saree Brands in the country. 
We also need to know which saree will make us look our best. Let us see how to choose the right and most suitable saree for yourself. But before that, you must read on to know about some trendy options of saree fabrics for different weathers in India.
Best Summer Sarees
Summers bring in the much-needed freshness after the gloomy winter season. People ditch their warm clothes to step out in bright summer hues to feel the day and have fun outside. Also, you look for your summer sarees to grace the event for formal occasions.
The different summer sarees that you can choose and wear in summers are;
Chiffon Sarees
Chiffon sarees are lightweight and easy to manage fabric sarees. These are pretty and flowy for summers and keep you airy for long. Saree in itself requires draping and styling, which may cause it not so comfortable to wear for long. So the fabric should be lightweight and breathable. Chiffon sarees serve the purpose for the same.
Cotton Sarees
Cotton sarees are light and sweat resistant. They are soft on the skin and rash free. Saree is draped for long hours, and in humid conditions, they may tend to cause rashes and skin irritations. They can be worn daily and are easy to maintain. There are a variety of cotton sarees available in the market. Cotton sarees are a trendy choice in summers.
Handloom Sarees
Handloom sarees are not only natural but are also beautifully patterned and designed. They can grace every occasion and are good on the skin. Handloom sarees are best for summers as they are in variety and beauty. They are made of a blend of natural fabrics.
Let's see some winter saree options.
Best Winter Sarees
Winter is a season that gives you the option to dress gracefully draped in long yards of formal sarees. These sarees help us look beautiful and take care of us from the harsh winter season. Some of the winter-friendly fabrics for sarees are:
Silk Sarees
Silk is a beautiful fabric for sarees, from Kanjeevaram silk to Raw silk. There are exuberant varieties of silk available for you to choose from when buying silk sarees. They are often soft to touch and keep you warm for a long. Some of the heavy silks are crease-free, too, to make you look gorgeous for the special evening.
Velvet Sarees
Velvet is a thick fabric. It is cosy in winter and soft to touch. Velvet sarees are snug in the body and help you stay warm for long hours. Often velvet sarees are available in trendy designs that can be complemented with long coats and blazers. So you can quickly wear them on official and formal events in winter.
Heavily Embroidered Sarees
Winter also witnesses many wedding occasions and different types of festivities. Heavy embroidered sarees not only grace the event but also keep you warm on long winter nights. You can easily choose them over other designer sarees to ace the look and keep harsh cold waves away from you.
So, these were some of the winter sarees options you can choose in the winter season.
How To Choose The Most SuitableSaree For You?   
Saree is an elegant attire and is much loved all over the world. You generally buy a saree for some specific occasion or dress up differently and stand apart. You must understand and know how to choose the right saree to look your best for the occasion. You can select the rit saree for you by considering the following factors:
Sometimes, you may notice that some fabrics work on you and some don't. You need to find a suitable material, which makes the work half done. The right kind of fabric lets you look your best. Various fabrics are there to choose from, like cotton, raw silk, Tissue Silk, Khadi, etc.
Different fabrics style you the best. Cotton, for intense, gives a fuller look, and satin and net drapes according to your body type. The style of the saree and the way it is worn helps you decide which mill makes you look the best.
One of the most relevant factors to consider while choosing the right saree for you is the occasion. Some occasions demand subtle and undertone sarees, and some require you to dress up and show up. So the event is the most prominent factor in choosing the correct saree and its type for you.
The colours and patterns of the saree determine if that will look good on you or not. Some vibrant colors look good on some, and subtle colours suit others. With age, the choice of colours changes, and the right colour also differs. The prints and patterns on the saree also help you choose the best one for you.
You can keep in mind all these factors before going to your traditional parties and events the next time. Read on if you wish to know where you can buy your nest gorgeous saree.
Places To Buy Beautiful Indian Saree - Best Saree Market In India
The best sarees are often famous from where they originated. We usually name our favourite saree types on the name of the place it belongs to. That is the relevance of place of origin in Indian culture. 
Saree has the essence of the place it belongs to. Being a traditional Indian attire, it is rich in culture and authentic to its origin.
There are many famous and popular saree markets in India. Whenever people go there, they buy a saree or two for themselves. 
Benaras
Benaras is famous for its silk, and there are antique saree shops and markets in Varanasi that have a name and brand value of their own. People come from around the world to Varanasi because of its pilgrimage essence and for its sarees.
Thatheri Bazar, Godowlia Market, Lahurabir, are some of the famous markets in Benaras for sarees.
Kerala
Kerala silk is highly famous, as Kerala is a hub of silk and handloom sarees. The famous Kasavu sarees from Kerala with cream colour fabric and the golden border are famous within Kerala and have a more global reach. Celebrities - India as well as internationally boastfully wear this saree and showcase their love for the Indian tradition. 
There are famous handloom shops in Kochi, Calicut, Trivandrum in Kerala to buy the best Kerala silk.
Tamil Nadu
The Kanchipuram or Kanjeevaram sarees are from Kanchipuram, Tamil nadu. They are highly famous in Chennai, and if you plan to buy yourself some authentic traditional silk, you can buy them and enrich your wardrobe with some high-end silk sarees to make all your occasions rich and elegant.
The next time you have a trip to Tamil Nadu, don't forget to go to Kanchipuram for some pure and traditional silk.
Gujarat
Gujarati bandhani sarees are world-famous. Saree lovers from all over the world come to Gujarat to buy the authentic Gujarati Chaniya Cholis, and Bandhini patterned sarees.
Some of the best sarees in Gujarat can be bought from Gandhinagar and Ahmedabad.
Sindhi Market, Rani No Hajiro, Dhalgarwad Market are some of the famous markets in Ahmedabad and Gujarat from where you can buy some authentic Gujarati sarees.
Rajasthan
All love Kota silk. Kota silk originated in Rajasthan, has its essence and relevance of the traditional Rajasthan. Leheriya Sarees and especially bandhej can be brought from Jaipur in Rajasthan. There are various conventional markets and shops in Jaipur full of traditional Rajasthani prints and authentic traditional sarees.
Johari Bazar in Rajasthan, though famous for jewellery also has a beautiful collection of sarees. Udaipur is also a hub for traditional Rajasthani sarees. Next time you visit the place, buy yourself some elegant sarees from these areas.
Lucknow
The famous chikankari from Lucknow is close to many saree lovers' hearts. They are simple thread work that looks elegant and sober and makes you look graceful. 
Lalbagh in Lucknow has some authentic saree collections. You can also grab some significant collections from Hazratganj and Gomti Nagar in Lucknow.
India is vibrant, and so are its cities. Do not forget to collect some great sarees from these places to enrich your wardrobe.
Owning a saree is one thing and making it beautiful on you is another. To make a saree look stunning on you, you need to know how to drape it and choose the right draping style. 
Let us look at some of the popular saree draping styles.
Different Styles To Drape A Saree
No matter how beautiful a saree may be, it needs to be draped gracefully according to your body type and contour to look beautiful and elegant. Even the most beautiful and expensive saree can make you look dull or not your best if not draped correctly.
Let us see how you can look your best with different styles of draping a saree. Different styles of draping a Saree
Open pallu saree is a typical style carried by women at parties and formal occasions. In this style, the saree's pallu is left open, and it is flowy in the air. If the saree is heavy, the loose pallu looks more elegant. This style is often adorned in heavy border-style sarees and those sarees that have decorated pallus.
Side pinned pallu style is usually created when you are in a formal official party. These are more prim and proper style of dressing and give you a formal attire look. This style is more easy to carry and very comfortable. Usually cotton sarees are draped in this style.
Gujarati style saree has the pallu in front, instead of back. They are a common style in the state of Gujarat and are popular in other parts of the country too. Women find it easy and comfortable.
Bengali style saree draping is quite interesting and looks elegant. This style has no pleats and is more like draped fabric. They make you look gorgeous and give a highly traditional look. Even the pallu  styling is different with this type of draping. The pallu  comes from the back in front, after covering the front wholly.
So we discussed some of the finest brands of sarees and which are the best saree brand in India to educate ourselves on where to buy our next branded saree.
Frequently Asked Questions
Q. Which brand of saree is best?
A.India has many saree brands; among these, some of the best brands are Nalli Silk, Satya Paul, Kalamandir, etc.
Q.Which is the best saree market in India?
A. Many states and cities are famous for authentic Indian sarees. Some of the best markets are mentioned in the article. You can go through the same to have the details.
Q. Which is the best silk saree?
A.Kanjeevaram and Banarasi silk sarees are among the best silk sarees.
Q. What is Kubera Pattu?
A.Kubera Pattus is a type of saree fabric with a significant border style.
Q.Which saree is famous in India?
India is famous for silk from different states- Banarasi Silk, Kanjeevaram Silk, Chanderi Silk. Also, India has a rich collection of handloom sarees.
Q.Which silk is the costliest?
Mulberry Silk is one of the luxurious types of silk.