Best Wedding Dress Designers India For Your Perfect Wedding Outfits
Get a perfect wedding dress from the best wedding dress designers India for your wedding day.
By :
| Views: 366



UPDATED ON: 21 May 2020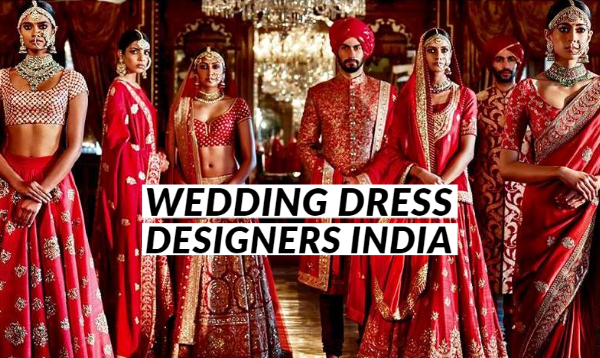 For the most memorable day of every bride's life, she deserves to look and feel beautiful, and this can not be possible without the right bridal dress from the wedding dress designers India. But who are the Indian bridal designers the best? It always pops-up on every bride's mind so to answer you we have written the best of the best designers for you.
We have collected a list of the top wedding dress designers India which are very much famous and are ready to make you look beautiful on your Wedding Day. Also, know more about the Best Mehendi Design for Women and Men for their wedding with just a click on the provided link.
Your wedding lehenga is apparently one of the single-most influential sartorial shopping of your life, and not just because pictures of it will be plastered all over Instagram feeds. So, buy the lehenga from the Wedding Dress Designers and make your day a happy one!!!
Top Wedding Dress Designers India
Here we have mentioned the best wedding dress designers in India which are perfect for your Wedding Lehenga with all the cuts and designs. Their lehenga will surely make you look different from the other brides. 
1. Manish Malhotra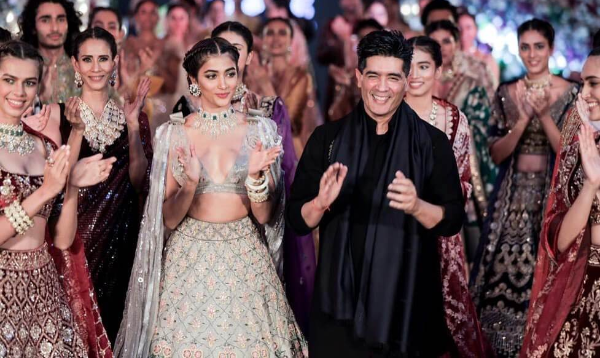 Manish Malhotra's name needs no introduction, and he unquestionably is the king of bridal couture and the best wedding dress designers. He has designed a lot many actors' wedding dresses. Manish Malhotra's bridal costume is always in line with the latest fashion aims, and it can be seen on his Instagram pages and fashion shows and more. His wedding outfits always are a true definition of supernal.
Store: Delhi, Mumbai, Hyderabad
Price Range: Starting From Rs. 5 Lacs
2. Sabyasachi Mukherjee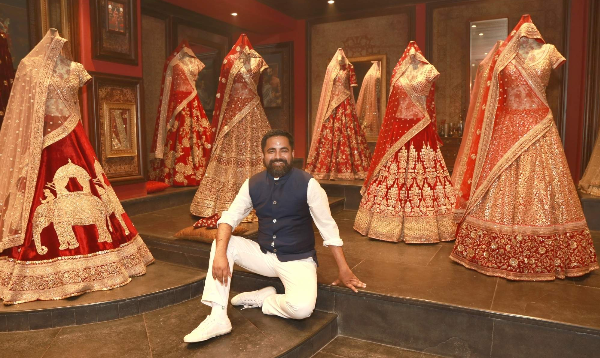 The maestro of wedding dress designers, Sabyasachi Mukherjee is one of the hot preferences of most of the big B's. Assuredly his label is the most tried one during the bridal season. An Indian bride would look unfinished without the scent of Sabyasachi pieces flowing into bridal wear.
His ideas often are classic with an Indian touch. He is one of the first Indian designers to include designs that use unusual textiles, fabrics, textures and embellishments. 
Indulging joys, rituals into his garments that speak loudly about an Indian wedding, the designer has won millions of bridal hearts. His bridal works are poetry to the abundance of Indian culture.
Store: Kolkata, Delhi, Mumbai, Hyderabad
Price Range: Starting From Rs. 1 lacs
3. Abu Jani Sandeep Khosla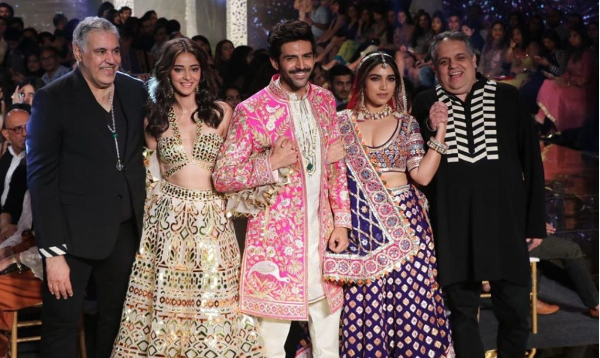 Abu Jani and Sandeep Khosla are the co-founders of one of the best Indian designer wear brands, and we often see Sonam Kapoor looking marvellous in their pieces. We have seen Sonakshi Sinha as well in the pretty pink outfit by the awesome duo and many other actors. So if you are looking for the Abu Jani and Sandeep Khosla creation for your wedding with the latest and simple designs, then you have made the right choice.
Store: Mumbai, Delhi, Goa
Price Range: Starting From Rs. 2 lacs
4. Rocky S
Rocky S is the perfect wedding dress designers India for up-to-date brides. Not every girl wants to go for the actual cultural look for their weddings; some want it to be ultra-modern and spiced up rather than the old eastern bride. 
If you are that bride who wants to step out of the ethnic region and look charming and stylish on your big day, Rocky S has just the perfect styles for you. 
His designs include some western cuts in the easter handwork. Such ability is not very simple to pull off, but Rocky S has all of us wowed with his interesting inventions.
Price Range: Starting From Rs. 80 thousand
5. Gaurav Gupta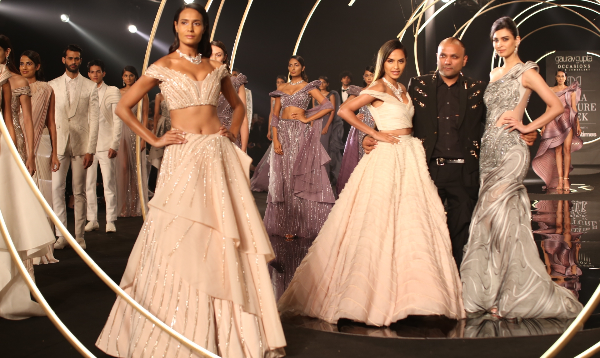 Another Bollywood favourite that has some over the top Indo-western designs. If you want to walk down the runway or a street in Colaba and get some eyeballs, here is your designer. Also, if you want something that is not traditional, Gaurav Gupta is perfect for it. 
To the Bollywood celebrities and non-Bollywood brides love the unusual cuts and unusual mixtures that Gaurav Gupta the best wedding dress designers is known for.
Part futuristic and part finished, Gaurav Gupta has a trademark style and price point to match. GQ Magazine loves him every year, and if you're a younger bride looking for something more smooth and innovative.
Store: New Delhi, Mumbai, Hyderabad, Kolkata
Price Range: Starting From Rs. 1 Lacs
6. Rohit Bal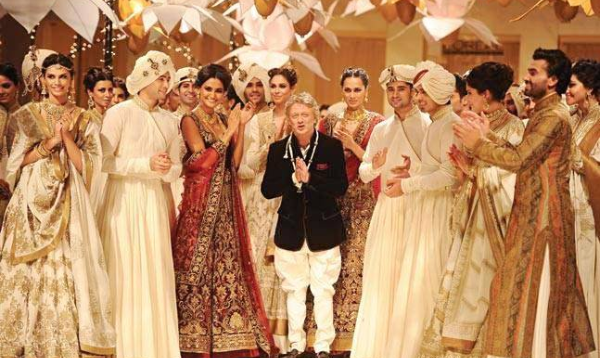 The next in the wedding dress designers list is the renowned Indian designer, Rohit Bal, who is the master of creating bridal dresses that contain a well-balanced mixture of thread work and other various decorations. 
Resham or thread makes the basic stuff in his embroideries to create intricate and different patterns. Further handwork is included in the beautifully threaded embroideries to give the attire their heavy design. 
The designer does amazing work with velvet materials and designs amazing bridal dresses using the lush twin tones of the velvet. His designs represent the authentic Indian culture and heritage all the time.
Store: Delhi, Mumbai
Price Range: Starting From Rs. 1.5 Lacs
7. Anamika Khanna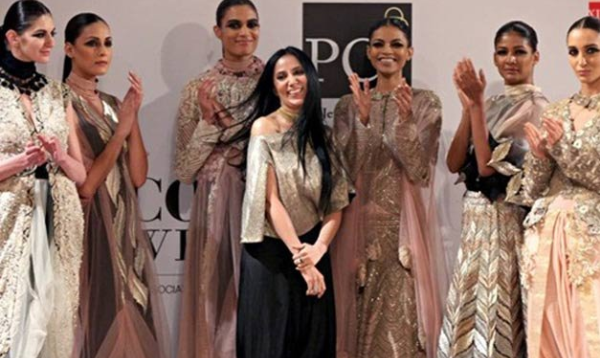 The next wedding dress designers top 10 is the Anamika Khanna whose new collection seems very tribal-inspired. Sonakshi Sinha wears most of the dresses designed by Anamika Khanna as we all have seen through her Instagram posts. 
If you like her AKOK collection and the recent bombardment of magazine covers with big Bollywood celebrities you'll see why the high-end outfits appear to be all the rage amongst India's elite. 
Unusual cuts, delicate fabrics and beautiful patterns/capes all add to the allure of an original AK piece. 
Store: Mumbai, Kolkata, Chennai, Ahmedabad, Bengaluru, Hyderabad, Delhi, 
Price Range: Starting From Rs. 3 Lacs
8. Neeta Lulla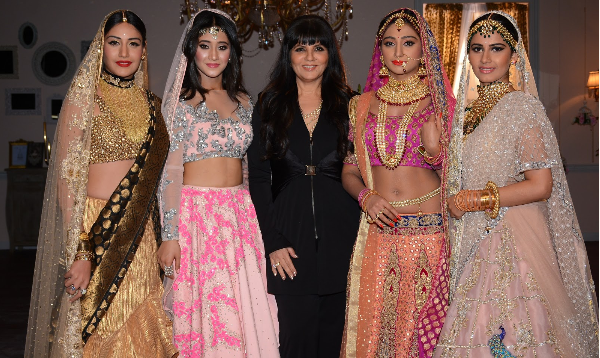 This fantastic wedding dress designer is the only one to have won four national awards, and she has been a preference when it comes to Indian bridal wear, for more than two decades. 
She is not just celebrated nationally, but she has also been highly active in the International fashion exhibition as she recently co-operated for the famous band 'The Chainsmokers'. 
The most current news is that she will be designing the wedding dress for the favourite Indian comedian Bharti Singh. 
Store: Delhi, Mumbai, Hyderabad
Price Range: Starting From Rs. 25 Thousand
9. Anita Dongre
Every mall and major shopping area in India has an Anita Dongre showroom. As a result, she's moved beyond super high-end designs to the mid-range market as well including frocks and gowns.
Her stuff is for upper-middle-class Indian brides who want something gorgeous but not crazy over the top. Anita Dongre is the wedding dress designers India due to its simplicity and perfect choice of cloth and colour. The prices are also reasonable for any bride to buy. 
Store: Chandigarh, Delhi, Mumbai, Gurgaon, Kolkata, Noida
Price Range: Starting From Rs. 45 Thousand
10. Tarun Tahiliani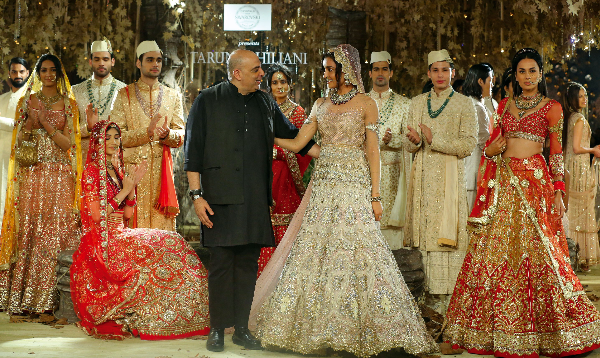 There are many beautifully detailed saree designed by Tarun Tahiliani that are embellished with Swarovski crystals and Gara embroidery and available for you to buy. Tarun Tahiliani is one of the most often chosen wedding dress designers by the Bollywood queen Kareena Kapoor for attending special events. 
Tarun Tahiliani is true of the best and most costly Indian fashion designers in the business and for a good time. If you quickly have the budget (and again, you don't need to, you might even look better in less expensive outfits) feel free to shop at any of his stores in any major Indian city and feel like a king or queen. 
Store: Delhi, Mumbai, Kolkata, Hyderabad
Price Range: Starting From Rs. 2.49 Lacs
11. Falguni and Shane Peacock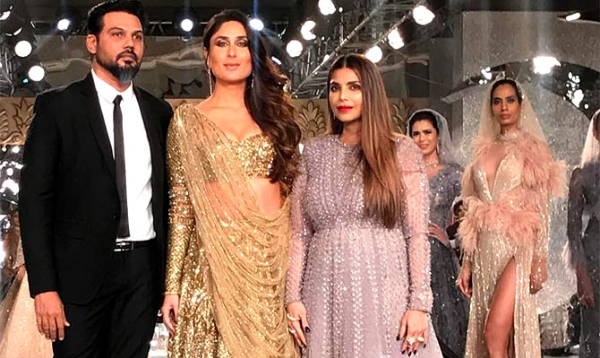 Amer Palace turned Falguni and Shane in Jaipur with their gathering being an offering to its elaborate architecture and intricate work.
Known for different elements in their brand, their group exhibited a perfect balance between modernity and tradition, doing justice to both. The duo also derived their inspiration from 'Fantasy', not limited by confines.
Store: New Delhi, Mumbai, 
Price Range: Starting From Rs. 1 Lacs
12. Jade by Monica and Karishma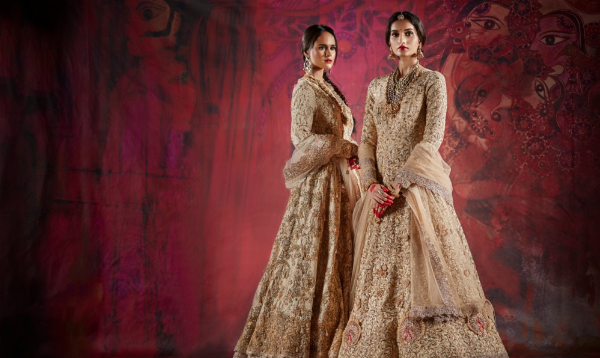 The best bridal dresses are enormous and legendary. Jade has also been the best choice of famous figures for many occasions. Instead of sparkling and shimmery work on bridal gowns, Jade does its apparels more towards a heavy matte outcome. 
The clothes used on their dresses are more towards the flat tones that are used in huge volumes to create a bulky look. The dresses can be easily called elegant.
Store: Mumbai, Hyderabad
Price Range: Starting From Rs. 75 Thousand
13. Shantanu & Nikhil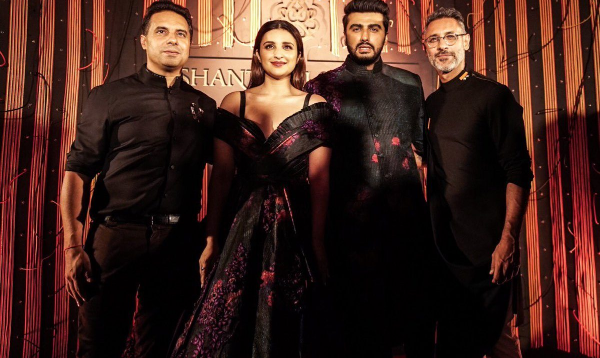 Shantanu & Nikhil are the first choices of modern brides. Their wedding wear store is a perfect blend of fashionable clothes with embellishment. Their bridal lehengas are perfect and highlight the art of Indian traditions. Sania Mirza and Avantika Malik swear by the designs created by this pair.
Store: Delhi, Hyderabad, Mumbai
Price Range: Starting From Rs. 1 Lac
14. Ritu Kumar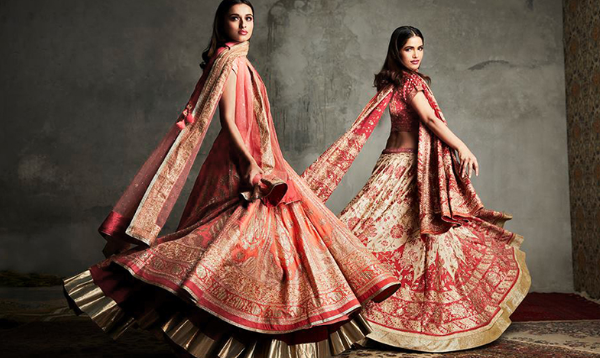 Ritu Kumar makes the gorgeous and vibrant coloured banarsi lehenga for the classic Indian bridal look. Ritu Kumar is the one who has launched her label in 1969, and after all these years, she has become more of an initiator than just a designer. 
If you have to explain her bridal wear in two words, then it would surely be 'bold' and 'beautiful.' The best thing about her is that notwithstanding doing an Internationally acclaimed designer, her outfits are notably much feasible, especially as compared to other designers on the list.
Store: Delhi, Mumbai, Chandigarh, Agra, Chattisgarh, Kolkata, Noida, Gurgaon, Ludhiana, Jalandhar, Banglore, Hyderabad, Goa, and many other places
Price Range: Starting From Rs. 90 Thousand
15. House of Masaba
When we talk about the best Indo-western bridal designers in India, House of Masaba had to be the first on the list. The powerful lady, Masaba Gupta, is assuredly one of the unique couturiers in the Indian fashion scene. 
From casual chic pieces to statement gala clothes, her brand is a bold canvas of humour and style. What adds a universal charm to her creations is her choice of vibrant colours, bold motifs, modern fabrics, and the description foil print. 
Store: Pune, New Delhi, Mumbai, Gurgaon, Hyderabad, Kila, Bengaluru, Chennai, Kolkata
Price Range: Starting From Rs. 35 Thousand
16. Naeem Khan
Naeem Khan is on the top wedding dress designers India and also an Indian-American fashion designer recognised for his elegant and intricately developed gowns, and for dressing First Lady Michelle Obama, Queen Noor of Jordan, and Catherine, Duchess of Cambridge.
The Indian-born fashion designer has made headlines turn with his beautiful couture gowns, but it is his bridal collection that he is most praised for. From dressing model Alessandra Ambrosio to Katy Perry, his intricately created white dresses is every bride's dream come true!
He does not have a store in India, but you can contact him through his email address.
17. Papa Don't Preach by Shubhika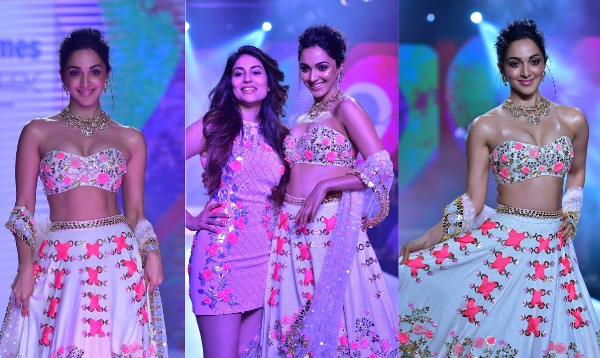 Arranging some newer bridal fashion models with their extraordinary craft and modern ideas, Papa Don't Preach by Shubhika has become a wedding dress design Indian and a go-to choice for all the voguish brides. 
Their yummy colour combinations, signature 3D threadwork & metallic stars set them aside from the masses. Be it stylish pre-draped sarees, jumpsuits, jacket gowns or dhoti pants, and they have something for every type of bride.
Store: Mumbai
Price Range: Starting From Rs. 75 Thousand
18. Label D By Dimple Shroff
Equally ideal for a casual Mehndi ceremony and a glamorous Sangeet night, Label D's best wedding dress designers India is super talented & unconventional. From chikan Kari, mirror work, ruffles, fringes to tiered designs, you can find a mixture of detailing prevailing in their designs. 
The chikankari & mokaish drape sarees are undeniably the most appreciated one. So, if impressive is what you want to feel in any of your pre-wedding ceremonies while being trendy yet elegant, then Label D's works are deserving of being recognised.
Store: Mumbai
Price Range: Starting From Rs. 90 Thousand
Choosing Best Bridal Designer For Your Wedding Day
Choosing the wedding dress designers best and a dress style are two of the most challenging choices that a bride ever makes. So here are some tips to help you make the right pick of your wedding outfits.
Start by settling on a budget and be open when handling it with the chosen designer.
Keep an eye out for deals and designer offers. Some designers even let you bring your stuff, so if you can find your fabric of stock at a good price, it can make your dress more reasonable.
When it comes to picking the dress designer, make sure that you do your analysis and short-list the designers whose work is in line with what you're looking for.
If you're going for a new and reasonable designer, make sure to check with their former clients and get to know their name.
When going for the wedding dress selection, make sure that you go early as this is the time when you and your designer will both be most active and energetic to come up with some great ideas.
When picking a wedding dress profile, always keep your body shape in mind instead of blindly going for something that's trending or looks good on a photograph.
So this was all about the best Indian Wedding Designers with whom your perfect wedding dress will always be special and remain memorable for life. So, if you are getting married and have a budget, then buy the dresses from these designers mentioned above. 
Frequently Asked Questions
Q1. Who is the best Indian Wedding Dress Designer?
A1. The best Indian wedding designer is Manish Malhotra, Anita Dongre, Sabyasachi Mukherjee, Abu Jani Sandeep Khosla, and many more.
Q2. What is the starting price for the wedding dress from the famous designers?
A2. The prices depend upon the designer, patter, style, and clothes but if we talk in general then there are few designers who sell lehenga at starting price of Rs. 60,000 and more.