Google Pay Quiz Answers
31 days ago
Do you want to learn how to play quiz games on Google Pay? If yes, this is the perfect platform to learn about Google Play Quiz Answers.
Google Pay is the best online payment platform introduced by Google (the world's largest search engine).
Google introduced Google pay Quiz, where people can get extra money or many other rewards. But they don't know how to play, which is why I came up with this article where you will get all the details about Google Pay Quiz from scratch to a detailed level, not only this.
In this article, we will also learn some additional information like Term and conditions of Google Pay Quiz, Google Pay Festive Quiz, How to play Google Pay Festive Quiz etc.
Scroll down to ensure that you don't miss any info.
Also read, Flipkart Quiz Answers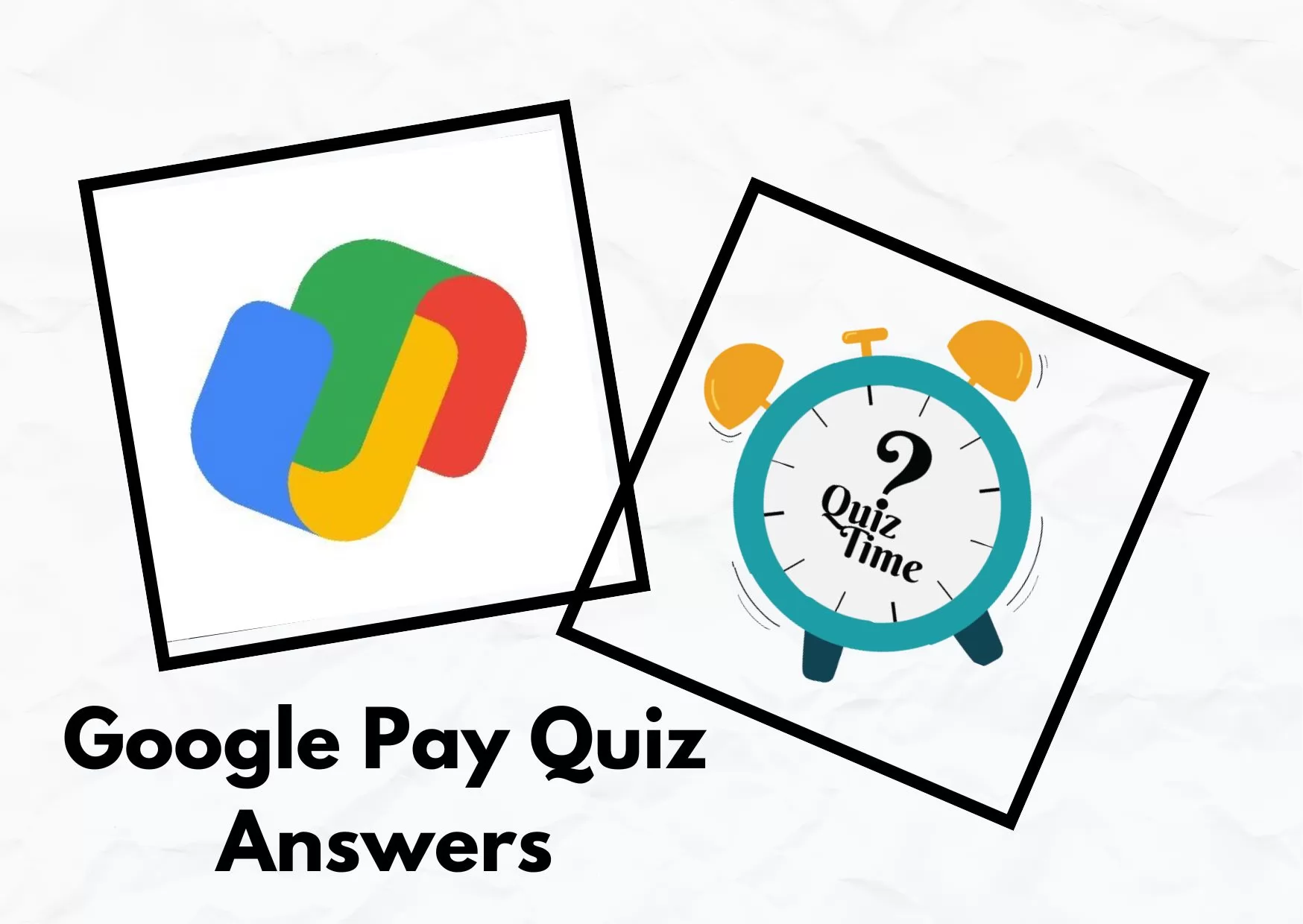 What is a Google Play Quiz?
The quiz goal is to test how much you know about Google Play Recharge. With this contest, players can win 100 per cent up to Rs 300 on purchasing Google Play recharges.
And not only this, they can also win many rewards, deals and Discount Coupons.
How to find the Google Pay Quiz?
The Google Pay Quiz is available on the Google Pay app. 
Here are the precise steps that will help you to find Google Pay Quiz:
Open your Google Pay app 

Then scroll down to the Promotions category. 

Now, click on the Offers section.

And you will find the Google Pay Quiz. 

Press on the tab that states, "Take the festive daily & get exciting rewards every day" to participate in this quiz.
How to Play Quiz On Google Pay App
Here are the following steps to play a quiz on Google Pay App:
Step 1: Download the Google Pay app on your mobile phone from the Android store, and IOS users can also download its app.

Step 2: Sign up with a valid mobile number and fill in the received OTP login code.

Step 3: You have to shift to the Google Pay app dashboard > now and press on the quiz poster from the given page.

Step 4: Tap on the given quiz button to begin the quiz.

Step 5: Within minutes, your quiz will start, and you must give all five answers correctly to win the quiz.

Step 6: After providing all quiz answers, press the submit button and grab a scratch card.

Step 7: Now, gently scratch the scratch card and redeem your prizes.
Google Pay Quiz Answers : Terms And Conditions
Let me show you all the Google Pay Quiz Answers Terms for all Google pay quiz answers today.
Earn Cashback or Gift Coupons.

By giving all answers correctly, users can win an MX Gold deal.

Users must provide all five correct answers to win the scratch card gift from this Google Pay platform.

Before the scratch card expires, open it to get huge gift rewards.

This quiz competition is conducted for a short period of time and contains only five questions.
How to play Google Pay Festive Quiz?
Here are all the steps that will ensure you every single detail about how to play Google Pay Festive Quiz for all the Google Pay Festive Quiz answers today.
Step 1: Download the Google Pay mobile app from Google Play Store or App Store.

Step 2: Open the app and Log in with your existing account.

Step 3: Scroll down to the Promotions section and press Offers.

Step 4: Press on the Festive Quiz tab to join the quiz.

Step 5: Now, you can see the fan wall.

Step 6: Press on the Start Quiz option.

Step 7: A countdown will follow, and you will see the first question.

Step 8: Answer all the questions correctly to win the reward.
Google Pay Festive Quiz: Prizes to Win
Cashback: It is worth Rs 2 to Rs 20.

Google Pay coupon: A Google Pay coupon worth Rs 2 to Rs 20 rewards users get cashback when they complete a suitable payment on Google Pay.

Discount coupon: A discount voucher that rewards users with at least 3% off on third-party goods and services.
Conclusion
I hope this article is precise to provide you with all details of Google Pay Quiz Answers, and you will win today's Google Pay quiz contest. If you have any quires regarding this information, let me know in the comments section.
Frequently Asked Questions
Q. How do you pay Google quizzes?
A. To pass this quiz, you must answer at least five questions correctly. While checking out, you will get the option to pay.
Q. How do you play Google Pay festive quiz?
A. Google Pay Festive Quiz is part of the Fan Wall, where players can get up to Rs 600 by completing six different transactions.
Q. How do you complete the GPAY fan wall?
A. You must complete all six qualifying payments in the Fan Wall campaign to play. 
Q. Can I get cash back with Google Pay?
A. Yes, getting cashback with Google Pay is as easy as linking your rewards credit card.
Q. How to win Google play quiz?
A. To win Google Pay Quiz, you must give all 5 answers correctly. 
Q. How to play Google quiz today?
A. To play Google Quiz Today, you must have the google pay app. Further, follow the given steps mentioned in the article to win Google Quiz Today.

Join Telegram Channel & Get Instant Deal Alert

75,062+

participants