How to Register and Login on Dream11?
If you are planning to Sign up on Dream11 you can check out for some important information below.
By :
| Views: 45334



UPDATED ON: 21 Jun 2022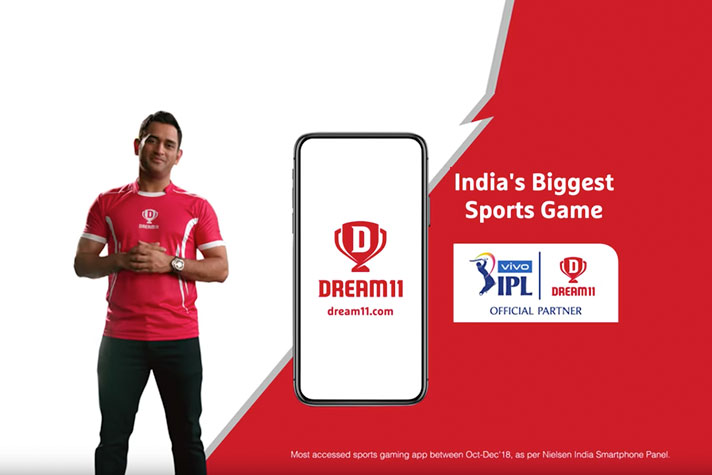 Dream11 has gained a place in every household of India with its fantastic Fantasy Sports platform. The app offers users games like Cricket, Football, and Kabbadi all in one app and also you can win cash prizes on Dream11. 
Create your dream team and play any game to win Cash Prizes. It is legal and authorised gaming site that gives you the best welcome bonus. You can earn real cash every time you play on Dream11. The website was founded in 2012 and is running actively. It has become the most popular Fantasy Cricket apps in India.
To know how you can play and win on Dream 11, read the article below.
Dream11 Register, Login, and More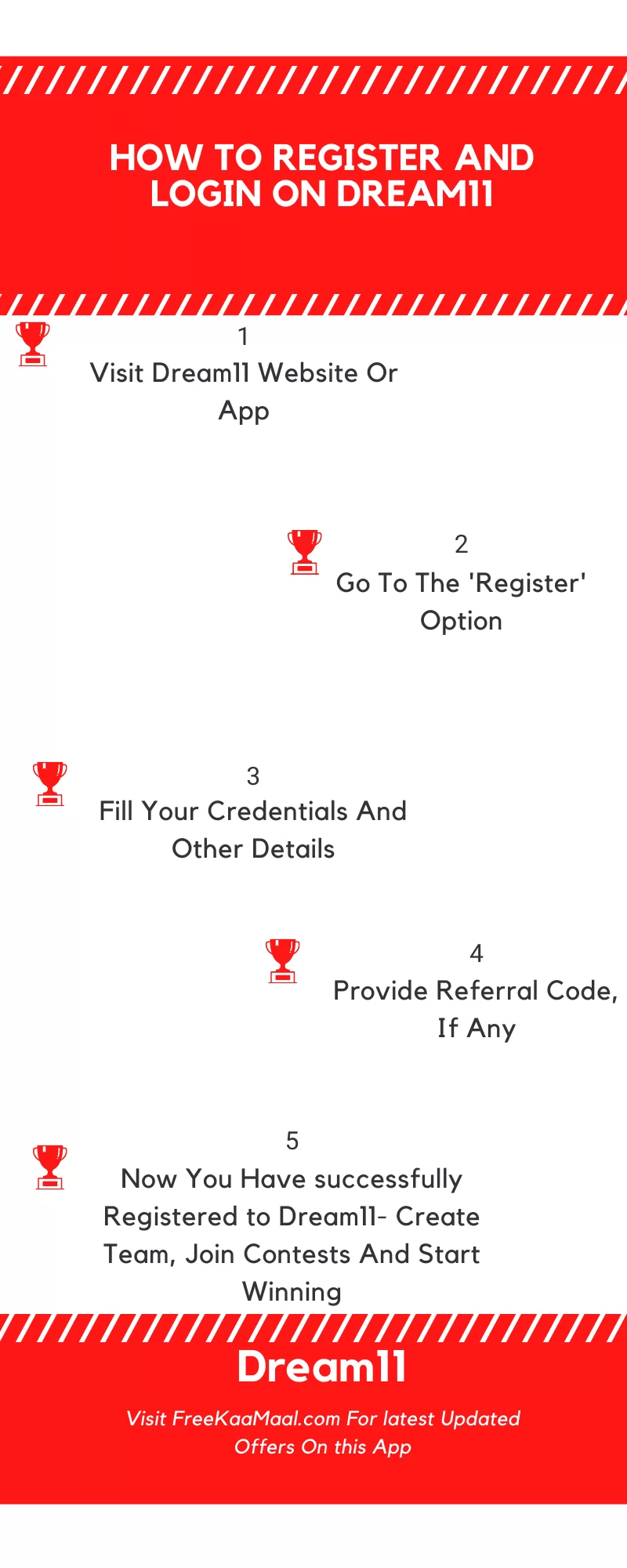 Dream11 since its launch has become the number one site to play Fantasy Cricket in India. This site is top-rated, and the craze around this Fantasy Gaming site can be seen across India.
The website has 7 crore users, and it runs around 31 daily contest. This massive popularity comes from the fact that the gaming site is exciting, and it always spices up the game with outstanding offers to entertain it, users.
How to Download the Dream11 App?
You can download the Dream 11 app in few simple steps. To download the app follow the steps mentioned below.
Search For the Dream 11 app on Google or go to Dream11 Website.

On the download page click on download apk.

Click Ok on the warning pop-up.

After Dream11 Apk download clicks open.

A prompt window will show up

Click on the settings.

Enable Unknow source option in setting and allow installation

Head back and click install and you are done.

Your app Dream11 app is ready.
How To Create an Account on Dream11?
Follow the easy steps below to create a Dream11 account:
Click on the link to open Dream11 website or Download Dream11 APK.

Install the Dream11 app.

Open the app, and you will find "Have a Referral Code." 

Click on Enter Code button.

Fill the popup form.

Enter, Invite code if you have any after that fill mobile number, email address, and Password.

Now click the Register Button.

You will receive an OTP for verification. Next, enter the OTP to proceed. 

Congratulations! You have created your Dream11 Account successfully.
Note: Now you can quickly Login to Dream11 by clicking on the Sign-in Button. For Fast login in Dream11 click on the Gmail Button, and provide necessary permission.
Dream11 Bonus Offers
Dream11 is a perfect platform to play fantasy cricket and earn big money. You can play for real money and win big prizes on this app. You also get Bonus on Dream 11 for Sign up Referral and more. 
Dream 11 Signup Bonus
If you are a new user on Dream11, you will get a good Sign Up offer when you register on the app. First-time users will get 100 Sign Up Welcome Bonus on their first Signup on Dream11.
The Bonus gets automatically added to your account, and you don't need to apply any promo code to avail the Bonus. You can use this Sign up Bonus to play Fantasy Cricket Game.
Dream11 Refer and Earn
Dream11 Refer and Earn program is excellent! You can send your friends and family invite codes for referral, and they can use that code and Sign up on Dream11. The Refer and Earn program is a win-win for both you and your friend. 
When your friend signup on Dream11 For the first time using your referral and adds money, you will receive 100 instant bonus points. For each person you refer, you will earn on their registration.
How To Play Dream11 Fantasy App?
Playing Fantasy Sports on Dream11 is fun and easy. You can enjoy playing Fantasy Cricket on Dream 11 just by following a few simple steps :
Once you have signup select any upcoming match, you want to play.

Create your dream team on Dream11.

You need to use your Gaming skills and knowledge regarding the game to create a team within100 credits.

Next, you can join Free or Cash Contests and start playing.

You can play practise matches, and they can participate in Cash Matches for better understanding of the game.
If you are a Football lover you can play Fantasy Football online on Dream11. You can learn how to play Fantasy Football on Dream11 here.
How To withdraw Dream11 Winning Money?
To withdraw money on Dream11 is smooth and hassle-free. Follow the steps, and you can withdraw your winning amount.
First, complete verification and then log in to your Dream11 account

Then proceed to My Account.

Then click on the "Withdraw" option in the winnings section.

Enter the amount you would like to withdraw from your account.

Once you confirm the amount, you will receive a confirmation on your registered email id for processing the withdrawal from Dream11.

The verification is a safety measure, and it is a one-time process. You don't have to repeat it until you make any changes to your account. 
Daily Withdrawl Limit
Dream11 has a daily withdrawal limit for users. You can request for a maximum of 3 withdrawals per day. According to the daily withdrawal limit, your withdrawal amount should not exceed a total value of Rs.1 crore. The minimum withdrawal amount you can withdraw is Rs.100 and a maximum of Rs.1 crore at a time.
How to verify Dream11 account?
To verify your Dream 11 account, you need to follow the steps below:
Go to the menu.

Click on Verify Now button.

Verify your mobile number by submitting an OTP you receive on your registered mobile number.

You will receive an email from Dream11 to verify your registered email id.

Click on the Verify Now button in the email and verify.

Next, you need to provide your PAN number and upload an image of your PAN Card and submit these details.

Also, you will need to enter your bank details and upload your bank account proof.

The verification process takes 10 days you will receive the updates by then.
How to do PAN Verification on Dream11?
As mentioned in your PAN card, enter your name, Date Of Birth and your PAN.

To avoid rejection, upload a clear photograph.

To verify your PAN, give Dream11 3 to 5 days.

On many Dream11 accounts, you can't use the same Bank account details.

On one Dream11 account, once verified, you cannot link the PAN.
Why withdrawal requests get cancelled on Dream11?
 There are times when a withdrawal request gets cancelled because there's some issue. It can be an issue with your verified bank account or maybe because there is FairPlay Violation. If your withdrawal request gets cancelled on Dream 11 you will get a proper cancellation reason against the cancelled transaction. Below we have mentioned the reasons a cancellation can occur.
Cancellation can occur in case you have added an incorrect IFSC, or you have messed up with your account name or incorrect account number. If you end up doing this mistake you will receive a message saying - The amount you were trying to withdraw will be credited back to your Dream11 Winnings balance. Dream11 would ask you to verify your bank account. You have to enter the correct and updated details and place a new withdrawal request again.
Also, the cancellation can occur in case your verified bank account is from Telangana, Assam or Odisha, your withdrawal request will be rejected. If you're based outside these states, you'll have to verify a bank account which doesn't belong to any of these states and raise a fresh withdrawal request once the bank account is verified.
In case the cancellation occurs and the reason it states shows "FairPlay Violation Detected", In case such a thing happens you need to contact the Dream11 customer care service they will brief you about the issue and then you can go ahead and follow the rules of FairPlay to avoid a permanent deactivation of your Dream11 account.
Dream11 Website
 It is one of the fantasy gaming websites where you can play sports online and earn money as well. It is India's number one Fantasy Gaming site in 2022 and it is the right time to sign in as the IPL are already started. 
It is a versatile gaming site where you can play Cricket, Football and Kabaddi all in one place you can earn a huge amount of money via playing games online. You to select a team and go for a match. 
This gaming platform was co-founded by Harsh Jain and Bhavit Sheth in 2008, and since then, it has become the biggest and most popular fantasy sports site in India.
The company succeeded in partnering with the International Cricket Council, Pro Kabaddi League, International Hockey Federation, WBBL and BBL which has contributed to its success over the past years.
The online gaming site was recently in the news for their official partnership with IPL. The gaming platform is quite impressive and outstanding. It has MS Dhoni as its official brand ambassador.
Dream11 App
 Dream 11 is one of the leading and famous apps for online playing games and also has the option to earn from it. It has a great interface that binds users to the game. The application is not at all complicated, and you can use it right away after downloading.
This online gaming app was earlier present on the Play Store for download. But recently the play store has removed all the fantasy sports app. Therefore, you won't find this app on the play store anymore.
But don't worry because you can directly download the app from the gaming website. Below we have mentioned how you can easily download the application to start playing and earning money.
That is all about Dream11 tips and tricks for winning contests and earning money. If you miss your childhood days and love to play online games, then download Dream11 and play different sports games and earn real cash with it. 
Why Dream11 is the Best Fantasy Sports App?
 If you are wondering what makes the Dream11 app better than any other apps then here we have some real reasons for you. 

Easy Register and Log-in
Dream 11 is an easy to access app which you can download online and install on your device. You can Register on Dream 11 using your Facebook profile or by using your email id and mobile number.
Just enter your email id and mobile number and set up your password and you are done. It is easy to register on Dream11. Also, you can similarly login to the app without any hassle. Use your credentials, and you are in.

Multiple Gaming Options
Dream11 is a one-stop solution for all Fantasy Games. You can play different Fantasy games online using this app. The app is versatile and has Cricket, Football, Kabaddi and more options for you.

Refer and Earn Program 
Dream11 runs a referral program where you can use an invite code on Sign-up to the app and get rewarded. Use Dream11 Referral code and win bonus on Sign up.
When you use a referral code on Sign up you can earn Rs 100 cash bonus which gets credited to your Dream11 account balance. You can use this bonus to play cash games. Also, when you invite your friend, and they use your referral code, you also get rewarded. You will get half of your friend's entry fee as a referral bonus. 

Easy Withdrawal Option
After you have played a game, you can check your winning amount in your account balance. It is easy to withdraw your winning amount on Dream11. To withdraw the money, you have to click on the Withdraw option and verify your Bank account and Pan address.  Once your verification is done, place a withdrawal request. You can easily go ahead and withdraw your winning amount within five working days.
Dream11 is a really interesting app to play fantasy sports online. Play and win big on India's best fantasy gaming site. I hope I was helpful in providing you some useful insights. Also, if you are a Poker fan, then you can click and check out the Top 10 Poker Websites in India.
Thank you for reading until the end.
Frequently Asked Questions 
Q1. How do you sign into dream11?
A1. Open Dream11 website or Download Dream11 APK. You can also install the Dream11 app. Open the app in your mobile, and you will find "Have a Referral Code." Then, click on the Enter code button. Fill the form and complete the signup. 
Q2. Does dream11 pay money?
A2. Dream11 lets you play various fantasy games like cricket, football, Kabaddi, etc. and offers free and paid contests for these games. You need to pay a certain fee to join a match and can win real cash. If you want to play a game on Dream11, there is a condition that you must be at least 18 years old.
Q3. How can I play dream11 for free?
A3. You can play practise games for free. Download the app, scroll through the available option and select the practice games which are indicated and available. You can play there for free but will not be able to earn money after your win. 
Q4. Is dream11 gambling?
A4. Dream11 is known to be a form of gambling as you and the other players can make money by playing and predicting the performance of the contestants. Dream11 is associated with IPL through a three-year deal worth Rs 120 crore.
Q5. Why is the Dream11 app not on play store?
A5. Dream11 is not on play store because play stores do not allow 'pay and play' apps. Instead, you can find 'Dream11: Free leagues' on play store because no one invests money to play. You can play and win cash on Dream11 from their original website, which is https://www.dream11.com/. 
Q6.Where is Dream11 registered?
A6.Dream11 is Registered in Mumbai, Maharashtra.
Q7.Can you use two Dream11?
A7. No. One cannot have multiple Dream11 accounts.