Water Purifier Buying Guide in India - Types, Tips and Tricks
Water purifier buying guide to help you choose the best purifier for your home.
By :
| Views: 325



UPDATED ON: 10 Jun 2020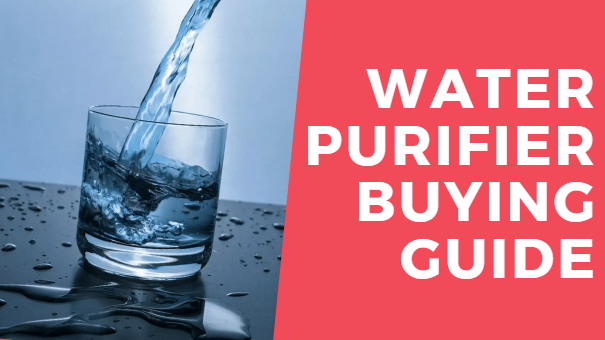 Table of Content
Introduction
The water purifier is an essential household item. Selecting the right water purifier is important to keep your family safe from health issues. Before buying a water purifier, you need to check various details
Before you made the decision to buy a water purifier take some time to go through this buying guide. It is essential to choose the right water purifier for your home. There are various questions to answer which could help you buy the right water purifier. 
These details help you best water purifier as per your requirement that also fits into your budget. By buying the right purifier you save your family from diseases. And at the same time, it prevents the wastage of money. 
Water Purifiers reduce the concentration of contaminants in water to make it clean. The impurities in water include suspended particles, parasites, bacteria, metals and more. The quality to which water must be purified is set by government agencies. The standards set a maximum concentration of harmful contaminants in drinking water. 
The impurities in water make it unfit for drinking. The water purifiers available in the market provide a wide range of choices. 
Before we start with the factors you need to consider, it is important to know the available types and their features.
Also read: Air Purifier Buying Guide: Types, Features and More
How to Buy the Best Water Purifier in India?
So you have decided to buy a new water purifier. Before you start looking at different products available in the market, you should have a clear understanding of the kind of product that is best for your need. While buying a water purifier the most important thing is knowing the source of water and type of impurities.
We will discuss both these factors later in this water purifier buying guide. But before you start looking at products you should have a clear idea of your purpose of buying a water purifier. There are different types of water purifiers available in the market designed for different types of impurities. 
The next thing is your budget. How much are you willing to spend on a water purifier? There are all kinds of products available in the market and the prices vary from a few thousand rupees to products that are very expensive. So before buying a water purifier you should have a rough idea of the money you are willing to spend.
Then there are various basic things such as installation, customer service, storage capacity, and maintenance. All the factors are very vital and we will discuss later in this post. 
Once you know the answer to the first two questions you are ready to look for products in the market. But before making the final decision consider the other factors as well. 
Water Purifier Buying Guide 2020
Let us start with an overview of the things in this water purifier buying guide. We will start with the different types of water purifiers and purification technology. This will help you answer the first question. Once the purpose of buying water purifier is clear. Then we movie on the best choices available for each type. It will help you set up a budget for your purchase. 
In the next section, we will compare these types with their pros and cogs. The comparison will further help you decide the kind of products you should be looking at. We will also discuss the different types of contaminants present in water. 
After an introduction to water TDS level, we will recommend water purifiers as per different TDS levels. 
We will end the buying guide by covering topics such as installation and maintenance which are again very crucial for your decision.
 By the end of this Water Purifier buying guide, you will hopefully have decided the kind of water purifier that is best of your purpose. 
Types of Water Purifiers

There are various types of water purifiers in the market. The different types of water purifiers use different filtration methods. You can choose a type of water purifier depending on various factors which are mentioned later in this post. Water purifiers are essentially divided into three categories depending on the filtration process. Knowing the types will help you with your decision.
a) RO Water Purifier
RO is the most popular filtration method available. In the reverse osmosis process, water is forced across a semipermeable membrane. The contimations are flushed down the drain and clean drinking water is collected in a holding tank. RO purifier is recommended for hard water with high TDS (total dissolved solids). The purifier requires regular maintenance. 
Pros
Treats water with high TDS
Suitable for Hard water
Good storage capacity
Cons
Wastage of water
Cannot kill germs and bacteria
Can remove essential minerals and alter the taste of water.
Components of RO Water Purifier
Sediment Pre-filter: It is the first stage of water purification. The pre-sediment filter removes fine and coarse particulate impurities/dirt in input water. It also improves the life of the RO membrane.

Activated Carbon Pre-filter: It removes impurities such as harmful pesticides. It also adsorbs bad odour and improves the taste of the water.

RO/UF membranes: RO membrane eliminates the hardness, heavy metals, dissolved salts, and pesticides. It also removes microbial impurities in the supplied water such as virus, bacteria, and cysts. 

TDS controller: It controls the TDS level of the output water. The Reverse Osmosis process can remove essential minerals such as Calcium & Magnesium as well. The TDS controller makes sure the presence of essential minerals in the water.

UV Filter: The high-intensity UV bulb kills any virus, bacteria, and parasites present in the water.

Carbon Post-filter: The Carbon post-filter enhances the taste and also removes the foul smell from purified water.

Storage Tank: The purified water is stored in a tank. Make sure. The storage tank of water purifier should be made of food-grade material.

Display: The basic display comes with essential alerts such as membrane change, TDS level indicator, etc.
Top 5 RO Water Purifiers in India
b) UV Water Filters 
They use UV rays to filter water. A high-intensity UV lamp removes disease-causing microorganisms present in water. They are not capable of removing dissolved impurities and chemicals.
UV purifiers are suited for purifying water with low TDS levels. If the water has impurities such as bacteria and viruses a UV water purifier is ideal. 
The method is used to disinfect the bacteria from the water. UV water filters use double-layer for purification.  
 
Pros
UV System uses no chemicals
Once installed only annual service is required
Low energy use
No wastage of water
Cons
Not able to remove contaminants such as heavy metals, salts etc.
Slightly Expensive
Components of UV Filter
The Reactor Chamber: The reactor chamber houses the UV lamp and sleeve of the water filter. It also controls the flow of water through the system. The chamber is mostly made of stainless steel. They come with ports in a variety of sizes, to maintain the flow rate the system is intended to provide.
The UV Lamp:  The UV lamps contain a bead of mercury to produce the germicidal UV-C light wavelength. Different lamps perform this function in various ways to provide disinfection requirements.
The Quartz Sleeve: It is a long, cylindrical tube to protect the UV lamp from the flow of water. Made of quartz glass the sleeve is an essential component for efficient working of the filter.
The controller Unit: The unit controls the electrical output of the lamp to produce UV-C light. Depending on the type of UV system it may include lamp-change timers, low-UV alarms, or trouble indicator lights. The UV systems are engineered for making all the parts work together as a complete functional system. 
Top 5 UV Water Purifiers

 
c) Gravity based water purifiers
They are budget-friendly and operate without the need for electricity. Gravity based water purifiers are used in case of low TDS levels. They remove bacteria, dust, and chlorine from water. The water filters cannot filter heavy metals or dissolved solids from the water. 
Pros
The filtration is simple and efficient.
Various sizes to choose based on your need
Low cost and maintenance
No need for electricity
Cons
Take time for water filtration
Limited usage
 
Components of Gravity based water purifiers
Semipermeable Membrane: It is a thin layer of material to separate substances. The membrane removes bacteria and other microorganisms from the water. Hydrostatic pressure is applied to force water through a semipermeable membrane. 
Storage Tank: It contains purified water that is passed through a semipermeable membrane. The capacity varies from filter to filter. The water thus collected in the tank is dispensed through the tap. 
Top 5 Gravity/UF Based Water Purifiers
Comparison: RO Vs UV Vs UF Water Filters
| | | |
| --- | --- | --- |
| RO water Purifier | UV Water Purifier | UF Water Purifier |
| Electricity is required | Electricity is required | No need of electricity |
| Kills and Removes Bacteria and viruses | Kills bacteria and viruses | Kills and Removes Bacteria and viruses |
| Can't operator with tap water pressure | Can work with tap water pressure | Work with tap water pressure |
| Removes the dissolved salts | Cannot remove dissolved salts | Cannot remove dissolved salts |
| Prefiltration system to work with dirty water | Doesn't work with dirty/muddy water | Works with dirty water |
Water Purifier For Travellers
While travelling it is difficult to find good quality drinking water. The contaminated water can cause health issues such as stomach pain, nausea, and diarrhoea. Mineralized branded water bottles are the most popular option in such situations. But sometimes, it may not be possible to find bottled water. Here, water purifiers especially made for travelling come to rescue. There are personal water purifiers available in the market that are suitable for travelling purposes. 
a) UV Portable Water Purifier
The handheld UV water Purifier looks like a pen and can be carried in your pocket. The lamp light emits UV light to treat the water. The type of water purifier kills disease-causing bacteria, but they are ineffective to remove dissolved impurities. Portable UV filters use an in-built battery that can be charged using a USB connector. 
SteriPen Adventurer Opti Personal Handheld UV Water Purifier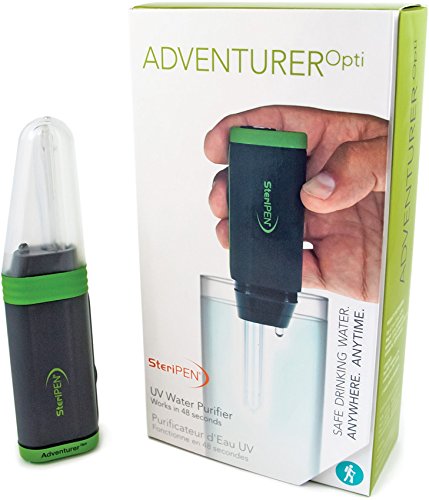 Handheld UV Water Purifier

Kills 100% bacteria and viruses

Purifies grounded and muddy water
b) Personal Purifier Bottle
The water purifier uses in-built filtering cartridge inside the bottle. The maze of positively charged material traps the water containing disease-causing bacteria and viruses. The purifier bottles can hold water up to 600ml. They cost anywhere between Rs. 600 to Rs. 1,800. 
Eureka Forbes Aquaguard Personal Purifier Bottle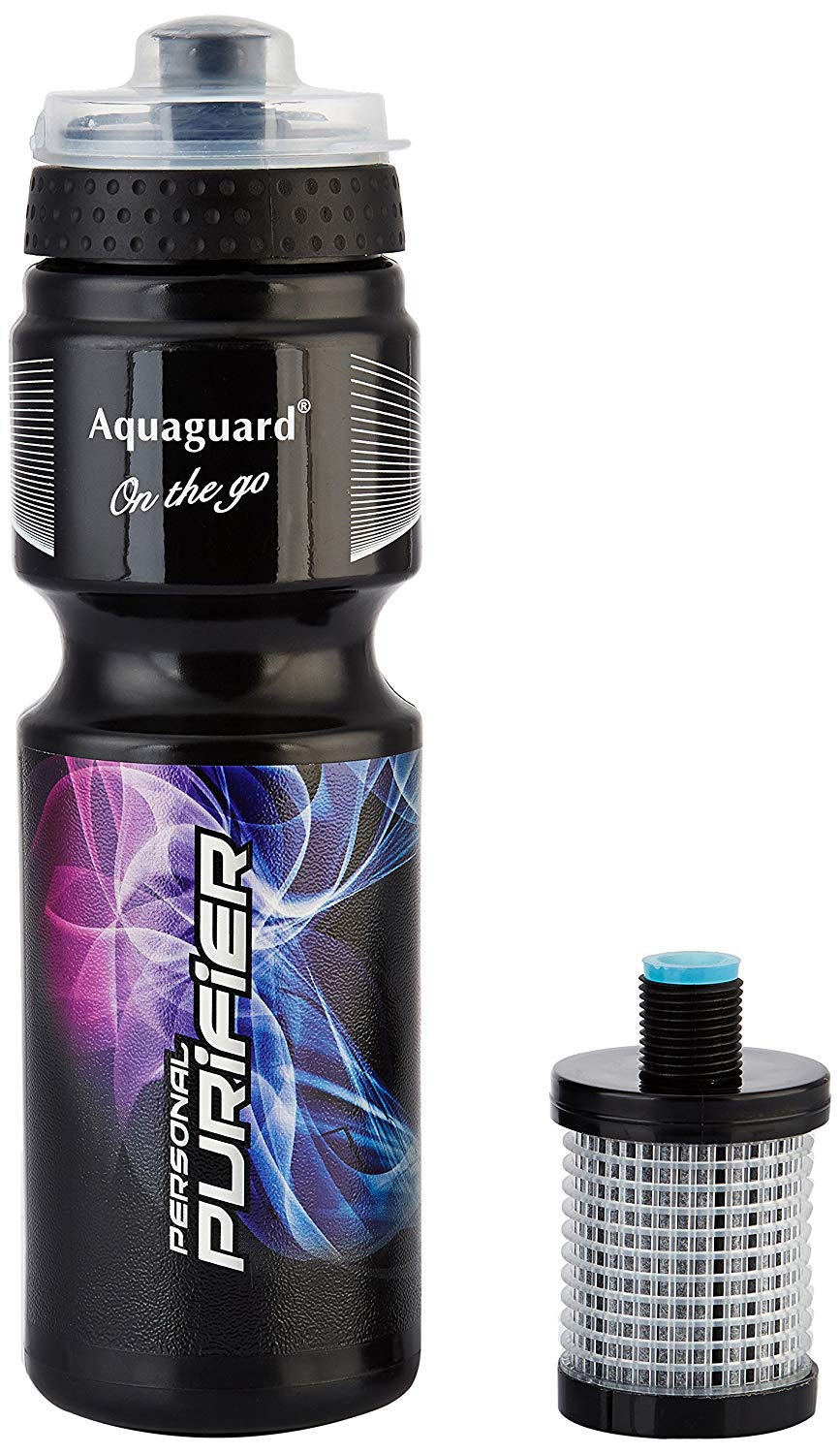 Space nanotechnology cartridge with a life of upto 600 fills

Removes 99.9% bacteria & virus

Soft squeeze bottle

See-through water level indicator
2. Lifestraw Go Reusable Personal Filter Water Bottle

Ideal for Camping, Trekking, Outdoor Sports & Travel

Filters up to 1000 litres (264 gallons) of water

Removes 99. 99 per cent of waterborne bacteria

Reduces turbidity, filtering down to 0. 2 microns
Electric Vs Non-electric Water Purifier
Depending on whether a water purifier uses Electric or not, the method of purification changes. Electric water purifiers use RO or UV based filtration method. On the other hand, non-electric water purifiers use sediment filter, activated carbon, or UF based water filtration methods. 
Ro based water purifiers use electricity to increase water pressure and remove dissolved solids by crossing through RO membrane. UV water purifiers use electricity to generate UV radiation and kill contaminants in water. 
Non-electric water purifiers use gravity or water pressure for filtration. 
Electric water purifiers don't fit in all environments. They need a continuous supply of water and electricity. 
Many households do not need an RO, because TDS levels are within an acceptable range. According to WHO, TDS levels greater than 100mg/litre make water unpalatable. In addition to TDS, contaminants such as microplastics,  pharmaceutical compounds and antibiotic residues make water unsafe for drinking. 
Electric water purifier

Non electric water purifier

RO water purifier

UV water purifier

Sediment filter

Activated carbon water purifier

UF water purifier
The first step to choose a water purifier is to check the TDS level of water. Even a basic TDS meter will give an indication. The water from bore wells or supplied by tankers has high TDS levels. If the water has very high TDS then there is no other option than an RO. Check the TDS range for which the water purifier us recommended.
The popular water purifier brands mention the TDS level and water source for the purifier in suited. 
Types of water sources
Municipal water: For Municipal or Corporation water supply, the TDS is usually below 500. You can check the level using a TDS meter. If the taste of water is not right, you may get a water purifier even if the TDS is under 500. In such a case even a UV water purifier will help.

Ground-water: If you use groundwater for drinking purposes, then a water purifier is highly recommended. The TDS level of ground-water is usually high. You can check the TDS level of the water. Generally, an RO or RO +UV water filter is recommended. 

Multiple sources: There are also areas which use multiple sources of water. They depend on municipal water as well as ground-water. Due to the mixing of different water sources, it is recommended to use a water purifier.
Types of Contaminants in Water
The term contaminant means any physical, chemical, or biological substance in water. Broadly contaminant is anything other than water molecules. Some contaminants can be harmful if consumed at certain levels. 
Physical contaminants impact the physical appearance of water. The prime physical contaminants include organic materials in lakes or rivers.
Chemical contaminants may be naturally occurring or man-made. Common chemical contaminants include salts, metals, toxins, pesticides etc.
Biological contaminants are microbes or microbiological contaminants. The biological contaminants include bacteria, viruses, and parasites.
What is TDS?
It is the measure of all organic and inorganic substances dissolved in water. The common organic substances found in water include magnesium, calcium, and potassium. The presence of these minerals is acceptable to a certain level. When the level crosses a limit it is a cause of worry which makes it necessary to use a water purifier. 
The TDS level in water is an indication of its purity. The acceptable TDS level of water is 500mg/litre. The TDS of water can vary with various factors. There are different methods to measure the TDS level in the water. Digital TDS meters are easily available and can be used to check the water quality. 
Recommended Water Purifier as per TDS Level
Below 500 ppm - UV Water Purifier
Above 500 ppm - UV + RO water purifier
Above 1,000 - UV + UF + RO Water purifier
Things to Consider when Buying a Water Purifier in India

When it comes to buying a water purifier, there is nothing like one size fits all. Not all purifiers cater to your exact needs. There are certain things that you should consider while buying a water purifier. 
a) Quality of Water: The first and foremost thing to consider while buying a water purifier is the quality of the water supplied to your house. The type of impurities found in water depends on the source of water. The impurities present may include harmful pollutants, chemicals, bacteria and viruses, and hardness. 
The impurities present will depend on sources of water which can be bore wells, harvested rainwater, piped municipal corporation supply, etc. It's also essential to identify whether the water you drink is hard or soft? Water is classified as soft or hard depending on the TDS or level of dissolved solids. TDS is the degree of hardness, and it is measured in units of PPM (Parts Per Million).
b) Contamination: The water supplied through pipes is prone to be contaminated by bacteria, dissolved pesticides and lead. The impurities can have a lot of side effects on our health. Opt for UV based filter if the water supply is high in microbes and contaminants. The UV filter irradiates the bacteria and viruses. The RO membrane makes it good enough for consumption by removing these dead germs and contaminants from water.
c) Storage Capacity: The purified water is moved to a storage tank. Various purifiers have different storage capacity. The water purifiers with more storage capacity will be heavier and would occupy more space. The most common storage capacity is 7 to 10 litres. 
d) Purification Process: Every water purifier uses some mechanism to filter the water. The Ro purification uses a semi-permeable membrane to remove metals, ions, molecules and larger particles. The RO filters also remove the hardness of the water. The UV water purifiers use ultraviolet rays to kill germs. The third popular category is UF which uses Hydrostatic pressure to purify bacteria and viruses from water. It is important to check the number of purification stages in the water purification. 
e) After Sales Support: Water purifiers need regular maintenance. To ensure everything happens at the right time, the role of a good after-sales team is essential. The proper maintenance makes sure that your family keeps getting safe drinking water at the home. 
Water Purifier Storage Capacity
The storage capacity of water purifier is often a factor that people pay less attention to. Before buying a water purifier you think the average daily consumption of water.
The consumption is different for every household that is why the manufacturers provide storage options varying from 5 litres to 20 litres for home water purifiers.
The purifier must have the capacity to store at least a day's water. To avoid the shortage of drinking water, the storage capacity of water purifier must be checked.  
Which Water Purifiers Should You Buy?
Soft water with low TDS level - UF Water Purifier
Soft water with high biological contamination - UV or UF + UV purifier
Hard Water - RO Purifier
Hard water with high level of biological contamination - RO + UV or RO + UV + UF
When to Buy RO based Water Purifier?
Most people think RO technology is synonymous with water purifiers. RO water purifier is considered the default choice for buying a water purifier in India. There are various factors to consider, such as the source of water and TDS level. 
There are different technologies and thousands of water purifiers from various brands in the market. 
If drinking water contains dissolved solids such as fluoride, arsenic, and lead then you need RO based water purifier. To check the presence of these dissolved solids, the best way is to test your water in laboratories. RO water is also effective for hard water. This technology purifies water with TDS levels up to 2000ppm.
When to choose UV Based Water purifier?
There is no need to buy an RO purifier if the TDS level is below 500 ppm. If the water supplied has low TDS then the RO will further reduce it. The purified water will then be lacking essential minerals which are required for our good health.
If the TDS level of water is under 500 ppm then you should check for muddy appearance and presence of impurities such as bacteria and viruses. 
You need a UV based water purifier in case water contains pathogens such as disease-causing bacteria and viruses. In case the water contains bacteria as well as dissolved solids then you should choose RO + UV water purifier. 
When to choose gravity-based water purifiers?
In case of no installation feasibility for RO and UV water purifiers. If the water supply is soft water with TDS levels up to 500. Gravity based water purifiers are also more suited if you are frequently reallocating.
Installation of Water Purifier
RO and UV based purifiers are bulky in size. Before buying RO or UV based purifiers check the dimensions and have a plan to mount it in the kitchen. For installation of RO purifier, you will need inlet for electricity and water. You need continuous water supply with decent pressure for an RO. 
Tricks for Buying The Best Water Purifier 
Find out the level of contamination in water

Shortlist from the top brands available in the market

Compare the features and prices of the available choices

Consider the installation and maintenance cost 
Should I Buy Water Purifier Online or Offline
Buying a water purifier online is perfectly alright. In fact, most people prefer the online method because it is hassle-free. When you buy water purifier online, you get a free installation from the company. However, the terms may verify as per the product so you should confirm the installation process before placing your order.
For a gravity-based water purifier, there is no need for installation so you can buy without any concern. But in case of RO and UV based water purifiers, installation is required and you can find the thing clearly mentioned on the product description. 
If you have are doubt regarding the process, you can also contact the customer support service. If you are not used to online shopping, you can buy offline as well. It depends on your preference. But it is better to compare the prices between online and offline to check the difference in price.
Some people also prefer to enquire about the product from offline stores and buy online. As already said it varies from person to person. A thing that may suit one person may be uncomfortable for others. The important thing here is choosing the best water purifier as per your need. Whether you buy it online or offline is secondary. 
Conclusion
Buy the right water purifier by considering the factors mentioned above. Each of the factors is essential in selecting the purifier. If you follow all the steps buying the right purifier will be very easy. There are plenty of choices available in the market for every budget and purification need. 
We hope this water purifier buying guide has helped you choose the best water purifier in India. Thanks for reading till the end !!
Frequently Asked Questions
Q1: Which water purifier is good for home?
Answer: There are various factors which decide your choice for a water purifier such as source of water, type of water, contamination etc. 
Q2: Which water purifier should I buy?
Answer: For hard water, you need an RO purifier. It is better to get the water tested in a laboratory to know the type of water purifier best suited for your need. 
Q3: Which TDS is best for drinking water?
Answer: The ideal TDS for drinking water is below 300mg per litre. TDS levels up to 500mg per litre are permissible. 
Q4: Is drinking RO water harmful?
Answer: If the TDS level of water is already low and you use RO filter the TDS levels can become very low. The water with very low TDS lacks essential minerals. 
A5: Which type of water purifier is good for health?
Answer: RO purifiers are the most widely used for water treatment. RO based filters can treat hard water effectively.