Best Smartwatch in India 2020 - Review & Buying Guide
Are you planning to buy a smartwatch? Read about the types, features and other must-know topics in this guide. Purchase the most appropriate by getting an in-depth knowledge of every smartwatch.
By :
| Views: 195



UPDATED ON: 29 May 2020
Table of Content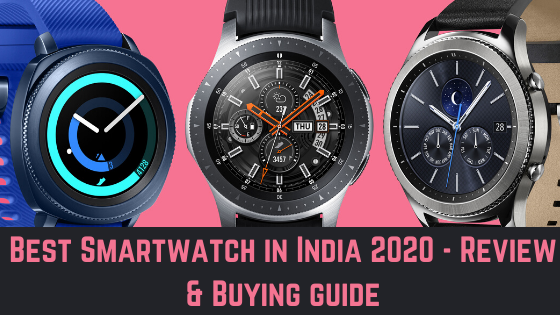 Introduction
Are you planning to buy a watch for yourself? If yes, then you should be aware of smartwatches which are quite common these days and have additional features when compared to a regular watch.
If you are not aware of the top smartwatch in India, here we will provide you with everything in the smartwatch buying guide 2020. 
We all know there are tonnes of smartwatches available in the market which confuse us. So, here we will mention all the top smartwatch brands, their features, price, benefits of using them, and other details as well. 
If you wish to know about Best Fitness Bands in India that you can buy under Rs. 5000, click on the provided link. 
What Are Smartwatches?
Smartwatches are similar to a regular watch, but they can help you do a lot of phone-related tasks without even accessing them. Also, they can track activities, health, calories, heart rate, and many more other things.
A smartwatch records health-related stats but its primary function is to be your phone's interface on your wrist. Want to know about the best budget smartwatch in India? Keep reading to get more information. 
Whether you are a tech enthusiast or a fitness enthusiast who wants to keep track of activity levels or wish to stay updated with the notifications, here is a smartwatch buying guide for you to make your task easier before purchasing a suitable one for yourself. 
Types of Smartwatches
There are four main types of smartwatches that you may find in the market. They are present into four categories based upon their features and the way they get manufactured. 
Types 

Uses 

Example 

Buy now link

Simple smartwatches with a notification function

For normal use 

Casio G-Shock Analog-Digital Watch

 

 

Smart sport watches

Especially for athletes 

Fossil Sport Smartwatch

 

 

Classic smartwatches

Used as an extension of the smartphone

Samsung Gear S3 Classic Smartwatch

 

 

Smartwatches with phone function

They work independently of the smartphone

Apple Watch Series 5

 

 
a) Simple smartwatches with a notification function
The main task of these watches is to display the time and date. These watches perform normal display functions such as stopwatch, timer and alarm clock.
You can pair them with your smartphone via Bluetooth. The watch alerts about incoming messages and calls via vibration alarm, symbol or beep. 
Pros
Easy to use
Similar to a standard watch
Casio G-Shock Analog-Digital Watch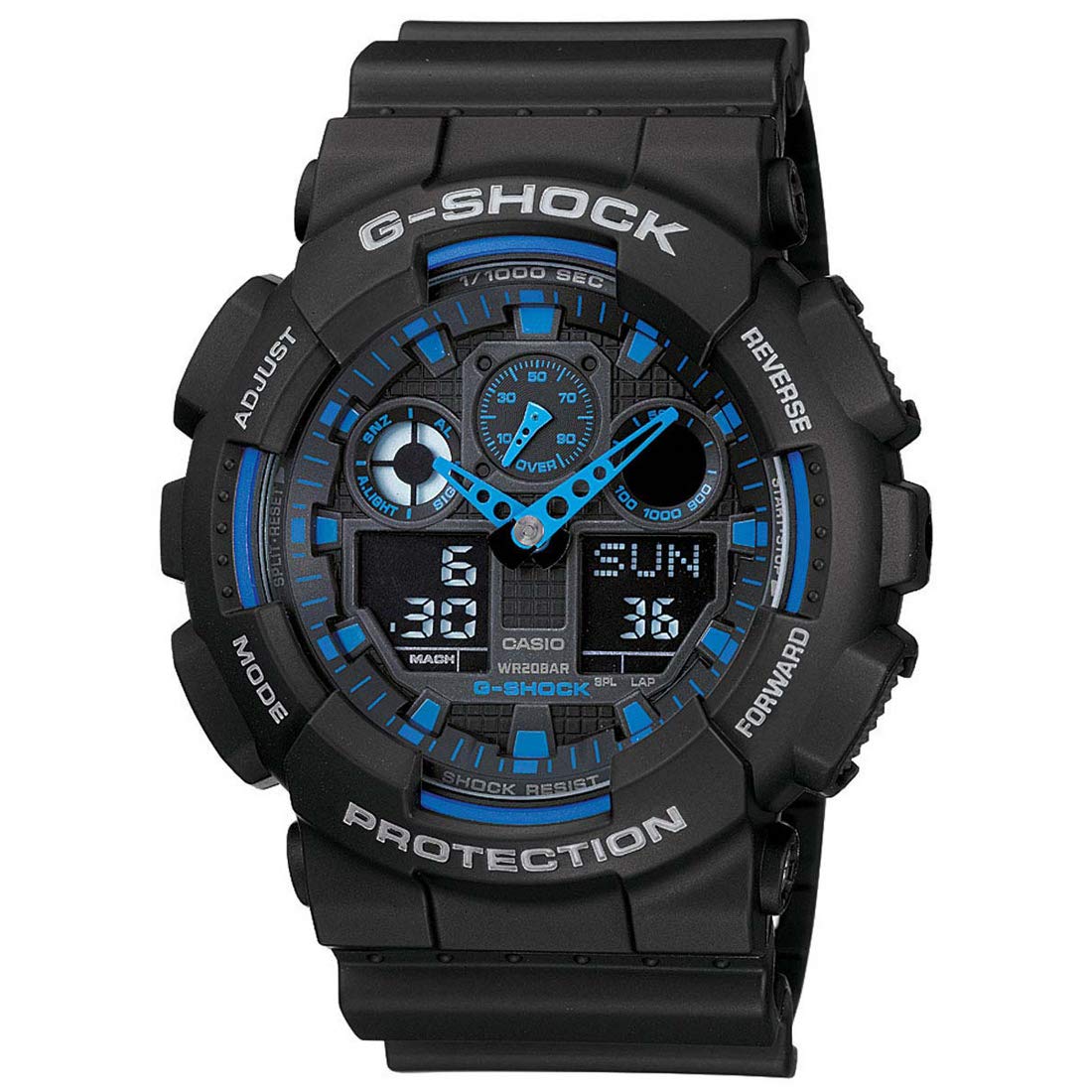 In terms of features, functions, and design, these new G'MIX models are geared towards music and its enjoyment by you. It links with your smartphone for more accurate timekeeping and access to a host of mobile link functions. 
Features of Casio G-Shock Analog-Digital Watch: 
A Shock-resistant construction of the smartwatch protects against impact and vibration.

It has a big rotary switch at 3 o'clock useful to jump between songs, control the music volume, or adjust sound attributes with an equalizer function.

It is compatible with Bluetooth, which allows you to indulge more in-depth into the music. 

The price of this smartwatch is ₹ 8,995. 
b) Smart sport watches
These watches can provide information on the pulse rate and help you to train optimally. They include a GPS transmitter which records distances travelled.
Sports watches have an easy-to-read touch screen, an optical heart rate monitor and are water-resistant. You can connect them via smartphone or computer; the watches transfer the measured data to specific analysis programs.
Athletes training sessions can often be set up on the Internet portal and transferred to the watch. Most sports watches show all the incoming messages and phone calls. 
Pros
Specifically designed for athletes and fitness freaks
Provides better health tracking features
Cons
Consumes more power
They are expensive
Fossil Sport Smartwatch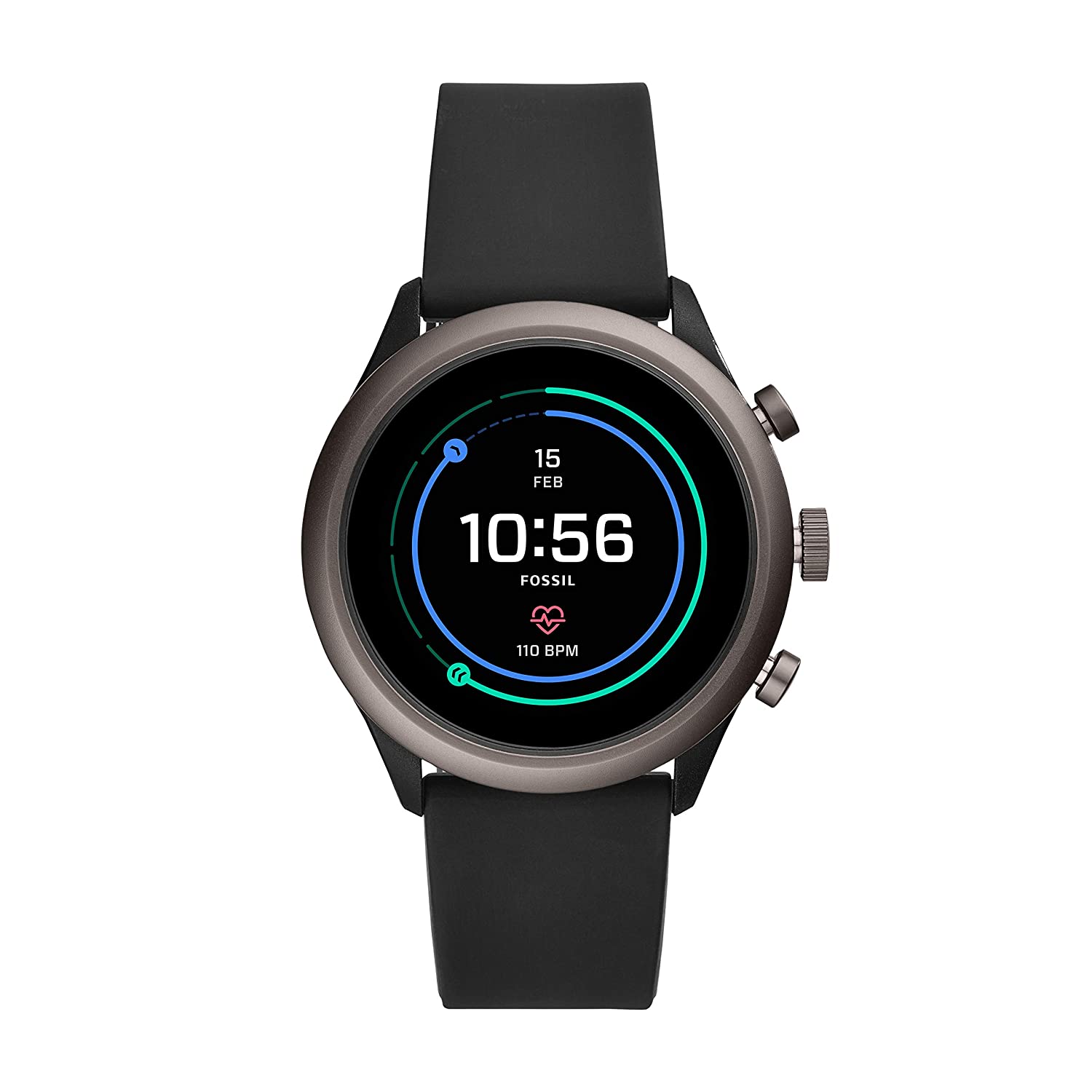 Fossil smartwatches use Bluetooth technology to get connected to your phone. When a notification arrives, a gentle ring lets you know right away.
Features of Fossil Sport Smartwatch: 
You can start leaving your phone behind and use untethered GPS to track your run's distance, play music on your watch.

This smartwatch measures heart rate automatically during a workout.

It has an efficient battery life that gives you 24+ hours of touchscreen use. 

The watch is compatible with Android OS 4.4+ or iOS 9.3+.

The price of this smartwatch is ₹ 10,495. 
c) Classic smartwatches
Classic smartwatches easily get connected via Bluetooth, and show all of the incoming messages, calendar entries and phone calls on the smartphone. 
They have reliable operating systems such as Android Wear from Google or watchOS from Apple, which is why you have many apps to choose from.
Their screens are usually bigger and easy to read. You have to make sure that you plug the smartwatch in every one to two days.
Pros
Easy to read anything on the watch due to bigger screen sizes
Good battery life
Classic and stylish looks
Cons
It is difficult to sync with iPhone
Samsung Gear S3 Classic Smartwatch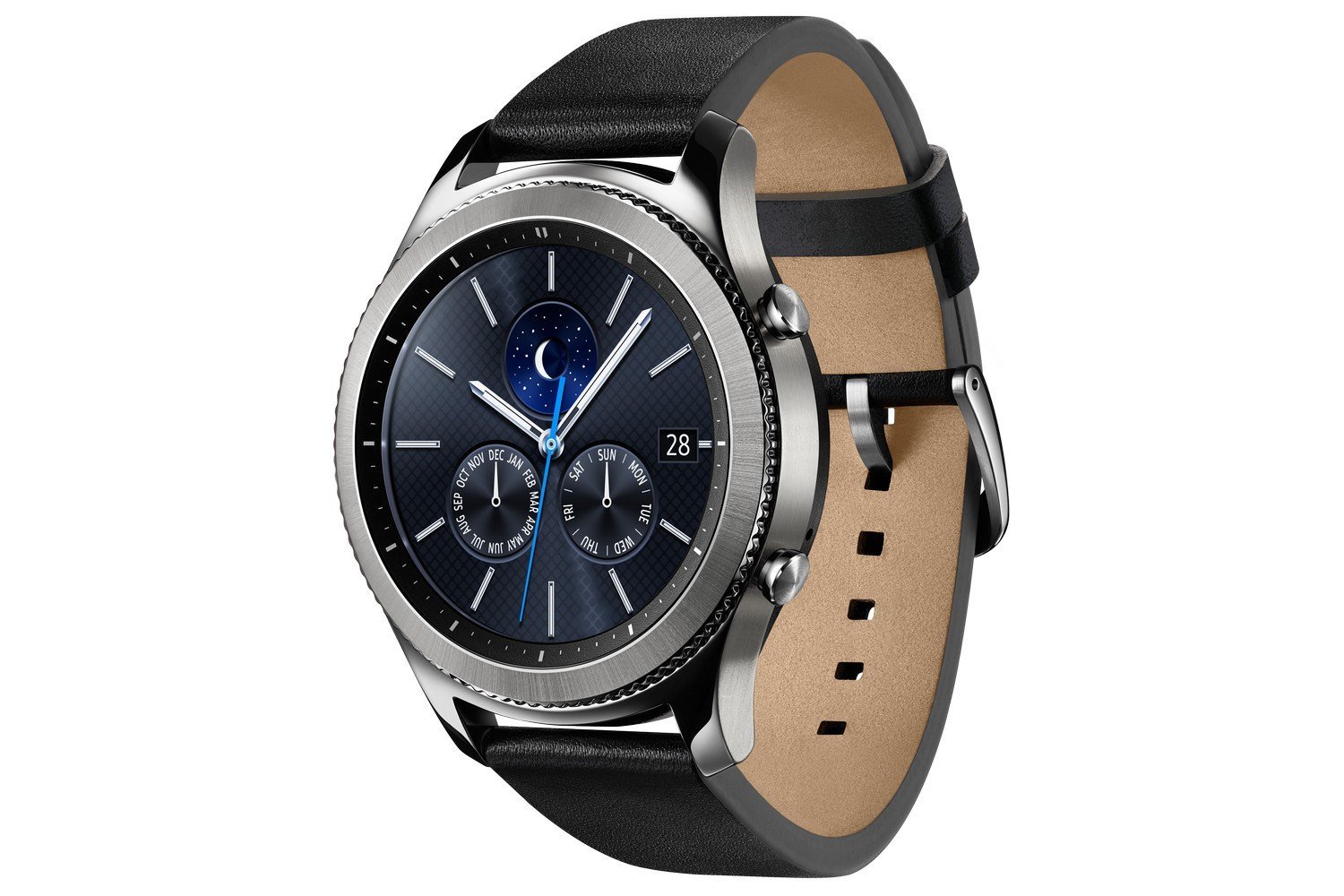 Get a chance to transform the appearance of your Gear S3 just by changing the watch face. It comes with 15 preloaded designs and more available at the Gear App Store, design your watch face and keep it always on display by making it truly yours.
Features of Samsung Gear S3 Classic Smartwatch:
It is rated IP68, which is why it can withstand dust and dirt and being up to 1.5 meters or for up to 30 minutes underwater.

The watch has 4GB of internal memory so you can take your music with you, without the weight of your phone.

You can take and make calls with its built-in speaker and also check voice messages plus hear the alarms you set.

It comes with a wireless charging dock and charges too fast than usual. 
d) Smartwatches with phone function
They work in a similar way to that of classic smartwatches. They have their SIM card. The Internet connection is possible via LTE mobile phone technology. 
Whereas these watches cannot wholly replace smartphones as their screens are too small, and their operation too fiddly. 
Pros
More advanced than any other smartwatch types
Easily performs all your phone functions
Cons
Small screen display
Operation is a bit confusing
Apple Watch Series 5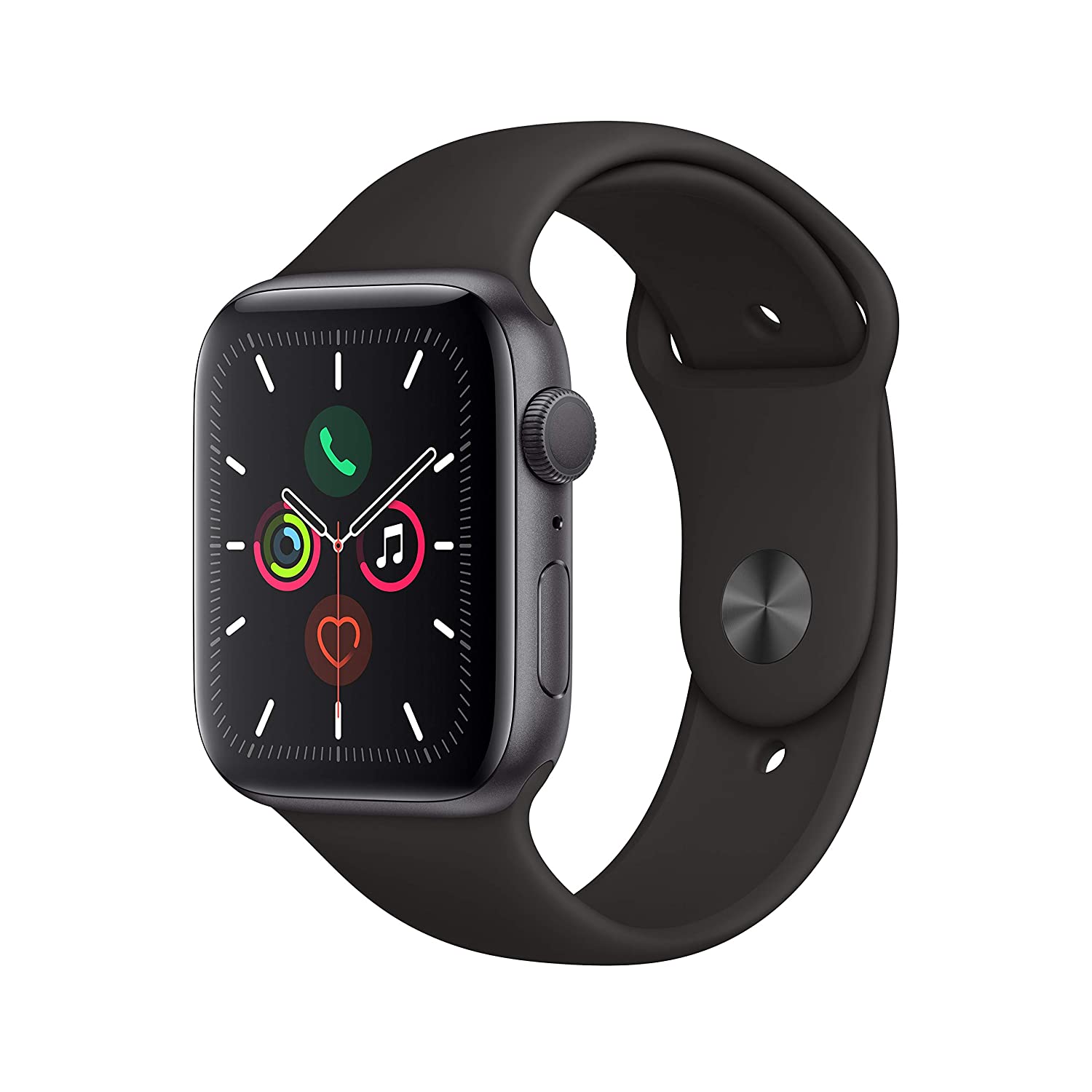 The Apple watch series 5 lets you call, text, and listen to music without even the need of your phone. With the emergency SOS, it also automatically calls for assistance. The watch comes with more than 100 watch faces and too many ways to personalize them. 
Features of Apple Watch Series 5:
The Apple Watch has an always-on retina display and around 30% larger screen than other smartwatches. 

You can check your heart rhythm with the ECG app and makes it easy to log information about your menstrual cycle. 

It comes with activity rings that keep you motivated to exercise more every day. 

You can listen to up to 60 million songs and podcasts present in the Apple music library. 

This apple smart watch price in India is ₹ 43,900. 
Best Smartwatch In India 2020
1. SAMSUNG Gear S3 Frontier Smartwatch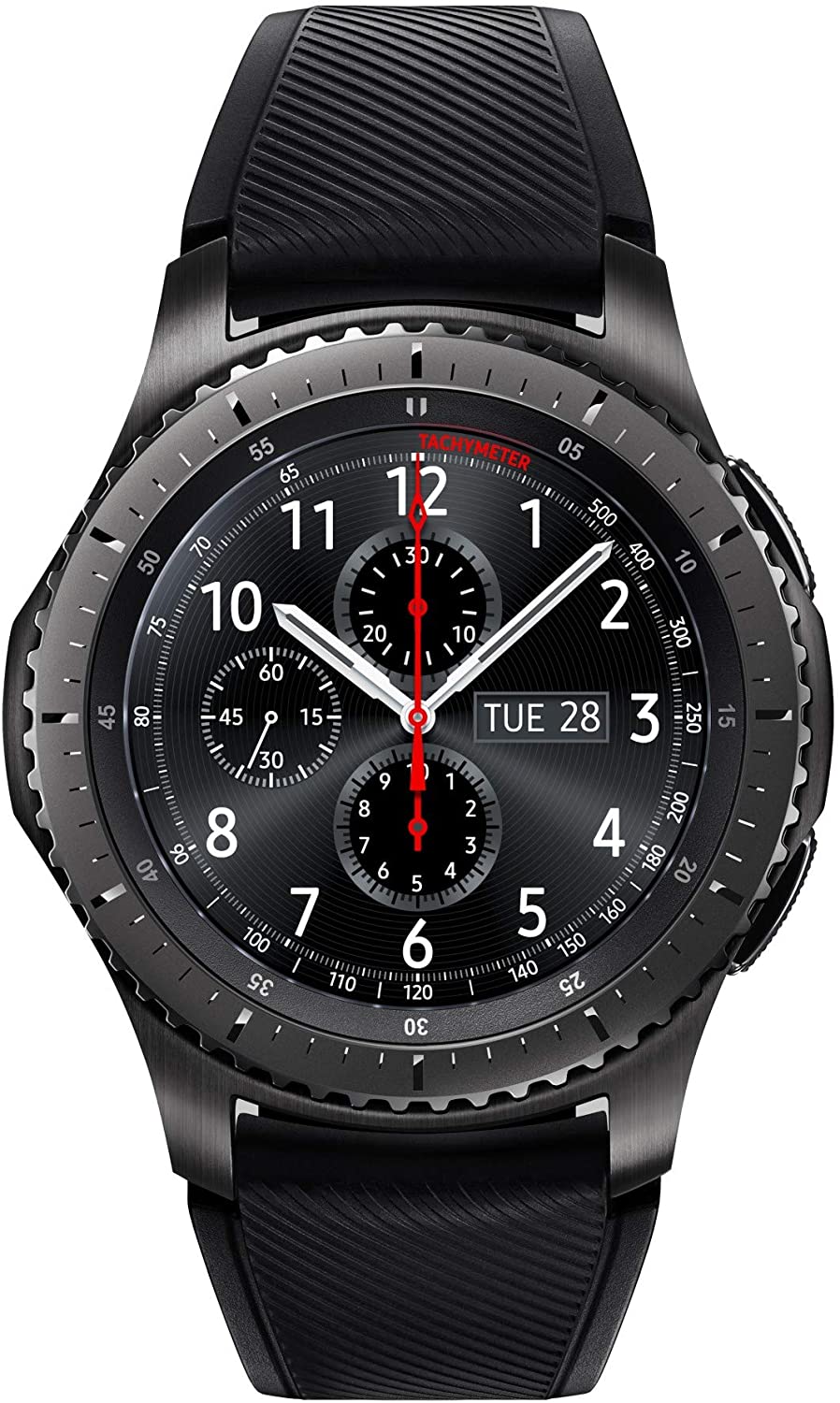 This smartwatch is compatible with Samsung Android, other Android, iOS (Bluetooth) and iOS (Standalone). It has a 33.02 mm screen display that makes it look big. The operating system used in Tizen. It has a gyroscope heart rate sensor, barometer. It is the best smartwatch to buy in India. 
It functions on a Dual-core 1GHz CPU, 768MB RAM, and has 4GB internal memory. The smartwatch supports Bluetooth 4.2 that connects it to the smartphone. 
Pros
Get paired with both Android and iOS mobile phone
It works in two modes that are always on and manual on mode
Good battery life that lasts up to 1.5 days
Pre-installed multiple watches profiles  
Easily changeable smartwatch 
Cons
It looks bulky.
Not suitable for females. 
You need only a Samsung phone, for any other mobile it needs extra apps to be installed to function
2. Apple Watch Series 4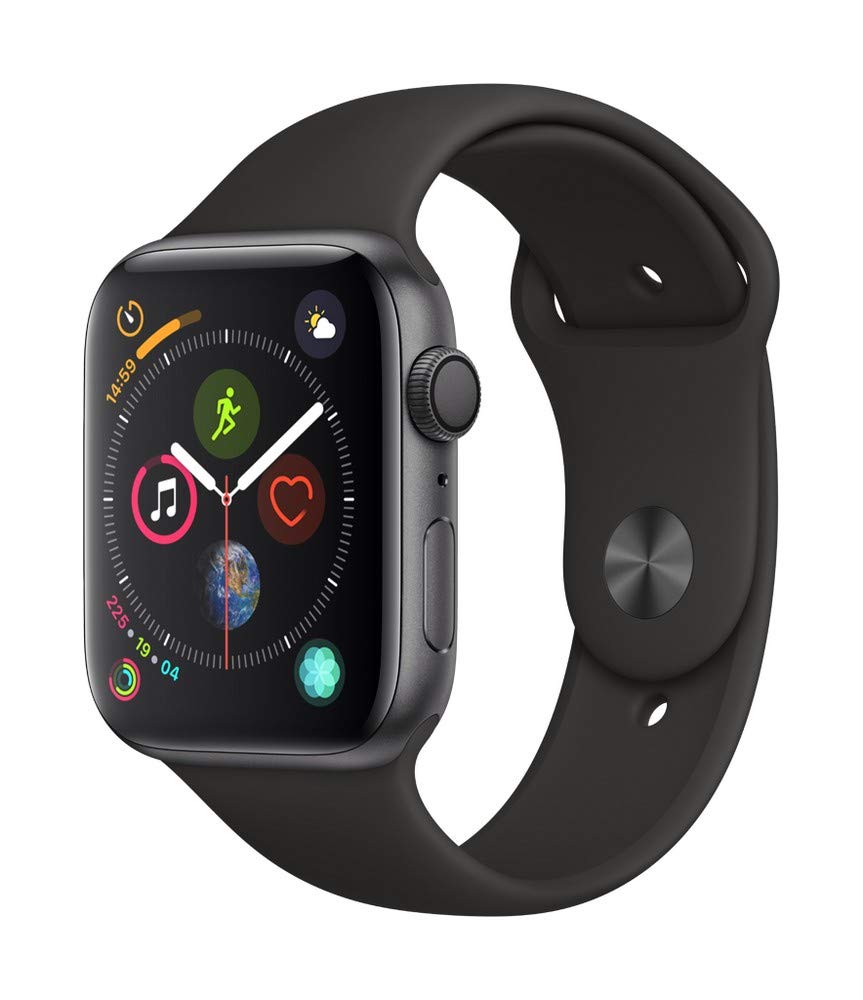 It has a GPS and over 30% larger display. You may find electrical and optical heart sensors. It comes with almost 50% louder speakers and S4 SiP with a faster 64-bit dual-core processor. The smartwatch has an Improved accelerometer and gyroscope for fall detection. 
Pros
It is haptic feedback enabled
A lot slimmer and lighter than its counterparts
It comes with a highly active and responsive touch sensor
Comes with speaker and microphone
High-end features make it more unique
Cons
Process for naming activity is backwards which makes it challenging to use 
More chances of accidental presses
3. Amazfit Verge IP69 SmartWatch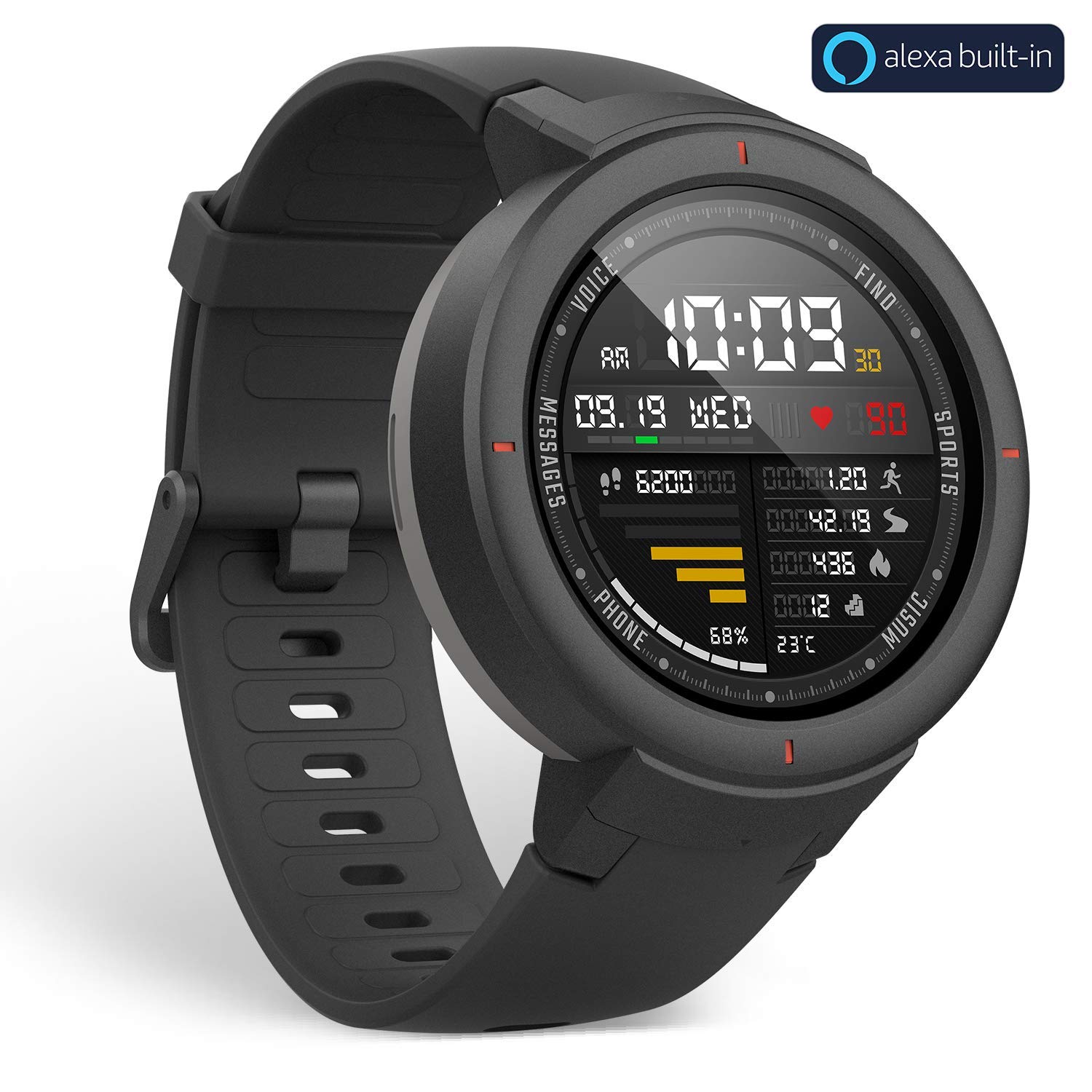 You get a chance to make and answer calls with a built-in microphone and speaker. It comes with a 1.3" AMOLED display and a resolution of 360 x 360, a Corning glass with anti-fingerprint coating. 
Connectivity is possible via Bluetooth 4.0 by using Mi Fit App. It is compatible with Android 4.4 / iOS 8.0 or above. A smartwatch with understated elegance for the fashion-conscious fitness enthusiast, the Amazfit Verge is the perfect combination of style and technology.
You can monitor your heart rate, Sleep, Step etc. and use the 12 sports modes tracking (Run, Run Indoor, Trail Run, Walk, Elliptical Trainer, Climb, Tennis, Skiing, Soccer, Outdoor Cycling, Indoor Cycling, Jumping Rope) with built-in GPS. 
Pros
Has a good battery life of up to 288 hours
Comes with a speaker and microphone for the easy calling functio
Reduced power consumption due to high-quality optical sensor 
Has a flash memory of 4GB
Simple and clean design
Economical
Cons
The body is vulnerable to scratches
It has no Google integration
Visibility drops in bright light
Little storage space
4. FitbitVersa Unisex Health and Fitness Smartwatch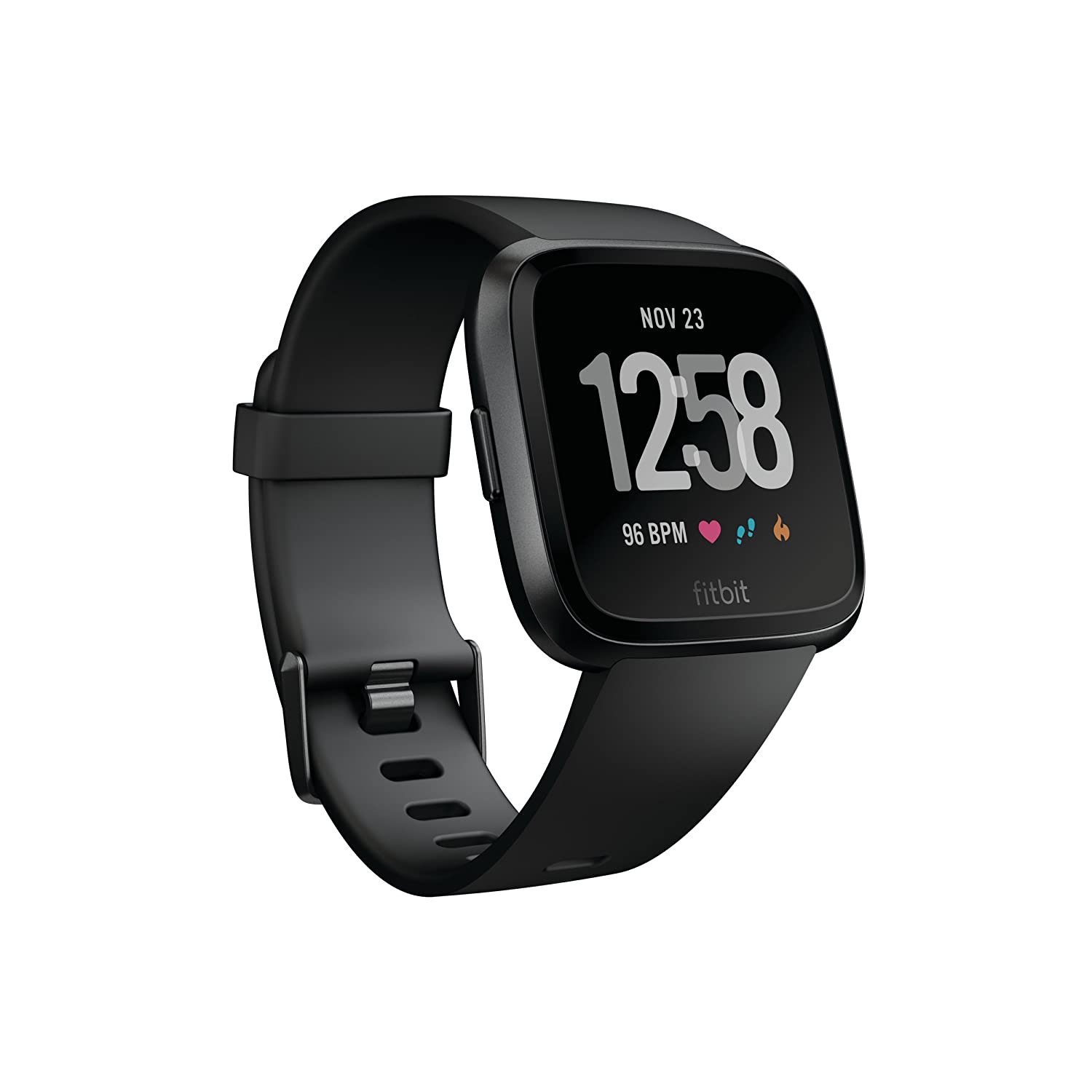 This smartwatch has 4+ day battery life and performs on-screen coaching. It is useful for monitoring continuous heart rate. Also, if you are a music freak, it stores and plays more than 300 songs. 
Pros
Best for swimming as it is water-resistant up to 50meters 
Offers a useful sleep tracking feature 
It is comfortable, lightweight and the design is unisex
Female friendly as it can give notifications regarding menstrual cycles
It can store around 300 tracks of music
Cons
It lacks a micro USB charger
You only get text-based notifications
Unable to respond to texts and messages with iPhone
Do not has GPS 
Fewer apps than other smartwatches.
Can be used mainly for tracking fitness
5. Garmin vívoactive HR Smart Watch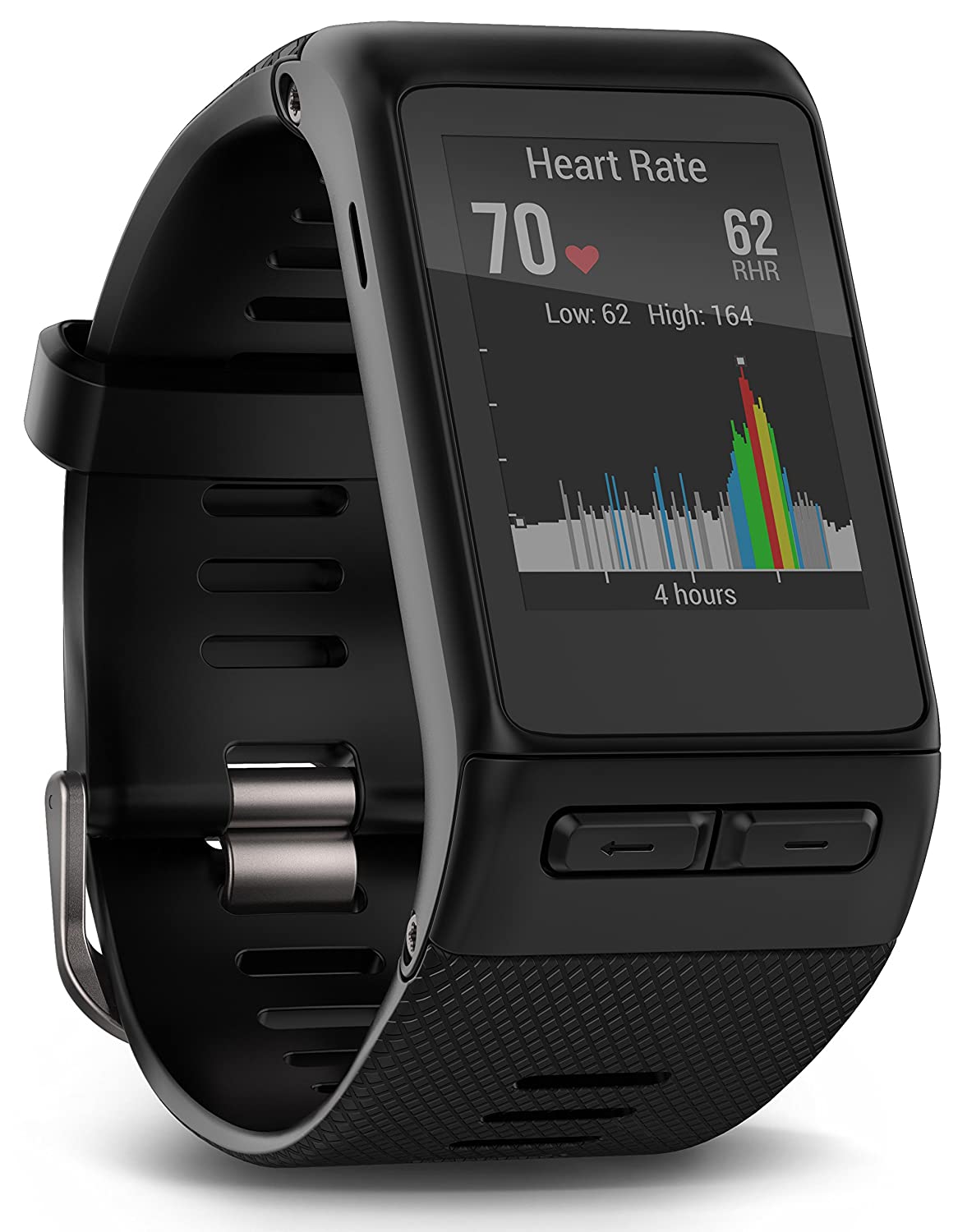 It is a GPS smartwatch with a sunlight-readable, high-resolution colour touchscreen. It has built-in sports apps including GPS-enabled running, biking, swimming and more no phone connection required. 
You can get customized watch face designs, widgets and apps from the Connect IQ store. It enables you to receive smart notifications, and smart coaching from Garmin Connect when paired with your phone. 
 
Pros
The watch is free of glare in bright light
Equipped with the best GPS
Excellent battery life
The software is user friendly and easy to access
Versatile as it tracks all fitness exercises 
Cons
Inadequate response during high intensity
Poor durability
Looks are a little outdated and feel uneasy on small wrists
6. Ticwatch E most comfortable Smartwatch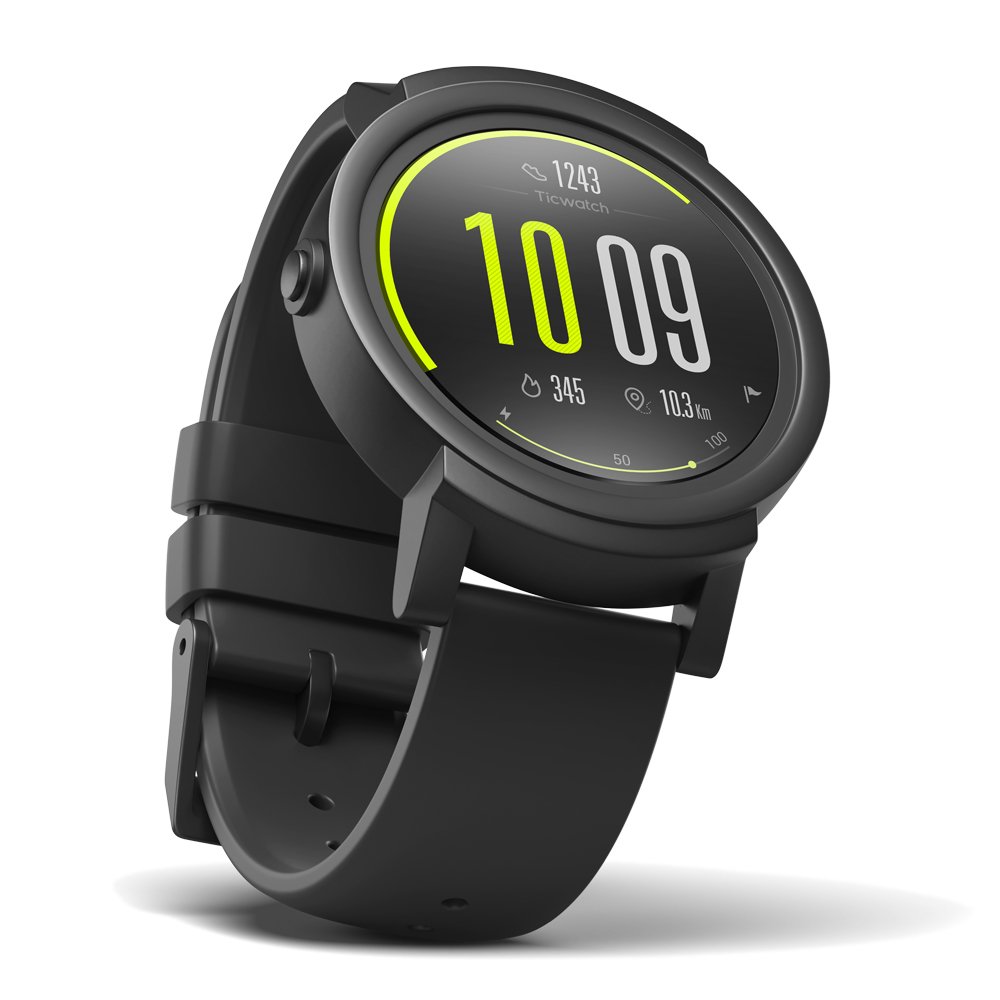 It is an Android Wear 2.0. You can install your favourite apps and watch faces, request a car ride, perfect for the golf swing, explore a new neighbourhood, etc. 
You get a chance to follow your fitness like track walks, runs, rides, heart rate and strength training with Google Fit and your favourite fitness apps. Plus, get coaching, measure your heart rate, and even stream music, right from your wrist.
You have the option to bring Google Assistant to your wrist. Start by holding the power button or say "Ok Google". Phone calls are only compatible with android devices now.
Pros
Very lightweight and comfortable
It is water and dust resistant
Reasonable in price 
It has Google voice assistant feature
Cons
No cellular internet connection
Its counterparts feature snapdragon 2100 chip, make it inferior
7. Fossil Q Gen 4 Hr Digital Dial Women's Watch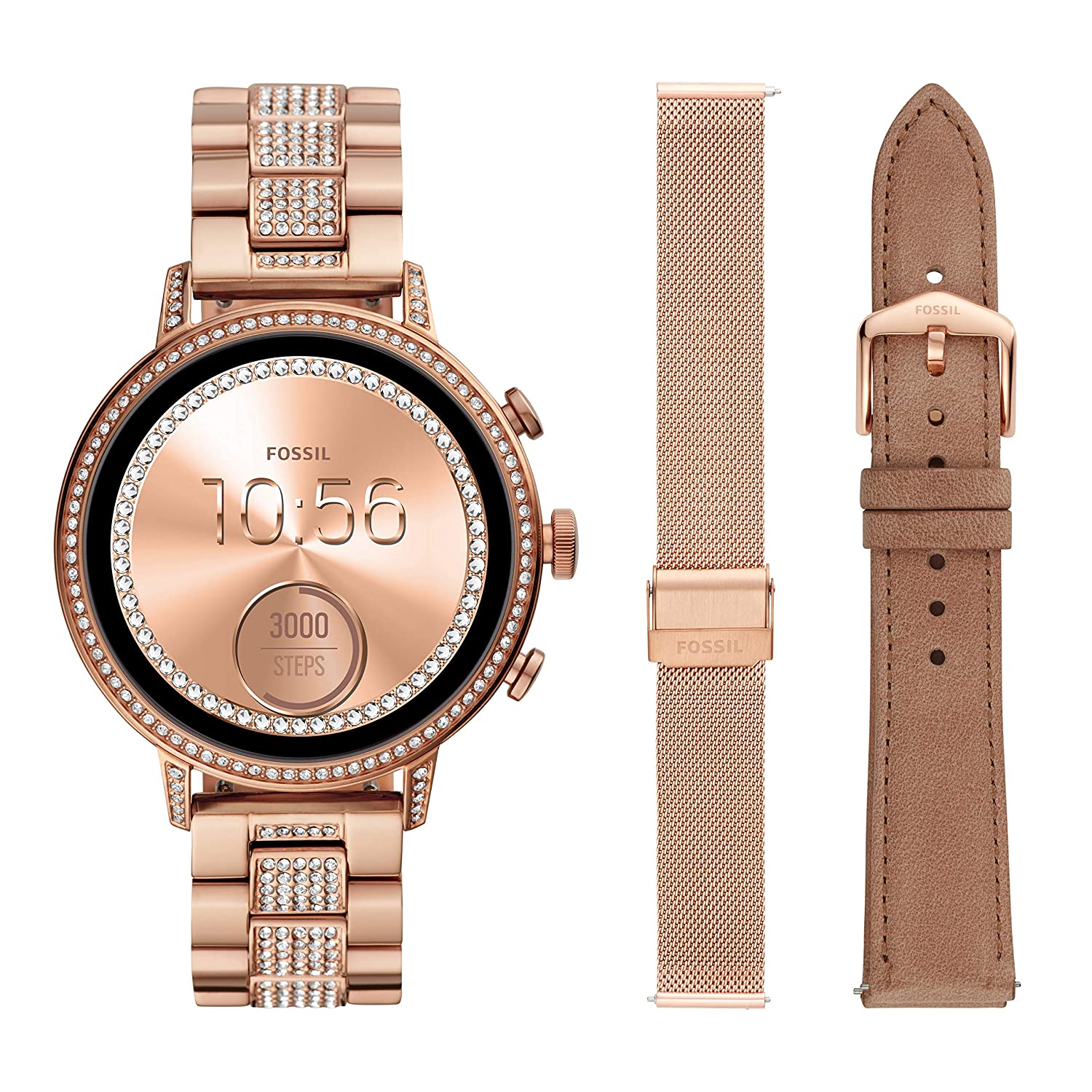 These smartwatches work well with iPhone and Android Phones. It helps to track heart rate & activity tracking using Google Fit; has a built-in GPS for distance tracking and has a classic design. 
The watch has a swim-proof design 3ATM; you get google assistant built-in. You can receive smartphone notifications and app alerts, manage your calendar, control your music, download third-party apps (your favourite ride-sharing or music apps).
It lets you customize your watch face; touchscreen functionality, built-in fitness tracker, microphone, music storage and controls, custom goal & alarm settings, calendar alerts, multiple time zones, weather, LED flashlight, wireless syncing. It gets charged up to 80% in under an hour. 
Pros
Has an extremely high-quality leather that sits comfortably on your wrist
Elegant look
Automatically updates date and time as per your changing locatio
Does not depend entirely on the paired device as it has GPS
LED torch that can help in terrible situations
Integrates very well with a paired device
Smartwatch Vs SmartBand - Which One Should You Choose?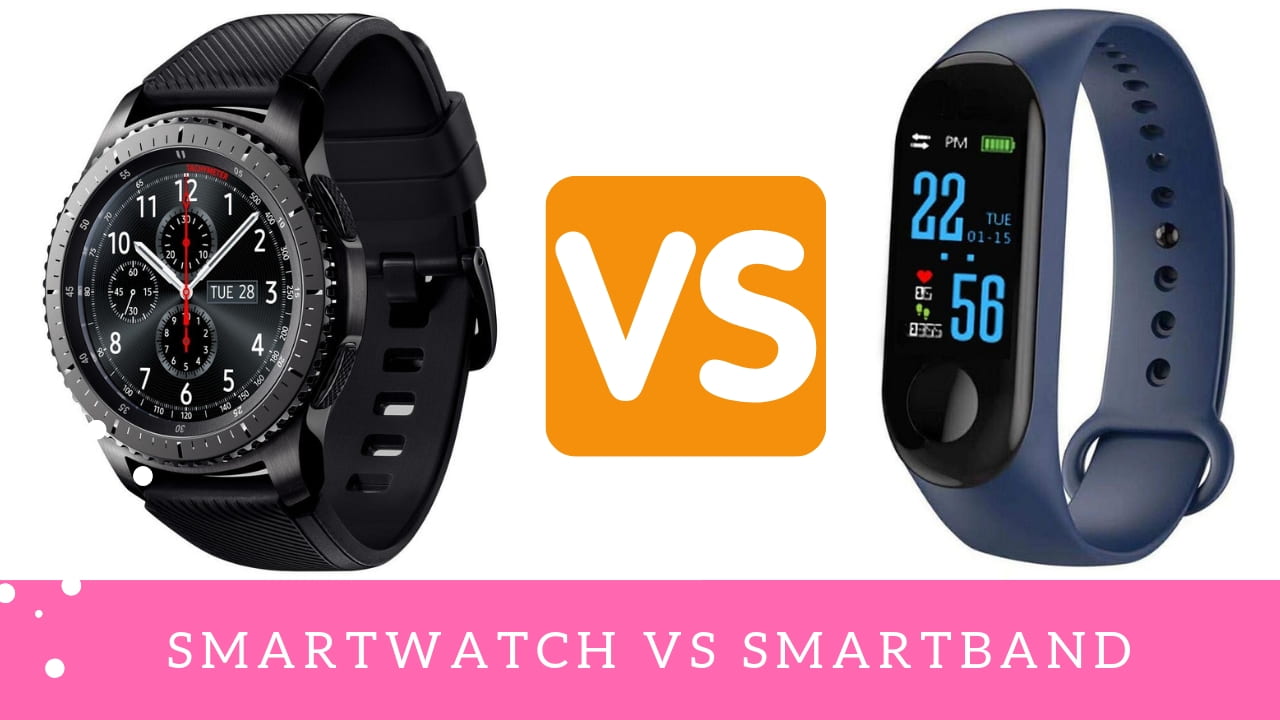 Smartwatches and fitness trackers are among the top wearable tech accessories for upping your exercise routine. They help in tracking your steps, do heart rate monitoring to specific workout logs, and show your activity statistics.
They let you achieve your fitness goals. A smartwatch can behave as a fitness tracker; a fitness tracker mostly focuses on activity tracking. Some advanced trackers are available that provide notification and app functionality.
A smartwatch offers a more well-rounded type of wearable device. Some standalone smartwatches now have an eSIM feature so that you do not need to pair your smartphone to use them.
Smartwatches also come with app controls, native functionality, and customization. Fitness trackers are cheaper than smartwatches. They are also often more lightweight and compact. Fitness trackers also have a longer battery life due to their limited functionality.
Smartwatches feature LED screens the size of a large wristwatch face, come in a single form factor, and are often more expensive than activity trackers. They also copy analogue watches more closely in terms of their appearance, including buttons that look like a crown, winding, and pusher buttons. 
Best Smartwatch Under 5000 In India 2020
Want to know about the best smartwatch under 5000 in India 2020? We will have some of the popular ones available in the market having incredible features, even under Rs. 5000 price range. 
 
Best smartwatch in India under 5000

Price of smartwatch

Buy Now Link 

Noise Colorfit Pro 2 Smart Watch

₹ 3,299

 

 

Gionee Smart Life Smartwatch

₹2,999

 

 

Lenovo Carme HW25P Smartwatch

₹ 3,499

 

 
1. Noise Colorfit Pro 2 Smart Watch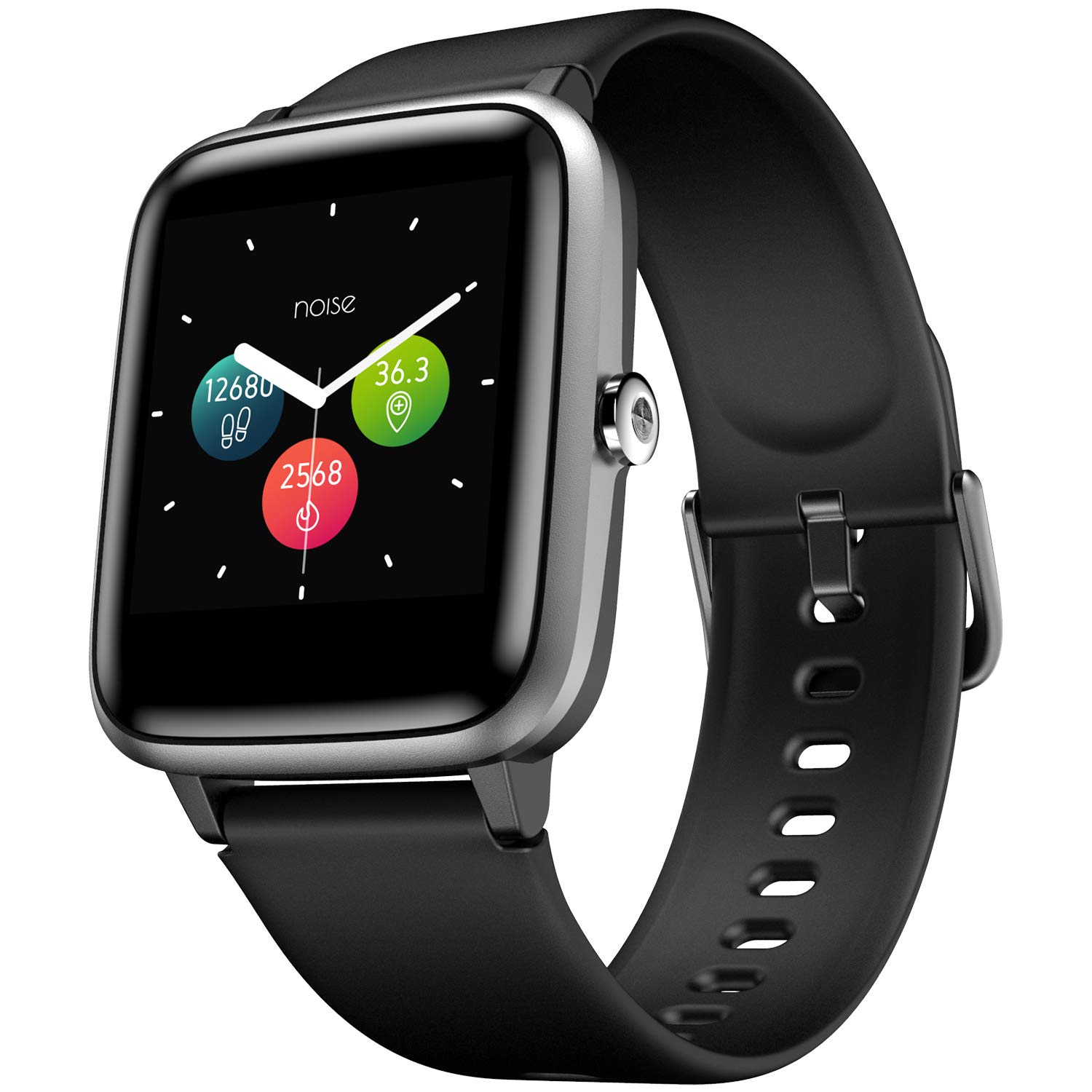 The smartwatch helps to complete the activity and health tracking with sleep monitoring, heart rate monitoring, step tracking, sedentary alarm and calories burned. It provides optional menstrual tracking for women. 
Features of Noise Colorfit Pro 2 Control Smart Watch:
It has a 1.3" colour display and full capacitive touch, supporting taps and swipes, so it is easy to read and operate.

It is available in 4 beautiful colours with matching swappable straps.

It has 24x7 heart rate monitoring with the built-in optical HR monitor that measures your heart rate every five minutes.

Comes with nine sports modes to cover all your activities, whether you walk, run, hike, bike, treadmill, workout, climb, spin, or perform yoga.

It can control music playback on your smartphone with the remote function and Bluetooth v5.0 compatible with all smartphones running Android 4.4 or iOS 8.0 and above.
2. Gionee Smart Life Smartwatch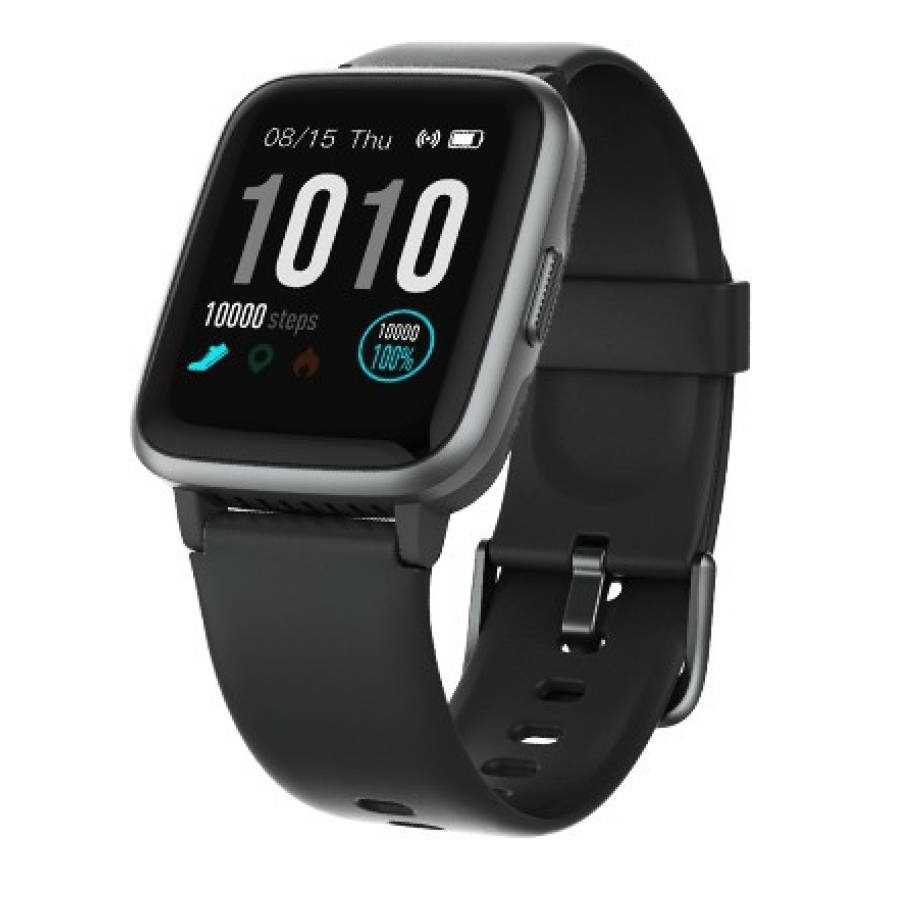 The smartwatch is entirely touchscreen a fitness watch having a smart and stylish design. It features an IPS Full Touch Colour display and the Smart Notifications feature, this smartwatch helps you receive notifications, such as call, email, and message alerts right on your wrist.
Features of Gionee Smart Life Smartwatch:
It helps in monitoring heart rate and also has a Calorie Meter.

It gives you alerts of WhatsApp, Facebook, Mail, Call etc. 

It is made up of Stainless Steel (Grade 316L) Dial case and has 5 ATM waterproof. 

You can use the smartwatch upto 15 days.
3. Lenovo Carme HW25P Smartwatch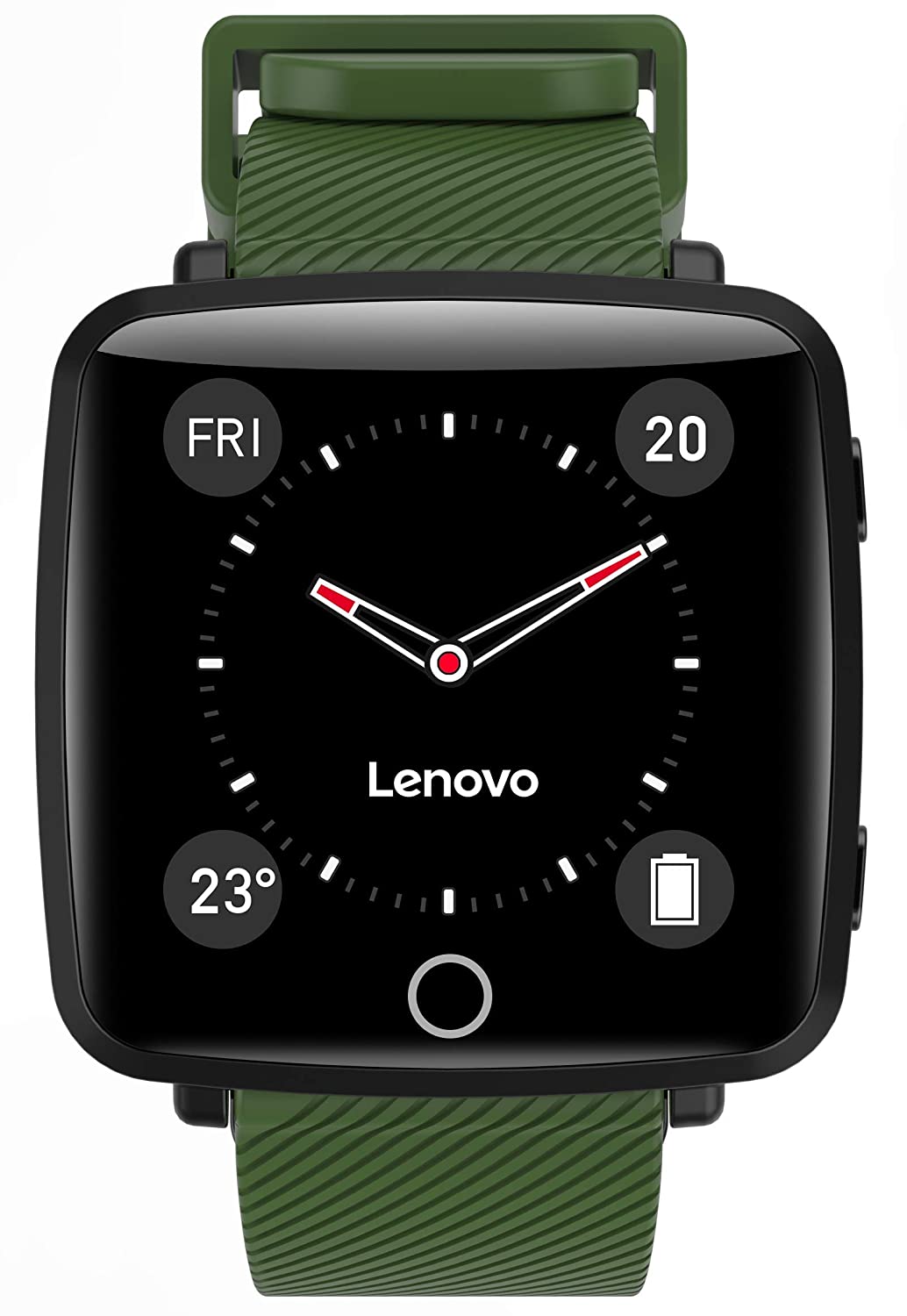 Lenovo smartwatch is all-weather monitoring your steps, mileage and calories to make your exercise become more excellent quality. It is the best android smartwatch in India that you can purchase under Rs. 5000. 
Features of Lenovo Carme HW25P Smartwatch: 
The smartwatch has 2.5D Curved Surface design with no blind angle that prevents light from refracting.

It is IP68 dustproof and waterproof with IP68 waterproof design and easily worn during washing hands, face and rainy days.

It is having a long-lasting battery of upto seven days.

It helps you understand your health more clearly as it 24-hour heart rate monitoring. 

It gives you smart notifications like call reminder, message reminder, Alarm reminder, Emails, WhatsApp, Facebook etc.
Best Smartwatch Under 3000 In India 2020
Smartwatches are available in different sizes and price ranges. If you are having a budget of around Rs. 3000 or less, you can consider the listed smartwatches for buying. Do check out their features and the exact price. 
 
| | |
| --- | --- |
| Best smartwatch under 3000 in India 2020 | Price  |
| PLAY FIT SW75 Smartwatch   | ₹2,999 |
| AQFIT Multifunction Smart Watch | ₹ 2,499 |
1. PLAY FIT SW75 Smartwatch 
Play fit smartwatch helps in 24hrs monitoring and track of heart rate, sleep, calories, activities, etc. It is entirely touchscreen and lets you call, message, email, get notifications of WhatsApp, Facebook, other social networking apps. 
Features of PLAY FIT SW75 Smartwatch: 
The smartwatch has upto 45 Days of standby battery on a single charge.

It comes with a 1.3 full touchscreen display with 2.5Dcorning glass and has a unique PLAY FIT application.

The watch is waterproof up to a swimming pool depth of 50m.

Provides multi-sports tracking with which you can track runs, cycling and detailed body stats.
2. AQFIT Multifunction Smart Watch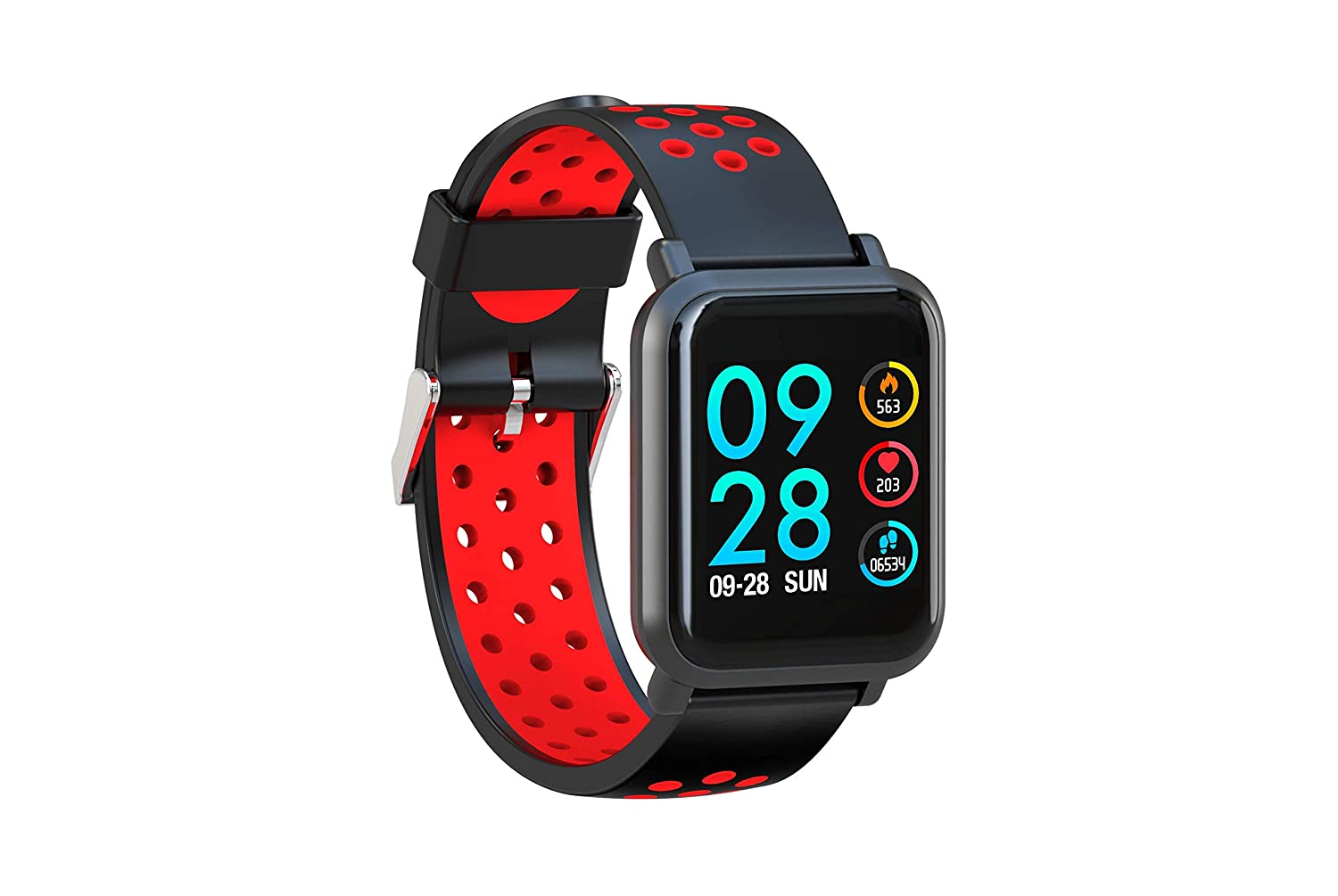 The smartwatch comes with the latest chipset, which has 40% higher efficiency and requires 50% less power consumption. These watches are easy to use, and you just need to flip your wrist to check the latest updates and alerts.
Features of AQFIT Multifunction Smart Watch: 
This smartwatch has a 1.33 inch IPS full-colour screen display with a single touch Anti- Scratch toughened glass.

It comes with advanced optical sensors that do 24 hours of heart rate monitoring.

It lets you customize your watch face; you can simply choose any picture from your phone to set it as your watch face.

The watch is responsible for real-time monitoring of blood pressure, blood oxygen level, and acts as a pedometer to count your number of steps. 
Best Smartwatch Under 2000 In India 2020
Many of us haven't even tried using smartwatches in our lives. So, you can try buying a smartwatch at low price. Surely, you will get all the essential features that are necessary for normal working and can even track your health.
| | |
| --- | --- |
| Best smartwatch under 2000 in India 2020 | Best smartwatch price in India |
| Fastrack Reflex Smartwatch | ₹1,396 |
| Gizmore GizFit 902 Smartwatch | ₹1,799 |
| Lenovo Ego HX07 Smartwatch | ₹ 1,795 |
1. Fastrack Reflex Smartwatch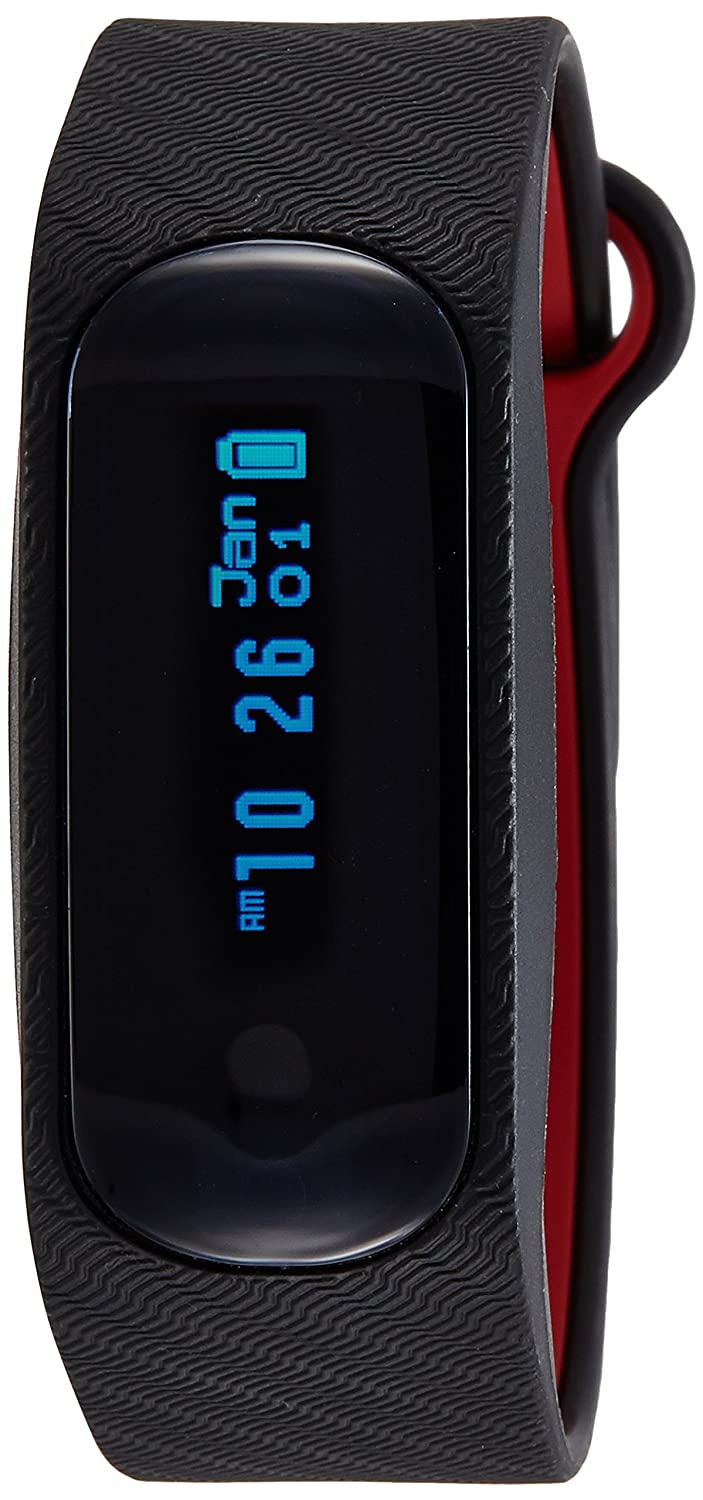 The new Fastrack reflex smartwatch looks super cool with the dual colour combination. It is a fitness band with smartwatch features. The watch tracks steps, distance and calorie tracker, sleep tracker, call and SMS alerts, OLED display. 
It has ten days battery life, vibration alarm, a rechargeable unit with USB port, sedentary reminder and is ipx6 water-resistant.
It is compatible with iOS and Android OS. If you want to know the Fastrack smartwatch price, then do not worry as the Fastrack smartwatch price in India is ₹1,396, which is quite reasonable. 
Features of Fastrack Reflex Smartwatch: 
The battery life varies depending on the usage of the watch. 

It has calling facilities that are compatible with Android phones only.

The watch movement Type is Quartz, and the watch display type is digital charge the device completely before using it.
2. Gizmore GizFit 902 Smartwatch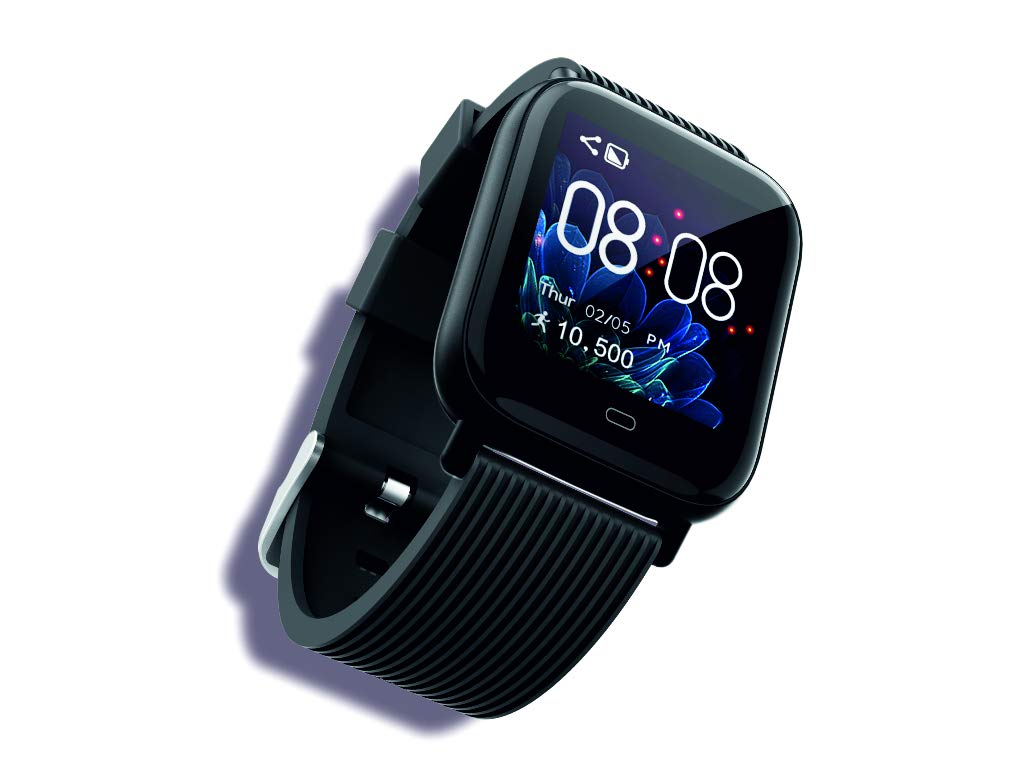 Gizmore lets you reach your fitness goals by not only tracking your daily fitness activities, but it also alerts you when you get calls, SMS, and social media notifications.
Features of Gizmore GizFit 902 Smartwatch:
The smartwatch helps to monitor heart rate and blood pressure, fitness and outdoor.

It comes with 1.3" TFT- LCD colour and has a complete touchscreen display. 

It has an anti-lost function to find your missing belongings, and you can even shake to take a picture.

The smartwatch android price is ₹1,799. 
3. Lenovo Ego HX07 Smartwatch
This classic electronic smartwatch comes with a large display, ultra-light and solid body. It has a reflective display, including a blue night light. The watch gets equipped with new-generation sensors due to which it consumes less power.
Features of Lenovo Ego HX07 Smartwatch: 
The smartwatch has up to 20 days of battery life and can track daily activities as walking, steps and calories burned. 

5ATM super depth waterproof features and you can access Lenovo Life App for secure connection with your phone 

It lets you get all your smart notifications like phone calls, emails, text messages, WhatsApp, Facebook and skype.

The Lenovo smartwatch price is ₹ 1,795. 
Things to Consider Before Buying A Smartwatch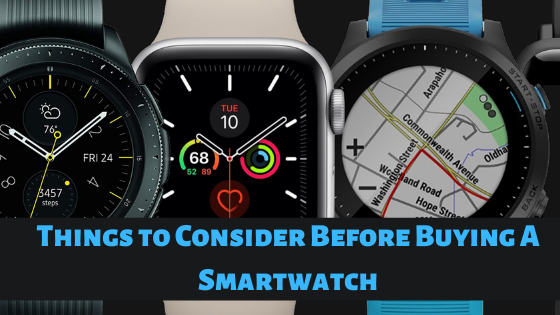 Similar to your computer and smartphones, smartwatches also run on operating systems with distinct and separate apps.
Many watches run on different versions of Google's Android Wear, while the Apple Watch runs on Apple's Watch OS and Fitbit smartwatches have their unique operating system.
The following are some of the points you can keep in mind if you are confused between buying a plain or a pricey smartwatch. 
1. Budget-Minded and Basic
Basic smartwatches are similar to fitness trackers. The difference is they support third-party apps, but the exact number and variety will depend on which operating system your watch runs on. Do not worry as every smartwatch will notify you of incoming calls, emails, and texts.
2. Classy and Sophisticated
More complex watches do all that the basic models do, plus they offer features like full-colour touch screens, voice-command capability, activity tracking, GPS, mobile payments at the register, and voice calls.
3. Capabilities to Consider
Some smartwatches have strange and difficult to use chargers. You may find many pairs with only a limited number of mobile devices. 
Make sure the smartwatch is compatible with your existing smartphone or other smart devices that you plan to pair with it.
The smartwatch should be comfortable to wear. Some are large and can be clumsy. Many newer models are round, and few are less bulky and may be more suitable.
Battery life ranges from one to many days, depending on how you use the watch, how much power it requires, and the sophistication of the watch technology.
4. Water resistance
Most smartwatches are water-resistant. Remember to check the complete description of the smartwatch if this is an essential feature to you.
5. Charging
Some smartwatches come with wireless chargers. Many come with snap-on docks for charging. There are even smartwatches that require a cable that plugs into them itself.
Features Of A Smartwatch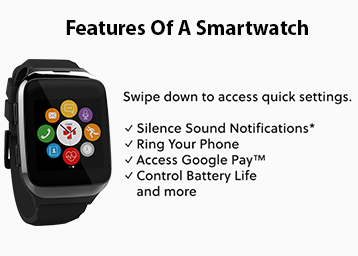 1. Operating system
There are three main choices of operating systems, including Apple watch OS, Android Wear and Tizen. 
Android wear gets specifically designed for Android phones. It does work with the iPhone but not as perfect as the Apple watch, which mainly pairs well with Apple devices.
Tizen is specially designed for Samsung devices and works with both Android phones and iPhones. If you own both Android and an iPhone, search for this OS in the smartwatches. Smartwatches that run their operating system work well with almost every smartphone.
2. Battery-life
Full-featured smartwatches need charging every day. Devices with fewer smart features can last for weeks on one single charge. If you take your watch off your wrist at night, you will not be able to use the sleep tracking features of smartwatches.
3. Display
Most smartwatches nowadays use a colourful LCD screen or AMOLED display. This feature lets you see photos, apps and other content in a brighter colour. 
But you may notice that an LCD or AMOLED display make the battery life shorter. Also, LCDs make the watch dial thicker than OLED ones. That is why Apple and Samsung are going for OLED shows to make the dial screen as thin as they can be.
4. Interface
Choosing for a touch screen on your smartwatch would be an effortless task, it can sometimes be challenging to target items on a smaller touch display, and some of the gesture-based interfaces are not so quick. 
But brands like Apple and Samsung have chosen a combo approach. Along with offering a touch display, they provide you with a side button that lets you scroll through various menus, documents, settings, and more. 
5. Design and Personalization
Most smartwatches offer plenty of customization options. You can pick your favourite band colour and material, face colour, finish and size. It can be beneficial for you if you wish to personalize the look of your smartwatch.
6. Fitness Features
As fitness trackers continue to attract many people, the smartwatch has started integrating activity-monitoring functions. Some smartwatches depend on your phone for activity tracking, but most have a built-in pedometer for tracking steps and built-in heart rate monitor.
7. GPS
Some smartwatches have GPS, which makes them more attractive and necessary for those who go running or biking outdoors, and wish to track their distance and speed. But using GPS will have a significant impact on battery life as it will consume your battery.
8. Splash/water-resistant
You most likely want to wear your smartwatch all day, other than when it is charging. Look for smartwatches that can hold and show details of everything from washing your hands to taking a shower to go for a swim.
9. Charging
A lot of smartwatches come with convenient wireless chargers. Some come with snap-on docks for charging. Some smartwatches even require a cable that plugs into the watch itself.
What Makes The Smartwatch So Unique?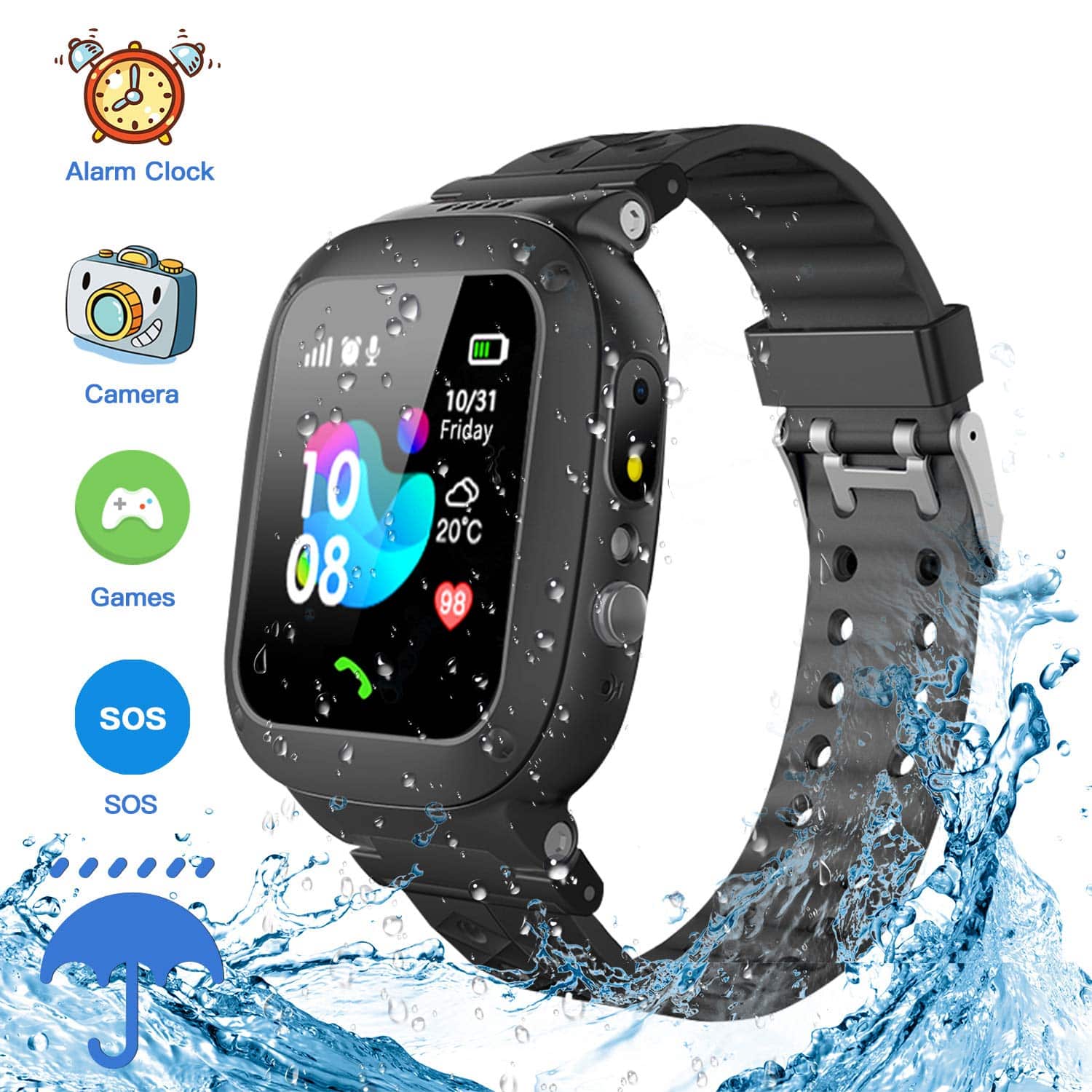 Smartwatch technology is new; its features and functions are still evolving. If you wish to save money, you can choose a watch that lacks the more sophisticated features.
And if you need a device that can monitor your exercise, a fitness tracker can be your best choice. If you are using an Android phone, an Android Wear watch offers smooth compatibility with your Android phone as well as Google's digital assistant.
Pairing
Most smartwatches are smartphone accessories because they connect to your smartphone via Bluetooth or a WiFi network. But there are exceptions where the smartwatches come up with cellular data internet connectivity. 
Notifications and Alerts
If you pair your smartphone with smartwatches, they can help to notify you via vibration, sound, or both. You get alerts of all calls, texts, messages, social media posts, and almost all apps alert. Many watches show messages on their display screen.
Messaging and Phone Calls
Many smartwatches allow you to respond to incoming email, texts, and messages. You can even send pre-populated replies, such as "Sorry, I'm busy right now" and "I'll call you back later."
Smartwatches let you accept, dismiss, or even initiate phone calls. They let you make phone calls from your paired phone, but few watches do this directly through the watch.
Activity Tracking
Smartwatches measure your steps and movements and track your daily activities. They have built-in heart rate monitors, barometers, GPS, and work with fitness apps to keep records of your activity.
They can help you track your calorie intake and calories burned. If you are having problems of sleep deprivation, you should know that smartwatches can even measure the length of time you sleep and also let you know how restful your sleep was.
Voice Control and Voice Commands
The smartwatches that run on android wear let you use spoken or voice commands to perform internet searches, send texts, access apps, etc. 
Apps
Smartwatches, like smart devices, can run apps, through your phone, right on the watch. These apps are of health and fitness, navigation, weather, social media, and more. The range of apps varies for a particular smartwatch., depending on the operating system. 
How Is A Smartwatch Built?
A good smartwatch needs to be durable so that it lasts years of use on your wrist and it also needs to look good since you will wear it on your wrist, so it has to have a comfortable wristband that is quite strong enough. 
Smartwatches even come in different sizes, for men and women or for people who are having slimmer hands. If you are too thin or too fat, make sure to look at customizations available for the watch in the form of straps also. 
Some watches come with metal straps while some others come with rubberized one. If you sweat a lot or there is a chance of you getting into the water, a waterproof watch is a choice to keep in mind.
How Do Smartwatches Work?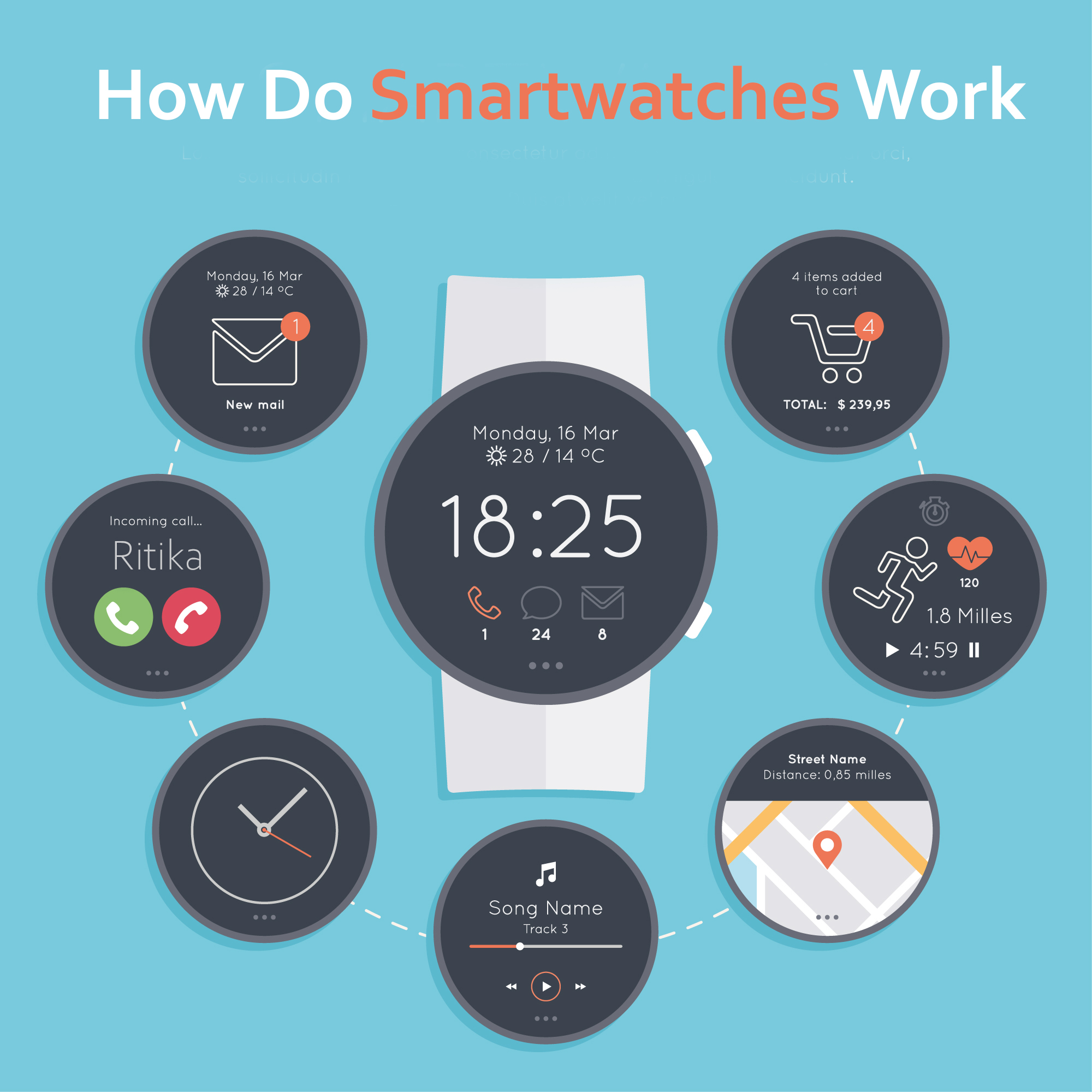 The way smartwatches work depends on which brand model you are purchasing. All the watches have sensors in them that help to monitor aspects like heart rate, mobility, altitude, location and many more.
These smartwatches connect and sync wirelessly with smartphones or computers, and store all the data related to your daily activities in them. A smartwatch measures your temperature of the skin, heart rate, total hours of sleep, level of sweat and more. 
You can also sync some smartwatches with third-party apps to give you a better insight into your health. Some smartwatches even send an alert to you through texts or email. 
Vibration alerts help you to check your necessary details regularly. These watches let you track your health periodically and keep you healthy by calculating everything that is inside your body. Here are the sensors that you should check out while buying a smartwatch:
1. Accelerometer- These sensors track your front to back, side to side, up and down movements.
2. Gyroscope- Gyroscope estimates in what position you are currently like swimming, sitting, walking or standing.
3. Barometer- This sensor measures the total number of steps you have walked in a day.
4. Monitor for Heart Rate- This sensor monitors the rate of your heartbeats through the day and during your workout sessions.
5. Magnetometer - The magnetometer determines the direction of some specific movements.
Benefits of Using a Smart Watch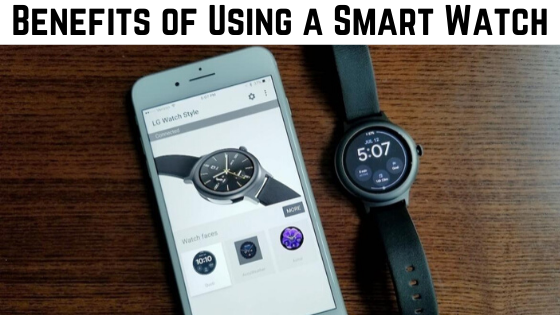 A smartwatch is smart, which means it displays not only date and time but also SMS, Whatsapp, call notifications. Therefore, you can check the notification without even picking up your mobile phone in hand.

Accessing the data becomes easy when it comes to a smartwatch; all the information is available on your wrist.

Some of the smartwatches come with features that allow you to control the volume of Bluetooth speakers, TV, etc.

A smartwatch like from Apple allows you to pass through the airport security with ease.

Smartwatches come with a feature that lets you answer the calls without the need of a phone. 

Smartwatches have the function of monitoring your health that will allow you to keep track of your health-related data like a heartbeat, calories burned, sweat etc.

Smartwatches come with a speaker that allows the user to play music. 
Best Smartwatch Brands in India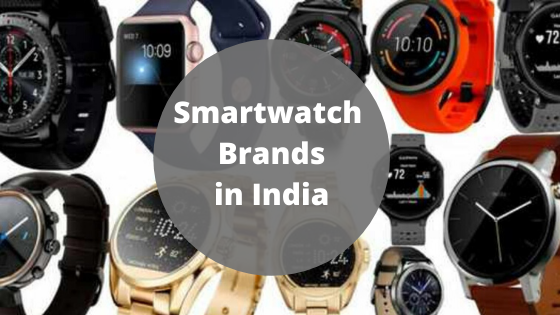 There are many other brands that you may find in the market which are not so common but manufactures good quality smartwatches. Select the brand according to your choice and by keeping in mind your overall budget. 
Apple Smartwatches
Apple smartwatches are common and best for iPhone users. The watches under this brand come in different series, including Apple watch series 5, Apple watch series 3, Apple watch series 4, etc. You may find Apple smartwatches a bit expensive, but they have some additional features that make them stand out. 
Samsung Smartwatches
Smartwatches under this brand are the most reliable and affordable for android mobile users. They manufacture the best smartwatch for Android in India, including Samsung Galaxy smartwatch, Samsung Galaxy watches active 2, Samsung Gear S3 smartwatch, etc. Samsung smartwatch price in India.
Xiaomi Smartwatches
Xiaomi smartwatches are the best in terms of quality and features. The smartwatches under the brand include Xiaomi Mi Watch, Xiaomi Mi band 3, Xiaomi Mi band 3, etc. The brand has impressive fitness trackers with all the major vital features.
Fossil smartwatches 
Fossil smartwatches are classy and have a fantastic overall design. The watches under the brand include Gen 4, Gen 5, Hybrid smartwatch, etc. They have lighter weight and are useful to track all your primary activities. The fossil smartwatch price in India starts from around Rs. 22,000. 
Sony smartwatches 
Sony is the oldest and the most trusted brand available in India. The smartwatches under Sony include Sony Sw2 smartwatch, Sony SWR50 smartwatch, Sony SWR30 smartwatch, which is the top ones. The Sony smartwatch price in India ranges between Rs. 8000 to Rs. 28,000. 
Conclusion 
Smartwatches get smartly integrated with your phones and provide you with a more comfortable, healthy lifestyle. They are smart enough to make your experience smooth by remotely handling the functionality of your phone. 
That is all about the best buy smartwatch buying guide. If you have never heard of smartwatches that do additional work than a regular watch, do buy one and enjoy the best features they offer you. You must be now sure what to buy by reading this buying guide smartwatch.
Frequently Asked Questions 
Q1. Which smartwatch is best in India? 
A1. If you are unsure about which is the best smartwatch in India, read the complete guide to get full information. Some of the best smartwatches in India are SAMSUNG Gear S3 Frontier Smartwatch, Apple Watch Series 5, Fastrack Reflex Smartwatch, and many more. 
Q2. What is the best smartwatch 2020?
A2. The best smartwatches in 2020 are Noise Colorfit Pro 2 Smart Watch, Fossil Q Gen 4 Hr Digital Dial Watch, Amazfit Verge IP69 SmartWatch, and more. 
Q3. Is it worth buying a smartwatch?
A3. A smartwatch is an as durable and long term as a mobile phone. A smartwatch can track your health and even do all the work that your mobile phone does, so definitely they are worth buying. 
Q4. What are the top 5 smartwatches?
A4. The top 5 smartwatches are Apple Watch Series 5, Samsung Galaxy Watch, Fossil Gen 5 Smartwatch, Apple Watch 4, and Gionee Smart Life Smartwatch.