How to Order Biryani Online On Behrouz Biryani?
Order delicious biryani online with 30-minute delivery and exciting offers on Behrouz. To know how keep reading!
By :
| Views: 4168



UPDATED ON: 7 Apr 2021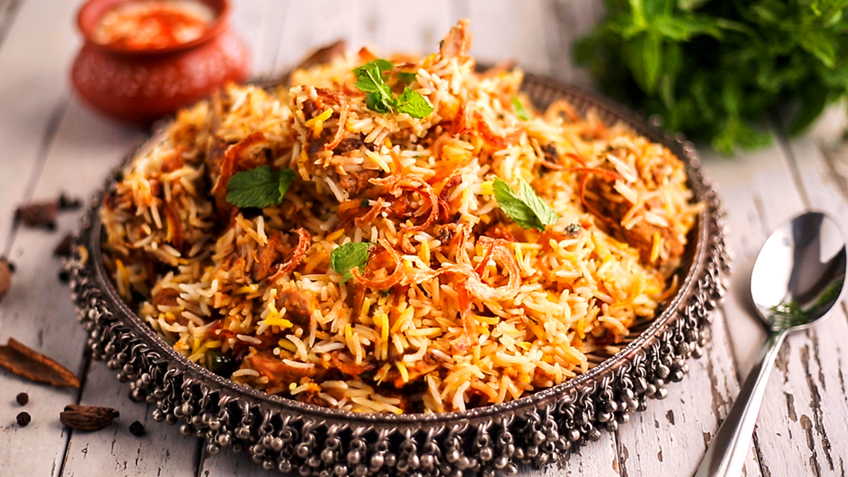 You can taste delicious biryani sitting at your home or office. And you don't need to put any efforts in the kitchen. Get it served hot and that too at prices that are hard to imagine.
The popularity of Biryani is such that many restaurants are making it available with their unique ingredients. You can order biryani in your city too at pocket-friendly prices. Hyderabadi Biryani Online Order allows you to taste the delicious meal in your city.
Order Hyderabadi Biryani online or try different varieties like Lucknowi Biryani, Kolkata Biryani, veg biryani, mutton biryani, and chicken biryani among others. Check Behrouz Biryani Promo Codes to get a discount on your order.
Get ready to earn Rs 50 just after signing up on this link and using the code 458331. There are several deals and coupons through which you can buy the essentials and earn 100% cashback. So, grab this opportunity and earn money!
Biryani Order Online
If you compare prices, you will find the price of having Biryani in a restaurant is much more than at your home. It makes ordering biryani online a more feasible option. The menu will be available based on your location.
You can choose one of these platforms simply on the basis of the best offers or the kind of food that you want to order. While ordering Biryani or any food for that matter, the first thing to notice is the number of servings.
Note: The use of coupon codes is based on a user account. Some promotions may be applicable to specific users. While the wallet offers can be availed by users as per the respective terms & conditions of the promotion.
How to Order Biryani from Behrouz Biryani
If you are wondering how I can order biryani online near me then follow the steps we have mentioned below to place biryani online order. 
Visit the App or Behrouz Biryani Website.

Enter your location to get customized Menu.

Browse different categories.

Add food items to Cart.

Proceed to checkout.

Log in or create an account.

Apply Behrouz Biryani Coupon Code.

Select a mode of payment.

Complete the transaction.
Types of Biryani Served You Can Order From Behrouz Biryani
Biriyani has evolved in India a lot and therefore we find different types of Biriyani in India. At Behrouz, you can order 3 different types of Biryani well layered with spices. Each Biryani is made using 7 secret spices. The spices are strong enough to tickle your taste buds. Behrouz serves quality Biryani made with long grain basmati rice and slow-cooked to perfection.
Veg Biryani 
Behrouz Biryani serves the most amazing and delicious Biryani in India. They have 4 different variants of Veg Biryanis which include the Queen's favorite - Zaykedaar Paneer Biryani, the summer special Subz-E-Falafel Biryani, and more. If you are a vegetarian then you must know this is the place where you can order Biryani online. 
Chicken Biryani 
For every non-vegetarian Murgh or Chicken Biryani is very special. Behrouz has over 4 Murgh different flavors of Chicken Biryanis that they prepare in the kitchen. The Chicken Biryani Menu has Lazeez Bhuna Murgh Biryani, Murgh Makhani, and more. You get the best chicken dum biryani online on Behrouz with great taste and flavors. You can easily place chicken biryani online order at Behrouz Biryani.
Mutton Biryani
If you are craving for Mutton Biryani then place your order at Behrouz and get delicious and mouth-watering Mutton Biryani online at the lowest price ever. The restaurant serves Dum Gosht Biryani, Keema Gosht Biryani, and more. The Biryani is carefully prepared with a guarded secret recipe which is passed down through several generations.
Behrouz Biryani online offers
Long grained rice, flavoured with exotic spices such as saffron layered with lamb, mutton, chicken, or veggies, Biryani is something which we all crave for. Adding on, we all rush to this website when it comes to satiating our cravings for Biryani.
The exquisitely designed site, the well laid out menu, and the historical stories of this restaurant, Behrouz Biryani.com, will give you a royal feeling. the online biryani store never lefts no stone unturned to pamper their customer demand.
Above that, Behrouz Biryani Coupons will make you get your favourite dish at very reasonable rates. While ordering, if you are a new user get a discount upto 30% on your entire order, that would be like a cherry on the top of a cake. 
If you are a new user, take advantage of Behrouz biryani New user promo codes and get a discount of 15% on your cart value. Besides this, there will be numerous offers for existing users, as well. All in all, ordering from this website is worth for taste and pocket as well.
Behrouz Biryani Coupons for New User
Behrouz never lefts no stone unturned in order to pamper their customers in terms of offers, taste, and servings. In context to the same, under Behrouz Mehman-e-Khas deals, it offers flat 35% off on first order. 
So, without wasting any time open the restaurant website and order aromatic and flavorful mouth-watering chicken/mutton/veg biryanis cooked in bhuna masala with fragrant long rice. Use coupon code at the time of checkout and get an additional discount on your online order.
How to use Behrouz Biryani Discount Coupons?
Behrouz Biryani has exciting deals and offers where you get a good cut down on the price of your food orders. With Behrouz you don't need to worry about budget, just place your order and avail their discount offers.
If you are wondering how you can use the Behrouz Biryani Discount Coupon, all you need to do is follow the simple steps we have mentioned below.
Open Behrouz Biryani official website.

Input your location.

Choose the item you want to order in the menu.

Add item to cart and proceed to checkout

Fill all the required details like your name and address.

Enter Behrouz Biryani Discount Coupon Code in Promo code section 

Click on the Order now and place your order.
Behrouz Biryani Party Order
Now you can call for a big Dawat and actually a royal one with Behrouz Biryani. The restaurant is open to take party orders. You can Host a Mehfil full of Delicious Biryani at your place from this restaurant. Behrouz biryani is now taking party orders to add spark to your party food. I press your friends and family with delicious biryani from Behrouz.
To place a party order you can contact the restaurant via mail. Add the Nawabi touch to your party with Party Order from this online biryani store.  If you are wondering how you are going to place a party order online at Behrouz then all you need to do is follow a few simple steps.
Contact Behrouz Biryani via mail at mehfil@behrouzbiryani.com.

Make sure you mention the number of plates you will need, the delivery address, and your contact number.

Once they receive your request they will contact you back.

You have to confirm the order, date, delivery address.

Discuss the payment and discount with the customer care service.
Treat your friends and family with yummy and delicious Biryani at a super affordable price. Make your party meal special with this online restaurant. Be it a birthday or anniversary this online food store will fit perfectly in your menu.
Behrouz Biryani Desserts, Side dishes and more
First, you have to choose a category. The list includes Shahi Biryani, King Size Biryani, Kilo Biryani. Other food items on the menu include Kebab koobideh and Shirin & Sherbet. While there are options galore in mutton, chicken, and keema biryani you also get veg biryani online order with popular choices like paneer, soya chop, and vegetables.
Almost every variant of biryani is served with Raita and 2 Gulab Jamuns. You can add side dishes or desserts to order. Gulkand-E- Bahar is eye-catching. You can order this dessert for an unmatched rose experience. It is only Rs 50 per serving. Other popular desserts include Gulab Jamun, Chocolate Ecstasy, and carbonated drinks.
You can also enjoy Biryani with refreshing Mint Raita. Shahi Biryani is one serving while King Size biryani contains two servings. There is also Kilo Biryani with 4-5 servings. And you can choose between Paneer, Soya Chaap, Subz, queema, and Dum Ghost Biryani.
Why order from Behrouz Biryani?
Biryani has been solving our hunger blues, so ordering from Behrouz Biryani is a great appetizer to satiate your hunger. Behrouz Biryani comes right from the city Hyderabad. With a blend of authentic flavours and freshness, the plate full of Biryani of Behrouz is worth eating.

We all think of chicken or mutton when it comes to Biryani. But don't worry, vegetarians will not remain away from the authentic taste of this Nawabi dish. Behrouz has the option of vegetarian biryani as well.

Our Indians meal wouldn't get complete without eating the sweets. So, this online food order website is not only limited to offering veg/non-veg biryani, but you can also order sweets like Gulab jamun, chocolate ecstasy, buttermilk, sherbet, and Shirin.

Behrouz is very strict about its delivery timings. They always make sure that delivers the food within the committed time frame.

Behrouz biryani Coupons online are another reason to order your food from this Biryani house. Behrouz biryani offers online, will surely make your Biryani treat more affordable. So, take the advantages of these offers, discounts, and promo codes and get your favourite dish at nominal prices.  
When you look to order Biryani online in India, you get multiple options in your city. Order Biryani online from Behrouz and get delicious Biriyani at best-discounted price in India.
Frequently Asked Questions 
Q: 1 Is Behrouz biryani good?
Answer: Behrouz Biryani is one of the best authentic Biryani you will find online in India. The restaurant is available at 35 different locations in India serving outstanding food at a great price. You get Raita, Salan and a Dessert to complement the Biryani. If you want to have fresh and delicious Biryani then this site is the best.
Q: 2 Who is the owner of Behrouz biryani?
Answer: Anuroop Nair is the owner of Behrouz Biryani. It was established in the year 2016, this web platform is synonymous with delicious food that can satisfy all your food cravings. It is the hub to some of the most appreciated cuisines, including Biryani, Kebabs, Shirin, and Sherbet. 
Q: 3 Is Behrouz biryani Spicy?
Answer: If you like spicy Biryani then this is the Behrouz Biryani is the go-to restaurant. They serve the best authentic Biryani with strong flavours and you will find the sweetness of dry fruits that add the element to the Biryani. 
Q: 4 Is Behrouz biryani halal? 
Answer: Yes, Behrouz Biryani uses halal meat for all their dishes. The restaurant is aware of and responsible for providing healthy food to its customers. 
Q: 4 Is Behrouz biryani halal? 
Answer: Behrouz Biryani is the new one-stop place to order Biryani online. Biriyani is everyone's favourite and when it comes to traditional delicious biryani online we just can't compromise with taste.If you are wondering whether the meat they serve is Halal or not? Let me then clear this out for you. Yes, the restaurant uses Halal Meat only. Any Chicken dish served by this store is Halal Meat.
The restaurant only uses Halal certified meat in their dishes. So now you know the answer then what are you waiting for,  pick up your phone and place your order and don't forget to avail Behrouz Biryani Offers.
Q: 5  What is Behrouz Biryani New User Offer?
Answer: If you are placing your first order on Behrouz Biryani then you can get 35% OFF on Online Order.
Q: 6 Which is the best biryani of Behrouz?
Answer: If you are thinking which is the best Biryani from Behrouz we have the answer for you. Zaykedaar Paneer Biryani which is every vegetarian's favourite biryani that has Paneer marinated with a special spice mix, layered with long, fragrant rice. But if you are non-vegetarian Dum Gosht Biryani (Boneless) which is Succulent pieces of mutton laid on a bed of long-grain rice & slow cooked dum style on charcoal fire with the secret spices is the best. So these are the two options of the best biryani you can have at this restaurant.