Lybrate is running an amazing offer where you can Get Free Sample Of Dettol And Mom Kit Pay Only Shipping Charges Of Rs.49 [Pay Using PayPal & Get Rs.49 Cashback] . A house is not a home without the iconic Dettol Antiseptic Liquid. A non-poisonous disinfectant that can be used for first aid and around the home - providing all-round family protection against germs. 
​​​Note - This PayPal Cashback Is Valid For Old PayPal Users as well, But On Lybrate It Should Be Your First Transaction. 


How To Get Free Sample Of Dettol and Mom Kit from Lybrate:
Well, the prices of this lybrate sample dettol is Rs.120 but the online website is offering free for mothers of 0 to 1-year babies. Any mother can ask for Lybrate free sample dettol containing five essentials including soap, antiseptic lotion, moov, liquid soap, and sanitizer. It is only taking the shipping amount of Rs.49 for delivering the pack to your doorstep. In which Rs.49 will be refunded back of you pay with Paypal. This means the effective prices of this Lybrate free sample dettol will be Rs.0.
All you need to do is to fill up the required details and pay for the shipping charges and the free sample pack will be delivered to your place within 3-5 business days. Moreover, follow the below-given steps to get the dettol kit for free:
Steps to get FREE Dettol Kit:-
Fill all the Mandatory Details.
Price for Kit is Rs. 49 
At Checkout Use Promo Code - DETTOL120 [ Get it for Rs. 49 as shipping ]
Now Proceed to Pay, Choose Paypal & Get Rs. 49 Cashback
Make Final Payments using Paytm and get it for Free
Note - This offer is currently only available for parents of children aged 0 - 1 years
Holding a newborn baby in the hand for the first time is one of the most special moments of any mother's life. But this happiness always come up with many responsibilities of looking after your little bundle of joy in the best possible manner. An infant's skin and immunity are tender and quite delicate so they need special care. Until they start with their immunizations, they need Dettol and mom kit lybrate to fight off with the germs and infections. The Lybrate dettol kit has been comprised of soap, antiseptic liquid, sanitizer, liquid soap, and moov. And, with Lybrate Dettol loot you only pay for shipping fee of Rs.49 and get flat Rs.49 cashback Via paypal. The cashback will be refunded back as a lybrate cash. All, in all, the effective price to get Lybrate Dettol product at the prices for Rs. 0 only.
Other Freebies offers run by Lybrate:
Not only this but there are many other crazy free sampling offer are available on Lybrate official website, Here are few of them:
About Lybrate Mom Kit
Lybrate dettol mom kit offer is currently only available for parents of children aged 0 to 1 years. So, you can only order the dettol kit if are a mother of children between 0 to 1 years, even if you're expecting the baby in the upcoming months. Dettol and mom kit available at Lybrate has been comprised of Dettol sanitizer of 50 ml, liquid soap of 25 ml, Dettol original soap 45gm, Dettol antiseptic lotion 60 ml and Moov 5gm. And, the complete Lybrate mom dettol kit will become a helping hand of every mother in taking care of her child and saving them to infections and other unwanted germs causing illness and diseases.
 
Lybrate Dettol Promo code
Lybrate is a renowned website which offers free sample products, one such popular is Lybrate dettol discount promo code. This means you can avail a dettol kit comprises of 5 products including soap, moov, liquid soap, sanitizer, and antiseptic lotion. The whole kit is worth of Rs.130 but with Lybrate dettol kit promocode you can get it For Free. Though, you don't need to apply any discount to avail the offer. All you need to do is to visit Lybrate website than you will be asked to fill a short form requiring contact details. After, then pay a shipping fee of Rs.49 in which Rs.49 will be refunded back to you in the form of PayPal Cashback. Remember one thing, the Lybrate dettol offer code is only for the mothers of 0 to 1 age baby.
What is Lybrate cash?
Lybrate cash is a form of money which has been credited into your Lybrate wallet. You can pay for the products you purchase or services like online doctor consultation, an online appointment you avail from the website. In simple. 1 Lybrate cash is equal to Rs.1. You can use Lybrate cash worth upto 20% of the total payable amount. Additionally, the validity of the Lybrate cash earned from purchasing the product is 6 months from the date of credit.
Lybrate dettol PhonePe and Paytm offer?
Lybrate dettol kit PhonePe offer
With Lybrate dettol PhonePe offer you can avail the kit worth Rs.130 at the prices of Rs.11 only. Firstly, you need to pay Rs.41 as shipping charges then 80% amount will be refunded back to your PhonePe wallet. This means you will receive Rs.30 as cashback. Currently, the offer is not running on the website.
Lybrate dettol Paytm offer
Currently, there is no offer running on Paytm regarding Lybrate dettol kit. Maybe in future, we get to a chance to take the advantage of such offers. Moreover, one popular Lybrate Paytm offer is get 20% discount on all Aarogyam Test packages by just applying promo code.
How to track your Lybrate dettol kit order?
Wondering when your Lybrate Dettol kit will be delivered? It is very easy to track your Dettol order or to check your shipping status. Remember, after the successful placement of your order you have received an SMS regarding the order confirmation and expected delivery details. In the same text message, you can see a link for tracking your Lybrate Dettol order just like the link shown in the below-given image.
Click on the link, as this action will redirect you to the Lybrate official webpage where you can check your order details. Even, you have the option to track your order, by just tapping on the track order icon.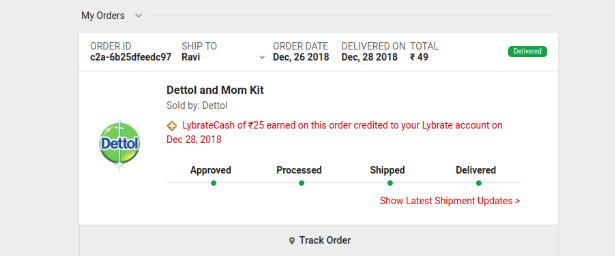 Lybrate also continually notifies you by sending SMS on your registered mobile number regarding the shipping status of your Dettol kit. You will receive an individual text message when your order will be dispatched. Even, once the order will be delivered, you will receive an SMS for the successful delivery. This message will ensure you whether the dettol kit has been delivered safely to you or not.
Lybrate dettol helpline and Customer care number
If you're looking for any help or wants to connect with Lybrate customer care executive then there three ways of communication. As you can directly contact the concerned person by dialing a number +91,9015559900. Or, leave your query on the website by filling up some details like name, email address, phone number, and your concerned question. The customer help team will contact you within 24 hours. Otherwise, you can request a call on this link. Here you also need to fill up a form asking for your name, mobile number, email address, preferred time and date to call and so on.They also have a email Support and you can raise your concern by writing an email at hello+care@lybrate.com. Check out the below message that i have recived after the product got delivered to me


Why does mom need to order dettol kit sample?
 
Dettol is the brand on which we are pouring a trust for several years. This time, Dettol new mom kit for free available on Lybrate will surely double your trust in its product. So, order your free sample kit now. Moreover, you are getting products worth Rs.130 only at the prices of Rs.4.
Protects from germs and bacteria and keeps diseases away from babies. The Dettol hand sanitizer and body wash keep both mother and baby safe together.

The body wash or other products is specifically formulated to ensure that you don't have to compromise on your health. So, use each of the products that are coming in the sample to get Dettol's 100% protection.

The formulation of Dettol product is soft on your baby's skin and harsh on germs. The antibacterial high-quality buttery soap from Dettol is mild and gentle to the skin. It utilizes the bactericidal properties to kill germs and makes it a truly antiseptic soap. Does all this without causing any harmful effects on the skin.

The products you will get with this kit are helpful in keeping your baby safe and protected against germs while doing the basic activities including bathing, changing, breastfeeding and so on.
So, order your free sample Dettol and mom kit of five products now to take care of your baby in the best way. Hand sanitizer and body shop will alleviate germs and other infections from you and your baby's body. This Dettol kit worth Rs.130 is offered by Lybrate to the parents of 0 to 1 years only in shipping charges of Rs.49 in which Rs.45 will be refunded back in the form of Lybrate cash. Get the sample kit at your doorstep and say bid goodbye to all the germs and disease-causing bacterias.