Disney+ Hotstar Subscription Offers - Annual, VIP and Monthly Plans
Disney+ Hotstar has announced a new subscription plan. It is now more affordable for the users to watch Movies, Cricket and much more on Hotstar.
By :
| Views: 1835



UPDATED ON: 18 Apr 2020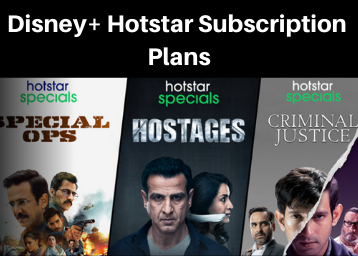 Hotstar is now Disney+ Hotstar, there is everything same just the name is different. So now watch everything and anything on Disney+ Hotstar. Also, know more about the Best Indoor Games in India with just a click on the provided link. 
Disney+ Hotstar has come up with a discounted annual subscription fee for all the premium content. Enjoy your content from Showtime, HBO, National Geographic, 20th Century Fox, and various Regional Channels and Regional Channels along with the live sports at discounted rates. Also, now you can watch the latest Bollywood movie Baaghi 3 on Disney+ Hostar VIP. 
On your mobile screen, Hotstar will allow you to enjoy the live-action. Disney+ Hotstar offers you the Annual, Monthly, and VIP Subscription at the lowest prices in which you can watch Disney movies and shows. Also, know the Best Movie On Hotstar for you to watch by a click on a provided link.
Disney+ Hotstar Plans For You To Subscribe
Grab the subscription of Hotstar at the lowest prices, and watch everything on Hotstar. We have listed the subscription offers below for you. The Hotstar customer should not have registered for any other subscription before they choose to opt for any new subscription.
Disney+ Hotstar Subscription Plans
| | |
| --- | --- |
| Disney+ Hotstar Plan |   Price |
| Premium Monthly Subscription |   Rs. 299 |
|  VIP Subscription |   Rs. 399 |
|  Annual Subscription |   Rs. 1,499 |
How to Get The Disney+ Hotstar Subscription
Go to Hotstar App/Web.

Choose your plan.

Create your account.

Make your payment.

You are done with the subscription
Annual Subscription of Hotstar At Rs. 1,499
The annual subscription offers the users to enjoy the live sports action for multiple games like Kabaddi, Football, Cricket, and many more. Disney movies and shows are now available
So not to stop them from watching the latest cricketing action Hotstar has an annual subscription at Rs. 1,499 only. You can watch Disney+ serials, movies, and much more. Watch the latest episodes of Indian TV Shows at 6 AM every day.
Click Here for Sports Annual Subscription
Note: The subscription amount is not refundable.
Hotstar VIP Subscription At Rs. 399
Now you can get the annual subscription to Hotstar at Rs. 399, and it just got cheaper. You can watch a Cricket Match. Formula 1, latest episodes of Indian series, Latest Movies at a low price. Disney movies and shows are now available
Click Here for VIP Subscription
Hotstar Premium Monthly Subscription at Rs. 299
The Hotstar customer will be permitted to enjoy all the latest Hollywood Blockbuster, American Shows, Movie Premiers and Live Sports by subscribing to the annual pack. And not only this much the user can also catch up with the latest TV serials too. Disney movies and shows are now available
Click Here for Premium Subscription
When You Are Hotstar Premium Member?
If you are a Hotstar premium member then you can enjoy a lot many shows, web series, movies, and much more.
Enjoy Ad-free entertainment, watch uninterrupted Shows, Movies, Web Series, and much more. 
Cancel the Subscription anytime you want! Once you can cancel your subscription you will not be charged for the next cycle. 
Watch on any device like your Mobile, TV, or Computer.
Disney movies and shows are now available
Now, why you wait for the subscription? The prices are low now only for you to get your subscription. Details are in this article, go grab the offer.
FAQs
Q1. What is Premium Membership?
A1. The Premium Membership allows you to get access to all the premium titles which are currently available at Hotstar also to the titles which are going to add in the future. 
In the premium membership, it also allows you to access live sports, which includes Cricket, F1, Tennis, and many more. The premium membership pack includes everything. 
Q2. Is Hotstar free for 1 month?
A2. Hotstar is free for everyone but not for the live titles and premium titles. For that, you have to get the subscription packs. 
Q3. Is Hotstar VIP free for Jio users?
A3. Hotstar VIP is free for Jio users as they can get access to live sports, selected Indian movies, prime time episodes, and much more. If you want to watch premium English content, then you have to get a Hotstar Premium membership. 
Q4. How long is the membership valid?
A4. The membership is valid till you don't cancel your membership with Hotstar. Your membership may get over only when your payment is disrupted due to credit card expiry or third party payment process failure.