Future Pay New User Offer- Get Rs. 501 Free Cash
Do you use Future Pay? Now it is the right time to get started. Register as a new user on future pay to earn Free Cash. For more details read the article below.
By :
| Views: 37304



UPDATED ON: 8 Oct 2020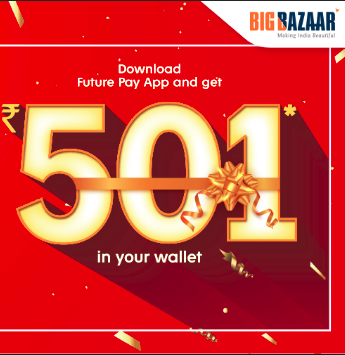 Update: Currently, No offer is available for new users on Future Pay App. However, 5% cashback is available on add money.  Get up to Rs. 200 cashback with coupon code "FUTURE10". 
Do you know about Future Pay? Well almost everyone does... It is the smartest shopping wallet with exclusive offers and hassles free payment. Here we have the Future Pay New User Offer for you
For those who don't know, Future Pay is a digital wallet used for shopping at Future Group outlets like Big Bazaar, Brand Factory, Food Bazaar, Ezone, and more.
It is an easy and absolutely secure wallet system which provides exclusive offers at Future Group Stores.
Future Pay offer and promo codes. It is the best digital wallet for buying across Future Group stores such as Big Bazaar, Ezone, and Home Town, and many more. Future pay balance can be used to make cash purchase on future group stores like big bazaar, hometown etc. Get Best Future pay Promo code and offers today in July 2020.
Future Pay has brought an amazing offer for the new user. The new user signs up offer is applicable from 7th May to 12 May 2019. Also, check Future Pay for existing users to save more with the digital payment app. 
Note: Currently the Future Pay New User offer is not available. Once it will be back we will update it with you till then you can avail the offers which we have mentioned.
Also, if you want to know more about the cashback offers and discount and much more then you can join our telegram channel with just a CLICK on the provided link. As we provide you with some amazing offers on a daily basis through which you can save your money and get everything under your budget. 
Future Pay Free Cash Offer for New Users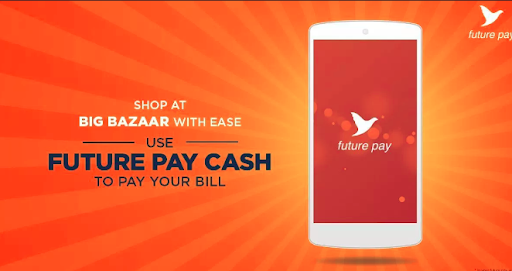 The latest Future Pay Offer is exclusively for new users. If you are new to Future Pay you have a chance to get Rs 501 Free Cash in your Future Pay Wallet.
It is an amazing offer by Future pay to add new customers as you get a sum of Rs 501 in total Free Cash which you can use while shopping.
You need to be a new user to avail this offer and on your first login, you will be getting a cash reward of Rs 101 and then 100 Rs for the next 4 months.
Future Pay Promo Code July 2020
With FuturePay Coupons & Offers you get more value for money. Add money to your Future Pay Wallet and get cashback with the use of Promo code. Once you create a Future Pay account you will receive promo codes on your registered number. We will also update the latest codes in the post soon. You can also use Future Pay Wallet Offer to get discount on your shopping. 
How to avail Future Pay Free Cash Offer
Download the Future Pay app.

Register as a new user.

Login with your Credentials.

Check your wallet balance.

Congratulations, you have 101 credited Free Cash in your wallet!
Terms and Conditions
This is a limited period offer from 7th May to 12 May 2019 and won't be valid after that.

The instant Free Cash of Rs. 101 will be credited between the duration of the offer period and will expire on 15th May 2019.

Rs 100 will be credited on the 1st of every month for 4 consecutive months and will expire on 31st of each month.

To use Free Cash a customer need to make a minimum purchase of Rs 500.

Free Cash can only be used at Big Bazaar, FBB, Ezone & HyperCity stores.

The offer can be availed only once per mobile number per user during the offer period.

To use Free Cash you need to carry your mobile wallet with you while shopping.
Note:
All right regarding the change, amend, modify, suspend, continue or terminate all or any part of the offer at any time without notice are reserved to Future Pay and Future group.

Free Cash is non- transferable and non-refundable.

Any unlawful modification or abuse with the offer is prohibited and will be counted as an offence.

For any query and details please contact Callfuture pay toll-free number 1800 210 1818 or email at care@futurepay.co.in.
Other Future Pay Offers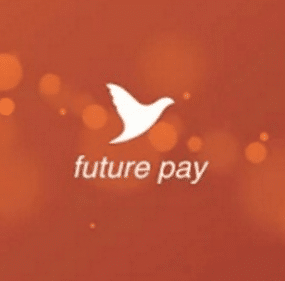 1.  Future Pay Central Offer
Here is one of the best lockdown offer in which you don't lockout just start shopping. I am sure your shopping craving has increased. So here is the Central Brand offer for you:
You need to pay Rs. 2,999 and get shopping worth Rs. 4,000
Pay Rs. 4,999 and get shopping worth Rs. 7,000 on your favourite clothes, footwear, and much more.
You can pre-book your favourite styles now
Prebook at a special price now and redeem it when the stores get open.
The voucher can get redeemed in any Central store in India
The pre-booking Voucher will get offered in a form of M-Coupons
The voucher cannot get clubbed with any other offer
2. Future Pay Tasty Treat Offer
Are you a foodie? Then here is the offer for you in which you can get the yummy french fries, Aloo Tikki, Hash Brown, an much more. 
Get a 10% flat discount on the Tasty Treat frozen snacks
The offer is valid only on Tasty Treat brand frozen food only.
Limited period offer so grab the offer now
The offer cannot get clubbed with any other Future Pay cashback offer
3. Brand Factory Pre-Book Deal
Brand Factory is not letting you stop your shopping as now you can do the future pay online shopping with the best and latest clothes, footwear, and much more for men, women, and kids. You can save now and shop later!!
It is a limited period offer which is 7 days only
You need to pay Rs. 2,000 and shop for 5,000 
Also, pay only Rs. 999 and shop for Rs. 2,000
The offer is valid only on Brand Factory stores only
The offer is valid on a first-come, first-serve basis
You can do the brand factory online shopping app download to check out the latest trends and more.
The offer voucher is valid only when the future pay stores get re-open
The voucher is valid till 30th October 2020
4. Get 50% Off On Personal Care Appliances
Here is the future pay online stores for you in which you do not need a future pay promo code 2020 as the offer gives you 50% discount on all your personal car appliances like Beard Trimmer, 9 in 1 grooming kit, Hair Styler Set, and more.
You can get 50% Off on all major products
The offer cannot get clubbed with any other offer
The will be all major products on discount
No promo code is required to get the discount
5. Nilgris Flavoured Milk Offer
Here is the Nilgris flavoured milk offer is which you can buy 2 and get 1 free. The big bazaar milk cashback offer is valid on all flavoured milk available on the stores. So, drink the yummy flavoured milk with the offer now
Buy 2 and get 1 free flavoured milk
The offer is available at future pay stores like Big Bazaar, Hypercity, Easyday Club, and more
The offer is valid on flavoured milk of 180 ml only
The MRP is Rs. 35 only
Flavoured milk is strawberry, Belgian Chocolates, Elaichi, Mango, Classic Cold Coffee, French Vanilla Cold Coffee, and many more.
Use big bazaar payment offer to get the offer
6. Future Pay EasyDay Club Offer: Be Monsoon Ready
Are you Monsoon ready yet? If not then get ready as here is the amazing offer for you via Future Pay in which you can minimum 10% discount on your shopping. Get more details below:
Get 10% Discount every time you shop with EasyDay
Get free home delivery for orders above Rs. 750
You will get the delivery within 24 Hours
Categories from which you can shop are Groceries, Milk, Brads, and Eggs Fresh Vegetables, Biscuits and Namkeen, Home Care, and Personal Care.
This offer is valid for Members only
Limited period offer
No coupon code is required to get the offer
7. Big Bazaar Amazon Pay Offer
Now shop with Big Bazaar and get cashback on your shopping. Shop everything and anything to get flat Rs. 100 cashback on your shopping.
Pay with Amazon Pay at Big Bazaar Stores and get flat Rs. 100 cashback
Offer is valid once per person till the offer period
The offer is valid till the end of this month
The minimum transaction you required to get the offer is Rs. 1,000
You will receive a minimum cashback of Rs. 100
The cashback offer is applicable across all Big Bazaar stores in India
8. Rock Bottom Days On Brand Factory
Do you love shopping? Then here is an offer for you on Brand Factory store in which you can Buy 2 and Get 3 T-Shirts. The offer is valid for a limited period only so grab now before you lose this amazing offer.
Buy 2 Get 3 On T-Shirt on Brand Factory stores
Apply the promo code B2G3 to get the offer. 
The offer is valid till 3rd July 2020 for you to grab the latest and trendy T-Shirts
The offer is valid on a T-Shirt for both men and women. 
The shopping offer is valid on Brand Factory web and stores
This is all about Future Pay Free Cash Offer. We hope you benefit from this offer and we were helpful in breaking the news to you. Thank you for reading until the end.
About Future Pay
FuturePay is an online payment option that lets you buy now and pay later – without a credit card. You can add items on their cart, selects FuturePay as their payment option and makes the order. You can settle the balance immediately with FuturePay and pay in manageable monthly instalments.
Buyers can shop using Future Pay at over 1,500 Future Group shops including Big Bazaar, fbb, Ezone, Easyday Club, HyperCity, Central, Heritage Fresh, Foodhall, Nilgiris, Brand Factory and all stores.
If you have questions or query regarding the Future Pay coupon codes or offers then you can contact the future pay customer care on toll-free number 1800-210-1818.
More Further About BigBazaar
The most popular chain of hypermarkets, discount department store, and supermarket store in India, BigBazaar was founded in 2001, housing 250+ shops in 120 cities and towns. 
It does not only perform in large cities such as Hyderabad, Bangalore, NCR, Mumbai, Ahmedabad, Kerala, Pune, Chennai, and Delhi. It is also present in smaller cities such as Jaipur, Kolkata, Dehradun, Bihar, Assam, Odisha, Kanpur, and Ludhiana. 
Following the parent organisation Future Group, Kishore Biyani founded BigBazaar. It, in turn, serves as the parent company for Food Bazaar, Fashion at Big Bazaar (fbb), and eZone and as the sister chain for outlets like Brand Factory, Home Town, and Central. 
As an outlet, Bizbazaar offers online shopping, clothes, home needs, online grocery shopping, fruits and vegetables, produce price list, personal care, kids utilities, apparel and much more. You can also use the Future Pay Wallet to get the discount, cashback, and more on your shopping. 
If you have questions or query regarding the Big Bazaar discount or offers then you can contact the big bazaar contact number on toll-free contact 1800 2100 005.
How To Add Money In Future Pay Wallet?
First of all, Download Future Pay App and Open.
Generate a new account or Login.
Now click on "Wallet" option.
Choose your Sub-Wallet and tap on Rupee symbol. For example, If you want to shop at Big Bazaar, Click on rupee icon next to BigBazaar logo.
Enter Amount and click on Add now.
You will get an OTP on your enrolled mobile number, Enter it.
Now enter your Debit, Credit card or net banking details and complete payment.
Do this wallet to shop at BigBazaar, Central, Brand Factory etc. whenever you wish.
How To Use Future Pay App For Shopping At Outlets?
First of all, Collect the products which you want to purchase at Home town, Big Bazaar, Ezone etc.
Attend the Cash Counter to make the cash
Notify the cashier the Amount that you would like to pay via Future Pay wallet.
Give your registered Future Pay number to the cashier
Pick the sub-wallet you would like to spend from (Payback, Future Pay etc.)
Now distribute the OTP with the cashier.
That's it, and your purchase is accomplished.
Features of FuturePay App:
Offers: Futurepay offers cashback on add money and payments at outlets on a daily period.
Price Match: This characteristic is remarkable. Price match matches prices with the displayed prices of local or online opponents. If they see that you have been charged higher than rivals prices, they reimburse you the difference in your Big bazaar wallet.
Wallet: Add money to your wallet and experience the cashless existence. They also offer cashback on combining money from time to time.
Immediate Pay: Go to this opportunity and give your screen to cashier. That's it, and your amount will be made in seconds.
Shopping List: This option is joined recently. You can create a Shopping list within this App so that you don't forget what to buy when you visit shopping outlets near time. Tap on More option >> Shopping list to use this alternative.
How Future Pay App Work?
You can do it on-the-go by using your mobile phone.
You can use it over Future Retail stores such as Big Bazaar, Home Town and Ezone, and many more.
You can keep money with app-exclusive interesting offers
With their Price Match characteristic, you are guaranteed the best prices at their stores.
You can connect your loyalty cards with Future Pay and earn and light loyalty points without taking any cards.
You can add money using net banking, credit card or debit card and even by cash at your favourite stores.
Big Bazaar Allows Everything!
You could go online grocery shopping, or you could say 'I want a store near me", use the Bigbazaar store locator now to find the stores nearest to you, and complete all your shopping demands all at once! What does BigBazaar offer, you ask? 
Home needs like cleaning needs, detergents, festive decoratives, Kitchen and Dining, Indian fruits & Vegetables, health drinks, masala, spices, Oil, Ghee, premix food, prepared food, salt, sugar, jaggery, sauces, Kitchenware, Plasticware, Stationary, Toilet, floor, and other cleaners, biscuits and snacks, bread, baked goods, milk, soft drinks, tea, dry fruits, flours, atta, jams, cereals and Everything else. Exotic vegetables, Imported fruits, cheese, and coffee. Personal care items, Baby Care, Cosmetics, Shampoos, deos, perfumes, fashion accessories, hair care, oral care, sanitary pads, personal hygiene, shaving needs, skincare, school supplies, toys, games. Or the short answer could be, Everything!
Frequently Asked Questions
How do you make money on future pay?
Check out the latest Future Pay coupons to make on the app. You get extra money on add money using Future pay coupons also on big bazaar app.
What is the future pay app?
Future Pay is the loyalty wallet app of the Future group. You can make transactions at any of the retails stores. 
How does future pay Wallet work?
FuturePay is powered by Oxygen Services, and users can make transactions after loading money into it. The wallet integrates Future Group's current loyalty programmes Profit Club, Payback, and the Oxygen wallet.