Zigly My Pet Days - Buy more Save more On Food, Toys & Many More !!
Step To Avail
#Zigly #Freekaamaal #BuyMoreSaveMore #PetCare #PetFood #Loot
Hey everyone, Are you missing Supertail's lucrative offers on popular pet care products so Here we have added a new store for you that is " Zigly " where you can shop more & save more. Zigly has also lots of popular pet food, and grooming brands on their site so what are you waiting for?? Check it now.
Running Coupon codes-
ZG150 - Flat Rs.150 Off on orders above Rs.1500
ZG250 - Flat Rs.250 Off on orders above Rs.2500
ZG500 - Flat Rs.500 Off on orders above Rs.5000
Follow These Steps To Earn Cashback -
Step 1- Visit ZIGLY by clicking the shop and Now button.
Step 2- Shop anything of any brand's products of your choice.
Step 3- Save more with the above coupon codes & grab your pet's fav products.
Check Here -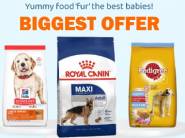 Exclusive CB - Pedigree, Whiskas At Flat Rs.500 Off + 50% FKM CB [ No Aov ] !!