.
Best Time To Purchase - Save Up to 70% on Car Insurance Premiums !!
16 hours ago
3732 Views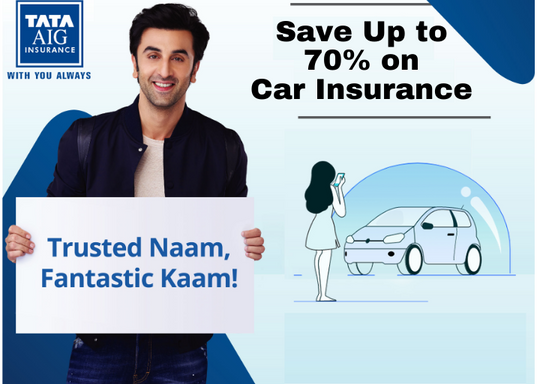 Rs.2094 ₹ 5000
Sold By

SHOP NOW
About this Deal
#freekaamaal  #carinsurance #tataaig #cheapest #freekaamaal
Tata AIG offers many types of car insurance policies, each designed to address the varying needs of car owners and the coverage they need. Choose From a wide range of third-party and comprehensive cars. Save up to 75% on Car insurance premiums Starting from Rs.2094.
Benefits-
5400+ Cashless Garages.
98% Claim Settlement Ratio.
Zero Depreciation Cover.
Get Policy in 3 Easy Steps.
Key features -
Save up to 75% on car insurance premiums by buying your policy online
Our 650 claim experts across India ensure an easy and quick claim process for you"
Our 98% claims settlement ratio as of FY 2020-2021 can assure a high settlement ratio for car insurance claims
Our network of over 7500 garages ensures cashless services for your car repairs
Follow These Steps to Avail This Offer-  
Step 1- Redirect to the Tata-AIG site by clicking on Shop Now Button
Step 2- Choose the Car Insurance & enter your car registration no.
Step 3- Tap on getting the price.
Step 4- Select premium plans & Buy the insurance.
Suggestions-