Have you ever wondered that you can enjoy free Recharge, Talktime Voucher from India's leading E-commerce site like amazon, flipkart, paytm ?? Here FreeKaamaal is back again with an Exciting offer from ThePanelstation.com where they are running an offer for you, where you Just Take Survey & Get FREE Voucher From Flipkart, Amazon and Paytm worth Rs. 300 To get this offer, here are the steps:-
How to Get Free Gifts from Panel Station Worth Rs. 300:
A form will appear to fill your All Detaisl  details

Now Select Your City

After filling up all the details, click on Start Earning

You will now Receive mail From panel Station. You Must Have to Verify Mail in order to Get activate Your Account.

Just Open Your mail and Verify it.
Proof:

Register Now and Earn free Points 
The Panel Station is one of best survey sites available on the internet, maha loot offer you can easily earn up to Rs. 300 by participating in simple surveys. You receive The Panel Station surveys and by filling them you will receive Rs. 10 to Rs. 100 daily. The rewards you receive are in terms of points (100 Points = 10 Rs). Redeem The Panel Station points & get Amazon vouchers, flipkart vouchers & more.
What is The Panel Station?
The Panel Station is an online community where members like you participate in surveys and share their views and opinions on a variety of issues. The large online survey community has active members across countries like India, China, Brasil, Russia, Mexico, Argentina, South Africa, Indonesia, Poland, Turkey, Philippines, South Korea, Taiwan, Chile, New Zealand, Colombia, Singapore, UAE, Thailand, KSA, Australia, and Chile.
Tips to Register on The Panel Station & Start Getting Free Vouchers
To start, sign up at The Panel Station, you will get a screen like this. Where you have to fill up your profile data like name, email, DOB, Pin code.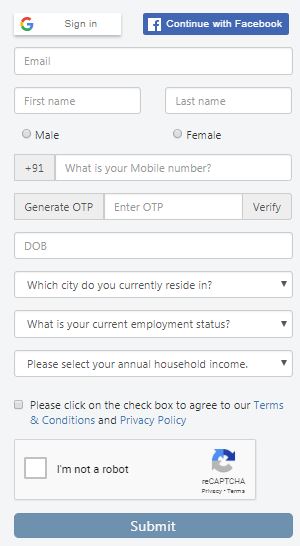 You will get a verification mail, once you click on the verification mail, you are ready to start receiving rewards and make a regular income.  Here is a trick if you are a male, create an account for your sister or friend. Females get more frequent surveys, this will surely help you earn more.
Panel Station Survey Rewards:
Soon you will start getting invitations of the surveys where you win exciting rewards.
In take little time to complete a survey. For each survey you get rewards points that can be redeemed for gift vouchers. 
What Kind of surveys will you receive?
To make your earning interesting, the surveys you receive will match the information provided in your profile. The Panel Station surveys give you rewards and also an opportunity to express your opinions on different issues. The surveys come from diverse categories such as consumer goods, healthcare, Information technology, travel, financial services, etc. In case you are not interested in a survey, you can opt to not participate.
How to Redeem The Panel Station Points for Gift Vouchers?
As soon as you finish a survey the mentioned points are added in your The Panel Station account. Once you have 3000 points, you are eligible to redeem your points for free Amazon vouchers, free flipkart vouchers, free paytm vouchers and more.
Who is eligible for Participation to get free rewards?
If you are more than 18 years of age you are eligible to participate in The Panel Station surveys and receive rewards. The Panel Station surveys are valid in cities like Ahmedabad, Amritsar, Indore, Baroda, Bhopal, Bhubaneswar, Coimbatore, Chandigarh, Delhi, Faridabad, Guwahati, Jaipur, Kanpur,  Lucknow, Ludhiana, Meerut, Mangalore, Nashik, Nagpur, Noida, Pune, Patna, Rajkot, Ranchi, Surat, Varanasi, and Kochi/Cochin.  
Once you join The Panel Station and take surveys, you can also invite your family and friends to become members. The membership is free and no payment is required for participation. On the contrary, you will earn rewards for each survey participation which can be redeemed for gift vouchers. Further, you can decide to unsubscribe at any time as per your convenience.
The dashboard in my account section displays the number of points earned and available surveys for you.

Complete the survey to receive points in your panel station account

So start a survey click on participate.

Complete your profile to earn extra free points.

On the redemption page, select the reward; it can be Amazon, Flipkart, or Paytm gift voucher.

The Gift voucher will be delivered to your mail id within 6-8 weeks.
The Panel Station Mobile App:
The Panel Station surveys are more popular among students and young professionals who can participate while travelling to college by bus or metro from their mobile.
Complete Surveys for Free Vouchers
FreeKaaMaal brings to you Maha Loot offers of The Panel Station, complete short surveys & get Flipkart, Amazon Vouchers absolutely free. All the steps you need to follow are mentioned above. Take More Surveys to earn more rewards and exciting offers on Flipkart, Amazon, and Freecharge.
To summarize, the online surveys of The Panel Station are easy means of income. The free vouchers you receive can be used for shopping online or mobile recharge. You get regular income and a chance to express your views. Get Started today for Rs. 300 worth free Flipkart  Vouchers, Amazon Vouchers, Paytm Vouchers & More.
How it works!
More Surveys = More Rewards